The hunger crises you're not hearing about
| | | |
| --- | --- | --- |
| US Edition - Today's top story: War in Ukraine is pushing global acute hunger to the highest level in this century View in browser | | US Edition | 27 April 2022 |
Two months after Russia invaded Ukraine, the conflict there is still dominating headlines amid frantic efforts to get aid into war-ravaged areas. But there also are alarming levels of need in other parts of the world that get far less attention – and the crisis in Ukraine is making them worse.
Tufts University food security expert Daniel Maxwell spotlights multiple factors that he warns could create or worsen famine in poor countries, particularly in Africa and Asia. They include reduced grain exports from Ukraine and Russia, high energy prices and a global relief community that's overstretched and underfunded. "The people of Ukraine deserve all of the attention and help that they are receiving," Maxwell writes. "But I believe the global community must not lose sight of humanitarian suffering in the rest of the world."
Also today:
Jennifer Weeks

Senior Environment + Energy Editor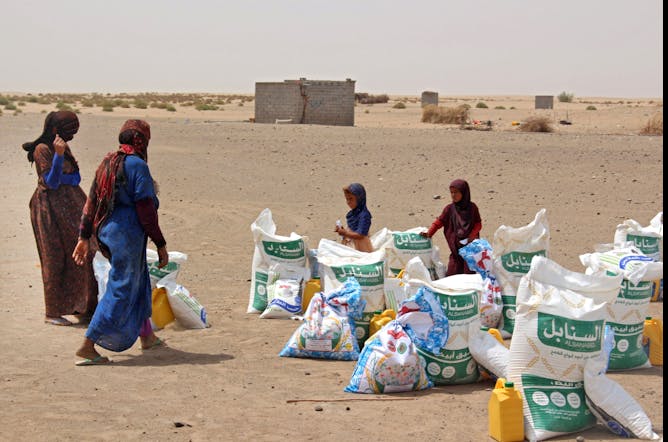 Grain and fertilizer shortages, higher shipping costs and a strong dollar are all pushing food prices up and increasing hunger in dozens of vulnerable countries.
Politics + Society
By slapping Chris Rock during an internationally televised awards ceremony, Will Smith demonstrated that chivalry is not dead. But was that the protection Jada Pinckett Smith wanted or needed?
Ethics + Religion
Several US universities now recognize caste as part of nondiscrimination policies. Two scholars of South Asian studies explain how caste-based violence isn't limited to Hinduism, or to India.
Science + Technology
We may be besieged by private companies in online spaces, but only up to a point.

Normally land-bound pathogens that cause deadly diseases for both humans and animals can cling to microplastics and end up in your seafood.
Economy + Business
Two scholars of corporate do-goodery suggest a hidden driver of corporate decisions to leave Russia is the global trend in which record numbers of workers are quitting their jobs.

Media ownership has consolidated around a handful of billionaires – and that might not be great for democracy.
Environment + Energy
A new book lays out the connections between industries and politicians that are both stalling action on climate change and diminishing democracy.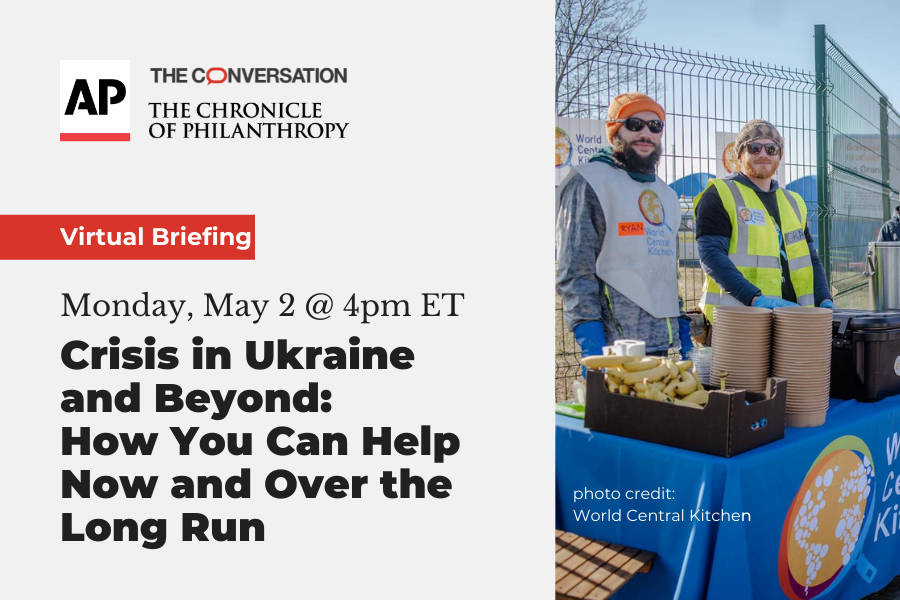 Key phrases
Older messages
How will Musk change Twitter?
Tuesday, April 26, 2022
+ the interesting history of tunnels in warfare ‌ ‌ ‌ ‌ ‌ ‌ ‌ ‌ ‌ ‌ ‌ ‌ ‌ ‌ ‌ ‌ ‌ ‌ ‌ ‌ ‌ ‌ ‌ ‌ ‌ ‌ ‌ ‌ ‌ ‌ ‌ ‌ ‌ ‌ ‌ ‌ ‌ ‌ ‌ ‌ ‌ ‌ ‌ ‌ ‌ ‌ ‌ ‌ ‌ ‌ ‌ ‌ ‌ ‌ ‌ ‌ ‌ ‌ ‌ ‌ ‌ ‌ ‌ ‌ ‌ ‌ ‌ ‌ ‌ ‌ ‌ ‌ ‌ ‌ ‌ ‌ ‌
How solar + batteries will electrify the future
Monday, April 25, 2022
+ what Macron's victory means ‌ ‌ ‌ ‌ ‌ ‌ ‌ ‌ ‌ ‌ ‌ ‌ ‌ ‌ ‌ ‌ ‌ ‌ ‌ ‌ ‌ ‌ ‌ ‌ ‌ ‌ ‌ ‌ ‌ ‌ ‌ ‌ ‌ ‌ ‌ ‌ ‌ ‌ ‌ ‌ ‌ ‌ ‌ ‌ ‌ ‌ ‌ ‌ ‌ ‌ ‌ ‌ ‌ ‌ ‌ ‌ ‌ ‌ ‌ ‌ ‌ ‌ ‌ ‌ ‌ ‌ ‌ ‌ ‌ ‌ ‌ ‌ ‌ ‌ ‌ ‌ ‌ ‌ ‌ ‌ ‌ ‌ ‌ ‌
American views on abortion are less polarized than they appear
Saturday, April 23, 2022
+ biology lessons for Tibetan Buddhist monks ‌ ‌ ‌ ‌ ‌ ‌ ‌ ‌ ‌ ‌ ‌ ‌ ‌ ‌ ‌ ‌ ‌ ‌ ‌ ‌ ‌ ‌ ‌ ‌ ‌ ‌ ‌ ‌ ‌ ‌ ‌ ‌ ‌ ‌ ‌ ‌ ‌ ‌ ‌ ‌ ‌ ‌ ‌ ‌ ‌ ‌ ‌ ‌ ‌ ‌ ‌ ‌ ‌ ‌ ‌ ‌ ‌ ‌ ‌ ‌ ‌ ‌ ‌ ‌ ‌ ‌ ‌ ‌ ‌ ‌ ‌ ‌ ‌ ‌ ‌ ‌ ‌ ‌
Countries are forming competing 'blocs' in space
Friday, April 22, 2022
+ the perils of nonaligned countries in Ukraine war ‌ ‌ ‌ ‌ ‌ ‌ ‌ ‌ ‌ ‌ ‌ ‌ ‌ ‌ ‌ ‌ ‌ ‌ ‌ ‌ ‌ ‌ ‌ ‌ ‌ ‌ ‌ ‌ ‌ ‌ ‌ ‌ ‌ ‌ ‌ ‌ ‌ ‌ ‌ ‌ ‌ ‌ ‌ ‌ ‌ ‌ ‌ ‌ ‌ ‌ ‌ ‌ ‌ ‌ ‌ ‌ ‌ ‌ ‌ ‌ ‌ ‌ ‌ ‌ ‌ ‌ ‌ ‌ ‌ ‌ ‌ ‌ ‌ ‌ ‌
Do you really own that virtual real estate?
Thursday, April 21, 2022
+ disaffected voters loom in France's high-stakes election ‌ ‌ ‌ ‌ ‌ ‌ ‌ ‌ ‌ ‌ ‌ ‌ ‌ ‌ ‌ ‌ ‌ ‌ ‌ ‌ ‌ ‌ ‌ ‌ ‌ ‌ ‌ ‌ ‌ ‌ ‌ ‌ ‌ ‌ ‌ ‌ ‌ ‌ ‌ ‌ ‌ ‌ ‌ ‌ ‌ ‌ ‌ ‌ ‌ ‌ ‌ ‌ ‌ ‌ ‌ ‌ ‌ ‌ ‌ ‌ ‌ ‌ ‌ ‌ ‌ ‌ ‌ ‌ ‌