The Conversation - Corals turn sunscreen into toxins
| | | |
| --- | --- | --- |
| US Edition - Today's top story: Corals and sea anemones turn sunscreen into toxins – understanding how could help save coral reefs View in browser | | US Edition | 6 May 2022 |
In the last few years, scientists have found evidence that a chemical in sunscreen can harm coral reefs. It is common to find "reef-safe" sunscreens in stores that are made without the coral-harming chemical, oxybenzone.
Despite governments banning sunscreens containing oxybenzone – which normally protects cells from harmful ultraviolet light – nobody actually knew the biology of how or why it was killing corals. Djordje Vuckovic and Bill Mitch are civil and environmental engineers who study chemical pollutants. They asked an obvious but important question: If nobody knows exactly why normal sunscreens are harming reefs, how could anyone know "reef-safe" sunscreens are actually safe for reefs?
Working with a team of biologists, they designed a clever experiment to understand how oxybenzone harms corals. Using sea anemones, acrylic UV sunglasses and a lot of chemical analysis, they found that a common cellular process actually converts oxybenzone into a sunlight-activated toxin that can kill corals and anemones.
Also today:
Daniel Merino

Assistant Science Editor & Co-Host of The Conversation Weekly Podcast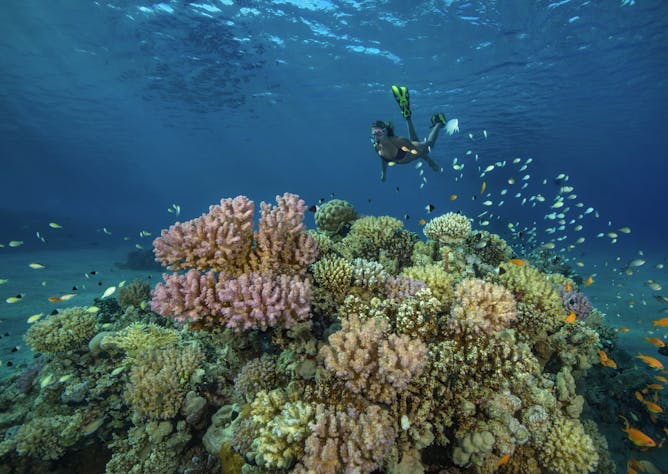 Researchers have long suspected that an ingredient in sunscreen called oxybenzone was harming corals, but no one knew how. A new study shows how corals turn oxybenzone into a sunlight-activated toxin.
Environment + Energy
A new study adds up the potential legal and financial risk countries could face from hundreds of agreements, like those under the Energy Charter Treaty.

Liquid water below the ice determines how fast an ice stream flows. As the ice sheet gets thinner, more of that salty groundwater could rise.
Politics + Society
An arms trade expert explains the wide variety of military aid nations around the world have sent to Ukraine.

The US gives money to help Indonesia and other countries fight terrorism. But research shows that this money might not be effective, unless it directly reaches former extremists.

With the Supreme Court likely to strike down constitutional protection for abortion, a centuries-old debate over its morality and legality has been reignited.
Economy + Business
More than 350 billionaires have signed on so far.
Education
Just what does it mean for students to feel as if they "belong" on campus? A researcher weighs in.
Science + Technology
Your blood can hold a record of past illnesses. That information can reveal how many people have had a certain infection – like 58% of Americans having had COVID-19 by the end of February 2022.
Ethics + Religion
Two scholars of fundamentalism and creationism explain what they found when they visited the Ark Encounter, an evangelical theme park in Kentucky,

World War II has a central place in Russian nationalism. Its importance is written all over a new cathedral dedicated to the armed forces.
Podcast 🎙️
In this episode of The Conversation Weekly podcast, we also explore the reasons by India's neutrality over the Ukraine war.

Also: Please take our survey to help us make our podcasts better. Click here to take the survey.
From our international editions
Older messages
Will you be one of our 100?
Thursday, May 5, 2022
Help us meet our goal, and support fact-based journalism ‌ ‌ ‌ ‌ ‌ ‌ ‌ ‌ ‌ ‌ ‌ ‌ ‌ ‌ ‌ ‌ ‌ ‌ ‌ ‌ ‌ ‌ ‌ ‌ ‌ ‌ ‌ ‌ ‌ ‌ ‌ ‌ ‌ ‌ ‌ ‌ ‌ ‌ ‌ ‌ ‌ ‌ ‌ ‌ ‌ ‌ ‌ ‌ ‌ ‌ ‌ ‌ ‌ ‌ ‌ ‌ ‌ ‌ ‌ ‌ ‌ ‌ ‌ ‌ ‌ ‌ ‌ ‌ ‌ ‌ ‌ ‌
Arizona and New Mexico are burning – here's why
Thursday, May 5, 2022
+ the controversy over an Emmett Till opera ‌ ‌ ‌ ‌ ‌ ‌ ‌ ‌ ‌ ‌ ‌ ‌ ‌ ‌ ‌ ‌ ‌ ‌ ‌ ‌ ‌ ‌ ‌ ‌ ‌ ‌ ‌ ‌ ‌ ‌ ‌ ‌ ‌ ‌ ‌ ‌ ‌ ‌ ‌ ‌ ‌ ‌ ‌ ‌ ‌ ‌ ‌ ‌ ‌ ‌ ‌ ‌ ‌ ‌ ‌ ‌ ‌ ‌ ‌ ‌ ‌ ‌ ‌ ‌ ‌ ‌ ‌ ‌ ‌ ‌ ‌ ‌ ‌ ‌ ‌ ‌ ‌ ‌ ‌
Context, clarity and expertise are what we supply
Wednesday, May 4, 2022
Your gift helps us reach more people with more quality information ‌ ‌ ‌ ‌ ‌ ‌ ‌ ‌ ‌ ‌ ‌ ‌ ‌ ‌ ‌ ‌ ‌ ‌ ‌ ‌ ‌ ‌ ‌ ‌ ‌ ‌ ‌ ‌ ‌ ‌ ‌ ‌ ‌ ‌ ‌ ‌ ‌ ‌ ‌ ‌ ‌ ‌ ‌ ‌ ‌ ‌ ‌ ‌ ‌ ‌ ‌ ‌ ‌ ‌ ‌ ‌ ‌ ‌ ‌ ‌ ‌ ‌ ‌ ‌ ‌ ‌ ‌
Supreme Court may send abortion back to the states
Wednesday, May 4, 2022
+ wastewater checks could limit future COVID outbreaks ‌ ‌ ‌ ‌ ‌ ‌ ‌ ‌ ‌ ‌ ‌ ‌ ‌ ‌ ‌ ‌ ‌ ‌ ‌ ‌ ‌ ‌ ‌ ‌ ‌ ‌ ‌ ‌ ‌ ‌ ‌ ‌ ‌ ‌ ‌ ‌ ‌ ‌ ‌ ‌ ‌ ‌ ‌ ‌ ‌ ‌ ‌ ‌ ‌ ‌ ‌ ‌ ‌ ‌ ‌ ‌ ‌ ‌ ‌ ‌ ‌ ‌ ‌ ‌ ‌ ‌ ‌ ‌ ‌ ‌ ‌ ‌ ‌
Explaining complex issues to the public
Tuesday, May 3, 2022
We need your help today, to bring experts and depth into the news ‌ ‌ ‌ ‌ ‌ ‌ ‌ ‌ ‌ ‌ ‌ ‌ ‌ ‌ ‌ ‌ ‌ ‌ ‌ ‌ ‌ ‌ ‌ ‌ ‌ ‌ ‌ ‌ ‌ ‌ ‌ ‌ ‌ ‌ ‌ ‌ ‌ ‌ ‌ ‌ ‌ ‌ ‌ ‌ ‌ ‌ ‌ ‌ ‌ ‌ ‌ ‌ ‌ ‌ ‌ ‌ ‌ ‌ ‌ ‌ ‌ ‌ ‌ ‌ ‌ ‌ ‌ ‌