Opensource.com - New: Linux sudo cheat sheet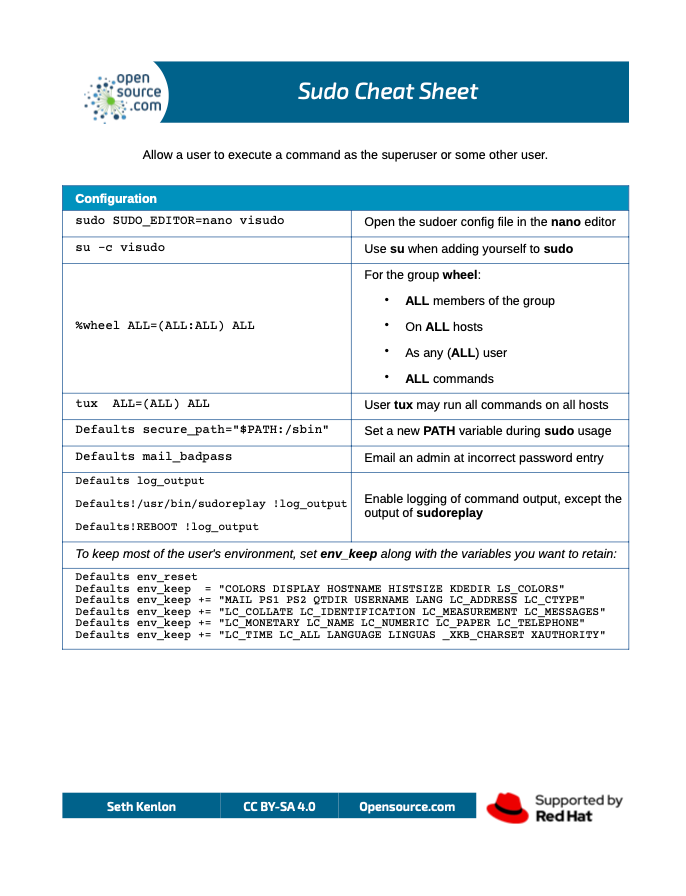 Because sudo is often something you configure once then forget about, or something you configure only when a new admin joins your team, it can be hard to remember its nuances. Download and keep this cheat sheet as a helpful reminder for configuration, options, and environment variables.
Download the cheat sheet.
Older messages
My favorite open source tool for using crontab, how I use the Bacula GUI for backup and recovery, and more
Tuesday, May 10, 2022
Automate and manage multiple devices with Remote Home Assistant Automate and manage multiple devices with Remote Home Assistant Opensource.com THE LATEST My favorite open source tool for using crontab
New guide: Containers and Pods 101
Thursday, May 5, 2022
Download our Containers and Pods 101 eBook Download our Containers and Pods 101 eBook Opensource.com Containers hold much more potential than just mimicking virtual machines. You can group them in pods
5 agile mistakes I've made and how to solve them, an open source developer's guide to systems programming, and more
Tuesday, May 3, 2022
Prevent Kubernetes misconfigurations during development with this open source tool Prevent Kubernetes misconfigurations during development with this open source tool Opensource.com THE LATEST 5 agile
Containers 101: Get a sneak peek of our new guide
Friday, April 29, 2022
Containers and Pods 101 eBook: Exclusive preview Containers and Pods 101 eBook: Exclusive preview Opensource.com eBook sneak peek: Containers and Pods 101 eBook Throughout this email series, you've
3 open source tools for people with learning difficulties, 4 cheat sheets I can't live without, and more
Tuesday, April 26, 2022
How Linux rescues slow computers (and the planet) How Linux rescues slow computers (and the planet) Opensource.com THE LATEST 3 open source tools for people with learning difficulties The ability to