Finimize - 🤢 The world's most hated investment
Hi Reader, here's what you need to know for May 17th in 3:04 minutes.
🤑 You've probably heard all about the worldwide chip shortage, but there's one more thing you ought to know. Join Titan's Chris Seifel for How To Invest In The Global Chip Shortage on Tuesday, and find out how you can turn a lack of chips into bounty of cash. Grab your free ticket
Today's big stories
China's lockdowns are continuing to put a dent in the country's economy

One asset is particularly hated by investors right now, but that might give you an opportunity to take a contrarian stance – Read Now

Saudi Aramco posted its highest quarterly profit since listing on the stock market
China Syndrome
What's Going On Here?
Yet more data out on Monday showed the toll China's lockdowns are taking on its economy.
What Does This Mean?
China's efforts to keep Covid at bay have kept major cities like Shanghai locked down for weeks, and an influx of data on Monday confirmed how bad things have become. Retail sales fell around 11% in April from the same time last year – the second-straight month they've fallen, and almost double the dropoff analysts were expecting. In fact, only sales of medicine, fuel, and food and drink grew from April 2021. Industrial production was down too, dipping for the first time since March 2020. And since the country's companies suddenly didn't need as many workers, the unemployment rate climbed to 6.1% – and unemployment among young people hit a new record.
Why Should I Care?
The bigger picture: Is China finally reopening?
Some economists now reckon the Chinese economy will grow just 0.5% this quarter, but the more hopeful of them think April's data will mark the worst of the slump. After all, the government said it's going to let some companies reopen this week, and aims to be back to business as usual by the middle of June. The country's central bank also cut mortgage rates for first-time homebuyers over the weekend, and optimists reckon there could be more measures to boost the economy on the way.

For markets: Investors welcome their prodigal son.
The prospect that things might only be getting better for the country will give investors even more confidence, after having already sent the Chinese stock market up 2% last week. It's already working wonders on the professionals: analysts at JPMorgan upgraded their ratings on a bunch of Chinese tech companies – including Alibaba and Tencent – on Monday (tweet this).

Financial planning that transforms your life
Financial planning isn't just about getting the most out of your money: it's about getting the most out of your life.
Facet Wealth understands that better than anyone, which is why its personalized and unbiased financial advice goes beyond just investments and retirement.
In fact, Facet Wealth can give you advice on everything from starting a new business to benefit selections at a new job, and so much more.
Facet Wealth is redefining financial planning with their human-plus-tech approach. And to top it off, there are no hidden fees, no agenda, and they don't charge based on how much you invest.
This is financial planning as it should be, so start living your best financial life today.
Facet Wealth is an SEC Registered Investment Advisor headquartered in Baltimore, Maryland. This is not an offer to sell securities or the solicitation of an offer to purchase securities. This is not investment, financial, legal, or tax advice.
Rigged System
What's Going On Here?
Saudi Aramco, the world's biggest oil company, reported booming quarterly profits over the weekend.
What Does This Mean?
Aramco had a couple of things working in its favor last quarter. For one, the war in Ukraine limited the supply of oil and pushed its price to a 14-year high. And for another, OPEC+ – a group of oil-producing countries and their allies – continued to unwind the production caps it introduced during the pandemic. That helped drive the company's profit 82% higher than the same time last year to $40 billion – its highest quarterly profit since its arrival on the stock market.

Aramco's not done yet: the company is confident that demand for oil and gas will be strong for decades, even as its international rivals make a decisive shift toward renewables. That might be why it said it's planning to spend billions on ramping up its oil production, as well as on boosting its natural gas production by 50% by the end of the decade.
Why Should I Care?
For markets: An iPhone won't pick the kids up from school.
Aramco's stock is now up over 30% so far this year, while Apple's has fallen 19% on the back of a tech stock rout. That means it's now overtaken the tech giant to become the world's most valuable company for the first time since 2020. That stands to reason: one of the things working heavily in Aramco's favor – rising prices – is working against Apple, whose little luxuries are the first things to go when it costs a fortune to fill your car.

The bigger picture: Saudi Arabia gets a caffeine kick.
The Saudi government – which owns the majority of Aramco's stock – will be pleased to hear that the company is on track to return $19 billion to its shareholders this quarter. The country is aiming to use some of the extra cash it makes to invest in new exports that will help reduce its reliance on oil. Coffee beans – you're up.
"Outside of a dog, a book is man's best friend. Inside of a dog, it's too dark to read."
– Groucho Marx (an American comedian, actor, and writer)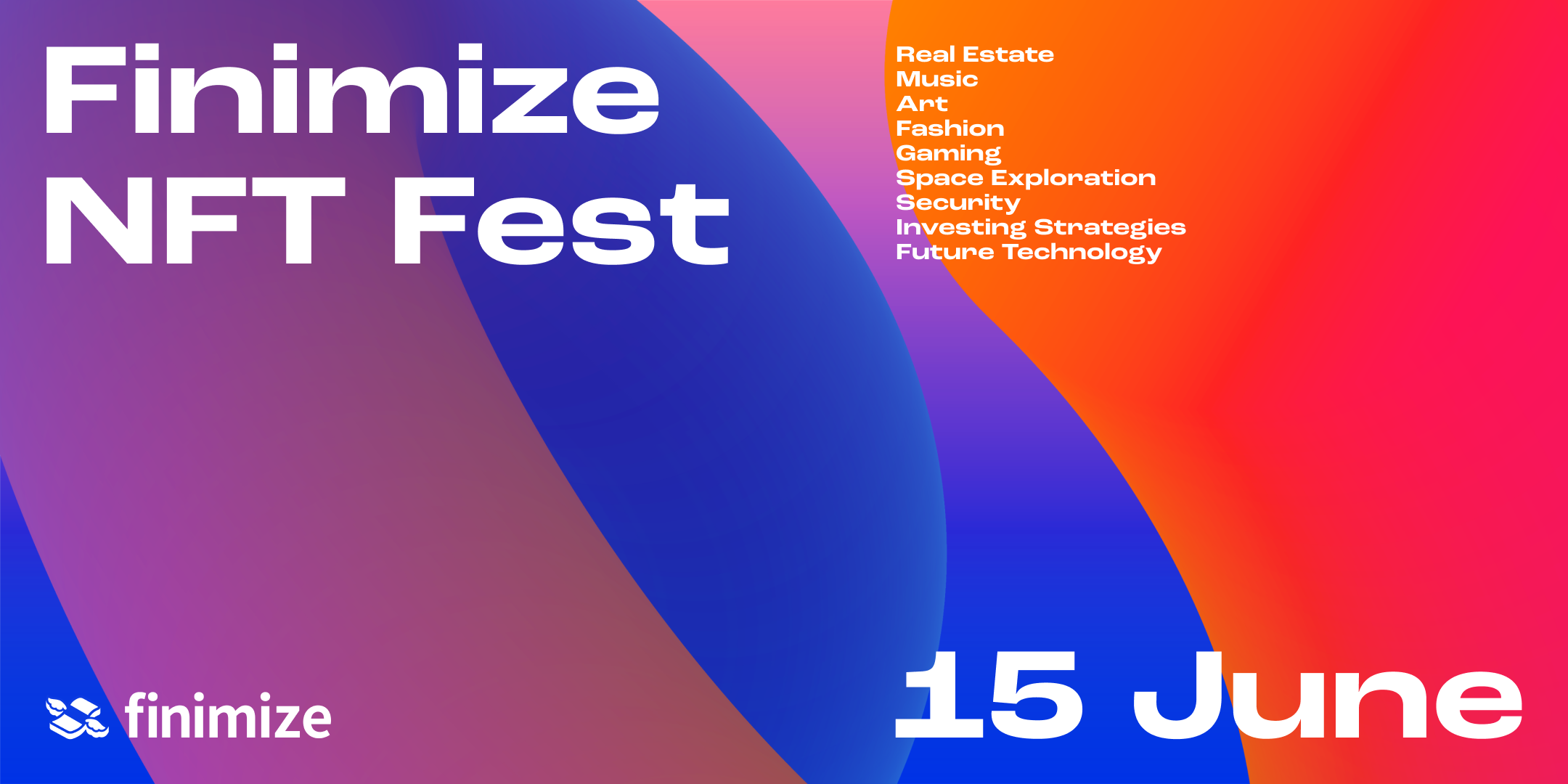 NFTs are transforming industries everywhere
Yup, everywhere: fashion, music, real estate, even space exploration.
But you only have to attend one event to get the scoop on it all: the Finimize NFT Fest, the world's first NFT event designed for the retail investor community.
You'll join a series world-class workshops throughout the day, hear from leading experts across a range of industries, and discover how to evaluate the next big NFT opportunity.
You don't want to miss this: register for the Finimize NFT Fest today.
🎉 Coming Up This Week
All events are in UK time.
🌎 How To Invest In The Global Chip Shortage: 5pm, May 17th
🏡 How To Buy A Digital Condo: 12pm, May 18th
🚗 The Leaders Of The EV Revolution: 5pm, May 19th
♻️ How To Pick Winning ESG Stocks: 5pm, May 20th
🧐 A Guide To Investing In Derivatives: 6pm, May 23rd
📈 How To Invest Thematically: 12pm, May 24th
🎨 How To Build And Manage A Balanced NFT Portfolio: 5pm, May 24th
💪 And Then After That…
⚡️ How To Invest In The EV Revolution: 1pm, May 25th
😎 The Blockchain And Real Estate Revolution: 6pm, May 25th
📈 The Future Of The M&A Market: 5pm, May 26th
📱 How To Hedge Against The Chip Shortage: 1pm, May 30th
📉 A Guide to Automated Crypto Trading: 6pm, May 30th
♻️ How Green Bonds Can Fuel A Sustainable Future: 1pm, May 31st
🏆 Peer-To-Peer Vs. Crypto Exchanges: 5pm, May 31st
🎉 De-Mystifying Refi: 5pm, June 1st
🌿 How To Get The Green With Cannabis ETFs: 12pm, June 9th
🎮 How To Invest In Video Games: 5pm, June 9th
🌍 How And Where To Invest In Africa: 5pm, June 14th
🚀 Finimize NFT Fest: 12pm, 15th June
🤗 Investing In Metaverse Opportunities: 5pm, 23rd June
🏘 How To Diversify Your Crypto Investments Through Commercial Real Estate: 6pm, August 3rd
🏡 Tokenizing Real Estate: 6pm, September 13th
Thanks for reading Reader. If you liked today's brief, we'd love for you to share it with a friend.
Older messages
😨 Not even Apple is safe
Sunday, May 15, 2022
Investors are united | Honda's getting nervous | TOGETHER WITH Hi Reader, here's what you need to know for May 16th in 3:05 minutes. 💥 Digital art fans, listen up: the first-ever NFT event
🤕 SoftBank brings this on itself
Thursday, May 12, 2022
WeWork was just the beginning | Mickey Mouse is coming to a TV near you | Finimize Hi Reader, here's what you need to know for May 13th in 3:12 minutes. 🌍 Funding for African startups just keeps
🛁 Are we still in a bubble, Ray Dalio?
Thursday, May 12, 2022
Yup, US prices are still high | Toyota needs more fuel | TOGETHER WITH Hi Reader, here's what you need to know for May 12th in 3:01 minutes. 🧠 You might think you have control over your investing
🕷 Spidey rescues Sony
Tuesday, May 10, 2022
Sony feels like a winner | Pfizer's bagged a big deal | TOGETHER WITH Hi Reader, here's what you need to know for May 11th in 3:14 minutes. 🤠 Crypto can feel like the Wild West these days, but
🐌 China stops moving
Monday, May 9, 2022
China wants the best of both worlds | Tyson Foods licks its lips | TOGETHER WITH Hi Reader, here's what you need to know for May 10th in 3:09 minutes. Today's big stories Chinese trade barely