Inside the murky world of Twitter bots – and why they matter
| | | |
| --- | --- | --- |
| US Edition - Today's top story: How many bots are on Twitter? The question is difficult to answer and misses the point View in browser | | US Edition | 24 May 2022 |
Elon Musk has put his planned acquisition of Twitter on hold because he claims the company is undercounting the percentage of spambots on the microblogging platform. The company says its estimate is less than 5%. Setting aside the question of Musk's motivation for raising the issue, the dispute seems straightforward: What is the prevalence of bots on Twitter?
But the reality is considerably murkier. Are all bots spammers? Is most spam and misinformation generated by bots? Are most bots fake accounts, and vice versa?
Kai-Cheng Yang and Filippo Menczer of Indiana University's Observatory on Social Media unpack the murk and what's involved in estimating bot prevalence. They also explain why even asking the question is less than helpful.
Also today:
Eric Smalley

Science + Technology Editor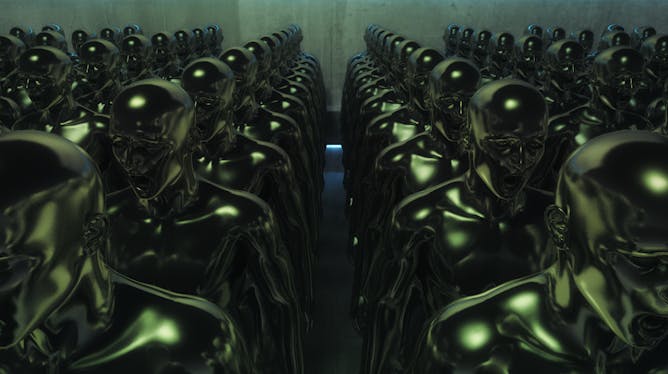 Elon Musk's focus on the number of bots on Twitter, whether genuine or a distraction, does little to address the problems of misinformation and spam. A pair of social media experts explain why.
Politics + Society
Biden's suggestion that the US is prepared to intervene militarily if Taiwan was invaded was quickly walked back by White House officials.

Putin has a history of forcing civilians to migrate during a conflict, part of a broader strategy to overwhelm other countries with new refugees and destabilize their economies.
Ethics + Religion
In the 1960s, the Catholic Church sought to downplay demonic possession, but its views since then have changed.

Conservative Christians have cheered restrictions on some birth control. But many decades ago, Christian leaders' support helped contraceptives become acceptable in the first place.
Health + Medicine
Three experts answer questions about the effectiveness, safety and side effects of medication abortion.

Studying medication use in a traumatized population of immigrants required pharmacists to listen to and learn from trusted community health workers.
Economy + Business
Human behaviors shift. Policies change. New technology arrives and evolves. All those changes and more are hard to predict, and they affect tomorrow's costs.
Science + Technology
Nuclear isomers are rare versions of elements with properties that mystified physicists when first discovered. Isomers are now used in medicine and astronomy, and researchers are set to discover thousands more of them.

The discovery of a unique 510 million-year-old fossil in a Pennsylvania churchyard offers new clues into how early life evolved on Earth.
From our international editions
Key phrases
Older messages
Repowering Europe without Russian oil
Monday, May 23, 2022
+ a conviction in war crimes trial; the world's first zoo ‌ ‌ ‌ ‌ ‌ ‌ ‌ ‌ ‌ ‌ ‌ ‌ ‌ ‌ ‌ ‌ ‌ ‌ ‌ ‌ ‌ ‌ ‌ ‌ ‌ ‌ ‌ ‌ ‌ ‌ ‌ ‌ ‌ ‌ ‌ ‌ ‌ ‌ ‌ ‌ ‌ ‌ ‌ ‌ ‌ ‌ ‌ ‌ ‌ ‌ ‌ ‌ ‌ ‌ ‌ ‌ ‌ ‌ ‌ ‌ ‌ ‌ ‌ ‌ ‌ ‌ ‌ ‌ ‌ ‌
War through the eyes of Ukrainian kids
Saturday, May 21, 2022
+ online readers are devouring 'Dracula' ‌ ‌ ‌ ‌ ‌ ‌ ‌ ‌ ‌ ‌ ‌ ‌ ‌ ‌ ‌ ‌ ‌ ‌ ‌ ‌ ‌ ‌ ‌ ‌ ‌ ‌ ‌ ‌ ‌ ‌ ‌ ‌ ‌ ‌ ‌ ‌ ‌ ‌ ‌ ‌ ‌ ‌ ‌ ‌ ‌ ‌ ‌ ‌ ‌ ‌ ‌ ‌ ‌ ‌ ‌ ‌ ‌ ‌ ‌ ‌ ‌ ‌ ‌ ‌ ‌ ‌ ‌ ‌ ‌ ‌ ‌ ‌ ‌ ‌ ‌ ‌
Brittney Griner's 'wrongful' detention in Russia
Friday, May 20, 2022
+ growing plants in Antarctica ‌ ‌ ‌ ‌ ‌ ‌ ‌ ‌ ‌ ‌ ‌ ‌ ‌ ‌ ‌ ‌ ‌ ‌ ‌ ‌ ‌ ‌ ‌ ‌ ‌ ‌ ‌ ‌ ‌ ‌ ‌ ‌ ‌ ‌ ‌ ‌ ‌ ‌ ‌ ‌ ‌ ‌ ‌ ‌ ‌ ‌ ‌ ‌ ‌ ‌ ‌ ‌ ‌ ‌ ‌ ‌ ‌ ‌ ‌ ‌ ‌ ‌ ‌ ‌ ‌ ‌ ‌ ‌ ‌ ‌ ‌ ‌ ‌ ‌ ‌ ‌ ‌ ‌ ‌ ‌ ‌ ‌ ‌ ‌ ‌
Baby formula industry was a disaster waiting to happen
Thursday, May 19, 2022
+ therapy isn't one size fits all ‌ ‌ ‌ ‌ ‌ ‌ ‌ ‌ ‌ ‌ ‌ ‌ ‌ ‌ ‌ ‌ ‌ ‌ ‌ ‌ ‌ ‌ ‌ ‌ ‌ ‌ ‌ ‌ ‌ ‌ ‌ ‌ ‌ ‌ ‌ ‌ ‌ ‌ ‌ ‌ ‌ ‌ ‌ ‌ ‌ ‌ ‌ ‌ ‌ ‌ ‌ ‌ ‌ ‌ ‌ ‌ ‌ ‌ ‌ ‌ ‌ ‌ ‌ ‌ ‌ ‌ ‌ ‌ ‌ ‌ ‌ ‌ ‌ ‌ ‌ ‌ ‌ ‌ ‌ ‌ ‌ ‌
Bad news for the 2022 hurricane season
Wednesday, May 18, 2022
+ why ban menthol cigarettes ‌ ‌ ‌ ‌ ‌ ‌ ‌ ‌ ‌ ‌ ‌ ‌ ‌ ‌ ‌ ‌ ‌ ‌ ‌ ‌ ‌ ‌ ‌ ‌ ‌ ‌ ‌ ‌ ‌ ‌ ‌ ‌ ‌ ‌ ‌ ‌ ‌ ‌ ‌ ‌ ‌ ‌ ‌ ‌ ‌ ‌ ‌ ‌ ‌ ‌ ‌ ‌ ‌ ‌ ‌ ‌ ‌ ‌ ‌ ‌ ‌ ‌ ‌ ‌ ‌ ‌ ‌ ‌ ‌ ‌ ‌ ‌ ‌ ‌ ‌ ‌ ‌ ‌ ‌ ‌ ‌ ‌ ‌ ‌ ‌ ‌