Finimize - 🤝 Russia has friends in high places
Today's big stories
Russian oil giant Rosneft announced plans to pay a record dividend

Blockchain gaming is growing fast, and our analyst has laid out the companies and ETFs that are set to benefit – Read Now

The UK housing market is starting to slow down
Oils Of War
What's Going On Here?
Russian oil titan Rosneft said on Monday that it's planning to pay a record-high dividend.
What Does This Mean?
The oil price has been surging this year, hitting $120 a barrel for the second time in a couple of months on Monday. That's mostly because the European Union is reportedly edging closer to banning Russian oil imports altogether, while Iran just went ahead and seized two Greek oil tankers – a move that could jeopardize relations with (and the oil supply from) the Middle East.

This has all played right into Rosneft's hands: the company – which is responsible for about 40% of Russia's total production – already posted its best-ever profit last year, and this booming oil price suggests it could top that record this year. And seeing as it now has so much cash burning a hole in its pocket, it just announced that it'd pay a record dividend to its investors too.
Why Should I Care?
The bigger picture: Russians are used to a chill.
You'd think Rosneft would be struggling more than it has been, given that many of the world's biggest economies are giving Russia the cold shoulder. But India and China aren't quite so at odds with the country, to the extent that their combined purchases hit an all-time high in April. In fact, Asian countries as a whole have been happy to hold up their empty bowl of gruel: new data has shown that Asia overtook Europe as the biggest buyer of Russian oil for the first time last month.

Zooming out: Russia's got a friend in OPEC.
The sky-high oil price continues to be a serious concern for major economies, which is why the G7 has just urged OPEC – a group of oil-producing countries – to boost production significantly. But that's a long shot: OPEC is benefiting from the current environment, meaning it has no real incentive to ramp up production faster than it was planning to anyway.

The new way to save
Trying to grow your cash can feel like being stuck between a rock and a hard place.
The rock: a standard savings account that pays you pennies and is at risk from high inflation.
The hard place: traditional investments that keep your money locked away for years at a time.
But feel free to breathe a sigh of relief, because now you can earn more while spending with AKT's Vaults. The Smart Euro-Vault, to name just one, will pay you 4% APY.
You'll be able to access and spend your cash whenever you want, and you can rest assured that AKT uses the industry's top security measures to keep your data safe.
Break free from stifling savings: check out AKT's Vaults.
Homewreckers
What's Going On Here?
Data out over the weekend suggests the UK housing market is finally starting to slow down.
What Does This Mean?
UK house prices hit an all-time high last month, which didn't come as much of a surprise: demand was around 60% higher than the five-year average, while supply was around 40% lower. But there are a few signs that the market is finally easing up. First, house prices climbed 8.4% in April from the same time in 2021 – substantial, sure, but down on March's 9%. Second, 5% of sellers slashed their asking prices by the most in 18 months. And third, the average time taken between listing a property and agreeing on its sale started to rise. So with demand slipping as the cost of living rises, UK real estate company Zoopla thinks house prices will be just 3% higher by the end of the year than they were at the end of 2021.
Why Should I Care?
For you personally: Get comfortable.
This is promising if you're a Brit thinking about buying, but there's a caveat here: data out last month showed that average monthly mortgage payment is now higher than the average rental payment, probably offsetting any benefit you'd get from the slowdown. And things are even tougher if you're trying to get onto the property ladder, with first-time-buyers now in need of a 34% deposit on average – up from 25% a decade ago. Throw in the rising cost of just about everything, and you might want to get used to living with your parents…

Zooming out: Feed the rich.
Thank goodness the neediest people in the country are able to scrimp and save to afford their third homes: executives at FTSE 100 companies earned a near-record average of £3.6 million ($4.5 million) last year, according to data out on Monday. That means they made 81 times as much as their average employee, compared to 59 times in 2020 (tweet this).
"Get your facts first, then you can distort them as you please."
– Mark Twain (an American writer, humorist and entrepreneur)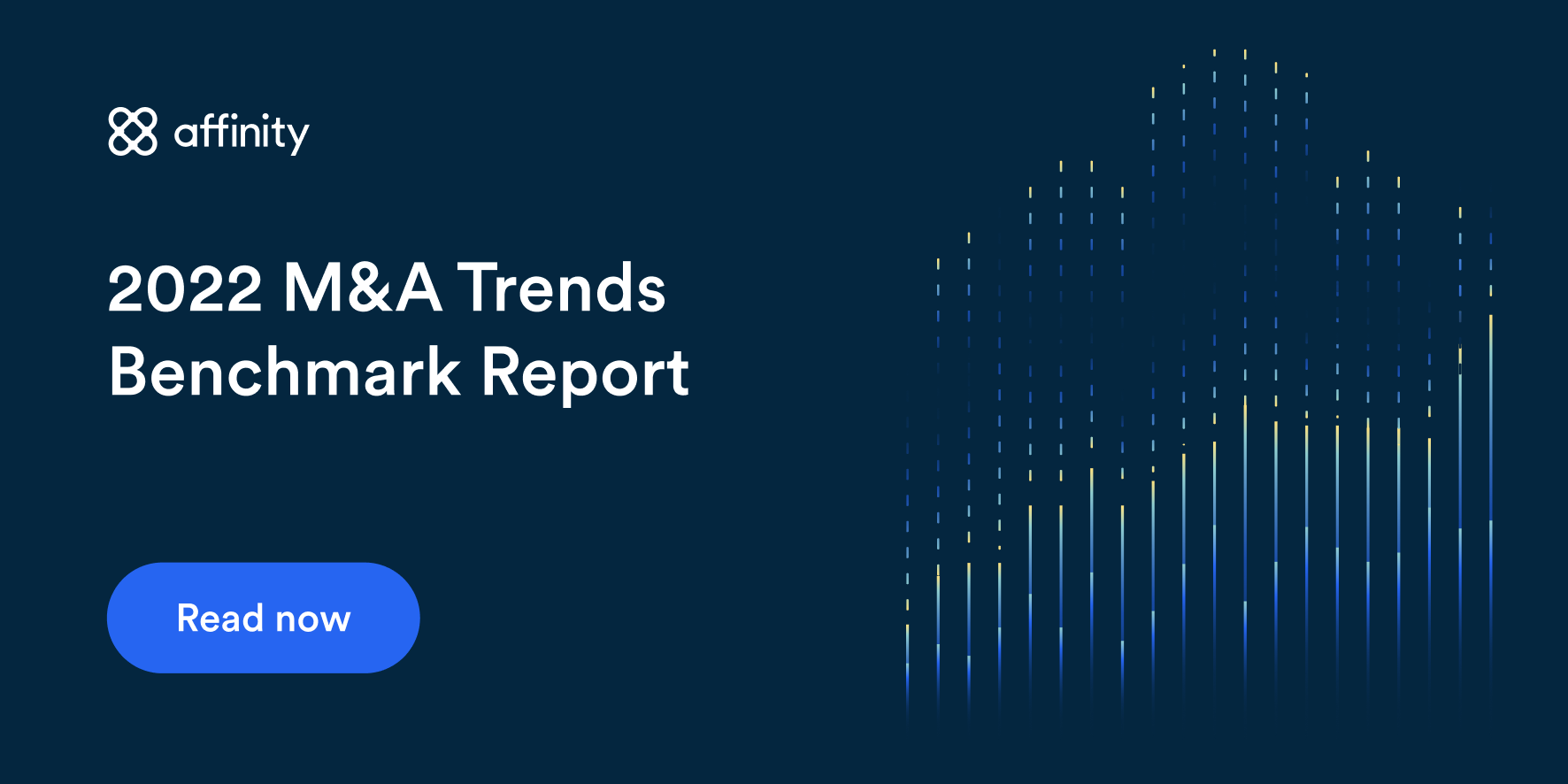 Peek inside dealmaking
If you want the scoop on the mergers and acquisitions scene, Affinity's got you sorted.
Valuations have doubled. The average M&A transaction has ballooned from $20 million between 2011 and 2020 to over $40 million in 2022.
Deals are getting competitive. The average number of potential buyers for every acquisition has more than doubled from 2019 to 2021.
Europe is on the rise. European M&A activity grew a massive 37% from 2020 to 2021, helping it overtake the US as global M&A champion.

Want to know more? Check out Affinity's 2022 M&A Benchmark Report.
🎉 Coming Up This Week
All events are in UK time.
♻️ How Green Bonds Can Fuel A Sustainable Future: 1pm, May 31st
🏆 Peer To Peer Vs. Crypto Exchanges: 5pm, May 31st
😎 How To Choose An ETF: 12.30pm, June 1st
🎉 De-Mystifying Refi: 5pm, June 1st
👩‍💻 Using Data To Make Better Investment Decisions: 12pm, June 7th
📈 Your Guide To Recession-Proofing Your Portfolio: 5pm, June 7th
💪 And Then After That…
⚡️ The Geopolitics Of Energy Transition: 5pm, June 8th
🌿 How To Get The Green With Cannabis ETFs: 12pm, June 9th
🎮 How To 1up Your Portfolio With Video Games: 5pm, June 9th
🤔 Should You Invest In Stocks Or Bonds?: 5pm, June 10th
🏦 What's Next For The Banking Sector?: 1pm, June 10th
🎉 How To Invest Early In Polkadot Projects: 12pm, June 14th
🌍 How And Where To Invest In Africa: 5pm, June 14th
🚀 Finimize NFT Fest: 12pm, 15th June
🌿 Is The Grass Greener For Cannabis Investors?: 5pm, June 16th
🤗 Investing In Metaverse Opportunities: 5pm, June 23rd
🏘 How To Diversify Your Crypto Investments Through Commercial Real Estate: 6pm, August 3rd
🏡 Tokenizing Real Estate: 6pm, September 13th
Thanks for reading Reader. If you liked today's brief, we'd love for you to share it with a friend.
Older messages
🥱 PlayStations are not Sony's priority
Sunday, May 29, 2022
Sony sees something in sensors | Petrol brings the shoppers to Costco's yard | TOGETHER WITH Hi Reader, here's what you need to know for May 30th in 3:06 minutes. 💥 Want the lowdown on all
📉 Is it time to buy China's dip?
Thursday, May 26, 2022
Alibaba loves lockdowns | Nvidia is done playing games | TOGETHER WITH Hi Reader, here's what you need to know for May 27th in 3:14 minutes. 💥 The chip industry doesn't look like it's going
🚗 Samsung gets into EVs
Wednesday, May 25, 2022
Know Stellantis's name | M&S's hard work paid off | TOGETHER WITH Hi Reader, here's what you need to know for May 26th in 3:12 minutes. 🤞 Just about everything has been turned on its
🤞 How not to invest in the next Luna
Tuesday, May 24, 2022
Zoom drinks, anyone? | No one wants to advertise with Snap | TOGETHER WITH Hi Reader, here's what you need to know for May 25th in 3:04 minutes. 🚗 Get in loser, we're going shopping. Join Nimy
🔒 Xpeng is trapped
Monday, May 23, 2022
Broadcom goes all Gwyneth | Xpeng isn't going anywhere | TOGETHER WITH Hi Reader, here's what you need to know for May 24th in 3:04 minutes. ⚖️ There's more to a digital portfolio than one