Inverse - 🍿 Review: 'Ms. Marvel'
| | |
| --- | --- |
| Eric Francisco | June 07 2022 |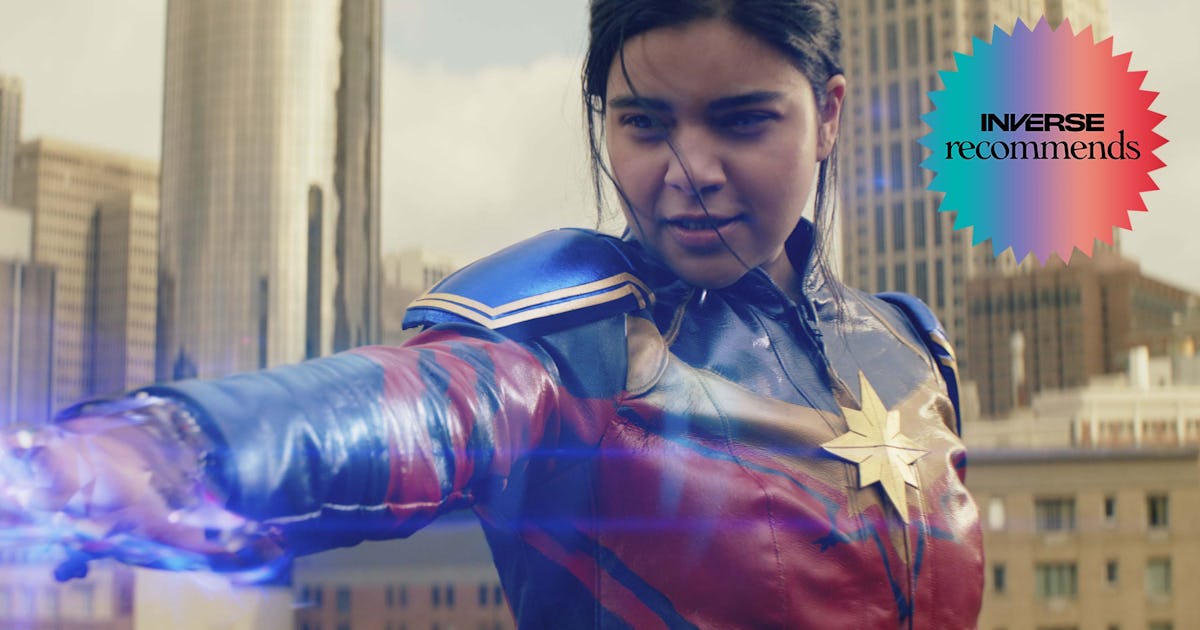 Ms. Marvel is a radiant blast of pure, unbridled joy
What does the Marvel Cinematic Universe look like through the eyes of a child?

Kamala Khan, played by charming, instant star Iman Vellani, is by no means childish. She's a teenager in high school, prone to boy crushes and failing her driving test. But her overactive imagination means her brown saucer eyes are constantly fixating on the sky. As Kamala's parents ramble about their immigrant struggles and worry about her future, Kamala daydreams of her idol Captain Marvel (played in the films by Brie Larson) flying over the Hudson from the backseat of the family car. Stan Lee would have called Kamala a true believer.

It's through Kamala's youthful eyes that Ms. Marvel, streaming June 8 on Disney+, enters the ever-growing MCU. Even with its familiar take on superhero tales the likes of Smallville did a generation ago, its unrivaled visual pizzazz and the infectious enthusiasm of a radiant yet clumsy heroine make Ms. Marvel an endless well of televised joy. It's delightful, vibrant, sometimes emotionally heavy, and often blissful fun, with a flavorful blend of coming-of-age adventure and the grounded complexities of second-generation immigrant life in America.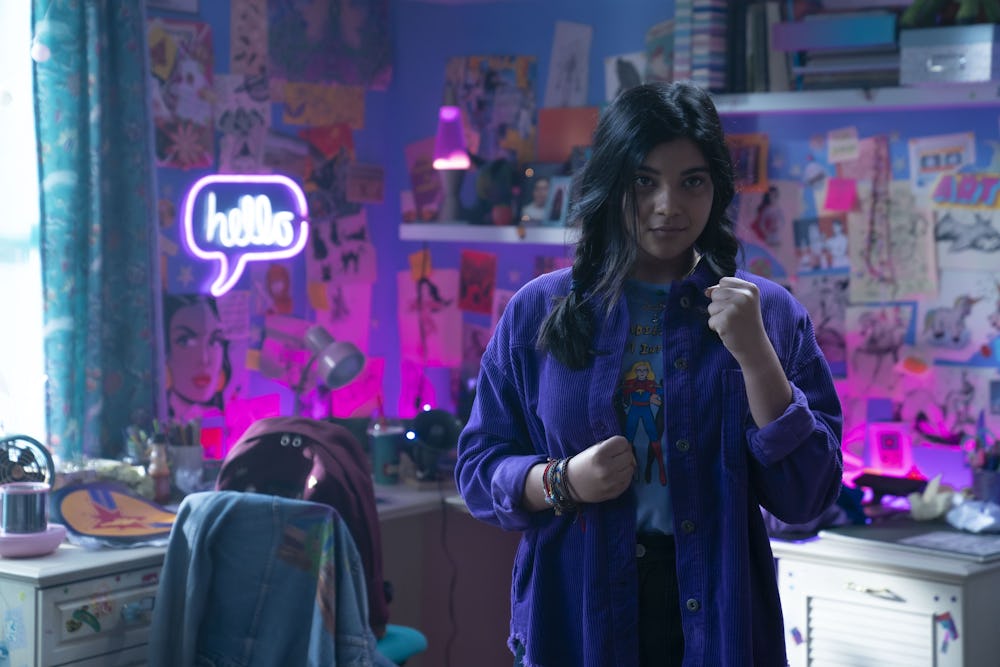 In the two episodes provided to the press for preview, Ms. Marvel introduces Kamala Khan (Vellani), a creative and messy Avengers fangirl who spends afternoons in her room uploading handcrafted vlogs to YouTube. "AvengerCon" is around the corner, and Kamala, with best friend Bruno (Matt Lintz), is determined to win the Captain Marvel cosplay contest. 

Blocking Kamala's way aren't villains or organized gangs, but her mother, the riotously deadpan but sincere Muneeba (Zenobia Shroff). Like all Brown immigrant mothers, Muneeba only wants what's best for Kamala, and she's keen to keep the family's shameful secrets locked away. When Kamala stumbles upon enchanted bangles sent by a family pariah, she unlocks cosmic superpowers, kicking off a story in which the teen learns that great power means a great discovery.

There's much to love about Ms. Marvel. Often it feels authentically closer to John Hughes' movies than even Tom Holland's Spider-Man films, with Ms. Marvel channeling the essence of the iconic director's movies (Sixteen Candles, especially) rather than performing an empty homage.

Through Kamala's fandom-riddled brain, Ms. Marvel is also a bizarre exercise of the MCU in meta terms. The series blurs the lines that separate the Avengers as modern myths and corporate mascots, with their iconography ripe for merch just as they are in our real universe. (In one throwaway gag, we learn one of the Avengers has a podcast.) Ms. Marvel isn't too concerned with probing the MCU as a narrative monolith, so there's nothing so meditative about Marvel's cultural dominance. But it's nevertheless fun to see the MCU hold a funhouse mirror onto itself.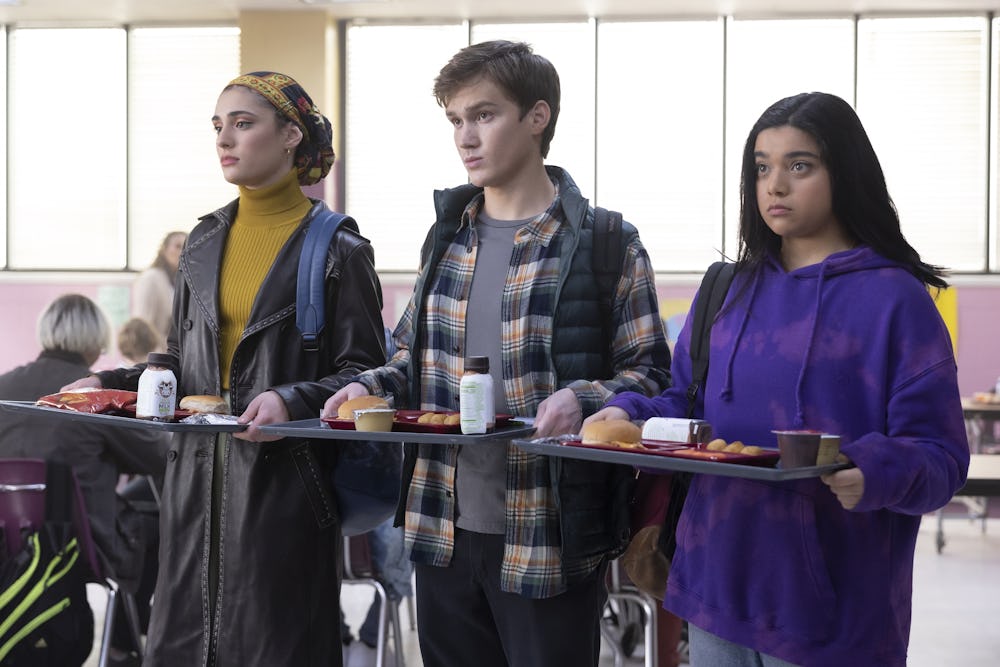 Kamala Khan first splashed onto comics in 2014 under the stewardship of editor Sana Amanat and writer G. Willow Wilson. In those bestselling Ms. Marvel comics, Kamala was at the center of a thoroughly modern teen superhero story reminiscent of Steve Ditko's early Amazing Spider-Man, albeit with sprinkles of Muslim American living. 

Both sagas had awkward teens who felt they were too small to fit into the boots of a superhero, even though their wits could pack a punch. While there are nitpicky differences between Ms. Marvel the comic and the Disney+ series — some fans are already irked Kamala's powers have changed, and in these first two episodes, there's zero mention of the Inhumans — the series mimics the comics' high-spirited zeal that made Wilson's stories so enrapturing in the first place.
"An endless well of televised joy."
–
But for all these nods to Hughes, Ditko, and Wilson, Ms. Marvel crucially remembers its priorities are on Kamala and all that makes her special. For the series, it's her imagination. Bad Boys for Life directors Adil El Arbi and Bilall Fallah are behind most of Ms. Marvel's episodes. Themselves Belgian Muslims who grew up idolizing American cinema, the duo exhibit Kamala's flights of fancy spilling out into the world, expressively transforming her environment into her canvas. Graffiti art and neon signs become Kamala's thoughts, her living room turning into the stage for her Dirty Dancing reverie. (I dare you not to smile when you see it.)

It's so colorful and fun that it's now easy to resent the MCU's un-expressionistic past and stale commitment to verisimilitude. Turns out, a comic book show can have color and clarity! Not everything must be engulfed in grueling darkness, like the recent Moon Knight and the putrid grays and blues of Hawkeye and The Falcon and the Winter Soldier.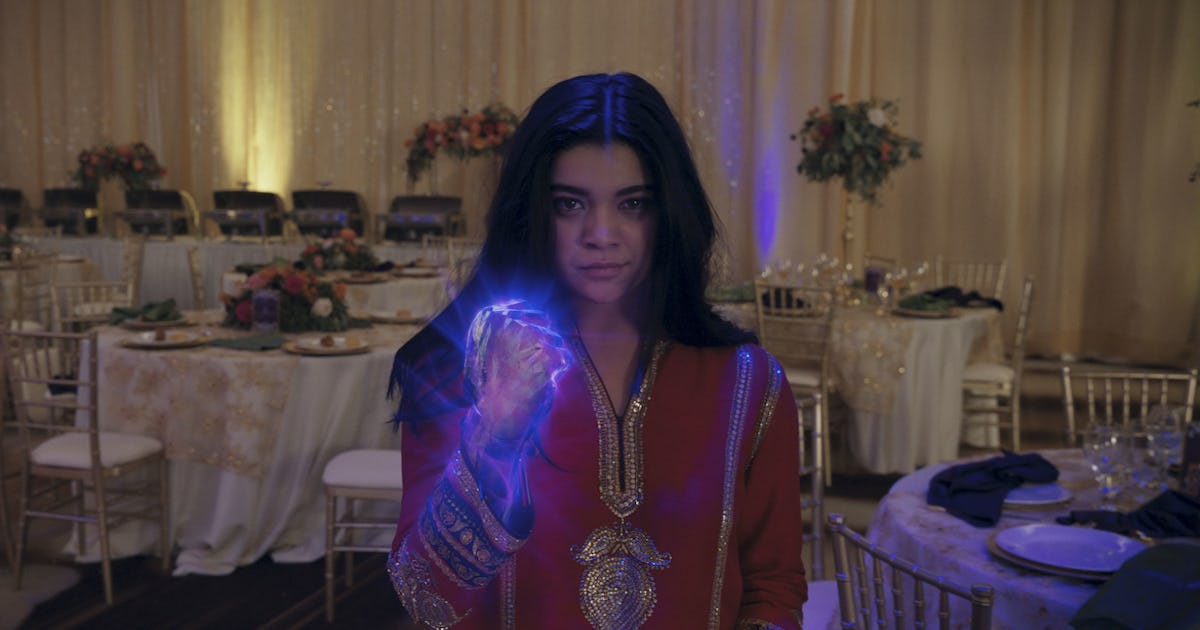 What affords Ms. Marvel extra but crucial oomph is its vivid immersion into Jersey City's immigrant neighborhoods. Kamala is as surrounded by the Avengers as she is by Urdish speakers and Pakistani grocers. Truthfully, this is where the series is at its most exciting. While the MCU frequently ventures to faraway worlds like Asgard and alternate universes, Ms. Marvel proves there's plenty to see just around the corner.

As told through Vellani's profoundly expressive face, Kamala's amusing boredom roaming these streets further illustrates the show's appeal. No matter what, Ms. Marvel is all about a restless young'un who dreams of life beyond her gossiping mom and aunties. We don't have to speak Urdu to understand wanting more than what our parents dream for us. With utmost confidence, Ms. Marvel successfully tells that relatable story with unconventional design.

With just two episodes provided for review, it's not a sure thing if Ms. Marvel will fly as high as its takeoff implies. There will inevitably be some bigger, unwieldy MCU machinations. Vellani is already set to star in 2023's The Marvels, with Brie Larson and WandaVision's Teyonah Parris, so there likely will be a buzzy cameo in a few weeks. The closest thing to villains Ms. Marvel has could be the most daring the MCU has gone in terms of sociopolitical allegories. Still, it's to be determined if the show will actually hit as hard as its beginning.

Ms. Marvel doesn't reinvent the superhero wheel. Instead, it dips it in gold and bedazzles it with eye-melting visuals. For too long, the MCU has been seen through the eyes of morbid, boring adults. Ms. Marvel proves how much fun these stories can still be when it's through the eyes of someone old enough to know better — and still young enough to care.

Ms. Marvel will begin streaming on Disney+ on June 8.
You're receiving this email because you signed up to receive communications from BDG Media. If you believe this has been sent to you in error, please safely

unsubscribe

.



315 Park Ave. South, New York, NY 10010



Copyright 2022 BDG Media, Inc. All rights reserved.

View in browser

Older messages
☕️ The hidden science behind the espresso machine
Tuesday, June 7, 2022
Plus: NASA rolls out the Artemis 1 Moon rocket (again!) ‌ ‌ ‌ ‌ ‌ ‌ ‌ ‌ ‌ ‌ ‌ ‌ ‌ ‌ ‌ ‌ ‌ ‌ ‌ ‌ ‌ ‌ ‌ ‌ ‌ ‌ ‌ ‌ ‌ ‌ ‌ ‌ ‌ ‌ ‌ ‌ ‌ ‌ ‌ ‌ ‌ ‌ ‌ ‌ ‌ ‌ ‌ ‌ ‌ ‌ ‌ ‌ ‌ ‌ ‌ ‌ ‌ ‌ ‌ ‌ ‌ ‌ ‌ ‌ ‌ ‌ ‌ ‌ ‌ ‌ ‌ ‌ ‌
🌌 Incoming! Webb Telescope's first color images
Monday, June 6, 2022
Mark your calendars, folks: The James Webb Space Telescope's first scientific image drop date is July 12, 2022. ‌ ‌ ‌ ‌ ‌ ‌ ‌ ‌ ‌ ‌ ‌ ‌ ‌ ‌ ‌ ‌ ‌ ‌ ‌ ‌ ‌ ‌ ‌ ‌ ‌ ‌ ‌ ‌ ‌ ‌ ‌ ‌ ‌ ‌ ‌ ‌ ‌ ‌ ‌ ‌ ‌ ‌ ‌
Sunday, June 5, 2022
Rumination can get us stuck in a rut. With help, you can get out. ‌ ‌ ‌ ‌ ‌ ‌ ‌ ‌ ‌ ‌ ‌ ‌ ‌ ‌ ‌ ‌ ‌ ‌ ‌ ‌ ‌ ‌ ‌ ‌ ‌ ‌ ‌ ‌ ‌ ‌ ‌ ‌ ‌ ‌ ‌ ‌ ‌ ‌ ‌ ‌ ‌ ‌ ‌ ‌ ‌ ‌ ‌ ‌ ‌ ‌ ‌ ‌ ‌ ‌ ‌ ‌ ‌ ‌ ‌ ‌ ‌ ‌ ‌ ‌ ‌ ‌ ‌ ‌
🐭 If you give a mouse a banana...
Saturday, June 4, 2022
Plus: Ingenuity just set a record for the longest and fastest flight on Mars. ‌ ‌ ‌ ‌ ‌ ‌ ‌ ‌ ‌ ‌ ‌ ‌ ‌ ‌ ‌ ‌ ‌ ‌ ‌ ‌ ‌ ‌ ‌ ‌ ‌ ‌ ‌ ‌ ‌ ‌ ‌ ‌ ‌ ‌ ‌ ‌ ‌ ‌ ‌ ‌ ‌ ‌ ‌ ‌ ‌ ‌ ‌ ‌ ‌ ‌ ‌ ‌ ‌ ‌ ‌ ‌ ‌ ‌ ‌ ‌ ‌ ‌
Thursday, June 2, 2022
'The Boys' Season 3 is still the best superhero show by a longshot. It's fun, weird, dark, emotional, and often extremely gross. ‌ ‌ ‌ ‌ ‌ ‌ ‌ ‌ ‌ ‌ ‌ ‌ ‌ ‌ ‌ ‌ ‌ ‌ ‌ ‌ ‌ ‌ ‌ ‌ ‌ ‌ ‌ ‌ ‌ ‌