Celebrating the wit of 'Silent Cal' Coolidge
| | | |
| --- | --- | --- |
| US Edition - Today's top story: Let's spare a few words for 'Silent Cal' Coolidge on July 4, his 150th birthday View in browser | | US Edition | 4 July 2022 |
It's July 4. And for many in the United States, that means fireworks! BBQ! A day off from work! Celebrating the life and times of Calvin Coolidge?
Okay, that last bit might be a stretch. Indeed, the country's 30th president – born 150 years ago today – didn't go down in history as one of the greats. But the dry wit of Coolidge, who served as president in the early to mid-1920s, endures, writes IUPUI journalism scholar Chris Lamb.
Coolidge once said, "I think the American public wants a solemn ass as a president," Lamb recalls. "And I think I'll go along with them."
Lamb explains that "fireworks rarely followed Coolidge during his political career" – but he still often got the last word. In celebration of "Silent Cal," he heads today's newsletter list, which also includes a selection of stories from The Conversation archive on the theme of July 4.
Also today:
Amy Lieberman

Politics + Society Editor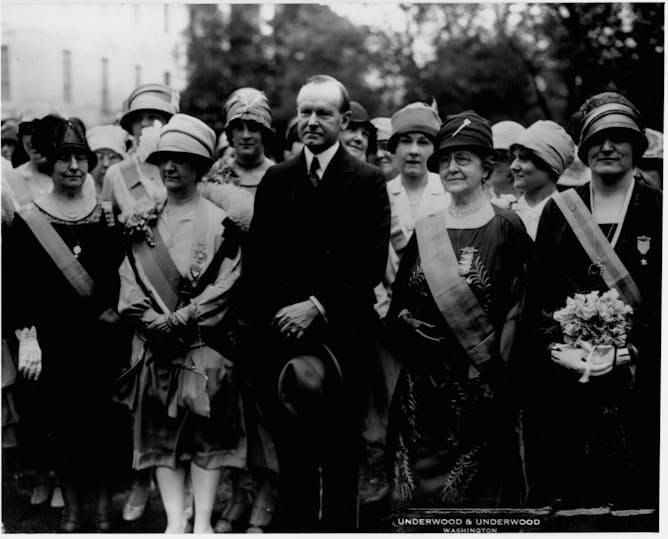 US President Calvin Coolidge hasn't gone down in history for his triumphs or failures as president during the 1920s – but his dry sense of humor carries on.
Environment + Energy
Climate change has a clear link to rising foodborne illnesses. An epidemiologist explains a growing problem that puts lives at risk.
Education
The effort to give every student equal access to an education has lasted decades and may need even more time before the goal is reached.
Economy + Business
The latest data shows imports of bottle rockets, sparklers and other fireworks at a record pace, even as consumer demand appears likely to wane. That could create opportunities for patient revelers.
Ethics + Religion
Frederick Douglass used the words of Psalm 137 in his famous speech, 'What to a Slave is the Fourth of July?' For centuries, this poem has resonated with writers and composers on how humans deal with trauma.
Science + Technology
Most of us look forward to the fireworks on the Fourth of July. But did you ever wonder how the chemists create those colors that light up the night sky? Are some colors harder to create than others?
Politics + Society
A scholar of early US history celebrates the country's birthday with six under-appreciated ideas about the founding document.
Arts + Culture
The gooey treat couldn't have become popularized without the technological advances of the Industrial Revolution, which brought cheap sweets to the masses.
From our international editions
Reader Comments 💬
"The immunity from vaccines starts to wane after 6 months. Thus, if you are going to be exposed to the virus such as through summer travels, etc and you cannot wait, you could use the mix and match vaccines. But if you were boosted recently or not likely to get exposed to the virus in summer, you could wait till late Fall to early Winter because several better and new vaccines are on the horizon as detailed in our article."

– Author Prakash Nagarkatti on the story Should you get a COVID-19 booster shot now or wait until fall? Two immunologists help weigh the options
Older messages
How much moral value does a fetus possess?
Thursday, June 30, 2022
+ How Russia's digital iron curtain was forged ‌ ‌ ‌ ‌ ‌ ‌ ‌ ‌ ‌ ‌ ‌ ‌ ‌ ‌ ‌ ‌ ‌ ‌ ‌ ‌ ‌ ‌ ‌ ‌ ‌ ‌ ‌ ‌ ‌ ‌ ‌ ‌ ‌ ‌ ‌ ‌ ‌ ‌ ‌ ‌ ‌ ‌ ‌ ‌ ‌ ‌ ‌ ‌ ‌ ‌ ‌ ‌ ‌ ‌ ‌ ‌ ‌ ‌ ‌ ‌ ‌ ‌ ‌ ‌ ‌ ‌ ‌ ‌ ‌ ‌ ‌ ‌ ‌ ‌ ‌
Corporations hesitate to enter the abortion fray
Wednesday, June 29, 2022
+ Jan. 6 bombshell shows importance of congressional committees ‌ ‌ ‌ ‌ ‌ ‌ ‌ ‌ ‌ ‌ ‌ ‌ ‌ ‌ ‌ ‌ ‌ ‌ ‌ ‌ ‌ ‌ ‌ ‌ ‌ ‌ ‌ ‌ ‌ ‌ ‌ ‌ ‌ ‌ ‌ ‌ ‌ ‌ ‌ ‌ ‌ ‌ ‌ ‌ ‌ ‌ ‌ ‌ ‌ ‌ ‌ ‌ ‌ ‌ ‌ ‌ ‌ ‌ ‌ ‌ ‌ ‌ ‌ ‌ ‌ ‌ ‌ ‌ ‌
Abortion funds likely to grow in post-Roe world
Monday, June 27, 2022
+ Could humans survive an ice age? ‌ ‌ ‌ ‌ ‌ ‌ ‌ ‌ ‌ ‌ ‌ ‌ ‌ ‌ ‌ ‌ ‌ ‌ ‌ ‌ ‌ ‌ ‌ ‌ ‌ ‌ ‌ ‌ ‌ ‌ ‌ ‌ ‌ ‌ ‌ ‌ ‌ ‌ ‌ ‌ ‌ ‌ ‌ ‌ ‌ ‌ ‌ ‌ ‌ ‌ ‌ ‌ ‌ ‌ ‌ ‌ ‌ ‌ ‌ ‌ ‌ ‌ ‌ ‌ ‌ ‌ ‌ ‌ ‌ ‌ ‌ ‌ ‌ ‌ ‌ ‌ ‌ ‌ ‌ ‌ ‌ ‌ ‌