America's aging infrastructure can't handle the heat
| | | |
| --- | --- | --- |
| US Edition - Today's top story: Intense heat waves and flooding are battering electricity and water systems, as America's aging infrastructure sags under the pressure of climate change View in browser | | US Edition | 8 September 2022 |
California might have avoided rolling blackouts so far this week, but tens of thousands of homes still lost electricity for hours as aging power system components conked out in the 100-plus degree heat. My house was one of them, and it reached an unhealthy 92 degrees inside by the time the power came back on five hours later. People without options for cooling are facing far worse.
It's just the latest sign that America's aging infrastructure is in trouble. Think about this: A water main breaks somewhere in the country every two minutes. About a third of the nation's bridges need rehabilitation or replacement. And the average dam is past its expected life span. Jackson, Mississippi, lost safe drinking water during flooding in late August in an ongoing problem with an aging water treatment plant.
University of Colorado civil engineer Paul Chinowsky explains the troubled state of the nation's essential infrastructure, particularly in low-income communities and communities of color, and how climate change on top of a trillion-dollar maintenance backlog threatens to make the 2020s the age of infrastructure failure.
Also today:
Stacy Morford

Environment + Climate Editor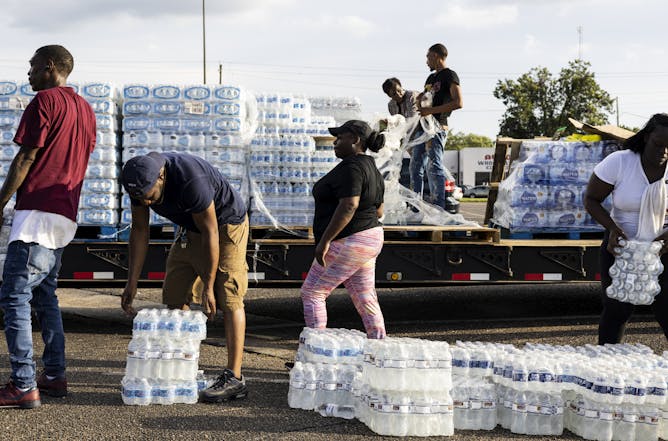 A heat wave that pushed California's power grid to the limit, and the water system failure in Jackson, Mississippi, are just two examples.
Science + Technology
Overcoming the access barriers and biases that underrepresented and underserved communities face could not only improve research participation but also improve care.
Health + Medicine
A new study provides the first glimpse into what happens in children's brains as they meditate.
Environment + Energy
The new discovery echoes a mission in 1931, when a five-day zeppelin flight sent robots to the stratosphere and redrew the maps of the high Arctic.

Organizers across the US are finding innovative grassroots strategies for helping people thrive. Many of these ventures emphasize working together as part of communities and collective systems.

Southern Ocean heat uptake accounts for almost all the planet's ocean warming, thereby controlling the rate of climate change.
Education
Different professors teach differently. If you're a student with choices in a program, it makes sense to find out what you're getting.
Older messages
The problem with virtue signaling
Monday, August 29, 2022
+ high heat and air pollution a dangerous combination ‌ ‌ ‌ ‌ ‌ ‌ ‌ ‌ ‌ ‌ ‌ ‌ ‌ ‌ ‌ ‌ ‌ ‌ ‌ ‌ ‌ ‌ ‌ ‌ ‌ ‌ ‌ ‌ ‌ ‌ ‌ ‌ ‌ ‌ ‌ ‌ ‌ ‌ ‌ ‌ ‌ ‌ ‌ ‌ ‌ ‌ ‌ ‌ ‌ ‌ ‌ ‌ ‌ ‌ ‌ ‌ ‌ ‌ ‌ ‌ ‌ ‌ ‌ ‌ ‌ ‌ ‌ ‌ ‌ ‌ ‌ ‌ ‌ ‌
A new era in space exploration?
Saturday, August 27, 2022
+ pickle-flavored foods are everywhere ‌ ‌ ‌ ‌ ‌ ‌ ‌ ‌ ‌ ‌ ‌ ‌ ‌ ‌ ‌ ‌ ‌ ‌ ‌ ‌ ‌ ‌ ‌ ‌ ‌ ‌ ‌ ‌ ‌ ‌ ‌ ‌ ‌ ‌ ‌ ‌ ‌ ‌ ‌ ‌ ‌ ‌ ‌ ‌ ‌ ‌ ‌ ‌ ‌ ‌ ‌ ‌ ‌ ‌ ‌ ‌ ‌ ‌ ‌ ‌ ‌ ‌ ‌ ‌ ‌ ‌ ‌ ‌ ‌ ‌ ‌ ‌ ‌ ‌ ‌ ‌ ‌ ‌ ‌ ‌ ‌
Menstrual health literacy is lacking in the U.S.
Friday, August 26, 2022
+ Ukraine nuclear power plant in peril ‌ ‌ ‌ ‌ ‌ ‌ ‌ ‌ ‌ ‌ ‌ ‌ ‌ ‌ ‌ ‌ ‌ ‌ ‌ ‌ ‌ ‌ ‌ ‌ ‌ ‌ ‌ ‌ ‌ ‌ ‌ ‌ ‌ ‌ ‌ ‌ ‌ ‌ ‌ ‌ ‌ ‌ ‌ ‌ ‌ ‌ ‌ ‌ ‌ ‌ ‌ ‌ ‌ ‌ ‌ ‌ ‌ ‌ ‌ ‌ ‌ ‌ ‌ ‌ ‌ ‌ ‌ ‌ ‌ ‌ ‌ ‌ ‌ ‌ ‌ ‌ ‌ ‌ ‌ ‌ ‌
Dragon lore in religions and cultures around the world
Thursday, August 25, 2022
Also: LGBTQ issues spark plan to split from Methodist Church; Hawaiian telescope on sacred mountain ‌ ‌ ‌ ‌ ‌ ‌ ‌ ‌ ‌ ‌ ‌ ‌ ‌ ‌ ‌ ‌ ‌ ‌ ‌ ‌ ‌ ‌ ‌ ‌ ‌ ‌ ‌ ‌ ‌ ‌ ‌ ‌ ‌ ‌ ‌ ‌ ‌ ‌ ‌ ‌ ‌ ‌ ‌ ‌ ‌ ‌ ‌ ‌ ‌ ‌ ‌