Morning Brew - ☕ Already emerged
| TOGETHER WITH | |
| --- | --- |
Good morning. Today is a bittersweet day, because after nearly two years of writing the Brew, Jamie has penned her final article for the daily newsletter.
The good news is that she's not going very far. Jamie is joining the team at Incrypto, the Brew's upcoming crypto newsletter (which you should definitely sign up for). See you in the metaverse, Jamie's avatar
.
—Abby Rubenstein, Matty Merritt, Max Knoblauch, Neal Freyman, Jamie Wilde
| | | | |
| --- | --- | --- | --- |
| | Nasdaq | 10,867.93 | |
| | | | |
| --- | --- | --- | --- |
| | S&P | 3,693.23 | |
| | | | |
| --- | --- | --- | --- |
| | Dow | 29,590.41 | |
| | | | |
| --- | --- | --- | --- |
| | 10-Year | 3.696% | |
| | | | |
| --- | --- | --- | --- |
| | Bitcoin | $18,889.20 | |
| | | | |
| --- | --- | --- | --- |
| | Oil | $79.49 | |
*Stock data as of market close, cryptocurrency data as of 1:00am ET. Here's what these numbers mean.
Markets:

Yesterday felt like a milestone on Wall Street, and not the kind you bring cake to. As central banks around the world tighten the economic screws, the Dow sank to a

new low

for the year, Wall Street's volatility index skyrocketed, and oil prices tumbled to below $80 a barrel. The major equity indexes in the US have now dropped for five out of the last six weeks, and the light at the end of the tunnel looks very, very far away.
SPACE
NASA is throwing a spacecraft at an asteroid nbd
Illustration: Dianna "Mick" McDougall, Photos: NASA
If Monday Night Football tackles aren't exciting enough, NASA engineers have a much bigger collision planned this Monday at 7:14pm ET. That's when one of their spacecraft is expected to ram into an asteroid. The first-of-its-kind test is a defensive measure to save humanity from Littlefoot's fate, if and when that becomes necessary.
The $325 million Double Asteroid Redirection Test (DART) kicked off last fall, when the spacecraft that's currently hurtling toward an asteroid was launched. Now, the 1,260-pound spacecraft is cruising along at nearly 15,000 mph on the final leg of its journey to crash into an 11 billion-pound asteroid moonlet called Dimorphos. The impact will be like "running a golf cart into a Great Pyramid," planetary scientist Nancy Chabot said.
The purpose: To slightly alter Dimorphos's orbit around a larger asteroid, Didymos, because engineers think changing a celestial body's trajectory could be the best way to keep it from hitting Earth. So no, DART won't make the sci-fi trope of blowing an asteroid into a million pieces a reality, but the crash is expected to form a small crater in Dimorphos and shoot about two million pounds of debris into space.
And don't worry, Dimorphos is being targeted because it is not a threat to Earth. In fact, NASA has determined that there is no known asteroid large enough to threaten Earth with a "significant chance" of crash-landing here within the next century.
DART serves a secondary purpose: It could lead to a better understanding of how the solar system was formed, since an asteroid is "a fossil of the early solar system," NASA scientist Katherine Calvin said.
Looking ahead…telescopes around the world and space should see a bright flash upon impact, but determining whether DART successfully altered Dimorphos's course could take weeks. NASA said there's less than a 10% chance its spacecraft misses its target.—JW
You've got a pile of leaves just begging you to crunch them, and Cariuma—the sustainable sneaker company loved by skaters, surfers, and celebs—has got the stylish and comfortable kicks for all those festive fall activities filling up your calendar.
That's right: Their bestselling OCA sneakers (with over 20k 5-star reviews)—made from consciously sourced materials including suede, leather, and organic cotton—are finally back in stock after a 61k waitlist
, as are the innovative IBI kicks, made from bamboo and recycled plastics.
Cariuma's beloved styles come in a wide range of colors and prints (including limited-edition collabs!) and have been featured in Vogue, Rolling Stone, and GQ.

Shop for fall footwear + get 20% off with code MBSEPT20.
Anadolu Agency/Getty Images
Iran gets its own protesters into the mix. Protesters in Iran took to the streets this week after a 22-year-old woman died while in custody of the morality police, and in a move that's unlikely to de-escalate the situation, state-organized counterprotesters took to the streets yesterday. Pro-government marchers called for rioters to be put to death. Meanwhile, the US backed the original protests earlier in the week by putting new sanctions on the morality police and allowing US tech firms to boost Iran's internet after the government shut it down.
More Covid travel restrictions nixed. Get your passport ready, because traveling to Asia is about to get easier—Hong Kong, Japan, and Taiwan all recently announced they were ending strict policies aimed at keeping Covid at bay (that were rough on their economies). Hong Kong and Taiwan will no longer require new arrivals to quarantine in hotels, while Japan will begin to allow individual tourists into the country. The last major holdout: China, which is sticking by its stringent "zero Covid" policy.
Hurricane Fiona bears down on Canada. After knocking out power in Puerto Rico and the Dominican Republic, and dousing Bermuda with heavy rains, Hurricane Fiona continued its path toward Canada. The storm has the potential to be historic for the region, which is rarely in the path of hurricanes. "It's going to be a bad one," Prime Minister Justin Trudeau said yesterday.
ECONOMY
An unexpected emerging market
Anadolu Agency/Getty Images
Britain's been considered a major world economic power since at least the reign of Queen Victoria, but you wouldn't know it by how global financial markets reacted to the budget the UK released yesterday. All of a sudden it's starting to look a whole lot like an emerging market.
How did we get here?
The budget included major tax cuts for high earners and scrapped a planned hike in corporate taxes. It also spelled out just how much the government plans to spend to subsidize energy bills: £150 billion.
And no offense to newly installed PM Liz Truss, but the markets reacted to the bigger-than-expected package like they don't quite trust the British government to handle its financial situation:
Investors couldn't sell off short-term government bonds fast enough, pushing rates way up. Borrowing costs on five-year bonds had their largest ever one-day rise.

The British pound fell more than 3% against the dollar to the lowest it's been since 1985.
This combo of soaring bond rates and plunging currency is usually what countries without sound economic governance experience—not wealthy nations like the UK, signaling major concerns over public debt and inflation.
What now? All eyes are on the Bank of England, which before the budget dropped said that a recession had already begun. The central bank is now expected to raise rates even more aggressively.—AR
AUTO
That which we call a Ford by any other name would still run
Robert Cianflone/Getty Images
Ford execs have had a tough week that is wrapping up with more bad news: Their trucks are naked. The automaker said yesterday it can't get enough blue oval "Ford" name badges, which is delaying the delivery of some vehicles (mainly its Ford F-Series pickups), according to the Wall Street Journal.
Word on the street is Tribar Technologies, one of Ford's past badge suppliers, had to slow operations last month after releasing chemicals into its local sewer system in Michigan. Ford and the supplier declined to comment on whether there's any connection.
Car nametags are just the latest speed bump in Ford's supply chain woes. On Monday, the company said supply chain-flation is hitting harder than expected and it's spending an additional $1 billion this quarter in supplier costs.
Other parts also remain hard to get. Ford anticipates that by the end of next week, storage lots will be filled with up to 45,000 vehicles that aren't ready to be sold because they still need parts, primarily semiconductor chips. Some of those lots are already so full, you can see the massive inventory surplus from space.—MM
Keith Birmingham/MediaNews Group/Pasadena Star-News via Getty Images
Stat: Albert Pujols connected on two home runs last night to become just the fourth player in MLB history to hit 700 home runs. He joins Barry Bonds, Hank Aaron, and Babe Ruth in the ultra-exclusive club.
Quote: "We shouldn't always equate fun with money."
Google CEO Sundar Pichai essentially told employees at a company all-hands that they really shouldn't get their hopes up for this year's holiday party. The tech giant has been tightening its belt…er jogger drawstrings in recent months with measures like severely limiting employee travel.
Read: One art collector's wild quest to prove he had a real Lucian Freud. (New Yorker)
Max Knoblauch
Weekend conversation starters:
Brisket szn: Here are some recipes for anyone trying to impress their Rosh Hashanah table. Shana tova!
HR you ready: to grow your team, achieve your mission, and create a lasting culture with a dedicated, professional HR manager for $99/mo? Bambee has the tools your biz needs. Get a free HR audit from Bambee today.*
Trade like a pro: Join moomoo for an all-in-one trading experience with advanced tools and free, real-time data to help you take charge of your trading. Get 15 free stocks valued at up to $2,000 each.*
*This is sponsored advertising content.
Brew crossword: Embrace sweater weather in today's autumn-themed 15x15 crossword. Play it here.
Open house
Welcome to Open House, the only newsletter section that is ready to call it a day on big city livin'. We'll give you a few facts about a listing, and you try to guess the price.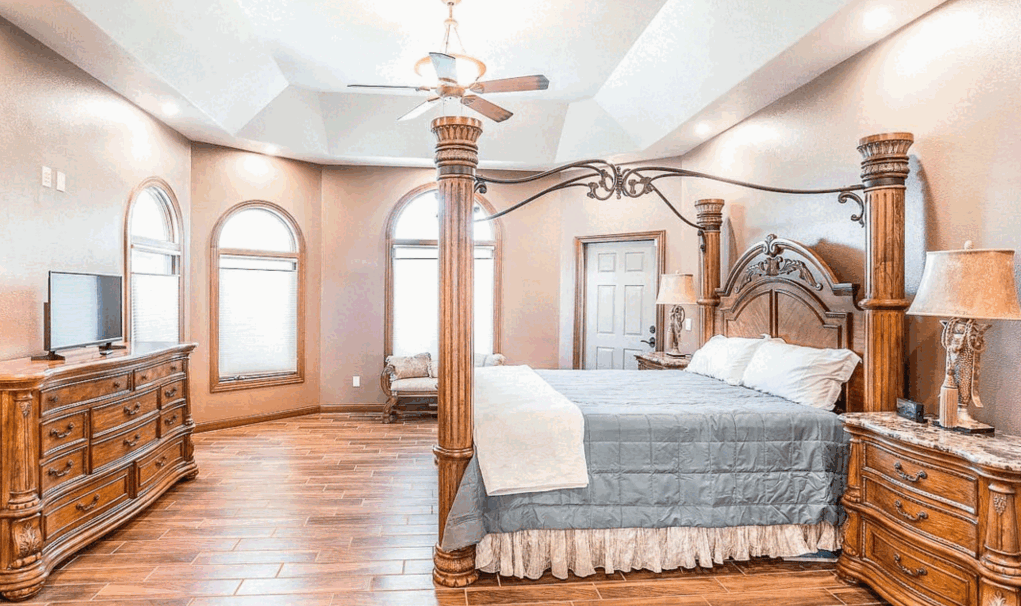 Zillow
Today's listing is in Sioux Falls, South Dakota, a city that got its first Chipotle in 2020. This 3,403 square-foot home is the epitome of "Midwest rich." Amenities include:
4 beds, 3 baths

Arches. Everywhere.

Basement bar and wine cellar
How much to be closer to Mount Rushmore than you probably are right now?
✤ A Note From Moomoo
Securities offered through Moomoo Financial Inc., Member FINRA/SIPC. Moomoo
Technologies Inc., Moomoo Financial Inc. and moomoo are not affiliated with The Average Joe. Moomoo is a professional trading app offered by Moomoo Technologies Inc. In the U.S., investment products and services on Moomoo are offered by Moomoo Financial Inc., Member FINRA/SIPC. Any illustrations, scenarios, or specific securities referenced herein are strictly for illustrative purposes. Past investment performance does not guarantee future results. Investing involves risk and the potential to lose principal. U.S. residents trading in U.S. securities may trade commission-free using the moomoo app through Moomoo Financial Inc. Accolades are not indicative of future performance. Moomoo Technologies Inc., Moomoo Financial Inc. and moomoo are not affiliated with FinTech Breakthrough Awards. For additional information please visit: https://fintechbreakthrough.com/ Terms and Conditions apply; please visit https://www.moomoo.com/support/topic490 for details.
Written by Abigail Rubenstein, Matty Merritt, Max Knoblauch, Jamie Wilde, and Neal Freyman
Was this email forwarded to you? Sign up here.
ADVERTISE // CAREERS // SHOP // FAQ

Update your email preferences or unsubscribe

here

.
View our privacy policy

here

.

Copyright © 2022 Morning Brew. All rights reserved.
22 W 19th St, 4th Floor, New York, NY 10011
Key phrases
Older messages
Friday, September 23, 2022
Boutique luxury hotels debut bathrobes, scents, and beauty products. September 23, 2022 Retail Brew TOGETHER WITH Bolt Happy Friday. So, it seems most of the 70+ companies taking part in a four-day
Friday, September 23, 2022
Finding fraud in apps. September 23, 2022 Marketing Brew TOGETHER WITH Attest Today is Friday. And there's a new celebrity skin-care line on the market, brought to you by none other than renowned
Friday, September 23, 2022
Why the EV ride-sharing company is sending power back to NYC's grid. September 23, 2022 Emerging Tech Brew Happy Friday. And so marks the end of the week in which the 2021 tech bull market, in all
Friday, September 23, 2022
The housing boom may be over... September 23, 2022 View Online | Sign Up | Shop Morning Brew TOGETHER WITH Vuori Good morning. This week the sun began to set before 7pm in New York. The next time we
Thursday, September 22, 2022
One creative's journey to the top. September 22, 2022 | View Online | Sign Up Sidekick Logo TOGETHER WITH HOKA Good afternoon, Sidekickers. Is job-hopping the new career ladder? A recent Conference