Climate reparations top UN summit agenda
| | | |
| --- | --- | --- |
| US Edition - Today's top story: Loss and damage: Who is responsible when climate change harms the world's poorest countries, and what does compensation look like? View in browser | | US Edition | 4 November 2022 |
Who should pay for the damage when climate change harms the world's poorest countries?
That controversial issue – laden with questions of ethics, fairness and history – tops the agenda next week as world leaders meet in Egypt for the annual United Nations Climate Change Conference.
A glance at the maps in Bethany Tietjen's article shows the challenge: The countries contributing the least to climate change are often the most vulnerable to climate-related disasters, while the biggest greenhouse gas emitters are some of the world's wealthiest.
Tietjen, a climate policy research fellow at the Fletcher School at Tufts University, explains some of the solutions being floated and why the idea of paying reparations for climate damage is especially contentious for certain countries.
Also today:
Stacy Morford

Environment + Climate Editor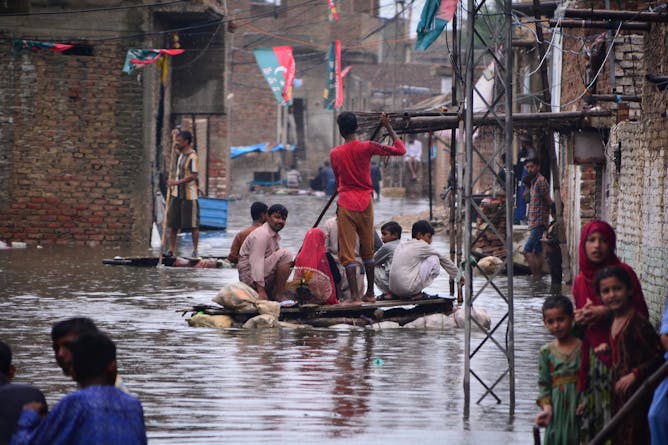 That's the big question at the upcoming UN Climate Change Conference, known as COP27, and it's controversial.
Economy + Business
Squandering all that money is easier than it seems.
Health + Medicine
After battling drug manufacturers and distributors in court for years, local and state governments are about to receive a windfall that could expand access to treatments that can save lives.

They are cheaper to buy and don't require a doctor's prescription. But over-the-counter hearing aids come with some stipulations.
Ethics + Religion
Catholics disagree over how to adapt the church's doctrine and practices, especially marriage, to different cultures.

Latina women hold few top leadership positions in the Church of Jesus Christ of Latter-day Saints, but their contributions help keep congregations going.
Podcast 🎙️
We talk to a political scientist and a philosopher about how to bring countries back from dangerous levels of polarization. Listen to The Conversation Weekly.
The Conversation Quiz 🧠
Here's the first question of this week's edition:
With 98% of its colonies at risk of extinction by 2100, which species recently received Endangered Species Act protection?

A. Emperor penguin
B. Giant panda
C. Louisiana black bear
D. Arabian oryx
From our international editions
Older messages
The Conversation: 2022 in review
Thursday, November 3, 2022
Our impact, made possible by you ‌ ‌ ‌ ‌ ‌ ‌ ‌ ‌ ‌ ‌ ‌ ‌ ‌ ‌ ‌ ‌ ‌ ‌ ‌ ‌ ‌ ‌ ‌ ‌ ‌ ‌ ‌ ‌ ‌ ‌ ‌ ‌ ‌ ‌ ‌ ‌ ‌ ‌ ‌ ‌ ‌ ‌ ‌ ‌ ‌ ‌ ‌ ‌ ‌ ‌ ‌ ‌ ‌ ‌ ‌ ‌ ‌ ‌ ‌ ‌ ‌ ‌ ‌ ‌ ‌ ‌ ‌ ‌ ‌ ‌ ‌ ‌ ‌ ‌ ‌ ‌ ‌ ‌ ‌ ‌ ‌ ‌ ‌ ‌
Political violence isn't going away anytime soon
Thursday, November 3, 2022
+ the ethics of not voting ‌ ‌ ‌ ‌ ‌ ‌ ‌ ‌ ‌ ‌ ‌ ‌ ‌ ‌ ‌ ‌ ‌ ‌ ‌ ‌ ‌ ‌ ‌ ‌ ‌ ‌ ‌ ‌ ‌ ‌ ‌ ‌ ‌ ‌ ‌ ‌ ‌ ‌ ‌ ‌ ‌ ‌ ‌ ‌ ‌ ‌ ‌ ‌ ‌ ‌ ‌ ‌ ‌ ‌ ‌ ‌ ‌ ‌ ‌ ‌ ‌ ‌ ‌ ‌ ‌ ‌ ‌ ‌ ‌ ‌ ‌ ‌ ‌ ‌ ‌ ‌ ‌ ‌ ‌ ‌ ‌ ‌ ‌ ‌ ‌ ‌ ‌
Celebrity candidates bring shock factor to midterms
Wednesday, November 2, 2022
+ reducing opioid use with cannabis ‌ ‌ ‌ ‌ ‌ ‌ ‌ ‌ ‌ ‌ ‌ ‌ ‌ ‌ ‌ ‌ ‌ ‌ ‌ ‌ ‌ ‌ ‌ ‌ ‌ ‌ ‌ ‌ ‌ ‌ ‌ ‌ ‌ ‌ ‌ ‌ ‌ ‌ ‌ ‌ ‌ ‌ ‌ ‌ ‌ ‌ ‌ ‌ ‌ ‌ ‌ ‌ ‌ ‌ ‌ ‌ ‌ ‌ ‌ ‌ ‌ ‌ ‌ ‌ ‌ ‌ ‌ ‌ ‌ ‌ ‌ ‌ ‌ ‌ ‌ ‌ ‌ ‌ ‌ ‌ ‌ ‌ ‌
Conservative Supreme Court set to end affirmative action
Tuesday, November 1, 2022
+ sports betting rising in the US ‌ ‌ ‌ ‌ ‌ ‌ ‌ ‌ ‌ ‌ ‌ ‌ ‌ ‌ ‌ ‌ ‌ ‌ ‌ ‌ ‌ ‌ ‌ ‌ ‌ ‌ ‌ ‌ ‌ ‌ ‌ ‌ ‌ ‌ ‌ ‌ ‌ ‌ ‌ ‌ ‌ ‌ ‌ ‌ ‌ ‌ ‌ ‌ ‌ ‌ ‌ ‌ ‌ ‌ ‌ ‌ ‌ ‌ ‌ ‌ ‌ ‌ ‌ ‌ ‌ ‌ ‌ ‌ ‌ ‌ ‌ ‌ ‌ ‌ ‌ ‌ ‌ ‌ ‌ ‌ ‌ ‌ ‌ ‌
Halloween's pagan roots – and other spooky stories
Monday, October 31, 2022
Boo! Special newsletter for Halloween and Day of the Dead ‌ ‌ ‌ ‌ ‌ ‌ ‌ ‌ ‌ ‌ ‌ ‌ ‌ ‌ ‌ ‌ ‌ ‌ ‌ ‌ ‌ ‌ ‌ ‌ ‌ ‌ ‌ ‌ ‌ ‌ ‌ ‌ ‌ ‌ ‌ ‌ ‌ ‌ ‌ ‌ ‌ ‌ ‌ ‌ ‌ ‌ ‌ ‌ ‌ ‌ ‌ ‌ ‌ ‌ ‌ ‌ ‌ ‌ ‌ ‌ ‌ ‌ ‌ ‌ ‌ ‌ ‌ ‌ ‌ ‌ ‌ ‌