Morning Brew - ☕ Mass layoffs
| TOGETHER WITH | |
| --- | --- |
Good morning. Best of luck to everyone running the New York City Marathon tomorrow. It's the biggest marathon in the world, with a field of 50,000+ runners and a route that spans five bridges and all five boroughs.
Once you get to north Williamsburg, scan the roof for the people in the Brew sweatshirts—we'll be cheering you on.
—Neal Freyman, Matty Merritt, Max Knoblauch, Rohan Anthony
| | | | |
| --- | --- | --- | --- |
| | Nasdaq | 10,475.26 | |
| | | | |
| --- | --- | --- | --- |
| | S&P | 3,770.55 | |
| | | | |
| --- | --- | --- | --- |
| | Dow | 32,403.22 | |
| | | | |
| --- | --- | --- | --- |
| | 10-Year | 4.164% | |
| | | | |
| --- | --- | --- | --- |
| | Bitcoin | $21,082.54 | |
| | | | |
| --- | --- | --- | --- |
| | Carvana | $8.76 | |
*Stock data as of market close, cryptocurrency data as of 1:00am ET. Here's what these numbers mean.
Markets:

Stocks closed their otherwise terrible week on a high note following another solid jobs report for October. The US economy

added 261,000 jobs

last month, more than expected, though the unemployment rate ticked up to 3.7%. The Fed wants to see the labor market loosen up before it's willing to slow down its rate hikes.

Stock spotlight:

Carvana, the online used car retailer that surged during the pandemic, suffered its

worst day ever

and closed near its all-time low. Carvana's plunge of more than 95% this year makes it a prime example of Covid darlings that were caught flat-footed when the macroeconomic environment deteriorated and pandemic trends (like huge demand for used cars) snapped back to normal.
Illustration: Dianna "Mick" McDougall, Photo: Getty Images
When you wake up tomorrow morning, you'll be well rested and smacked with a pocketful of sunshine: In 48 states and DC, daylight saving time is ending overnight Sunday, which means a 25-hour day tomorrow and, going forward, darker evenings and sun-splashed mornings.
When our clocks change every six months, it inevitably sparks debate about why we participate in this curious tradition in the first place, and whether we should just pick one time system and stick with it.
The arguments for abolishing daylight saving time
Most experts on sleep and circadian rhythms argue that tomorrow should be the last time we ever switch our clocks. They claim that, by artificially pushing the sun to set later in the evening, daylight saving time disrupts our internal clock's natural alignment with the sun (for example, by discouraging the production of sleep-inducing hormones like melatonin). That can lead to negative impacts on our physical and mental health.
Other proponents of permanent standard time point to research that shows how adopting it would reduce crime, energy costs, and car crashes. A study published Wednesday found that brighter work commutes due to permanent standard time would save about $1.2 billion in collision costs from drivers hitting deer—and prevent 37,000 deer from being killed in the process.
The other side
This March, the Senate passed the Sunshine Protection Act, which intends to, uh, protect sunshine by making daylight saving time permanent. Senators say their constituents have been flooding their phones with requests for more daylight in the evenings—to enjoy the outdoors recreationally, yes, but also to squeeze in more time to farm.
But the US has tried that before, in 1974, and it flopped miserably. Just four months after Congress approved permanent daylight standard time, it was scrapped following public backlash.
Bottom line: The Sunshine Protection Act has stalled in the House. So at least for now, it looks like the only thing that's permanent about our time system is change.—NF
There's a new king in town…and it's not Charles.
It's Miso Robotics, ruler of food-frying, drink-filling kitchen robots that have proven to offset fast-food labor shortages in the ​​$73b US market.
In fact, with 500,000 new unfilled jobs each month, top fast-food brands, including Jack in the Box and White Castle, have already joined Miso's flock.
King Miso plans to expand its empire globally next…
Miso just landed a major international partnership to establish a foothold in places like Europe, where it's up to 50% more costly to fill positions that could be automated through Miso's robot-as-a-service (RaaS) model.
Soon, kitchens across the $675b global market will serve robot-made meals while raking in royal riches. And you can join the regime.
Sharm el-Sheikh, Egypt. Getty Images
Climate initiatives take a backseat to war. The UN's annual climate summit, COP27, will begin tomorrow in the Egyptian resort city of Sharm el-Sheikh. While last year's COP26 in Glasgow was considered a success, governments have since been preoccupied with the war in Ukraine and inflation, and haven't been following through on their climate pledges. So the mood entering the summit is pretty sour. Ultimately, though, the energy shock caused by the war in Ukraine could speed up the transition to renewables, according to the world's top energy agency.
Here comes the respiratory triple threat. Health officials warn that a combo of Omicron subvariants, rising respiratory infections such as RSV, and the intensity of this flu season could make for a rough winter. Despite Covid cases leveling off in the last few weeks, experts worry that as people start to party like it's 2019 and holiday travel revs up, respiratory infections that are already making their way through the US could continue to surge. Flu hospitalization rates are currently at their highest since 2010, according to the CDC.
Is China going to loosen its Covid policies? Investors are betting on it. They pounced on rumors this week that Beijing was thinking about relaxing its draconian Covid precautions, sending Hong Kong's Hang Seng Index to its best week in a decade. Separately, Reuters obtained a recording of a former Chinese disease control official telling a conference that China would be making big changes to its "dynamic-zero" Covid policy.
Illustration: Francis Scialabba, Photo: Okea/Getty Images
Just over one week since Elon Musk closed his $44 billion acquisition of Twitter, he laid off roughly half of the company's workforce, about 3,700 people, yesterday.
It was chaos. Thursday night, Twitter sent out a company-wide email that told employees they would be informed of their job status via email. Ahead of the cuts, Twitter temporarily closed its offices and blocked workers from accessing internal tools.
But was this process legal? A class-action lawsuit has been filed against Twitter for not giving employees sufficient notice about layoffs and violating worker protection laws. However, the lawyer who brought the suit said Musk "is making an effort to comply."
All the turbulence is scaring advertisers. General Mills, Pfizer, and Volkswagen are just a few of the major brands that have paused ads on Twitter in recent days. Musk acknowledged the advertiser exodus yesterday, tweeting that the platform has seen a huge drop in revenue due to "activist groups pressuring advertisers."
Looking ahead…with advertisers jumping ship, Musk is in a race against time to secure new revenue sources. To make up the gap, Twitter is expected to launch its excessively roasted $8/month subscription plan on Monday.
Final note: As Musk tries to trim costs via mass layoffs, Quartz's Scott Nover reminds us that the Chief Twit paid at least an extra $153 million for Twitter by pushing up his bid to $54.20 per share as a weed joke.—MM
Sarah Silbiger/Getty Images
You might think we made a mistake showing Jerome Powell's picture, but it was intentional. The Federal Reserve is a big reason why tonight's Powerball jackpot has ballooned to $1.6 billion—the largest jackpot in world history.
"This is about interest rates, isn't it?" you think to yourself. Bingo. The advertised jackpot for lotteries reflects the future value of the award after being stashed in government bonds for 30 years. Higher interest rates → higher bond yields → bigger jackpots.
Of course, there are other factors besides the Fed fueling mega jackpots.
In 2015, Powerball dramatically reduced the odds of hitting the jackpot by adding more number combinations. Before then, there were no billion-dollar jackpots. There have been five since 2016.

Mega lottery jackpots also have a snowball effect. Once a jackpot hits $500 million, economists say, media folks like us start writing about it and people who would never have otherwise played the lottery buy a ticket, inflating the prize.
Big picture: We would say "good luck" to everyone who has a ticket, but that feels a bit insufficient. Your odds of winning the jackpot are 1 in 292.2 million—you're more likely to be killed by a vending machine.—NF
eco2drew/Getty Images
Stat: You are looking at the biggest consumer of plastic waste on the planet. A blue whale ingests 10 million pieces of microplastic a day, according to a new study, which was the first to estimate how much microplastic certain whales consume. And it is true that you are what you eat: Basically all of the microplastics entering whales came from the smaller fish and krill that whales swallow. As for what it all means for whales, the study's lead author said, "We don't know the exact health effects."
Quote: "In order to make our country successful and safe and glorious, I will very, very, very probably do it again."
At a rally on Thursday night, former President Trump came the closest he's ever come to confirming that he will seek a second presidential term in 2024. He promised that an announcement will come "very soon," and his inner circle is discussing a possible campaign launch date of Nov. 14, per Axios. With Republicans expected to pick up a bunch of Congressional seats on Tuesday, Trump might use that GOP momentum to announce his bid.
Read: Tuna. (Granta)
Max Knoblauch
Weekend conversation starters:
Change your metabolism: You got it from your mama, but you ain't stuck with it. This female-founded brand's new Metabolism Reset delivers nutritionally designed meals, supplements, and guidance for lasting ​​
results. Use code MBREW15 for 15% off.*
A trillion-dollar problem: Shopping cart abandonment is an annual (and costly!) issue for retailers. But Bolt's got the fix for your conversions, with seamless tools that make for a frictionless checkout. See how they're changing the game for the better here.*
*This is sponsored advertising content.
Brew crossword: Level up in today's 15x15 grid. Play it here.
Open House
Welcome to Open House, the only newsletter section that didn't learn its lesson from the movie.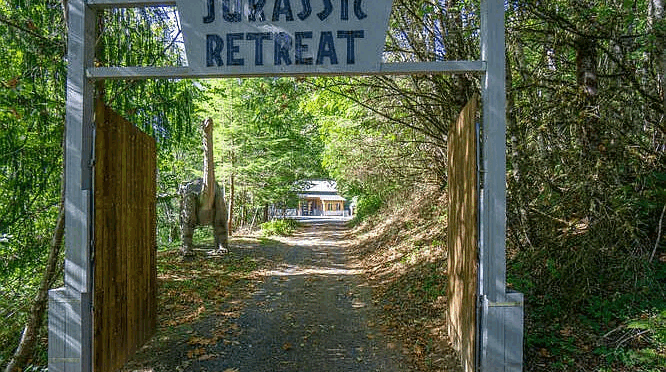 Zillow
Today's home is the unique Jurassic Retreat in Washougal, WA. The only thing this 2,166-square foot dinosaur home is missing is Jeff Goldblum, which is a serious bummer. Sure, the current owners recommend you rent it out as an unhinged Airbnb, but what if…you just lived among the life-size, motion controlled dinosaur pets? Amenities include:
3 beds, 2 baths

Jacuzzi with a raptor view

Open floor plan so there's nowhere to hide when the dinos get out
How much to cosplay Laura Dern?
Rework how you work, for good. Shop the PC Excel Dictionary Bundle now for 300+ shortcuts and 100+ functions, guaranteed to improve your Excel efficiency.
We went to NYC Oktoberfest to ask people about work–life balance, quiet quitting, and the hustle. They had some wild responses. Watch here.
The world of crypto can be intimidating. That's why we created Incrypto, a free newsletter that explains crypto in a way that actually makes sense. Sign up now.
Written by Neal Freyman, Matty Merritt, and Rohan Anthony
Was this email forwarded to you? Sign up here.
WANT MORE BREW?
Industry news, with a sense of humor →
CFO Brew

: your go-to source for global finance insights

Future Social

: the Brew's take on the world of social media

HR Brew

: analysis of the employee-employer relationship
Tips for smarter living →
Accelerate Your Career with our Courses →
ADVERTISE // CAREERS // SHOP // FAQ

Update your email preferences or unsubscribe

here

.
View our privacy policy

here

.

Copyright © 2022 Morning Brew. All rights reserved.
22 W 19th St, 4th Floor, New York, NY 10011
Older messages
Friday, November 4, 2022
The shopping cart contains multitudes. November 04, 2022 Retail Brew TOGETHER WITH Impact.com Happy Friday. Inflation may be driving up costs, but it seems like avocado prices have reached a five-year
Friday, November 4, 2022
A new era for Roku? November 04, 2022 Marketing Brew TOGETHER WITH Impact.com Happy Friday. With major companies like General Mills, Pfizer, and Audi halting ads on Twitter for the time being, is it
Friday, November 4, 2022
Plus: Renewables are cheap, actually. November 04, 2022 Emerging Tech Brew TOGETHER WITH GitHub Happy Friday. The internet's most vulnerable place isn't the server farms of Silicon Valley firms
Friday, November 4, 2022
See you at The Brief in NYC! HOORAY! IT IS FRIDAY! We have an exciting announcement about The Brief: A Marketing Brew Summit, coming to NYC in less than two weeks. To thank you for being part of our
Friday, November 4, 2022
Are magic mushrooms good for your mental health? November 04, 2022 View Online | Sign Up | Shop Morning Brew TOGETHER WITH Revela Good morning. Got a thought experiment to kick off your Friday morning: