Morning Brew - ☕ Democratic surprise
| TOGETHER WITH | |
| --- | --- |
Good morning. Yesterday started with a lunar eclipse and ended with a big question mark. Control of both chambers of Congress is still unknown, as key races remain too close to call and many votes remain to be counted. We'll go over what we do know below.
—Neal Freyman, Abby Rubenstein, Max Knoblauch
| | | | |
| --- | --- | --- | --- |
| | Nasdaq | 10,616.20 | |
| | | | |
| --- | --- | --- | --- |
| | S&P | 3,828.11 | |
| | | | |
| --- | --- | --- | --- |
| | Dow | 33,160.83 | |
| | | | |
| --- | --- | --- | --- |
| | 10-Year | 4.143% | |
| | | | |
| --- | --- | --- | --- |
| | Bitcoin | $18,266.32 | |
| | | | |
| --- | --- | --- | --- |
| | Lyft | $10.90 | |
*Stock data as of market close, cryptocurrency data as of 11:00am ET. Here's what these numbers mean.
Markets:

On Election Day, the S&P notched its

third straight gain

, and later in the newsletter we'll explain why the momentum could continue post-midterms. On the flip side, Lyft shares got hammered after its earnings report showed its business hasn't rebounded from Covid nearly as well as Uber's has.
Jeff Swensen/Getty Images
If there's anything you can bet on in politics, it's that the party not in the White House makes big Congressional gains in the midterm elections.
But that does not appear to be the case this time around.
In elections dominated by economic concerns, Democrats performed much better than expected, perhaps dodging a so-called "red wave" that threatened to kick them out of power in both chambers.
The fates of both the Senate and the House are still unclear as the sun rises on Wednesday—and we may not know the outcome for days or weeks with major races still yet to be called. The infamous NYT "needle" shows that the Senate is "leaning" the Dems' way while Republicans are "probably" going to retake the House.
Here's a recap of the biggest headlines.
Fetterman defeats Oz. In a closely watched race in the swing state of Pennsylvania, Democrats flipped a seat when John Fetterman defeated Dr. Mehmet Oz, the celebrity TV doctor who was backed by former President Trump.
The pivotal contests that haven't been called yet: Dozens of House races, including in New York and California, are too close to call. In the Senate, undecided races in Wisconsin, Georgia, Arizona, and Nevada will determine control of the chamber. Republicans need to win three of those to gain control.
Republicans sweep Florida. In a state that's moved dramatically to the right, Republicans will control every statewide office for the first time since the Reconstruction era. Both Sen. Marco Rubio and Gov. Ron DeSantis romped in their reelection campaigns.
Gubernatorial candidates make history. Democrat Maura Healey of Massachusetts was elected the first openly lesbian governor in the US and the state's first woman governor. GOP Sarah Huckabee Sanders will be the first woman to serve as Arkansas's governor, the office occupied by her father, Mike Huckabee, for 10 years. And Democrat Wes Moore will become Maryland's first Black governor.
States protect abortion rights. In ballot measures sparked by the Supreme Court's overturning of Roe v. Wade, California, Michigan, and Vermont voted to enshrine abortion rights in their state constitutions. An abortion rights vote in Kentucky is still too close to call.
Gen Z comes to Congress. Guess they don't just scroll through TikTok all day. 25-year-old Democrat Maxwell Frost won the race for Florida's 10th Congressional District, becoming the first member of Gen Z to be elected to Congress.—NF
One way to make the holidays memorable this year? Heading home in a new BMW.
For a limited time, you can receive a credit when you shop the BMW Road Home Sales Event. There are so many models to choose from—all with luxurious finishes, advanced technology, and impressive design—including:
The X5

, a midsize SAV to lead you on the road and off

The X7

, a large, three-row SAV with a powerful presence

The 5 Series

, a sedan that is both classic and elegant
Bring the thrill home this winter. The ultimate fleet is ready for any journey home for the holidays.
Hurry in to the BMW Road Home Sales Event and receive a credit of up to $3,250, now through November 30.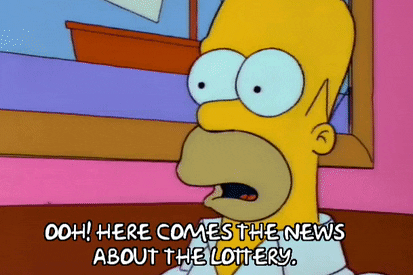 The Simpsons/20th Television Animation via Giphy
It just wasn't meant to be. The world's largest lottery prize ever, a $2.04 billion Powerball jackpot, was won yesterday after the drawing got delayed by almost 10 hours due to a "technical issue." The winning numbers: 10-33-41-47-56 and a Powerball of 10. The location where the winning ticket was purchased: Joe's Service Center in Altadena, California. The lump sum payout: $997 million. And if you didn't think things could get any better for the jackpot victor, the fact that they bought the ticket in CA means they won't face state taxes on lottery winnings.
Zuck takes blame for Meta's layoffs. Ahead of Meta's job cuts, which are expected to be announced this morning, CEO Mark Zuckerberg told lieutenants that he personally was overly optimistic about growth and hired too many employees, per the WSJ. Meta's job cuts are likely to be the worst of all the tech layoffs so far this year, and will be the first widespread job cuts the company's ever had to make.
Volodymyr Zelensky is open to peace talks. Ukraine's president signaled he would consider negotiating with Russia, something he had been vehemently against just a few months ago. However, any truce with Russia would be conditional on a) the return of occupied Ukrainian territory b) the prosecution of Russian war crimes and c) compensation for damages caused by the war. Behind the scenes, the US has been nudging Zelensky to publicly say he'd be willing to talk to Russia.
Illustration: Francis Scialabba, Photo: S. Greg Panosian/Getty Images
Now that the voting is behind us, it might be safe to start checking your beaten-down portfolio again. In recent history, stocks have only gone up after midterm elections:
In the year following every midterm election since 1950, the S&P 500 has risen—no matter which party won.

A divided government, which could happen if the GOP retakes at least the House, delivers the best market results: Data going back to 1932 shows average annual S&P returns of 13% when there's a GOP-controlled Congress under a Democratic president, compared to 10% when Democrats have both, per RBC Capital Markets.
Why? There's some debate, but partisan gridlock can be advantageous for business because it minimizes the chance of major changes to taxes or other laws that impact companies. It also doesn't hurt to have the uncertainty of the election in the rearview mirror.
But…right now investors are more focused on the Fed's rate hikes in response to inflation than just about anything else. While politicians from both sides of the aisle have criticized Jerome Powell's recent decisions, he's unlikely to change course due to the election outcome. Plus, economists seem pretty convinced the US is headed toward a recession, regardless of who's in control in Washington.—AR
Illustration: Francis Scialabba, Photos: Getty Images
Sam Bankman-Fried's plans to buy Goldman Sachs will have to wait. After spending much of the year bailing out sputtering firms during the crypto winter, the FTX founder announced yesterday that his firm was itself being bailed out in a sale to rival exchange Binance.
It was a shocking development that cements Binance CEO Changpeng Zhao (also known as CZ) as the top dog in crypto.
CZ confirmed the acquisition news to a stunned crypto community, tweeting that SBF had asked for Binance's help after "a significant liquidity crunch." That's not just a term for the perfect bite of cereal—it likely had a lot to do with the astonishing ~$6 billion in withdrawals FTX suffered in the 72 hours ahead of yesterday morning, many coming after Zhao tweeted over the weekend that Binance would sell its holdings of FTX's native token.
If this seems messy, it's because it is. SBF and Zhao have been clashing on social media for months, and even many FTX investors were surprised by the news, according to Axios. The deal hasn't officially closed yet, as both companies need to do more due diligence, according to their CEOs.
What does this deal mean for basketball? It could jeopardize a lot of the sports investments FTX has made recently, including the 19-year, $135 million deal the exchange signed in 2021 for the naming rights to the Miami Heat's home arena.—MK
Want more crypto news? Sign up for our dedicated crypto newsletter, Incrypto.
SOPA Images/Getty Images
Stat: Is La Condesa the new Williamsburg? Americans are moving to Mexico at the fastest pace on record, with permits to temporarily live in the country surging 85% from the year before Covid, according to Bloomberg. (Mexican officials also say the # of American expats is almost certainly an undercount.) For remote workers, the lure of Mexico City in particular is obvious: Your dollar will go far, the climate is exquisite, the cafe culture is on point, and the culinary mecca has four of the best 50 bars in the world.
Quote: "Qatar is a mistake."
Former FIFA President Sepp Blatter acknowledged what everyone else knew all along: Choosing the tiny Gulf nation of Qatar to host the World Cup was a bad choice. Not only is it so hot in Qatar that the tournament had to be moved from the summer to the fall, but also the country has been accused of human rights violations and mistreatment of migrant workers. In a recent interview, a Qatar World Cup ambassador said homosexuality was "damage in the mind."
Read: A longtime acquaintance of Elon Musk wrote a thread articulating his thoughts on Musk's messy takeover. (Chris Sacca)
Early Barbra Streisand: In November 1962, 20-year-old Barbra Streisand was gigging at the Bon Soir, a West Village club. A recording of her set hasn't been released until now, 60 years later. Listen to the musical genius.
Don't think: Just drive.
Book rec: A Heart That Works is a deeply personal memoir of love and loss from Rob Delaney, actor and co-creator of the Amazon Prime series Catastrophe. Learn more here.
Robo-chef world tour: Miso Robotics' kitchen assistants fill labor gaps for US chains like Jack in the Box. But with bigger shortages abroad, now they're headed to the $675b global market. Invest by 11/18.*
Puzzled by a project? Smartsheet's got ya covered. Utilize the platform's organizational tools and capabilities to stay on track and elevate your workflow. Can you name all of Smartsheet's powers of process in our nifty crossword puzzle? Test your skills.*
Let's get vulnerable: Learn how highly successful people overcome mental and personal challenges by listening to our Imposters podcast, sponsored by AC+ION™ Ion Charged Alkaline Water. You'll hear raw, honest convos + useful takeaways. Listen here.*
*This is sponsored advertising content.
Picdoku: Make your own sushi (sticky hands not included) in today's Picdoku. Play it here.
Guess the fried chicken sandwich
On National Fried Chicken Sandwich Day, we're going to see just how well you know your pickle placement. Below are fried chicken sandwiches from six different fast-food restaurants. Can you identify them?
Your options: Chick-fil-A, Popeyes, Shake Shack, KFC, Bojangles, and McDonald's.
Popeyes, McDonald's, Chick-fil-A, KFC, Bojangles, Shake Shack
Are social media bots actually impacting anything, or are they just making noise? Blake Guidry dives into the deepest depths of the internet to find the answers. Watch now.
On The Crazy Ones, we break down the hype behind "Generative AI"—what it is, how it's being used right now, and how business builders should think about it. Listen or watch here.
Become a personal finance expert with Money Scoop, the free newsletter that makes you smarter about your money.
McDonald's marketing is crushing it. Join us next week at The Brief to hear about the secret sauce of McDonald's marketing department.
1. Bojangles
2. KFC
3. Shake Shack
4. Chick-fil-A
5. McDonald's
6. Popeyes
Written by Neal Freyman, Max Knoblauch, and Abigail Rubenstein
Was this email forwarded to you? Sign up here.
WANT MORE BREW?
Industry news, with a sense of humor →
Accelerate Your Career with our Courses →
ADVERTISE // CAREERS // SHOP // FAQ

Update your email preferences or unsubscribe

here

.
View our privacy policy

here

.

Copyright © 2022 Morning Brew. All rights reserved.
22 W 19th St, 4th Floor, New York, NY 10011
Older messages
Thursday, November 10, 2022
Oh, and C-band bans are back, baby. " " November 09, 2022 Emerging Tech Brew TOGETHER WITH Fidelity Investments Greetings. If you were waiting for a sure sign that the recent era of VC
Thursday, November 10, 2022
Scatter-market slowdown. November 09, 2022 Marketing Brew TOGETHER WITH #paid It's Wednesday. Global ad spend is now projected to grow nearly half as much as initially expected in 2022, according
☕ The deal with luxury discounts
Thursday, November 10, 2022
Why luxury brands mark down products. November 09, 2022 Retail Brew TOGETHER WITH Placer.ai Hello, hello. A TikTok trend update for our fashion-forward readers: It appears that retail employee "fit
Thursday, November 10, 2022
Binance doesn't want FTX's baggage... November 10, 2022 View Online | Sign Up | Shop Morning Brew TOGETHER WITH Athletic Greens Good morning. The official starting pistol of the holiday season
Tuesday, November 8, 2022
How to market your podcast. November 08, 2022 | View Online | Sign Up Sidekick Logo Hello, Sidekickers. NYC's pay transparency law went into effect last week, and some companies have found creative