| SPONSORED BY | |
| --- | --- |
Good morning. Let's kick off the newsletter by addressing yesterday's global population trivia, which many of you claimed to be a trick question. That was not our aim, but we understand why you may have thought that.
We asked you to guess the population of the Earth in the year 0, because we found a solid estimate for around that year. But as many of you pointed out, there was no year 0. The Anno Domini nomenclature, used for the Gregorian calendar, skips from 1 BCE to 1 CE, and most other calendars do not have a year 0 either. (Scholars estimate Jesus was born between 6 and 4 BCE, not 0, because…there is no 0.)
—Neal Freyman, Max Knoblauch, Abby Rubenstein
| | | | |
| --- | --- | --- | --- |
| | Nasdaq | 11,358.41 | |
| | | | |
| --- | --- | --- | --- |
| | S&P | 3,991.73 | |
| | | | |
| --- | --- | --- | --- |
| | Dow | 33,592.92 | |
| | | | |
| --- | --- | --- | --- |
| | 10-Year | 3.774% | |
| | | | |
| --- | --- | --- | --- |
| | Bitcoin | $16,870.44 | |
| | | | |
| --- | --- | --- | --- |
| | TSMC | $80.46 | |
*Stock data as of market close, cryptocurrency data as of 10:00am ET. Here's what these numbers mean.
Markets:

Stocks returned to their winning ways after another inflation report—this one focused on wholesale prices—came in

cooler than expected

. Both this report and last week's consumer price index hint that the Fed could begin to reduce the size of its interest rate hikes going forward. Of the many tech stocks that gained yesterday was Taiwan Semiconductor, which surged after Warren Buffett revealed he took a stake.
Dianna "Mick" McDougall
Former President Trump announced his candidacy for the 2024 presidential election last night, telling Republican voters that he could prevent President Biden, whom he lost to in 2020, from controlling the White House for another four years.
The announcement comes at an awkward time.
Like when he first ran for president in 2015, Trump is being shunned by establishment Republicans who wish he would sit it out. The lousy midterms performance of candidates backed by Trump suggests that denying the results of the 2020 election, like he does, is a significant drag on the GOP.
Some conservative news outlets and business moguls are also over Trump.
Ken Griffin, hedge fund billionaire and GOP megadonor, said: "I'd like to think that the Republican party is ready to move on from somebody who has been, for this party, a three-time loser."

Days after the midterms, the cover of the Murdoch-owned New York Post

showed a picture of Trump as Humpty Dumpty, accusing him of having a "great fall."
Who do they want instead? Likely Florida Gov. Ron DeSantis, who has risen to prominence over his war against so-called "woke culture"—including battles with corporate giants like Disney. Trump and DeSantis have already started trash-talking, with Trump workshopping a nickname of "Ron DeSanctimonious."
As he embarks on his third presidential run, the twice-impeached Trump also finds himself in legal hot water. He's the subject of several criminal investigations, including one into his handling of classified documents.
Still, Trump captured the Republican nomination in 2016 against most pundits' expectations, and he's been the de facto leader of the party for the past six years. He has support from a sizable chunk of GOP voters—but what no one knows is…how big of a chunk?
Bottom line: While they contemplate another Trump presidential campaign, Republicans got some good news yesterday. They've pretty much sewn up control of the House of Representatives, where the Dems have had a majority for the past two years. Rep. Kevin McCarthy was nominated as Speaker yesterday.—NF
NASA
We're going to the mooooon. Or, at the very least, we took a big step in that direction. NASA finally launched its Artemis 1 mission overnight after months of setbacks. There aren't any humans on board, but if this and subsequent test missions go well, the same rocket–capsule combo will be used to return people to the lunar surface as soon as 2025. The current mission, which is taking the Orion capsule around the moon and back, is expected to last 26 days.
A mysterious missile struck Poland. Amid a barrage of Russian attacks on Ukraine, one missile struck Poland and killed two people. The explosion is raising alarms because Poland is a member of NATO, and an attack on one NATO country would compel all the others to join the fight. But it's not clear whether this missile actually came from Russia. Poland said it was a Russian-made missile, while President Biden, who convened an emergency meeting of world powers following the missile strike, said it was "unlikely" that Russia fired it.
FTX is really popular…among regulators. The bankrupt crypto exchange said in court documents it's been in contact with "dozens" of regulatory authorities around the globe, which are prying into the shady business practices that led to FTX's epic collapse. As all that's going down, FTX revealed it could have more than 1 million creditors who are owed money that it doesn't have. Former CEO Sam Bankman-Fried has reportedly been trying to raise funds to "make users whole," per the WSJ.
SPONSORED BY E*TRADE FROM MORGAN STANLEY
It's beginning to look a lot like…the most hectic time of the year. Between planning for holiday travel and watching your fantasy football teams unravel, it can be challenging to look beyond your busy schedule in the short term and prioritize saving for the long term.

E*TRADE from Morgan Stanley can help you stay in control of your road ahead—no matter how bumpy it may seem—and start saving for retirement ASAP.
E*TRADE offers IRAs with no annual fees*, no account minimums, and the ability to choose from a wide range of stocks, bonds, options, and ETFs.
Plus, you can earn up to $600 or more with code BONUS22 when you open an eligible E*TRADE account. Yup, the season of giving starts now, with some money heading in your direction.
*Transaction fees, fund expenses, brokerage commissions, and services fees may apply.
*Paid advertisement.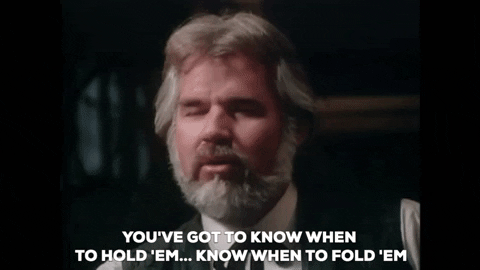 Kenny Rogers: The Gambler, Capitol Records via Giphy
The days of an internet company trying to e-scooter their way to solving world hunger through solar-powered NFT horse racing just to compete with Disney+ are over. Futuristic projects that were once a staple of Big Tech line items are getting squeezed in this "we definitely can't afford that anymore" economy.
That was made very clear yesterday.
1. As part of its anticipated mass layoffs this week, Amazon began to cut employees who were working on its AI assistant, Alexa. That division has an operating loss of more than $5 billion per year.
2. The hedge fund TCI Fund Management, which has a $6 billion stake in Alphabet, urged Google's parent company to join its Big Tech peers in laying off workers yesterday, saying it's overstaffed and paying its employees too much. It took specific aim at Google's famous Other Bets division that incubated "moonshot" projects like Waymo, the autonomous vehicle company. That Other Bets unit brought in $3 billion in revenue over the last five years, but incurred $20 billion in operating losses, TCI's letter to CEO Sundar Pichai said.
Big picture: While Snap and Microsoft are also nixing riskier long-term bets, the big Big Tech exception is Meta. Zuck has cut back on some experimentation, but is staying committed to spending billions on the metaverse, despite investor concerns.—AR
Francis Scialabba
Apple's least sexy iPhone update since the Memoji rolled out yesterday in the US and Canada, but it's one that emergency responders say has the potential to save lives. The new feature, Emergency SOS via satellite, will allow iPhone 14 users to send their location and a short message if they find themselves in trouble without cell service.
First announced in September, Emergency SOS is made possible by 24 satellites in low-Earth orbit. Apple invested $450 million in the company operating those satellites, Globalstar, to support their development.
How it works: When an iPhone 14 user calls 911 without cell service, they'll receive the option to send an emergency text. After filling out a questionnaire about the nature of their emergency, the user's precise location and medical ID are sent to emergency responders.
A few things to note: Since the process is different from a regular text or call, sending a message could take minutes. To work, users need an unobstructed view of the sky, so it's more useful for a "stuck in a tree surrounded by wolves" situation than a "stuck in a cave surrounded by wolves" situation. Apple said the service will be free for at least two years.—MK
SPONSORED BY E*TRADE FROM MORGAN STANLEY
Stay the course. Life these days often feels like one big money detour, but E*TRADE from Morgan Stanley helps you navigate the curves in the road ahead. They can help you prioritize saving for retirement, even when your mind—and your finances—are focused on more immediate money needs. Learn more.
Robert Gauthier/Getty Images
Stat: After nabbing nine nominations for the upcoming Grammy Awards (the most of any artist this year), Beyoncé is now tied with her husband, Jay-Z, as the musician with the most Grammy nominations in history with 88. Kendrick Lamar, Adele, Brandi Carlile, Harry Styles, and Future all got at least six nominations.
Quote: "You are seeing a lot of delusion. Partly fraud and partly delusion."
In a CNBC interview, Charlie Munger ran a victory lap around crypto. The 98-year-old investor has been criticizing cryptocurrencies for years (calling bitcoin a "delusion" and "probably rat poison squared"), and he appears to have been vindicated by FTX's collapse. "People think this is a real asset. It's not a real asset," Munger said about crypto.
Read: On Elon Musk, Sam Bankman-Fried, and how narratives can lead people astray. (Stratechery)
Thanksgiving meal prep: Follow these tips from Babs and your stress levels will be a fraction of what they could be.
Reading list: Thirty of the most anticipated books coming out this winter.
New pod for Shakespeare fans. Where There's a Will: Finding Shakespeare uncovers the surprising ways Shakespeare endures in our modern society. Listen now.
Word search: We've booked you on a first-class international flight for today's word search. Play it here.
World Cup trivia
Only eight countries have ever won the World Cup. Can you name them?
Hint: They're all in either Europe or South America.
Is your finance team prepared for the digitization of corporate finance? CFO Brew has assembled this handy guide to help corporate finance pros prepare for the big changes to come.
On The Crazy Ones: The hosts share the wild story of how digital media company Red Ventures bootstrapped its way to an $11 billion valuation. Listen or watch here.
Learn how one CIO provides relief to an IT team working 24/7. Hint: recognition is key. Read more.
How did Crocs make something once deemed so uncool…very cool? Check out The SKU on-demand to learn how the brand leveraged marketing and partnerships to tap into the zeitgeist.
Brazil, Germany (technically West Germany for three of the titles), Italy, Argentina, France, Uruguay, England, and Spain.
Written by Neal Freyman, Abigail Rubenstein, and Max Knoblauch
Was this email forwarded to you? Sign up here.
WANT MORE BREW?
Industry news, with a sense of humor →
CFO Brew

: your go-to source for global finance insights

Future Social

: the Brew's take on the world of social media
Tips for smarter living →
Podcasts → Business Casual, Founder's Journal, Imposters, and The Money with Katie Show
YouTube
ADVERTISE // CAREERS // SHOP 10% OFF // FAQ

Update your email preferences or unsubscribe

here

.
View our privacy policy

here

.

Copyright © 2022 Morning Brew. All rights reserved.
22 W 19th St, 4th Floor, New York, NY 10011
Key phrases
Older messages
Tuesday, November 15, 2022
Shop new arrivals to the Morning Brew Store Morning Brew Logo Apparel Accessories Shop All New Arrivals to the Morning Brew Store New Arrivals Whether you're looking to show off your spreadsheet
Tuesday, November 15, 2022
How the five-day workweek came to be. November 15, 2022 | View Online | Sign Up Sidekick Logo Hey, Sidekickers. Your company may finally be accepting that you're not coming back to the office.
Tuesday, November 15, 2022
Retailers are becoming venture capitalists. November 15, 2022 Retail Brew Good morning. Mid-November might not seem like Birkenstock season, but that didn't stop a mystery buyer from paying over
Tuesday, November 15, 2022
National TV ad spend is holding steady November 15, 2022 Marketing Brew TOGETHER WITH Wistia It's Tuesday. More importantly, we hope we're meeting some of you today at Marketing Brew's one-
Tuesday, November 15, 2022
Michael Lewis has a story for you... November 15, 2022 View Online | Sign Up | Shop 10% Off Morning Brew TOGETHER WITH Miso Good morning. Little did we know that our crypto newsletter would launch just