🗞 What's New: Thinking about doing 12x12 in 2023?
Thinking about building 12 startups in 12 months?
If you're considering doing the 12x12 (or a 3x3, 6x6, or whatever works for you), this guide can help you prepare, implement, and launch your ideas in 2023!
40% of US adults lost touch with 9 or more friends during the pandemic, and the average American hasn't made a new friend in 5 years. This presents new opportunities for founders to get in on the (platonic) action.
Founder Marc Lou hit $1,000 in total revenue with his gamified habit tracking app, Habits Garden. Here's how he hit 11,000 visitors, and implemented an engineering-as-marketing approach to grow the product.
Want to share something with over 100,000 indie hackers? Submit a section for us to include in a future newsletter. —Channing
🗓 12x12 in 2023
12x12 is when founders take on the challenge to launch a product every month for 12 months. At its core, it's a shotgun approach to validating several ideas quickly.
A lot of indie hackers have done it, with varying degrees of success. Let's take a closer look!
Why do 12x12?
12x12 allows you to:
Get quick validation.
Attract attention while building in public.
Build your personal brand.
Practice shipping.
Work more efficiently.
Understand what the market wants.
Have some fun!
The 12x12 steps
Preparation:
Set your ideas: Have your ideas lined up. Here's a post on how to come up with them.
Conduct market research: Make sure there's a market, and look into competitors. Speak with potential customers, create a landing page, and drive traffic.
Think about your feature set: You don't need to set it in stone, but it's a good idea to start mulling over the features of each product.
Think about monetization: What pricing model will you use?
Plan your time: How are you going to make time for this? Most indie hackers set aside about two years of runway so they can do this full-time. Or, you can keep your job or freelance work, and try to squeeze it in.
Getting started:
Make the announcement: Let the world know that you're doing the 12x12, and what the first project is. Remember to regularly update anyone who is interested. This will probably be your primary form of marketing, and it's also a good motivator.
Set your features, tasks, and deadlines: At this point, you should know what you're building. Break it into small tasks, and set deadlines for each task. Make sure to set the final deadline with a few days to spare for marketing.
Start building: Shortcuts and technical debt are okay here. You can reconfigure later. Go quickly. Use templates, libraries, no-code, and code from old or open-source projects. Here's a post on how to speed up development.
Manage yourself: Use tools to manage yourself effectively and efficiently. Also, consider outsourcing.
Ignore design (mostly): In most cases, design doesn't matter much right now. Keep it barebones.
QA: Don't forget to test your builds. There's no time for automated tests, but you can give it manual sanity checks.
Check in: At the end of each week, check in with yourself. Are you on track? Does anything need to be optimized? How are you feeling?
Some folks build until day 29, announce the launch on Twitter, and move on. But I'd recommend saving 3-4 days for launch. That way, you're giving the product enough time to actually get some traction. Here's a list of places to launch, along with tips. Check it out for inspiration.
Product tips
Keep all products in the same niche. This establishes your personal brand, and allows the effort that you put into each product to benefit the others. Build quickly. This post lists some of the fastest products to build.
It's not uncommon for indie hackers to either not have time to finish, or to move on for other reasons. Make sure you're on top of your deadlines, and finish each project before starting the next one.
If one of your products starts to take off, don't be afraid to ditch the 12x12 and ride the momentum. Here's a tip from Courtland Allen:
You can quit! If one of your projects starts taking off beyond a reasonable doubt, there's no reason you have to stick with the 12x12 plan and start a new project next month. Or, if you finish the entire year with no hits, you can look back at what you've done and choose to follow up on whichever project looked most promising.
Some of the most successful 12x12s have actually ended early!
It's not for everyone
Here's what some indie hackers had to say against 12x12:
Robert Maidla says the following:
The 12x12 philosophy mostly yields hollow projects aimed towards a niche within a niche, within a niche market. Sure, you gain experience by launching whatever comes to mind, but you also dilute your voice.
Instead of spending 12 months in a row throwing gibberish at people to see if anything sticks, spend 12 months working on a single project that might make a change.
He also points out that the sacrifices of quality, sleep, and time for yourself and loved ones can be detrimental.
Paul Reijnierse says that a month is not enough time:
For me personally, one month is too short of a timeframe for me to really understand a problem space, and come up with a solution for it that could actually help solve the problem. We modified it to go from idea to revenue in 10 weeks, and that worked quite well.
Mick agrees:
Hard pass. Anyone who has ever started a company knows that it takes a long time to get traction, iterate, and find product-market fit.
So, when is 12x12 a good idea?
The first thing to ask yourself is whether a full 12x12 is necessary. You can customize it to be a 6x6, 3x3, or 6x12. The 12x12 is just the most popular because it's sticky and difficult. There are other options, so figure out which one (if any) works for you.
You should also consider whether you have the time, skill, resources, and motivation to do it.
Finally, you need to have the ideas. Unless you have 12 solid ideas, you probably shouldn't move forward. Wait until your ideas and knowledge have had a chance to mature, then get to work!
Will you attempt a 12x12 in 2023? Share your thoughts in the comments!
Discuss this story.
📰 In the News
from the Volv newsletter by Priyanka Vazirani
🙅‍♀️ Less than half of Twitter employees signed up for Elon Musk's "Twitter 2.0."
🦍 A Bored Ape NFT sold for $1.3M. It's now worth $70K.
🛍 OnlyFans is bringing a shopping feature to its site.
🧠 Self-therapy startups are booming in the moderate mental health space.
🤧 Have a cold? This new drink at Starbucks may be your remedy.
Check out Volv for more 9-second news digests.
👯‍♀️ Tackling Friend-Making for Adults
from the Hustle Newsletter by The Trends Team
The Signals
1. Friend-making for grownups:
40% of US adults lost touch with nine or more friends during the pandemic. 22% of millennials report having no friends whatsoever, and the average American hasn't made a new friend in five years.
*Source: YouGov
It makes sense that Google searches for "make friends as an adult" are on the rise.
Psychologists say that it's normal to struggle with making friends as an adult, but the problem has been exacerbated by the "pal-demic."
*Source: Twitter
There's an opportunity for businesses to benefit by helping.
When Bumble, a dating app, tested a new online community feature, weekly time spent in-app rose by 16%. The feature is part of Bumble BFF, the app's answer to the fact that it's so darn hard to make friends as an adult (it's not just us, right?).
Bumble isn't the only app getting in on the platonic action. Last year, Match (owner of Tinder) bought Hyperconnect, a Korean company with two friend-finding apps, for $1.73M.
Other friend-finding apps attracting investments include:
There are also apps for meeting dog owners, college athletes, and young professionals.
You could target untapped niches, like seniors. Or, try other strategies from the dating industry, like speed-friending or friend-making holiday packages.
You could meet users where they are (literally), and match them with others who have bought a single ticket for a gig or sporting event.
2. Noom for improvement:
Weight loss app Noom has raised $650M since its 2008 launch, and was valued at $10B last year. It's not surprising, given that the app has been downloaded 45M times, and helps the average user lose 3% of their body weight.
*Source: Crunchbase
Now could be a good time to build a competitor. Noom recently laid off 10% of its team, including plenty of coaches, which means that there's talent up for grabs.
The secret behind Noom's success is that it uses behavioral science to help users tackle psychological roadblocks and develop sustainable habits.
If it works for weight loss, it can work for other things. Plus, as the cost of living rises, people may be eager to ditch life coaches and personal trainers in favor of cheaper digital solutions.
You could build behavioral coaching apps to help people:
Manage lifestyle-related illnesses: As we mentioned here, the diabetes management industry is projected to grow at a CAGR of ~25% through 2026. Research shows that good habits and psychological health have a positive impact on diabetes outcomes. Chronic pain management is another area where lifestyle coaching can make a difference.
Reach training goals: Sports psychology app Champion's Mind has raised $98K. Couch to 5K, an app that helps users run a 5K race, has had 5M+ downloads. You could lean into marathon training, bodybuilding, or injury rehab, or create a plan to help users raise their testosterone levels.
Complete a personal project: 5% of startups fail because of burnout or lack of passion. And, 85% of Americans believe that they have at least one book in them. Behavioral coaching could help people start, stick with, and finish projects.
Would you build for adults seeking to make friends? Let's chat below!
Subscribe to the Hustle Newsletter for more.
🌐 Best Around the Web: Posts Submitted to Indie Hackers This Week
🧘‍♀️ Staying sane as a founder when there's chaos. Posted by Goutham.
⏱ What time-tracking system do you use? Posted by Londoner.
🤖 Comment your website URL, and I'll generate AI-based visuals. Posted by Franco Gobbo.
📱 Should I tweet under my personal page or my business page? Posted by Dario Raijman.
🥺 I don't earn anything with 90% of my work. Posted by Wijnand Karsens.
💪 How indie hackers can compete with tech giants. Posted by Hieu Tran.
Want a shout-out in next week's Best of Indie Hackers? Submit an article or link post on Indie Hackers whenever you come across something you think other indie hackers will enjoy.
👾 Marc Lou Hit $1K in Total Revenue
by Marc Lou
Hi, indie hackers! I'm Marc Lou, founder of Habits Garden, a gamified habit tracker. Habits Garden is now live on Product Hunt!
Here's a recap of the last nine months, and how I reached $124 MRR using an engineering-as-marketing approach!
January 2022
I got fired a month prior. I had $10K in my bank account, and was thinking of ideas from my little villa in Bali.
I ended up coding a free habit tracker with a Github-like grid for completion: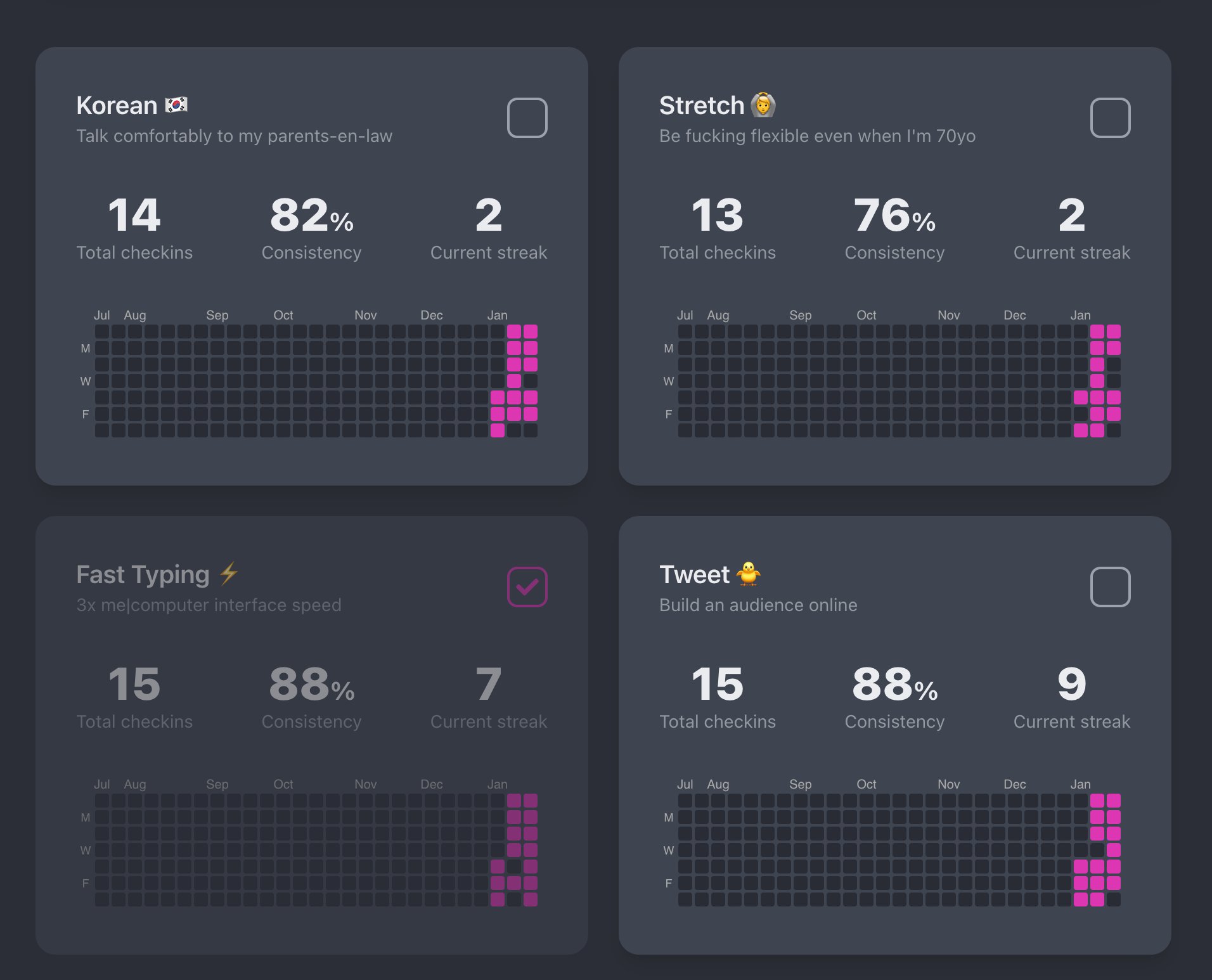 February 2022
I built the app in public on Twitter. I only had 30 followers, and was liking my own posts for "engagement."
I was still able to get some valuable feedback: People asked for confetti. I added confetti.
March 2022
My habit tracker had about 50 users, but only one was active. That one user was me.
My real problem was figuring out how to motivate people to get 1% better every day. How could I get people to want to build a habit?
I remembered how I spent 14 hours a day playing World of Warcraft, and it came to me: I decided to gamify the habit tracker.
April 2022
I rebuilt the app, and added tons of game-like features, including daily quests, random loots, and a leaderboard. The game part is $9 per month, and I offer a seven day free trial.
I launched on Hacker News, just to see if there would be any interest. However, my post ended up being banned. I had asked friends to upvote, and this got me flagged.
So, I relaunched on Hacker News. The post went viral:
11K visitors, 1K signups, and $270 revenue later, my wife and I opened the champagne!
Summer 2022
I love adding new features and buying domains. Basically, I love doing everything they tell you not to do in startup books.
I already had users willing to pay for the game, and gamifying the app made users ~3x more consistent. So, what was I missing? Marketing.
Taking an engineering-as-marketing approach, I built and launched these free mini-apps to promote the habit tracker:
It was fun and easy to get traffic for these mini-apps. All of them got at least 10K visitors at launch, and I actually got 55K visitors in 24 hours for 50 Hacks!
September 2022
90% of my Habits Garden users stopped showing up each day. Ouch.
I redesigned the onboarding flow to show new users the value upfront, before they had to create an account. Feel free to try it, it's fun!
The app recently crossed $1K in total revenue, and my Twitter is growing!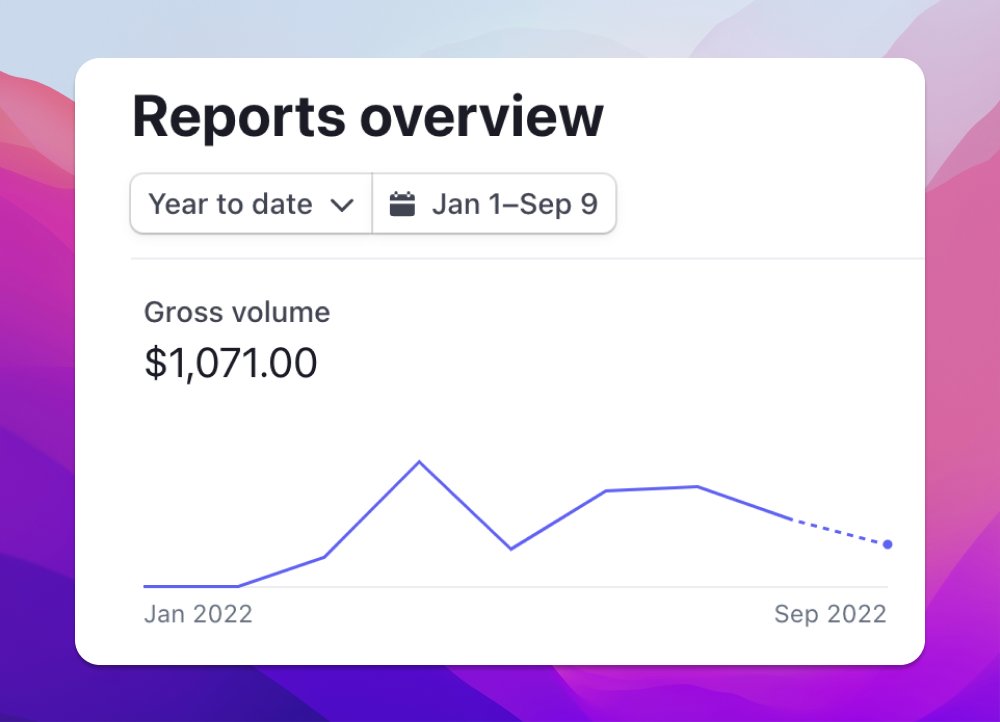 My two cents
Here's my advice to founders:
Don't think too much.
Every app can be built in 72 hours. Don't over-engineer it.
Build in public on Twitter. The Indie Hackers community is awesome!
Thanks for reading, and best of luck with your projects!
Discuss this story.
🐦 The Tweetmaster's Pick
I post the tweets indie hackers share the most. Here's today's pick:
🏁 Enjoy This Newsletter?
Forward it to a friend, and let them know they can subscribe here.
Also, you can submit a section for us to include in a future newsletter.
Special thanks to Jay Avery for editing this issue, to Gabriella Federico for the illustrations, and to James Fleischmann, Priyanka Vazirani, The Trends Team, and Marc Lou for contributing posts. —Channing
Indie Hackers | Stripe | 510 Townsend St, San Francisco, California 94103
You're subscribed to the Indie Hackers Newsletter. Click here to

unsubscribe

.

Key phrases
Older messages
🗞 What's New: How to invoice as a freelancer
Thursday, November 17, 2022
Also: 10 lessons for startup founders! ‌ ‌ ‌ ‌ ‌ ‌ ‌ ‌ ‌ ‌ ‌ ‌ ‌ ‌ ‌ ‌ ‌ ‌ ‌ ‌ ‌ ‌ ‌ ‌ ‌ ‌ ‌ ‌ ‌ ‌ ‌ ‌ ‌ ‌ ‌ ‌ ‌ ‌ ‌ ‌ ‌ ‌ ‌ ‌ ‌ ‌ ‌ ‌ ‌ ‌ ‌ ‌ ‌ ‌ ‌ ‌ ‌ ‌ ‌ ‌ ‌ ‌ ‌ ‌ ‌ ‌ ‌ ‌ ‌ ‌ ‌ ‌ ‌ ‌ ‌ ‌ ‌ ‌ ‌ ‌ ‌
🗞 What's New: This new law is a SaaS game changer
Tuesday, November 15, 2022
Also: Is learning new skills a waste of time? ‌ ‌ ‌ ‌ ‌ ‌ ‌ ‌ ‌ ‌ ‌ ‌ ‌ ‌ ‌ ‌ ‌ ‌ ‌ ‌ ‌ ‌ ‌ ‌ ‌ ‌ ‌ ‌ ‌ ‌ ‌ ‌ ‌ ‌ ‌ ‌ ‌ ‌ ‌ ‌ ‌ ‌ ‌ ‌ ‌ ‌ ‌ ‌ ‌ ‌ ‌ ‌ ‌ ‌ ‌ ‌ ‌ ‌ ‌ ‌ ‌ ‌ ‌ ‌ ‌ ‌ ‌ ‌ ‌ ‌ ‌ ‌ ‌ ‌ ‌ ‌ ‌ ‌