Morning Brew - ☕ Upper crust
| TOGETHER WITH | |
| --- | --- |
Good morning. It's December, which means that as of today you're officially allowed to hang up Christmas lights without any judgment from your neighbors. Don't just take our word for it: A recent survey of ~4,000 US homeowners found that Dec. 1 was the day most people identified as acceptable to put up Christmas lights.
OK, but what day is it acceptable to set out the holiday chili to appease Yeetch, the snow creature, so it doesn't cut all the powerlines in your neighborhood?
—Max Knoblauch, Sam Klebanov, Matty Merritt, Abby Rubenstein, Neal Freyman
| | | | |
| --- | --- | --- | --- |
| | Nasdaq | $11,468.00 | |
| | | | |
| --- | --- | --- | --- |
| | S&P | $4,080.11 | |
| | | | |
| --- | --- | --- | --- |
| | Dow | $34,589.77 | |
| | | | |
| --- | --- | --- | --- |
| | 10-Year | 3.606% | |
| | | | |
| --- | --- | --- | --- |
| | Bitcoin | $17,089.73 | |
| | | | |
| --- | --- | --- | --- |
| | Biogen | $305.17 | |
*Stock data as of market close, cryptocurrency data as of 3:00am ET. Here's what these numbers mean.
Markets:

November is in the books, and…the stock market isn't a total disaster anymore? Stocks ended up higher for the second straight month, the first time they've gone back-to-back in the green since 2021. Yesterday's

rally

was fueled by Jerome Powell, who made it clear he's willing to start slowing down rate hikes as soon as the next Fed meeting. Meanwhile, Biogen got a boost from the news that its experimental Alzheimer's drug slowed cognitive decline.
Mario Tama/Getty Images
With a potentially economically devastating nationwide rail strike looming in early December, the US House yesterday passed a resolution that would force rail worker unions to accept a tentative agreement with management and make any strikes illegal.
In a 290–137 bipartisan vote, the House approved the resolution just a day after President Biden urged congressional leaders to avert a strike. A second resolution that passed with support from just three Republicans would grant rail workers seven days of paid sick leave (a major sticking point in the negotiations).
The vote marks the first time Congress has flexed its power to block a national rail strike since the 1990s. Back then, President Biden was one of six senators to oppose the bill that ended a 1992 rail strike, arguing against government interference in labor.
What gives Congress a say anyway?
Normally, Congress can't intervene too heavily in private labor disputes. But since the US economy is so dependent on rail, the Railway Labor Act was passed in 1926 to give the House and Senate the authority to prevent a national strike. It was expanded to include airline workers in the 1930s.
The impact really would be significant: Estimates say a strike would cost the US economy about $2 billion a day, and its ripple effects could include global food shortages.
Because there's so much at stake economically, rail workers have huge power to effect change. The eight-hour workday and Labor Day are both results of past rail strikes.
What's next? The Senate is expected to vote on the resolutions soon, since a strike could effectively start as early as this weekend. Both measures will require the support of 60 senators, which some lawmakers say is less likely for the sick leave provision. On Tuesday, Senator Bernie Sanders tweeted in support of rail workers, claiming he would block legislation until a vote occurred on the seven sick day resolution.—MK
Sam Bankman-Fried: "I've had a bad month." In a much-hyped live interview with the New York Times, the former FTX CEO denied that he ever tried to commit fraud, and blamed his crypto exchange's epic collapse on lax risk management that spiraled out of hand. SBF also acknowledged he's talking to the press despite the wishes of his lawyers, since anything he says will be used by the army of investigators looking into whether any crimes were committed.
Democrats picked Hakeem Jeffries as their leader. The 52-year-old New York representative will serve as House minority leader when the new Congress takes over in January, becoming the first Black American to lead a major political party in Congress. He ran unopposed to take the reins from longstanding leader Nancy Pelosi, who will still represent her district. On the other side of the aisle, GOP Rep. Kevin McCarthy is still working to scrounge up enough votes to become speaker of the House.
Fed rate hikes could get smaller as soon as December. Investors spend a lot of time trying to guess what Jerome Powell is thinking, but yesterday they didn't have to, because he said in a speech: "The time for moderating the pace of rate increases may come as soon as the December meeting." Despite that signal that rate hikes are likely about to slow down, Powell did warn that the fight against inflation was far from over, so there could still be more pain ahead.
Justin Sullivan/Getty Images
Robots that kill might be coming to the world's tech capital. San Francisco supervisors voted 8–3 on Tuesday to allow the city's police department to use remote-controlled robots to deliver potentially lethal force.
But deadly robots can only be used as a last resort measure when lives are in danger and all other options like de-escalation tactics and alternative force have been exhausted.
The police department has already been using robots for various purposes for years. But none of the devices they currently own is fitted with weapons—and SFPD says there are no plans to arm them with guns. Robots could, however, be used to deliver explosives "to contact, incapacitate, or disorient violent, armed, or dangerous suspect[s]," according to SFPD spokesperson Allison Maxie.
The debate over the proposal stirred longstanding tensions between those eager to support law enforcement amid heightened levels of violent crime, and those concerned about potential police misconduct. The ACLU and San Francisco's public defender strongly opposed the proposal.
Zoom out: If SFPD does end up sending a lethal robot after a suspect, it wouldn't be a first. In 2016, Dallas police successfully deployed a robot armed with an explosive against a man who had killed five officers in a shootout.—SK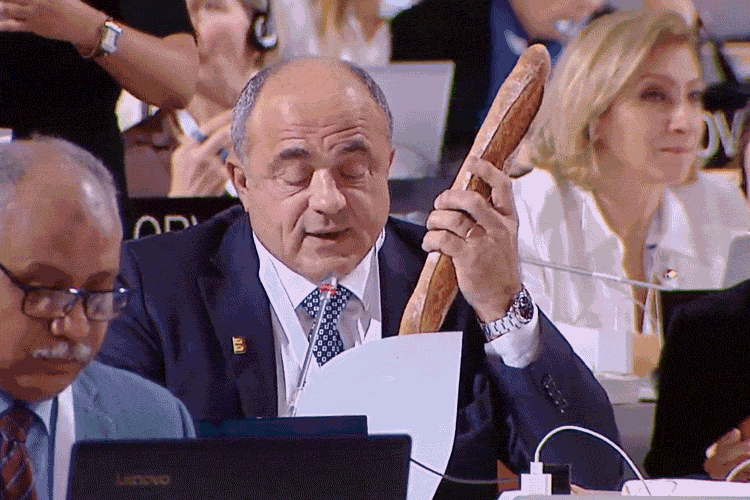 Gif: Dianna "Mick" McDougall, Photos: UNESCO
No slice of sourdough or biscuit has achieved a status as high as the French baguette. The iconic long loaf was added to UNESCO's list of intangible cultural heritage practices yesterday, meaning that the UN agency believes the tradition of baking and enjoying baguettes should be preserved.
The average French person consumes half a baguette every day, so the country consumes about 10 billion loaves of bread every year. Plus, baguettes are an integral part of French culture, like high-end fashion and Emily in Paris.
More than bragging rights: The country's baking industry now has the opportunity to apply for funding to help preserve its yeasty tradition. This is vital, as traditional bakeries are disappearing at an alarming rate: Around 400 bakeries in the country have vanished every year for the last 50 years.
Baguettes join a star-studded list. UNESCO, famous for its cultural heritage site list, released its first collection of "intangible" cultural practices in 2008. Guatemala's Holy Week and traditional tea-making practices in China were also added to the list this year, among others. Weirdly, no mention of Skyline Chili.—MM
Spotify
Stat: Spotify released its Spotify Wrapped end-of-year review yesterday. And while everyone shared Mad Libs graphics of their own daily listening vibes, the company also released data on what the world more broadly was listening to in 2022. This year's most streamed artist was Bad Bunny for the second year in a row, and the song of 2022 was by an artist who didn't even crack the top five: Harry Styles with "As it Was." Last but not least: If you have a recently married cousin you probably already know this…but streams of Spotify's playlist "Country Wedding" jumped 620% this year.
Quote: "We are meeting because we're prime ministers."
New Zealand's Jacinda Ardern and Finland's Sanna Marin quickly shut down a reporter's suggestion that they were only meeting with each other because of their similar ages and other "common stuff." Ardern wondered aloud whether Barack Obama and former NZ Prime Minister John Key were ever asked a similar question, and both women stressed that the purpose of their meeting was to further economic cooperation between their nations. It's not the first time either politician has faced sexism: Marin drew criticism for a video of her out dancing, while Arden took flak for adjusting her schedule to breastfeed after the birth of her daughter.
Read: Why street lights around the world are turning purple, and what it tells us about our supply chain. (Insider)
On Imposters, we sit down with titans of industry, sports, and entertainment to discuss the personal challenges they've overcome to get where they are today. It's honest, raw, and a reminder that we're all just doing the best we can. Check out some popular episodes:
This editorial content is supported by Ac+ion.
We love a GIF. These are the most popular ones of the year.
Quality cinema: The timeless tale of a bear who ate a lot of cocaine.
Wondering what to get your pickiest friends? Morning Brew's Gift Guide is here to help.
Leave Thanksgiving bloat behind
: This female-founded brand's Metabolism Super Powder will help you beat inflammation from all the season's delicious givings. Plus, it has a yummy chocolatey taste. Brew readers get 20% off.*
Don't mist this sale: With Droplette's award-winning skincare device, you can get skincare ingredients 20x deeper than traditional topicals, without needles or pain. And for today only, take 40% off with code BREWCYBER40. Shop here.*
*This is sponsored advertising content.
Brew Mini: Mary just keeps one-upping herself with rad Mini crossword designs. See what she brewed up today.
Three headlines and a lie
Three of these headlines are real and one is faker than most LinkedIn advice. Can you guess the odd one out?
If you love Three Headlines and a Lie, play along on The Refresh from Insider and dive deeper into these weird headlines.
Want to set goals for next year but don't know how to get started? The Money with Katie 2023 Wealth Planner is here. Track your income, spending, investing, debt, and net worth all in this easy-to-use tool. Get it today.
Stay informed about the latest tech with Emerging Tech Brew. It's the free newsletter that makes reading tech news fun and easy. Check it out.
We all know about the great "return to office" debate, but what else do employees expect in today's work environment? Tune in now to learn more.
That "Beer and Beards" one is not real. Do we have messed up brains? Maybe.
Written by Abigail Rubenstein, Matty Merritt, Max Knoblauch, Sam Klebanov, and Neal Freyman
Was this email forwarded to you? Sign up here.
WANT MORE BREW?
Industry news, with a sense of humor →
CFO Brew

: your go-to source for global finance insights

Healthcare Brew

: the comprehensive industry guide for administrators, medical professionals, and more

HR Brew

: analysis of the employee-employer relationship
Accelerate Your Career with our Courses →
ADVERTISE // CAREERS // SHOP 10% OFF // FAQ

Update your email preferences or unsubscribe

here

.
View our privacy policy

here

.

Copyright © 2022 Morning Brew. All rights reserved.
22 W 19th St, 4th Floor, New York, NY 10011
Older messages
Wednesday, November 30, 2022
Coupons and cash back in a new retail landscape. November 30, 2022 Retail Brew TOGETHER WITH NetElixir Hello, hello. Happy Spotify Wrapped day to all who celebrate. Before we unpack all of the Amazon
Wednesday, November 30, 2022
Chatting with Uncommon Goods. November 30, 2022 Marketing Brew TOGETHER WITH Vimeo It's Wednesday. And Spotify Wrapped is here yet again. Aside from taking over your Instagram, the campaign also
Wednesday, November 30, 2022
Plus, everything we wrote about smart cities this month. November 30, 2022 Emerging Tech Brew TOGETHER WITH Dollar Flight Club Hello there. If you're sick of 1) dealing with and 2) reading about
Wednesday, November 30, 2022
Tech CEOs welcome Musk to their fight against Apple... November 30, 2022 View Online | Sign Up | Shop 10% Off Morning Brew TOGETHER WITH Electric Good morning. We're finally starting to breathe
Tuesday, November 29, 2022
The wine industry is all in on NFTs. November 29, 2022 Retail Brew TOGETHER WITH Ampla Happy Tuesday. You didn't come here looking for a gift guide, which is just as well, because we're not