Morning Brew - ☕ Watch from home
| TOGETHER WITH | |
| --- | --- |
Good morning and Happy Groundhog Day. While Punxsutawney Phil is a vibes-only critter—you don't have to be.
The Brew's Data Storytelling course teaches you how to make dashboards that transform all the data you've collected into something your team can actually use to make decisions. It starts Feb. 13 and lasts just one week (plus, it's virtual).
Don't be like Phil. Use data to help you reach conclusions. Learn more about the course here.
—Neal Freyman, Max Knoblauch, Jamie Wilde, Abby Rubenstein
| | | | |
| --- | --- | --- | --- |
| | Nasdaq | 11,816.32 | |
| | | | |
| --- | --- | --- | --- |
| | S&P | 4,119.21 | |
| | | | |
| --- | --- | --- | --- |
| | Dow | 34,092.96 | |
| | | | |
| --- | --- | --- | --- |
| | 10-Year | 3.424% | |
| | | | |
| --- | --- | --- | --- |
| | Bitcoin | $23,756.05 | |
| | | | |
| --- | --- | --- | --- |
| | Match | $51.41 | |
*Stock data as of market close, cryptocurrency data as of 4:00am ET. Here's what these numbers mean.
Markets:

Stocks started yesterday off sluggish but

jumped

up later when investors decided to brush off the Fed's decision to hike rates again (more on that in a sec). They had no love for Tinder owner Match Group, though. The company's stock fell after it announced disappointing financial results and layoffs.
Sarah Silbiger/Getty Images
Yesterday, Fed Chair Jerome Powell did his best impression of a football coach whose team holds a third-quarter lead: Our game plan to tame inflation is working so far, he suggested, but don't douse me in Gatorade just yet.
Following the Fed's first meeting of the year, the central bank hiked interest rates by the expected 25 basis points. It's the smallest rate hike since last March, and a sign that the Fed's bitter struggle to rein in prices is having an impact.
Annual inflation fell to 6.5% in December from a peak of 9.1% in June.

There's even a good chance your Super Bowl party will

cost less

than last year's. Prices for chicken wings, avocados, and steak have all fallen since last January (along with those of many other goods).
In a closely watched press conference, Powell emphasized "it is a good thing" that prices are coming down in many sectors.
But he isn't ready to hang up the "Mission Accomplished" banner
Powell made it clear that Americans should expect "a couple more rate hikes" going forward. The concern? Inflation is a nasty beast—there's no guarantee it's going to keep on falling like it has been.
And some economists have pointed to signs that activity is picking back up again right when we need it to continue slowing down: Housing demand is coming off of its lows, gas prices have climbed since December, and the labor market is still running too hot for the Fed's liking.
Making things even dicier for Powell is the recent stock market rally. So far in 2023, investors have been gobbling up stocks as if the inflation problem has already been solved. But, in an ironic twist, their optimism that inflation is toast…could actually push inflation higher by boosting asset prices.
If there's one lesson to be learned from all of this, it's never go into macroeconomics if you value getting things right the first time.—NF
No matter the temp outside, embracing easy-breezy beach vibes is always in season, especially when it comes to comfy footwear.
Loved by celebs, surfers, and skaters, Cariuma's sustainable sneakers are undeniably cool, with over 33k 5-star reviews to prove it. Now they're back after clearing a 77k waitlist, and peeps. are. stoked.
Made with organic cotton and recycled materials, the OCA Low Canvas are a goes-with-everything must-have. From warm neutrals to bold leopard prints, there's a style to match any outfit, including the classic white leather Salvas. It's no surprise they've been touted by Vogue, Rolling Stone, and GQ as kicks you can't pass up.
Grab Cariuma's consciously sourced crowd-pleasers ASAP. For a limited time, use code MBFEB20 for 20% off.
Justin Sullivan/Getty Images
Meta stock soars on 2023 status update. Facebook's parent company reported declining sales for the third straight quarter and said its Reality Labs unit lost $13.7 billion in 2022, but its stock still popped ~20% in extended trading. Why? Revenue beat expectations, the company announced a $40 billion share buyback, and Zuck painted a rosy picture for the rest of 2023 (dubbing it "The Year of Efficiency"). Outside of its earnings, Meta reportedly notched a win against the FTC when a judge refused to block its acquisition of VR startup Within Unlimited.
Hundreds gathered to mourn Tyre Nichols. The family of Tyre Nichols, a 29-year-old Black man who died after being beaten by Memphis police officers, held a funeral yesterday where he was remembered as a loving father who enjoyed skateboarding and photography. Several speakers also called for legal reforms to address police violence, including Rev. Al Sharpton, who delivered the eulogy, and Vice President Kamala Harris. "This violent act was not in pursuit of public safety," the vice president said. 
Biden and McCarthy agree to keep talking. President Biden and House Speaker Kevin McCarthy don't agree on much—especially when it comes to raising the debt ceiling. But the two did at least agree to continue discussions after their initial meeting yesterday failed to produce a breakthrough in a surprise to *checks notes* no one. McCarthy said after the meeting that he believed they would ultimately "find common ground." Let's hope so, since the alternative is the US being unable to pay its bills come June.
@TomBrady via Twitter
Tom Brady celebrated the one-year anniversary of his retirement announcement with...another retirement announcement. The seven-time Super Bowl winner and (until yesterday) the NFL's oldest active player revealed the decision on social media, capping a legendary 23-year career.
Brady's days tossin' the ol' pigskin around might be over, but the 45-year-old is retiring at the top of several major all-time record lists. He's No. 1 in passing completions (7,753), touchdowns (649), and yards (89,214).
And, despite taking a reportedly ungodly loss from his financial stake in FTX, Brady has set up a comfortable nest egg in case you were worried. Last year, #12 signed a 10-year, $375 million deal with Fox to become the network's primary analyst beginning whenever he decided to retire.
That's more than Brady made playing in the NFL and the biggest contract in sports television, by the way.
Zoom out: In recent years, networks have written massive checks to lock in star broadcast talent—inking deals worth more than $1 billion for pro talkers like Brady, Troy Aikman, Joe Buck, and Tony Romo.—MK
Francis Scialabba
Netflix doesn't care if you're "just a baby;" it's kicking you off your parents' account if you don't actually live with them. Netflix support pages, spotted yesterday by news outlet The Streamable before they got taken down, laid out a plan to cut back on password sharing by chaining accounts to a single location.
The streaming giant hasn't confirmed the new terms, but it has made it clear it wants to end password sharing. The briefly public plan would require users to pick a "primary location" through their TV (or pick for them if they don't). If a device connected to the account doesn't access Netflix using the location's wi-fi at least once every 31 days, the account owner will have to pay an "extra member" fee or the user will be barred from binging Wednesday on that device.
This ruthless update wouldn't be the first time Netflix has cracked down on password sharing after it lost subscribers for two consecutive quarters last year for the first time ever. Netflix has already…
Rolled out new features that allow users to kick profiles off their own accounts and let booted users transfer their watch history to a new account.

Started charging fees for extra users in select countries in Latin America, where password sharing runs particularly rampant.
The strategy's working: Starting to root out password sharing—along with the launch of a cheaper, ad-supported tier in some countries—has already helped Netflix recoup subscribers. It added 7.7 million subs in the last quarter of 2022, 3 million more than it expected to.—JW
TOGETHER WITH DIVERSYFUND
Meet the (multi)family: With the markets feelin' hot and cold, investors should ensure they're gettin' serious with the right assets for long-term potential, like real estate. But not just any ol' real estate: Multifamily is a proven way to hedge against inflation + stock market volatility, which is why DiversyFund's made it a cornerstone of their new Premier Offerings for accredited investors. Learn more.*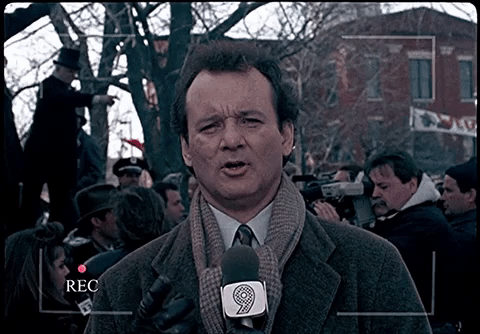 Groundhog Day/Columbia Pictures via Giphy
Stat: It's Groundhog Day, the only day where—in the words of Phil Connors—people are happy to stand around "freezing their butts off waiting to worship a rat." But Punxsutawney Phil might not deserve our worship: The rodent has only correctly predicted the weather about 39% of the time since humans began looking for his shadow in 1887, per the Stormfax Almanac. The National Weather Service has said a good accuracy rate would be more like 60%.
Quote: "We were on the brink of extinction, and that's no longer the case."
Peloton crashed harder than we do after riding up a hill with Alex once the pandemic stopped trapping everyone at home, but CEO Barry McCarthy hinted that it's now ready to make an "epic comeback." Even though Peloton disclosed yesterday that it failed to turn a profit last quarter as equipment sales slumped, revenue from subscriptions grew—and that's the area McCarthy plans to focus on.
Read: What the streaming boom has done to documentaries. (Vulture)
Excited it's February? Neither are we.
Start planning your own world tour: Make like Anthony Bourdain with this guide to the best places to eat around the globe (or this one on where to drink, if that's more your style).
Calling all marmalade lovers: Ever watched a movie and thought "needs more Paddington Bear"? This guy's got you covered.
Make better business decisions: Join over 400k who read Tech Brew, the 3x-a-week email delivering the latest tech news. Deepen your understanding of the innovative technologies impacting production, supply chains, and more so that you can make informed decisions.
Brew Mini: Today's funny-looking crossword gave Neal a little trouble. Your time to beat? 2:08. See how well you do here.
Three headlines and a lie
Three of these headlines are real and one is faker than saying "We should totally hang out sometime!" when you run into your old coworker on the sidewalk. Can you spot the odd one out?
Wanna level up your personal finance game but don't know where to start? Don't worry, we've got you covered with Money with Katie's Personal Finance 101 series.
Emerging Tech Brew just got a makeover. The newsletter will now be known as Tech Brew and will focus less on futuristic tech and more on the tech that's shaping the business world today. Check it out.
Managing a company's cash flow is no small feat when facing budget cuts. Join CFO Brew on Feb. 9 to hear how companies are shifting strategies.
We made up the reindeer one.
✳︎ A Note From DiversyFund
 Investors in The Independent or other Premier Offerings must be verified as accredited before they are fully invested.
Key phrases
Older messages
Wednesday, February 1, 2023
The future of robotics in retail. February 01, 2023 Retail Brew TOGETHER WITH Bloomreach Rabbit, rabbit. Welcome to February. Between Valentine's Day, the Super Bowl, and Glossier's debut at
Wednesday, February 1, 2023
Incumbents are responding to satellite internet. February 01, 2023 Emerging Tech Brew Welcome to the first edition of Tech Brew. Notice anything different about this newsletter today? Does it feel a
Wednesday, February 1, 2023
Movie trailers in the Super Bowl. February 01, 2023 Marketing Brew It's Wednesday. And the Philadelphia Eagles are going to the Super Bowl, which can only mean that a Wawa Super Bowl spot can't
Wednesday, February 1, 2023
The dodo could get a second chance... February 01, 2023 View Online | Sign Up | Shop 10% Off Morning Brew TOGETHER WITH Facet Good morning. It's a new month, which means that a fresh slate of shows
Tuesday, January 31, 2023
Tipflation: "Kitchen appreciation" fees. January 31, 2023 Retail Brew TOGETHER WITH Ware2Go Good afternoon! In today's edition of "brand collaborations that nobody asked for," we've got the