🗞 What's New: A guide to providing stellar customer support
Stellar customer support is necessary, but it's not easy:
In the beginning, it will actually be more time-efficient for you to offer customer support that doesn't scale. Indie hackers have the advantage of building a close connection with customers. This guide can help you make the most of it!
Having a mentor can be very beneficial, no matter what stage you're in. Here, founders weigh in on how they found their mentors and reached out to them initially, and what the exchange of knowledge looks like.
Founder Aaron hit $140 in monthly revenue after 3 years of zero revenue startups. Below, he shares what he did differently with Choppity, an AI TikTok and Reels editing tool, and how qualifying his prospects changed the game.
Want to share something with over 110,000 indie hackers? Submit a section for us to include in a future newsletter. —Channing
🌟 Offering Stellar Customer Support
How can you offer stellar support?
Big companies have an advantage because they can hire teams and experts to handle it for them, but indie hackers have a secret weapon, too. Our customers speak with the actual founder and builder of the product, so if we do it right, we can outshine the big dogs.
Here's how!
Types of support
1. Proactive support: This includes both self-support (i.e., documentation, FAQs) and anticipatory support (i.e. tool tips, in-app tutorials).
The best way to handle customer support is to avoid it. 81% of consumers try to figure their issue out on their own before reaching out. That's potentially 81% fewer support requests. So, take proactive measures to make sure that your customers have no reason to reach out to you.
Of course, this takes more time upfront. Start by creating FAQs based on the questions that you're commonly asked, and common sense questions that you can anticipate. If you don't have that data yet, check out your competitors' FAQs. From there, you can do demos and anticipatory support by keeping track of common issues and getting ahead of them using tool tips, in-app tutorials, etc.
Most indie hackers can probably wait a while to create documentation, though some products, like those targeted towards developers, need it right away. Just plug away at building a knowledge base over time. Don't let it slow you down in the early stages.
Weigh the time that it will take to create each type of proactive support with the amount of time it'll save you, and decide what to do based on that. In the beginning, it will actually be more time-efficient to do customer support that doesn't scale.
2. Responsive support: This is what we generally think of as support. This includes fielding emails, helping customers navigate their issues, and walking them through solutions.
Support channels
To provide stellar support, you need multiple channels. Here are the main ones:
Email and forms.
Chat widgets.
Social media.
Communities.
Phone (not applicable for most of us).
Select your channels depending on your target market. Hiver created a handy graph to help: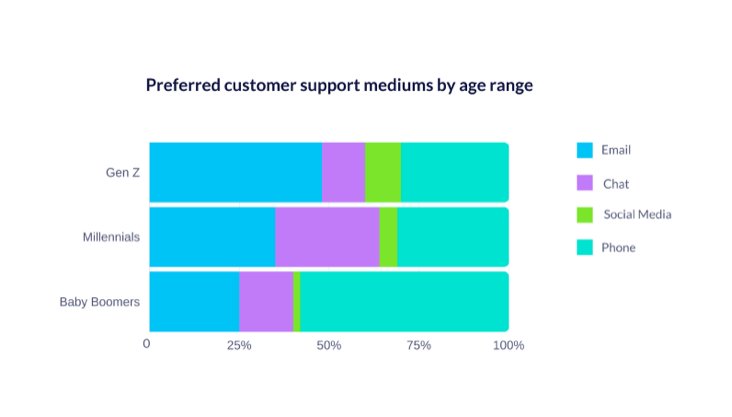 Start with channels that you already use (email and Twitter for most indie hackers). You can also add a support form on your website, which is helpful because you can prompt users with important troubleshooting questions. You can eventually start social listening to stay on top of any mentions across social media and communities, then chime in and help out. Check out the social listening tools below.
Eventually, once your revenue and support load get high enough, you can bring on a help desk provider like Zendesk, and even hire someone.
Add a chat widget once your product has a little momentum. Having it on your site, instead of just in-app, can boost conversions significantly. Same goes for paid conversions from free trials in-app.
To get the most out of chat, set up a chatbot that answers common questions for you. You can also get the bot to message site visitors with varied content based on what page they're on. But remember, you will probably get more messages with a chat widget, and the expected response time will be shorter. Customer support is vital, but don't let it distract you when you need to be working on your product.
Tips for providing stellar support
Batch time for support, scheduling it in between deep work sessions. Yes, it will delay your responses a bit, but it's the only way to remain efficient. Another option is to only provide chat support to paid customers, but then you're missing the chance to convert potential customers via chat.
Set realistic expectations from the start. Don't promise things that your product can't deliver.
Make it crazy easy for people to get in touch with you.
Don't wait until the problem is solved to respond. Respond first, then fix it.
Personalize your response, even when using templates.
Make it clear that you're the founder. This is (usually) to your advantage.
Be human. Be nice. Be positive. Take responsibility and apologize when you need to. Don't minimize their experience.
Set up automated emails to check in with them and ask how you can make their lives easier. This can happen a week or two after onboarding, and again if their usage decreases.
If they're trying to do something on their end that you're able to do on yours, do it and tell them how you did it. If it's a recurring task that they need to learn, show them how to do it.
The HEARD framework comes highly recommended for when you've got an angry customer: Hear them, empathize with them, apologize to them, resolve the issue, and diagnose the root problem to avoid it in the future. You could also offer them something for free, but if this is a customer that frequently causes a fuss, don't incentivize it. Be courteous, of course, but don't continuously give them things.
Support process
How you provide support will depend on where you are in the lifecycle of your business:
In the early days, you don't need a robust solution. Just do things that don't scale. They click a "Support" button, then you support them.
If you aren't going to be on call 24/7, set up an automatic response saying that you'll be with them shortly. In the meantime, it's worth mentioning your business hours and linking your proactive support.
Respond to each email. Search your inbox to see whether you've spoken to this person before. If so, make some reference to that conversation.
If the user needs something that will require more time, like fixing a bug, tell them that you're looking into the issue. Give them as much information as you can about what happened, and what you're doing about it. Give them a temporary workaround if there is one. Prioritize according to how long ago the ticket was received, combined with how urgent the issue is. Fix the issue and notify them of the fix. Follow up after a week or so to see if the issue is truly resolved, and to ask if they need anything else.
Tools
Chatbots:
Knowledge base:
Help desks:
Social listening tools:
All-in-one:
What's your approach to customer support? Share your experience below!
Discuss this story.
📰 In the News
from the Growth Trends newsletter by Darko
📌 Pinterest has expanded its Idea Pin video length to five minutes.
💵 Five effective ways to manage your Google Ads budget.
📈 Prices are still going up, but consumers are still spending.
💻 Creating an effective Facebook ad campaign.
🍔 AI bots at McDonald's are struggling to take orders.
Check out Growth Trends for more curated news items focused on user acquisition and new product ideas.
🤗 On Finding a Mentor
by Chris
Do you have a mentor? If so, how did you find them? What is your relationship, and how do you exchange information with them?
Paid mentors, non-paid mentors, and groups
Vintually started his founder's journey about four years ago, and got a paid mentor after six months:
Paid mentors are great for rapidly learning startup principles, and for accountability.
After working with this paid mentor, I found a few non-paid mentors via LinkedIn who have been supporting my startup's growth. I find that mentors are the best for resources like access to professionals, funding, and other aspects of life and business.
For learning, I've consistently found that group startup programs have been the best option for me; they usually stay personal, while also giving good information. The programs usually have group coaching, where you can learn from peers and a group mentor. The peer feedback and talks usually help a lot because they help you think about the bigger picture.
I find mentors through referrals, Google, and LinkedIn. I ask them to be a mentor, or ask them for so much advice that they naturally become a mentor. I'm flexible in regards to communication tools, but usually I start with the tool that they like, then try to meet in the middle with a tool that we both like. They'll usually send emails with follow-up info or connections.
It's not just a one-way street. We trade value in some way. I'm very knowledgeable on digital and new media (VR, gaming platforms, Gen Z marketing, etc.), so most of my mentors text me asking for advice around technology decisions or new technologies. Very rarely, I'll do a quick freebie for them, like a small write-up. The most I've ever done for a mentor was write a 10-12 page grant, but this was for a shared opportunity between their company and my startup.
Keep in mind that a lot of people are sincerely interested in helping others. Focus on aligning your business needs with an expert who has this mentality!
Mentors in unexpected places
Brief Coach has also found that many people are willing to share their experience:
Reach them with a friendly LinkedIn message sharing your challenge and asking for mentoring. Buy them a coffee, and actively listen. Use your natural curiosity, and ask questions that you feel are important.
Consider paying for a session with a coach. Certified coaches are not experts in your area, and that is a good thing! They will ask curious questions to help you find your own solutions.
Here's a life hack: Every person that you meet can be your mentor. Tell them your story, let them ask curious questions, and you'll always be able to move forward. Return the favor and listen to their story, asking curious questions. See every conversation as an opportunity, and enjoy it. Curiosity is all you need. Focus less on problems and more on solutions. And, no matter what a mentor says, always also trust your own intuition. It's your business, not theirs!
Beware the influence
Nikhil used to run his own company, and believes that having a mentor would have been very beneficial:
It would have been great to have a mentor to help guide me in my business decisions.
I have a full-time job now, and I persue standup comedy on the side. My standup is a bit unique, so I'm afraid that if I get a mentor, I would be too influenced by the mentor's style. Or, the mentor could insist that I adopt their idea of what comedy should look and sound like. This could be the case in any space, whether it's business or comedy.
I do speak with my fellow comics, who are kind enough to guide me through the process if I feel stuck somewhere. I hope to someday have a mentor related to my job, and one for my comedy, so that I don't have to constantly white-knuckle everything.
Do you have a mentor? Let's chat more below!
Discuss this story.
🚀 The Spector Report
by Josh Spector
I'm sharing growth tips for creative founders! Here's this week's:
Those people you think have it all figured out? They don't. They're just like you.
They're just as confused, insecure, and worried as you.
Remember that when you think you're not good enough, because the first step to becoming who you want to be is to believe that you can.
Subscribe to Josh's For The Interested newsletter or I Want To Know podcast for more.
📹 Aaron Hit $140 MRR in 37 Days
by Aaron
Hi, indie hackers! I'm Aaron, and I've been wanting to see a graph like this since the day I first thought about starting a business:
It's not a huge amount of money, and our customers haven't had a chance to churn yet, but after three years of zero revenue startups, I finally feel like we have made a breakthrough in how we think about building.
Here's what we learned going from $0 to ~$140 MRR just 37 days after launching our startup, Choppity. Choppity edits TikToks and Reels using AI.
Let's dive in!
More cold sales
After launching via LinkedIn post, we achieved our first sale. However, after that, our MRR stagnated for a long time, as you can see from the graph.
We weren't doing cold sales, as we were focused on development. The part of the graph where MRR starts growing marks the time that we really started doing cold sales. There is a very clear correlation.
Too early for marketing
Your first few customers should be through founder-led sales:
If you can't find individual people to sell the product to directly, you likely won't be able to do it with marketing.
Founder-led sales have helped us create great connections with our customers, which has helped us gather lots of feedback to improve the product. They should also help with retention!
Sales is easier than marketing. Speaking directly to potential customers means that you can very quickly learn if you're doing something wrong in your sales approach, and improve. With marketing, feedback may not be so explicit.
It's genuinely fun and motivating! I used to hate the idea of sales, but I've found that it's very rewarding to talk to potential customers and later, receive a notification that they've bought a subscription!
As a disclaimer, I have very little experience with marketing, but this is the opinion I have formed so far.
Build something people want
Yes, it's a cliché, but if you manage to do it, you'd be surprised by how willing potential customers will be to talk to you.
With our past products, potential customers were interested and curious because we were building cool tech, but they didn't really want it because it didn't solve a significant problem for them.
Qualify your customers
When we started doing sales, we talked to anybody who had a chance of finding our product useful. Our qualification process was essentially:
Do you work with video?
Do you have a beating heart?
Great! Let's set up a 30 minute demo call.
While this was great for building confidence by talking to people and demo-ing our product, we spend a lot of time organizing and executing these calls, only to find out after hours of work that the prospects had absolutely no need for our product. We wasted a lot of time.
Our qualification process now looks more like:
I saw that you create a lot of short-form video content for your clients (we perform some initial qualification before reaching out to them).
How many videos do you create in the average week? This qualifies the frequency of the problem.
How long does each video take you to make? This qualifies the intensity of the problem.
If they have a frequent, intense problem:
We're working on X. We think this could help increase your revenue and save you time by doing Y. Would you be open to a call? This qualifies their willingness to adopt new solutions.
You can do it!
I've been on Indie Hackers for a while, seeing people post their MRR figures. We've managed to achieve a little growth, and we're proud of it!
It really is as simple as building something people want, then getting it in front of them.
Check out our demo here!
Discuss this story.
🐦 The Tweetmaster's Pick
I post the tweets indie hackers share the most. Here's today's pick:
🏁 Enjoy This Newsletter?
Forward it to a friend, and let them know they can subscribe here.
Also, you can submit a section for us to include in a future newsletter.
Special thanks to Jay Avery for editing this issue, to Gabriella Federico for the illustrations, and to James Fleischmann, Darko, Chris, Josh Spector, and Aaron for contributing posts. —Channing
Indie Hackers | Stripe | 510 Townsend St, San Francisco, California 94103
You're subscribed to the Indie Hackers Newsletter. Click here to

unsubscribe

.

Key phrases
Older messages
Today's Digest: I made $2,350 in my first month
Friday, February 17, 2023
Your Indie Hackers community digest for February 16th ‌ ‌ ‌ ‌ ‌ ‌ ‌ ‌ ‌ ‌ ‌ ‌ ‌ ‌ ‌ ‌ ‌ ‌ ‌ ‌ ‌ ‌ ‌ ‌ ‌ ‌ ‌ ‌ ‌ ‌ ‌ ‌ ‌ ‌ ‌ ‌ ‌ ‌ ‌ ‌ ‌ ‌ ‌ ‌ ‌ ‌ ‌ ‌ ‌ ‌ ‌ ‌ ‌ ‌ ‌ ‌ ‌ ‌ ‌ ‌ ‌ ‌ ‌ ‌ ‌ ‌ ‌ ‌ ‌ ‌ ‌ ‌ ‌ ‌
Today's Digest: Looking for a Marketing Wizard
Tuesday, February 14, 2023
Your Indie Hackers community digest for February 14th ‌ ‌ ‌ ‌ ‌ ‌ ‌ ‌ ‌ ‌ ‌ ‌ ‌ ‌ ‌ ‌ ‌ ‌ ‌ ‌ ‌ ‌ ‌ ‌ ‌ ‌ ‌ ‌ ‌ ‌ ‌ ‌ ‌ ‌ ‌ ‌ ‌ ‌ ‌ ‌ ‌ ‌ ‌ ‌ ‌ ‌ ‌ ‌ ‌ ‌ ‌ ‌ ‌ ‌ ‌ ‌ ‌ ‌ ‌ ‌ ‌ ‌ ‌ ‌ ‌ ‌ ‌ ‌ ‌ ‌ ‌ ‌ ‌ ‌
🗞 What's New: Using GIFs for brand awareness
Tuesday, February 14, 2023
Also: A no-frills cold email outreach strategy! ‌ ‌ ‌ ‌ ‌ ‌ ‌ ‌ ‌ ‌ ‌ ‌ ‌ ‌ ‌ ‌ ‌ ‌ ‌ ‌ ‌ ‌ ‌ ‌ ‌ ‌ ‌ ‌ ‌ ‌ ‌ ‌ ‌ ‌ ‌ ‌ ‌ ‌ ‌ ‌ ‌ ‌ ‌ ‌ ‌ ‌ ‌ ‌ ‌ ‌ ‌ ‌ ‌ ‌ ‌ ‌ ‌ ‌ ‌ ‌ ‌ ‌ ‌ ‌ ‌ ‌ ‌ ‌ ‌ ‌ ‌ ‌ ‌ ‌ ‌ ‌ ‌