Morning Brew - ☕ First impressions
| TOGETHER WITH | |
| --- | --- |
Happy Thursday. Today is the third anniversary of McDonald's declaring March 2 "National Egg McMuffin Day," which it did the very same week Wendy's started to serve breakfast nationwide. Please consider this your invitation to order fast food and/or be just a little bit passive-aggressive today.
In today's edition:
—Alyssa Meyers, Katie Hicks
Dianna "Mick" McDougall, Francis Scialabba
You've heard of podcast ads. You've heard of first-party data (and even zero-party data). But have you heard of brands applying their own first-party data to podcast ads?
As privacy restrictions become more common and the third-party cookie finds its days numbered, marketers are increasingly focused on using first-party data to reach coveted audiences. Some advertisers are using it for podcast campaigns, even though that channel hasn't historically relied on an abundance of listener data for targeting.
"Podcasts have never had the luxury of heavy audience data targeting; the power of podcasts has been and always will be based on the content," Tom Yeung, VP of podcast partnerships and development at Sirius XM's AdsWizz, told Marketing Brew.
Still, Spotify, SiriusXM, iHeartMedia, and independent podcast company Acast can all accept first-party data from advertisers in some capacity for audience targeting.
While podcast advertisers have the option to leverage their first-party data with some of the biggest networks, it's not exactly a go-to move, as many have long relied on contextual targeting. Still, some networks have found value in offering the capability, even if it doesn't always make sense for every advertiser or campaign.
Read the full story here.—AM
TOGETHER WITH INTUIT MAILCHIMP
Farming and marketing are a dynamic duo, but tough to perfect—and Joe Schirmer knows this all too well. After running the successful farm Dirty Girl Produce for 20 years, his marketing strategies needed a refresh to help unlock new revenue opportunities.
That's why Joe worked with the Mailchimp partner Barn2Door. They helped Dirty Girl revamp their website and integrate an email marketing strategy that kept customers engaged via personalized, behavior-based content and offers.
The secret sauce to Joe's success? The Customer Journey Builder. This highly customizable Mailchimp feature helps you convert more customers at scale by sending messages that feel personal, specific, and relevant. Aaand it can generate up to 4x more orders with automations.*
Wanna grow your biz? Try Mailchimp yourself.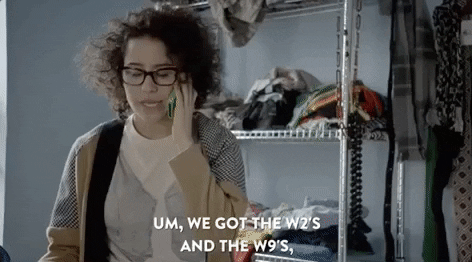 Broad City/Comedy Central via Giphy
You've heard of "get ready with me" videos. Now get ready for…"get ready to do taxes with me."
Recently, conversations have been brewing online around influencers and taxes. Specifically, what they should—and shouldn't—write off, and the potential risks associated with not filing correctly.
Garrett Alexander is a CPA and co-founder of accounting firm Orsini & Associates, which has started to work with content creators and influencers in the past few years. He told us that 1) accountants in the space are in short supply and 2) misconceptions around how influencers should approach taxes are plentiful because of social media.
Alexander shared a few financial points that are worth keeping in mind for influencers, not just ahead of tax season, but year round.
1. Set money aside
"When your money is coming in as an influencer, 95%–99% of the time, it's going to be contract labor. And what that means is, you're not going to have withholdings on it like you do a normal W-2 job," Alexander said.
For that reason, he said setting aside 20%–25% of income for federal tax is a "great start." For those in "high income tax states" like New York or California, he said he recommends bumping that up by an additional 5%–10% for state taxes.
2. Speaking of deductions…
So for influencers who classify their work as a business, what can they write off? Despite some people on TikTok saying that they've seen influencers claim to deduct things like coffee and vacations, it doesn't seem to be that simple.
"For the IRS standards…you get to deduct it if it's ordinary and necessary to your business," Alexander said.
Continue reading here.—KH
Want to know the best time to talk about economic conditions? At a Morning Brew networking event in Austin.
Join us on Monday, March 13 as we host a happy hour with Money with Katie's own Katie Gatti Tassin and iShares by BlackRock's Jay Jacobs. We'll get into the nitty-gritty of weathering financial storms and touch on which areas are ripe for investment. Oh, and did we mention there'll be shuffleboard?
A meeting of marketing minds. It's got networking, collaboration, and learning galore! It's Iterable's 2023 Activate Summit, and it's not to be missed. Hear from big-name brands like European Wax Center, A+E Networks, and ClickUp about how to craft crucial marketing moments. Attend virtually or IRL and use code BREW2023 for 30% off.
There are a lot of bad marketing tips out there. These aren't those.
Free advice: From Kyle Lacy, CMO of engineering management platform Jellyfish, about how to approach a career in marketing based on his decade-plus of experience.
Rec list: Of podcasts for social media marketers looking to brush up on their skills, stay in the know about pop culture, and more.
Double dose: Subscribe to Double Shot for an extra helping of the top headlines of the day from the world of marketing and advertising. Learn more and subscribe here.
Horizon Media released its Top Trends report for 2023. Of the nine that made the cut, here are a few that stood out to us.
Shop local: Remember the supply-chain crisis? That, combined with "contentious geopolitical ideologies," has Horizon predicting that we will see a "further cementing of local patriotism" this year.
Brands should work to "speak the local language" as a way to connect with consumers, according to the report.

For instance, the US Men's National Soccer Team bought billboards in players' hometowns ahead of the World Cup last year, and Häagen-Dazs released a "city sweets" line of ice cream inspired by street food desserts.
As a treat: Despite almost a year of talks of inflation and a recession, it seems like nothing will stop people from treating themselves. About three-quarters (74%) of adults reported spending on "little indulgences," according to Horizon research.
Retailers can capitalize on this trend by offering "self-gift subscription models," Horizon suggested.

Brands should also keep in mind that "treat yourself" can mean different things to different demographics.
Feeling nostalgic: "Nostalgia is set to become an extreme sport as brands, technology, and institutions find innovative ways to recreate the only safe space we really know: the past." We couldn't have said it better ourselves, so we didn't (but we will point out that we clocked this trend last year).
Catch up on a few Marketing Brew stories you might have missed.
✢ A Note From Intuit Mailchimp
Up to 4x more orders through users' connected stores when they used Customer Journey Builder versus bulk emails. CJB only available on paid plans. Features and functionality vary by plan.
Key phrases
Older messages
Thursday, March 2, 2023
Introducing Morning Brew's newest weekly newsletter Good morning. It's been a while since our last email—we've been in the lab cooking up some big news here at Morning Brew: Sidekick is now
Thursday, March 2, 2023
Elon Musk reveals his master plan... March 02, 2023 View Online | Sign Up | Shop 10% Off Morning Brew TOGETHER WITH The Ascent Good morning. We know there are a lot of business-oriented readers in our
Wednesday, March 1, 2023
Online advertising and children's privacy. March 01, 2023 Marketing Brew TOGETHER WITH Wistia It's Wednesday. Delta started offering free wi-fi last month, making it easier for travelers to
☕ Artificially intelligent design
Wednesday, March 1, 2023
How automation could transform fashion. March 01, 2023 Retail Brew TOGETHER WITH Bolt Hi there. If you've still got Rihanna on the brain post-Super Bowl, Puma's got you covered. The sportswear
Wednesday, March 1, 2023
Inside Delta's push to bring free wi-fi to its planes. March 01, 2023 Emerging Tech Brew TOGETHER WITH Vanta Happy March. A recent Bloomberg article pointed out that a new scourge is sweeping our