Foundr - [48 hours to go] My dad's advice

Hi ,
If you're willing to work towards transforming your life as an ecommerce entrepreneur, this special deal will save you a ton of money right now.
But only for the next 48 hours!
My dad would always say when I was stressing about a grade at school, "just put in the work and the results will take care of themselves."
You can't always be motivated, you can't always love every little thing you're doing, you can't always be happy—it's discipline and grit that gets us through in those times that lead to growth and fulfillment. 
You have to do the things you don't want to do. 
Things that make you uncomfortable. 
Things that are new. 
Things that scare you.

Keep doing those things, keep ticking things off your to do list, progressing your goals / projects and putting yourself out there. Small consistent efforts compound into something much greater than you could ever imagine.
Because just one good ecommerce product can change your life faster than nearly anything else we know of. It can quickly help you replace your income, quit your job, and have the freedom to live or work wherever you want.
Starting today, you can build a real business with real equity that can grow without you, not just another "job" where you're stuck trading time for money.
If you put in the work and follow my proven step-by-step blueprint…
The program actually works as promised.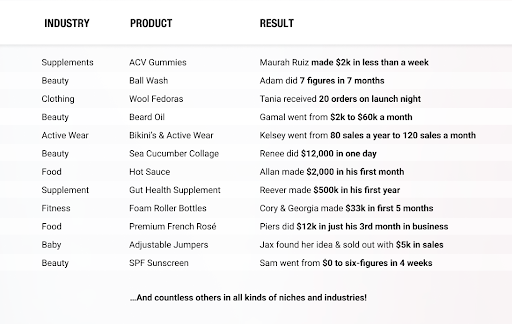 See more case studies, screenshots, and results here.
Inside the private community there are over 20k paid members from more than 65 different countries…
All using the proven "Start & Scale" framework I've perfected while launching 5 multi-million dollar brands from scratch. The same one that helped me win the Shopify Build A Business award, and make the Forbes 30-Under-30 for ecommerce.
From young stay-at-home Moms, to a 71-year-old dentist, a former "Project Runway" star, and all kinds of first-time entrepreneurs…

Start & Scale has consistently helped people from all backgrounds create incredible results faster than they ever thought possible. 
FYI: This really is one of the best ecom deals we've ever made.
You're getting two full programs free in addition to a 50% discount on my legendary Start & Scale program.
IWD 2023 #EmbraceEquity
Gretta van Riel

P.S. Did you know that 85% of Amazon sellers are profitable? That's pretty incredible.
But now imagine that instead of trying to build your ecommerce idea all alone, you had someone in your corner who's already sold $20M+ on Amazon to guide you through exactly what to do.
Think that would help you accomplish your goals even faster?

That's what you get inside Melisa Vong's Infinite Income on Amazon course. It's a fantastic complement to my Start & Scale course that further increases your chances for success.
You get both my program and this Amazon program in this special deal here.
Older messages
You are 6 months away from this
Friday, March 10, 2023
Can you imagine it? Hi , You are constantly 6 months from something life-changing... And I can definitely attest to this—my life changed so drastically within 6 months when I started my first brand,
⚠️ May cause you to quit your job
Thursday, March 9, 2023
Ecommerce has never been this easy. Hi , Have you seen this special women's day ecommerce offer? Foundr is working to build a more diverse and inclusive community of entrepreneurs. And that
Wednesday, March 8, 2023
We'd love to see you inside. Hi , Just bringing this to your attention, but there's only 4 hours left before the FREE live event as Foundr's celebration for International Women's Day!
Wednesday, March 8, 2023
Get 2 ecommerce courses free. Hi , Happy International Women's Day! To celebrate, the Foundr team and I are kicking off an exclusive 3-for-1 deal that we've never offered before. It's
Tuesday, March 7, 2023
Not what you think. Hi , I hate to break it to you but there is no big conspiracy to keep you where you are. There is no system working against you. The universe is indifferent. Success is yours for