Foundr - 👽 Secretly run by aliens?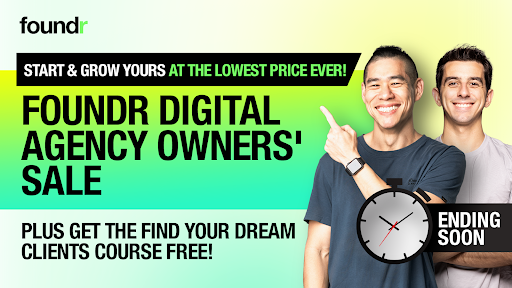 Ignite Your Digital Agency (save 75%) - that shows you step-by-step, how to transform your one or two-person marketing shop into a highly profitable and fast growing agency, in just a few months.


Find Your Dream Clients (FREE) - that reveals a system for meeting 10-20 new, high-paying prospects every week without spending money on ads, without a large social media presence, or even an email list.
We call it the ultimate Digital Agency Owners' Sale.
Here's why these two courses are important:

Many people who're just starting out in the Agency business, don't actually have a system for growth and, quite frankly, lack a system for consistently meeting high-paying, qualified prospects.
They feel like they're juggling flaming torches on a unicycle—waiting to get tipped over sooner or later.
And they look at those 7 and 8-figure agencies and think it must be run by aliens or something. 
The truth is… it's not rocket science. 
Dee Deng, the instructor of the Ignite Your Digital Agency course, took his Digital Agency, Right Hook Digital, to $250K per month in sales... within its first 14 months. And he started with just $200 in his bank account!

AJ Cassata, the instructor of the Find Your Dream Clients course, went from a college-dropout to helping thousands of service providers quickly grow their business and land bigger clients with consistency.
And you can build your own 7-figure agency following their footsteps too!
It's not easy. Not going to happen overnight.
But it's achievable in a matter of months.

With these two courses, you'll master the advanced skills and strategies needed to crush this competitive industry. 
Nathan Chan
CEO, Founder of Foundr
P.S. Hear from Jason How, an agency owner who is part of a team that grew their small marketing shop 75x in just 4 years. 
"Dee is the real deal. When I reached out to consult him on how he structured his agency and hired talents, he shared generously. It was his sharing that led to a breakthrough in our agency operations, allowing us to scale past the initial ceiling we were stuck at. If you get a chance to learn from Dee, don't give it up!"
Ending soon - save 75% when learning from Dee Deng here
P.P.S. In addition to the free Find Your Dream Clients course, you'll also get a priceless opportunity to ask AJ Cassata your burning questions. Yes, a live group coaching & Q&A call is included as part of the deal.
P.P.P.S. If you're not interested to hear about our Digital Agency Owner's Sale, click here and we will only send you relevant entrepreneurial content.
Key phrases
Older messages
Thursday, March 23, 2023
for future agency owners. Hi , Wanna start or grow your own digital agency? Yes, I Do You get a 75% discount and a full Foundr course free when you do it this weekend. Here's why we're doing
Notice: Coaching spots nearly full
Wednesday, March 22, 2023
For ecom entrepreneurs only. Hi , If I lost everything and was dropped off penniless on a random street corner… What'd be the first thing I'd do to make it all back as fast as possible? This is
Tuesday, March 21, 2023
Build an ecommerce empire. Hi , Our hands-on ecommerce coaching program not only gets results… But because you're working with a seasoned ecommerce entrepreneur who's already made the mistakes
For serious entrepreneurs only
Monday, March 20, 2023
Foundr's best kept secret… Hi , Only a handful of people know this, but over the last year here at foundr we've been quietly working on one of our biggest ecommerce projects ever… And it's
"I created the perfect job for myself"
Sunday, March 19, 2023
From full-time office job to $40k/mo. Hi , Since she was a young girl, Nadine has always loved horses. So while still working a full-time office job, she launched an online store selling horse saddles.