Morning Brew - ☕ It takes two
| TOGETHER WITH | |
| --- | --- |
Today is Friday. We hope your day is as good as Gwyneth Paltrow's after winning (Gwynning?) her court case. She may never get that half day of skiing back, but we'll always have the memories.
In today's edition:
Reader poll: TikTok plans
—Alyssa Meyers, Ryan Barwick, Minda Smiley
Amelia Kinsinger
Some brand collabs, like Doritos and Taco Bell, just make sense. Others are more…surprising, like Balenciaga and Crocs, or Crocs and Hidden Valley Ranch, or Hidden Valley Ranch and Van Leeuwen, or Van Leeuwen and Kraft Macaroni & Cheese. We could continue the chain, but we'll spare you.
The popular move, which some marketers said originated in the fashion and sneaker industries, ideally benefits both brands involved. But some have also gone awry (remember Target and Neiman Marcus, or Lego and Shell?).
"Setting out to do a collab just to say you've done a collab—and I do think some brands do that—it never works, because people see right through that," Stacy Taffet, SVP of brand marketing for Frito-Lay, told Marketing Brew. "If it's not something that is giving your fans, giving your consumers something of value…it's probably not worth doing."
So when is it worth doing? Marketers with experience crafting collaborations told us it's important for brands to focus on creating a unique offering and finding brand alignment, even if that means turning down partnerships from time to time.
Synergize: Collabs are all about "synergy," a term used by more than one exec. Taffet said that's one of the first things she discusses with potential brand partners. Take Doritos and Stranger Things: Both brands are rooted in nostalgia, with strong ties to the '80s (the Cool Ranch flavor rolled out in 1986), she explained.
If brand alignment is missing, Taffet said her team will walk away from offers—and has had other brands walk away from them. "It's definitely not worth hurting the equity of your brand," she said.
Continue reading here.—AM
TOGETHER WITH INTUIT MAILCHIMP
Email marketing has always been essential, and marketers are no strangers to sending customized messages. But what they may not know is how much more they could be doing with their emails.
Is your content engaging with the right audience at the right time? Not sure? No sweat. Mailchimp can help you elevate the effectiveness of your emails from creation to post-send.
Start with their Segmentation tool to specify your send list, employ Automation to customize the customer journey, and mix in some snazzy Design and Content Generation capabilities to spice up your style. Think that's all? It's only the start.
P. Kijsanayothin/Getty Images
Big Tech is really just Big Ad Tech, it seems.
An antitrust bill introduced this week in Congress would require digital advertising companies to divest or sell parts of their businesses if they process more than $20 billion in digital ad transactions. That threshold would be comfortably (or, perhaps, in their cases, uncomfortably) cleared by the likes of Google and Meta.
The Advertising Middlemen Endangering Rigorous Internet Competition Accountability Act, or the AMERICA Act, was introduced by Sen. Mike Lee (R-UT), and, according to him, is "functionally identical" to a bill he introduced last year, per AdExchanger.
Specifically, the new bill would prohibit digital advertising companies from "owning more than one part of the digital ad ecosystem" if they meet that $20 billion threshold, according to the fact sheet shared by Lee and the bill's sponsors.

A demand-side platform couldn't own a supply-side platform, and a supply-side platform couldn't own a demand-side platform, for instance, and "buyers and sellers of digital advertising" couldn't own either (unless it was for their own inventory), the sheet says.

It would also require companies that process more than $5 billion in digital ad transactions to disclose their revenue streams, detailing where the money comes from, according to AdExchanger.
So far, the bill has bipartisan support, with co-sponsors including Senators Amy Klobuchar, Lindsey Graham, Elizabeth Warren, and Ted Cruz. The Department of Justice and state attorneys general would handle enforcement.
Big picture: Lately, it seems like Google hasn't been able to catch a break. The company is currently being sued by the Department of Justice for operating what the DOJ alleges is an ad-tech monopoly. If this bill is passed without any changes and signed into law, it would, presumably, complicate things for the rest of Big Tech, too.—RB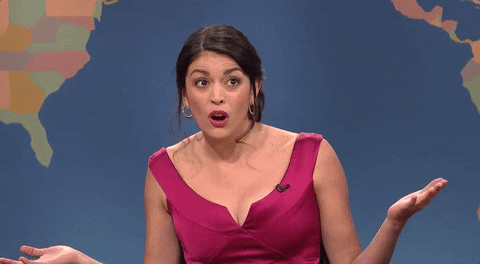 SNL/NBC via Giphy
It's been about a week since the CEO of TikTok testified before Congress. Since then, many have wondered what's next for the app and what a ban might look like.
Last week, we asked if you were rethinking your approach to TikTok right now. Nearly a third said that you are, while the rest said you're in wait-and-see mode.
Marketers we spoke with said if a ban does happen, they'll likely pivot to Instagram Reels and YouTube Shorts. If there are other platforms you're eyeing, hit Reply and let us know.
This week's poll: If you work in influencer marketing, we'd love to know more about your experiences working with celebrities. At last year's Marketing Brew summit, House of Wise founder and CEO Amanda Goetz said onstage that even though "every single Kardashian" posted about the brand on Valentine's Day, their posts ultimately led to "zero sales."
In your experience, do you typically have more luck with big names when it comes to driving sales, or are smaller influencers the way to go?
Big names

Smaller influencers

Depends

There are a lot of bad marketing tips out there. These aren't those.
Better together: An intro to Collaborative Collections on Instagram.
Look ahead: Keep an eye on trends that could have an impact on your Facebook strategy this year.
Mail time: Check out these tips on email marketing that could help increase factors like clickthrough rates.
Under pressure: Former Global CMO of Amazon Prime Video & Studios Ukonwa Kuzi-Orizu Ojo knows all about growth through change. Hear her keynote on pairing creativity with tight budgets at Iterable's Activate Summit from April 17–19. Register here.*
*This is sponsored advertising content.
If you haven't noticed, we have an all-star roster of accomplished marketing execs lined up for The Brief. We can't stop bragging about them!
We're bringing in Aidaly Sosa, head of Marketing USA at Tony's Chocolonely, to discuss "Doing Good is Good Business." Chocolate and marketing—name a more perfect match!
Get ready to ask questions and spur unique conversations with pros like Aidaly.
Which headlines are real marketing news, and which one is fake?
Keep scrolling for the answer.
Catch up on a few Marketing Brew stories you might have missed.
1. Didn't seem sanitary, anyway.
✢ A Note From Intuit Mailchimp
This is sponsored advertising content.
Key phrases
Older messages
Friday, March 31, 2023
Can you build a car only on wi-fi? March 31, 2023 Emerging Tech Brew TOGETHER WITH Graze Welcome to Friday. While the first of April is for fools, April was named after the idea "to open" in Latin—a
Friday, March 31, 2023
Trump becomes the first former prez indicted... March 31, 2023 View Online | Sign Up | Shop 10% Off Morning Brew TOGETHER WITH Impact.com Good morning. Congrats, everyone—we made it to the final day of
Thursday, March 30, 2023
The challenges of navigating banking for cannabis businesses. March 30, 2023 Retail Brew TOGETHER WITH Bloomreach Happy opening day, everyone. By the time you read this, the first games of the MLB
Thursday, March 30, 2023
Cannabis advertising ins and outs. March 30, 2023 Marketing Brew TOGETHER WITH Hulu Ad Manager Happy Thursday. It is now officially appropriate to start your day with Cup Noodles, since the brand has
☕ Mr. Schultz goes to Washington
Thursday, March 30, 2023
Why tech leaders are saying AI needs a timeout... March 30, 2023 View Online | Sign Up | Shop 10% Off Morning Brew TOGETHER WITH vin social Good morning. If you're looking to spice up your email