🗞 What's New: Growing on Twitter without fancy tools
What's stopping you from growing on Twitter?
Engaging in other people's tweets, and starting threads with catchy hooks can both be major game changers on Twitter. Check out how to implement these tactics below!
Direct mail. CDs. Paper magazines. All of the classics are becoming fresh once more. Here's how founders can take what's old and make it new again.
After 2 years, founder Vojtěch Vidra is launching on Product Hunt! Below, he shares how he hit $140 in monthly revenue, and what helped finally moved the needle for his business.
Want to share something with nearly 120,000 indie hackers? Submit a section for us to include in a future newsletter. —Channing
📱 Growing on Twitter Without Fancy Tools
by Goutham
Based on my experience growing my Twitter from zero to 5K+, and building my SaaS business in public, I believe that the limiting factors affecting Twitter growth are:
Not engaging with other people's tweets enough.
A bad hook for your tweet.
This specifically applies if you have an audience size between 0-2K followers on Twitter.
Let's take a closer look!
Why engage with other people's tweets?
You might have tried to post different types of tweets, info-packed threads, and various other tactics. But all of these go unnoticed if you don't have an audience who loves to engage in your posts.
For people to engage with your post, they should first be able to recognize you, or find your content relatable. People recognize and remember you when you make them feel valued. The best way to do that is to add a meaningful comment under their tweet.
Bonus points if there's humor in the reply! Here's one cool reply that got good traction:
A tweet hook to grab the reader's attention
There's a plethora of content on any given Twitter feed. No matter how good your content is, if the first line of your tweet sucks, people just scroll past it.
I've noticed that my best-performing tweets had a catchy hook. The first line of your tweet, the hook, should have one of the following characteristics:
Be personal: Frame it in a personal perspective. For example, "I failed at launching three startups in a year."
Invoke curiosity: For example, "I used to think that building a business was easy, but..."
Catch them with humor in the second line.
Here's one of my best-performing tweets. It includes both the humor element and the curiosity element, both of which made it go viral:
For more, check out my Twitter Growth Guide. It's packed with actionable insights!
Have you used the Twitter hook tactic? Share your experience below!
Discuss this story.
📰 In the News
from the Growth Trends newsletter by Darko
💲 Twitter has announced new API pricing.
🚫 Will the US stop new OpenAI updates?
💻 Bing chat now has ads.
🏷 Amazon is adding labels to frequently returned items.
📺 Teletubbies are still extremely lucrative.
Check out Growth Trends for more curated news items focused on user acquisition and new product ideas.
💿 What's Old is New Again
from the Hustle Newsletter by Ethan Brooks
The Signal: You know we like the classics here at Trends. Paper books. Direct mail. Ethan's (nerdy) obsession with magazines.
*Source: Variety
So, when we saw that Metallica bought a majority stake in one of America's largest vinyl record producers last week, we got curious. Turns out that vinyl's been on a heck of a run.
Sales have climbed every year for almost two decades, and were up 17% YoY in 2022 alone, topping $1.2B. That's almost 10% of the entire recorded music industry, and 71% of all physical format sales!
For the first time since 1987, kids, hipsters, and your deadbeat uncle bought more records than they did CDs, pointing to some interesting opportunities for founders!
Vinyl production
Production capacity lags way behind demand. A deep dive from Mixmag revealed that global output is limited to ~160M records per year, but demand is closer to 300M-400M.
Artists wait months for shipments, and the world's largest producer is currently backlogged through 2030, thanks to a whopping 200M record order from ABBA (yes, you read that right).
Metallica's new acquisition, Furnace Record Pressing, is one of the largest producers in the US, with:
~100+ staff.
70K square foot facility.
14 presses turning out 25K records per day.
But they're just one. Here's a list of 30+ others that might be ripe for acquisition.
Simpler opportunities
If you can't disrupt the industry on the supply side, consider catering to music lovers with:
Turntable sales: Audio-Technica is the big dog, doing $8.4M MRR with this model on Amazon alone, according to JungleScout. Alibaba offers alternatives. Or, take a page from Wrensilva, which custom builds beautiful models for $6K-$12K each.

Record storage: This crate does $119K MRR on Amazon. It's a crate. You're welcome.

Record exchange: Create a secondary marketplace for vinyl enthusiasts to buy, sell, and trade their gems. The Vinyl Exchange erred when we tried to sign up, so there's room for improvement, and Facebook Groups just aren't cutting it.
Opportunities from a minimalist fashion trend
We covered 100+ product trends last year, and didn't talk about the apparel industry once (unless you count compression socks, which...no).
This one's for our readers in the clothing space!
Search interest for "acubi fashion" is up across both Google and Pinterest. It's a new style that sits at the crossroad of minimalism and Y2K (shoutout to our '90s kids).
*Source: Google Trends
The hashtag #acubi has 150M+ views on TikTok, and "acubi fashion styling" has 354M+. Explainer videos (like this, this, and this) are getting tens of thousands of views on YouTube from relatively small accounts.
A lot of interest in this space revolves around thrifting, which could offer an interesting opportunity for personal stylists and clothing boutiques.
This seller, for example, offers custom thrifted acubi bundles, and has generated hundreds of sales on Etsy and Depop. She drives most of her traffic using TikTok videos and Pinterest boards. And frankly, at ~$60 per bundle, she undercharges for what she does.
Another thing that fans often discuss is DIY-crafting acubi looks, particularly the distressed knit tops that you see in photos:
*Source: Pinterest
We've written about opportunities in the crafts and online pattern sales space before. Founders focused on those could win attention from new customers by leaning into this acubi trend via patterns, courses, and DIY kits.
Sellers beware
Typically, we tell you about trends that point to juicy business opportunities. Well, this is the opposite.
One of the fastest-growing new subreddits this month is a community called r/RefundingKings, where scoundrels people discuss refunding: "A craft where you get refunded for items you keep."
Basically, in exchange for a fee, scammers help sh*tty customers get refunds from companies without actually returning the product they bought.
*Source: Subreddit Stats
The behavior is widespread, and the cost for brands is staggering.
A 2022 survey on social engineering and refund behaviors among customers found that:
~30% have hired someone to secure a refund for them.
~39% have convinced or coerced service reps into refunds.
~41% got refunds for items that they never returned.
Of the $212B in online returns expected in 2022, an estimated 10.7% were projected to be fraudulent.
*Source: National Retail Federation
Given the impact that this has on companies, there may actually be some opportunities tied up in this. For example, you could:
Penetrate these groups and share news and insights on the latest scams to watch out for via paid newsletters.

Teach customer support teams to spot and avoid common refund scams, in exchange for a portion of recaptured revenue.

The holy grail would be some kind of plug-in that can track and flag problem customers. Stripe is experimenting, but sellers on other platforms still need solutions.
What are your thoughts on these new opportunities? Let's chat below!
Subscribe to the Hustle Newsletter for more.
🌐 Best Around the Web: Posts Submitted to Indie Hackers This Week
🗣 Share your SaaS startup details. Posted by Pankaj Singh.
🤖 Nowadays, it's not easy to build a product that's not AI-related. Posted by Andrei J. Luca.
🤔 I spent $35K on a typo domain. Good or bad investment? Posted by Rosie Sherry.
📖 10 SaaS ideas worth pursuing, even after the GPT-4 launch. Posted by Sofia Terlesky.
🆓 Free resources and tools for web developers and designers. Posted by Fredy Andrei.
🧠 Building a second brain. Posted by Mike.
Want a shout-out in next week's Best of Indie Hackers? Submit an article or link post on Indie Hackers whenever you come across something you think other indie hackers will enjoy.
🛠 Vojtěch Vidra Hit $140 MRR
Hey, everyone! I'm Vojtěch Vidra, a developer at Atmos, a tool that helps you create professional color palettes.
This week, we are launching Atmos on Product Hunt! It's been a two year journey to get here, and I thought it would be valuable to share our journey with other indie hackers!
Scratching our own itch
It all started with the need to scratch our own itch. My friend Ondra (our designer), was using Nunacier, a niche prototype for creating palettes in LCH, but he was experiencing issues with it. It would break, he couldn't save palettes, and sometimes the results were off. I thought it seemed simple enough to fix these issues, and thus, the idea for Atmos was born.
The first few months were really fun. We worked on Atmos during our free time, building a website and an MVP. We didn't have any users or visitors, but we weren't too bothered by that, since we didn't have anything to show the world yet.
After we put together the first somewhat meaningful version, we posted it to a couple of websites and forums, but no one really cared. We were devastated, because we thought it was the best product in the world! However, we didn't lose hope. We decided to experiment with Google AdWords.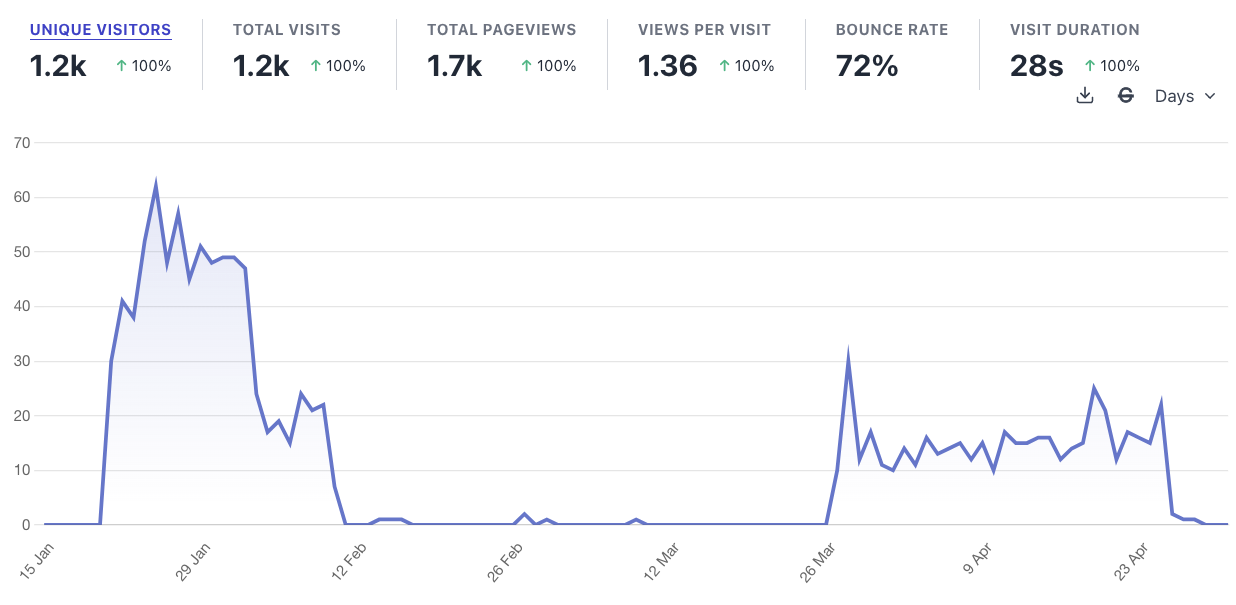 \
After spending a couple of hundred bucks, we had over 3K visitors, and our first ~500 users. This gave us a solid idea of what we needed to improve, and what was working. Although we stopped using AdWords after that (the quality of users was terrible compared to organic traffic), we were still encouraged by the results.
The outreach
Four months and many features later, we had a better product. We were confident enough to release paid plans powered by Paddle. We opted for the freemium model with free monthly and yearly plans. In the first two months, we reached seven paying users, netting us $25 MRR.
We were a bit discouraged at that point, but we tried everything we could think of: Posting to communities, submitting to tool libraries, blogging, cold outreach, etc. But what really worked for us were high-quality blog posts, like our number one ranking post about LCH, and SEO optimization of our website.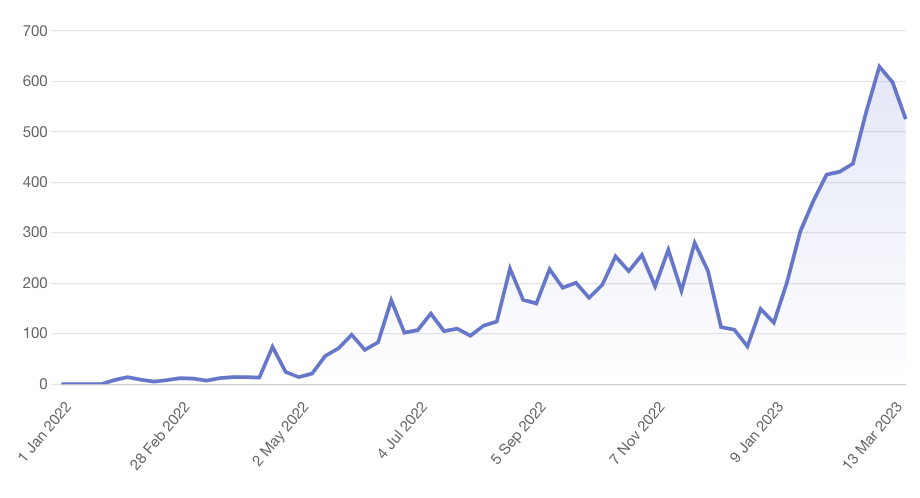 Posting to high-traffic communities gave us a nice boost in traffic for a few days, but nothing could beat a steadily rising organic stream of people coming to our website every day. We are now at 100-200 per day! Since we started focusing on marketing, we've managed to increase our traffic by five times, and our revenue went up to $140+ MRR.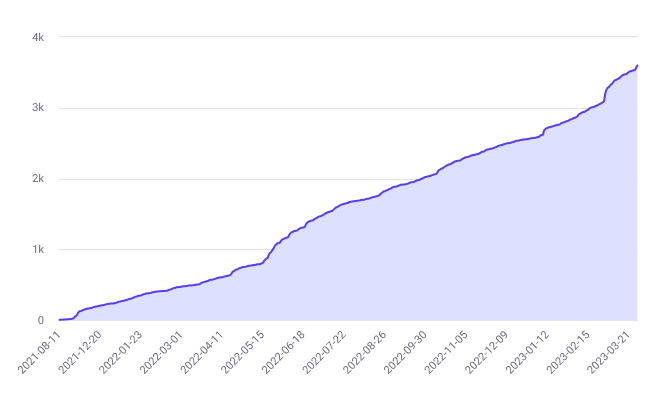 Earlier this year, we switched from freemium to a free trial model. This seems to be the right decision for Atmos, since the conversion is night and day. For the first time in the two year journey, we feel like we know what we're doing, and we're really proud of what Atmos has become. What started as a fun side project turned out to bring real value to people around the world!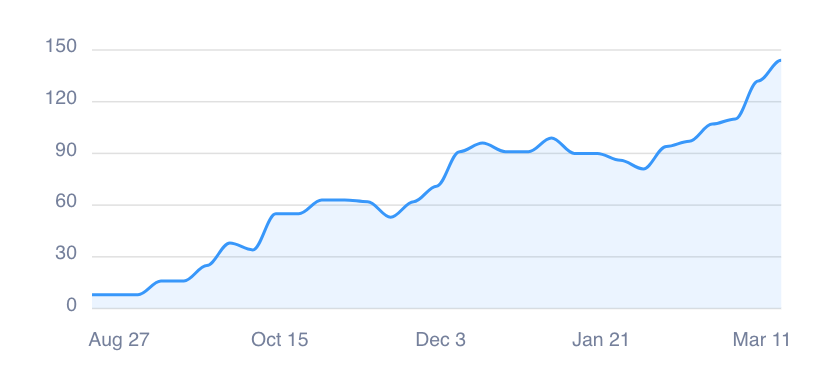 I hope that our story has been helpful to anyone starting out. With great determination, and a bit of spare time, you can build a great product that will bring value to someone.
If you enjoyed our story, we would really appreciate your support on our Product Hunt launch. Have a fantastic day!
Discuss this story.
🐦 The Tweetmaster's Pick
I post the tweets indie hackers share the most. Here's today's pick:
🏁 Enjoy This Newsletter?
Forward it to a friend, and let them know they can subscribe here.
Also, you can submit a section for us to include in a future newsletter.
Special thanks to Jay Avery for editing this issue, to Gabriella Federico for the illustrations, and to Goutham, Darko, Ethan Brooks, and Vojtěch Vidra for contributing posts. —Channing
Indie Hackers | Stripe | 510 Townsend St, San Francisco, California 94103
You're subscribed to the Indie Hackers Newsletter. Click here to

unsubscribe

.

Key phrases
Older messages
Today's Digest: Should I sell?
Friday, March 31, 2023
Your Indie Hackers community digest for March 31st ‌ ‌ ‌ ‌ ‌ ‌ ‌ ‌ ‌ ‌ ‌ ‌ ‌ ‌ ‌ ‌ ‌ ‌ ‌ ‌ ‌ ‌ ‌ ‌ ‌ ‌ ‌ ‌ ‌ ‌ ‌ ‌ ‌ ‌ ‌ ‌ ‌ ‌ ‌ ‌ ‌ ‌ ‌ ‌ ‌ ‌ ‌ ‌ ‌ ‌ ‌ ‌ ‌ ‌ ‌ ‌ ‌ ‌ ‌ ‌ ‌ ‌ ‌ ‌ ‌ ‌ ‌ ‌ ‌ ‌ ‌ ‌ ‌ ‌ ‌
🗞 What's New: Stealing a growth tactic from the big guys
Thursday, March 30, 2023
Also: Lessons for content-based businesses! ‌ ‌ ‌ ‌ ‌ ‌ ‌ ‌ ‌ ‌ ‌ ‌ ‌ ‌ ‌ ‌ ‌ ‌ ‌ ‌ ‌ ‌ ‌ ‌ ‌ ‌ ‌ ‌ ‌ ‌ ‌ ‌ ‌ ‌ ‌ ‌ ‌ ‌ ‌ ‌ ‌ ‌ ‌ ‌ ‌ ‌ ‌ ‌ ‌ ‌ ‌ ‌ ‌ ‌ ‌ ‌ ‌ ‌ ‌ ‌ ‌ ‌ ‌ ‌ ‌ ‌ ‌ ‌ ‌ ‌ ‌ ‌ ‌ ‌ ‌ ‌ ‌ ‌ ‌