⚡ 72 hours left for this free advanced course!
Hi ,
There's just 72 hours left for you to get Foundr's entire $2,997 Ecommerce Masters 9+ hour program completely free.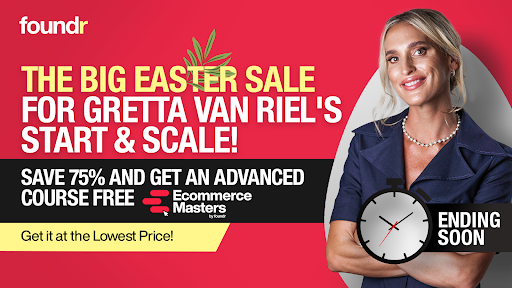 If you're serious about building a profitable online business this year…
This is the BEST ECOMMERCE DEAL I've seen from them.
Without Facebook ads, email marketing, influencer marketing, and understanding supply chain…all which you'll learn inside Ecommerce Masters…
I'm not sure if I would've ever been able to escape my 9-5 as a first-time entrepreneur. Or at the very least, it would've taken me wayyy longer.
The "5 scaling superpowers" inside that program have been some of my biggest "secrets" to creating five multi-million dollar brands from scratch in such a short time. There's no other advanced ecommerce program out there like this.
Inside Start & Scale, I'll take you step-by-step through everything you need to know to turn an idea into a profitable online business that you can run from anywhere in the world…
And inside Ecommerce Masters, 5 world-class instructors (including yours truly) will take you step-by-step through everything you need to know to quickly scale your store to 7-figures.
Using them together can change your life in what feels like the blink of an eye. 
They have for me.
Note: The deal ends in just 72 hours.
If you finally want this to be the year you become a profitable online business owner and replace your full-time income with something you love to do each and every day…
This Big Easter Sale is giving you the chance to follow a proven framework at a massive discount. It's as good as it gets from us..
Start something of your own,
Gretta van Riel
P.S. Plus inside Ecommerce Masters you'll even get these 7 extra bonuses…
Bonus 01: Ecommerce Masters Private Facebook Group
Get help and learn the latest scaling hacks and tips on what's working right now. You can share wins, and get advice from other store owners.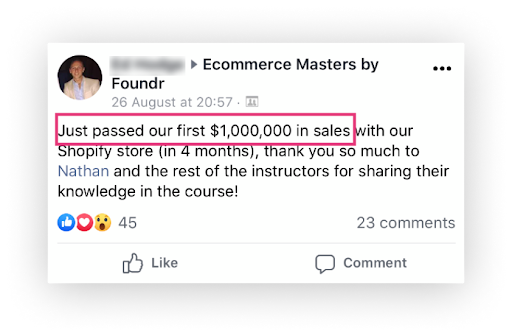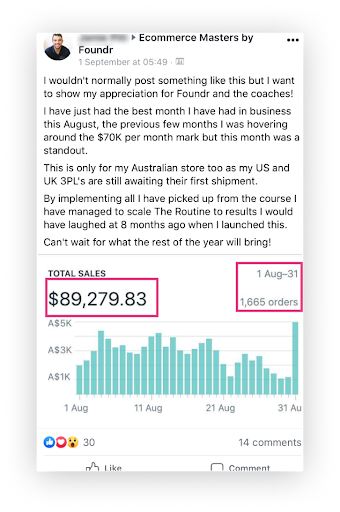 Bonus 02: Outsource Your Influencers 
I reveal my exact systems that I use each day to outsource my entire influencer marketing work to a virtual assistant. 
Bonus 03: Product Pages Made To Convert


After selling millions of products and seeing the conversion data behind what works and what doesn't, Rob Ward has perfected the process for creating high-converting product pages.
Bonus 04: 20 High Converting Cart Abandonment Subject Lines


Chase Dimond has now driven more than $100M+ in ecommerce email revenue and will show you how to "save sales" on autopilot with his best abandoned cart subject lines.
Bonus 05: Back-In-Stock Hack


I used this bonus to achieve my first $1M sales day with The 5th Watches.
Bonus 06: Theft-Proof Your Idea


Rich Li shows you how to properly protect yourself when disclosing product information. Comes with templates for manufacturer NDA's and Brand Authorization letters.
Bonus 07: Creative Facebook Ads That Convert Swipe File


Nick Shackelford has now spent $100M+ on Facebook ads and is now giving you his private swipe file for high converting creative that's worked over the years. 
This alone could help you create a single ad that could scale you to 7-figures and beyond.
The full $2,997 program is free for just 72 more hours.
P.P.S. If you're not interested to hear about our Easter Promo, click here and we will only send you relevant entrepreneurial content.
Key phrases
Older messages
🤯 The Life-changing Magic of Ecommerce!
Thursday, April 6, 2023
See it to believe it. Hi , Ecommerce is magic. When I first started and launched SkinnyMe Tea, I was ecstatic to see, on the very FIRST day, sales from a bunch of people that I didn't know anything
They will literally do this than launch their business
Wednesday, April 5, 2023
Just one product is all you need… Hi , The biggest mistake that aspiring entrepreneurs make is that they don't take action. They get stuck in the planning phase and never actually launch anything.
Tuesday, April 4, 2023
see what it takes. Hi , If you're ready to elevate your life by building your dream business, this is the most no-brainer deal we've ever made. Because the 70+ in-depth training videos inside
Monday, April 3, 2023
Proof this system will work for you! Hi , Did you know inside Start & Scale there are over 20K+ students from 65 different countries throughout the world? For so many years, this industry leading
Sunday, April 2, 2023
I'll help you start a business. Hi , In this huge Easter ecommerce offer, you get… Massive 75% savings on the entire Start & Scale program ($1997 value) Free access to our Ecommerce Masters