Daily Skimm Weekend: I do not want to see the internal qualities
Skimm'd with parenting tips from a pediatrician — Check out what we Skimm'd for you today

"$25,000"
— What one museum in Maine is offering as a reward for the remains of a fireball that streaked across the sky last week. Far out.
The Story
Move over, TikTok, there's a new app in town.
Is this about Lemon8?
Yup. It's kind of like Instagram meets Pinterest — meaning, more pictures and more text. And it uses TikTok's famous algorithm to push a variety of fashion, beauty, and lifestyle content. Now, before you open up the App Store, you might want to know about the lemons used to make this Lemon8. For starters, it comes from ByteDance, the Beijing-based company also behind TikTok. And it's rapidly growing in popularity (think: it's now number one in the App Store for lifestyle apps). Possibly because its parent company was wooing social media creators with invites and messages — even as its CEO was being grilled by Congress over privacy and national security issues.
Yikes.
You said it. Reminder, Lemon8 shares technology and a parent company with TikTok, so theoretically, it should come with the same concerns. If you need a refresher, more than two dozen states and the federal gov have already banned TikTok on government devices. And lawmakers and President Biden have been advocating for even tougher restrictions or an outright ban. That's mostly because of ByteDance. Since the company is based in China, it's subject to Chinese laws — which could allow its gov to look at users' personal info and privacy. Plus, some worry that China could use the app to spread misinformation and propaganda. Last month, TikTok's CEO defended the app in a testy exchange with Congress, saying the company wasn't "an agent of China or any other country." But critics weren't convinced, and some have since taken action. See: Montana, which is poised to be the first state to ban TikTok outright.
theSkimm
Lemon8 is still pretty new in the US. And doesn't have nearly as much popularity as TikTok, which is on more than 150 million Americans' phones. But Lemon8 is growing — and the app may come with all the same concerns.
What's Happening
📰 In news…
Despite large protests, French President Emmanuel Macron signed his deeply unpopular pension reform into law. Back at home, cleanup continues in Florida after parts of the state were hit with about 25 inches of rain in 24 hours. Meanwhile, in Washington, Sens. John Fetterman (D-PA) and Mitch McConnell (R-KY) are preparing to return to the Senate this week, as Sen. Dianne Feinstein (D-CA) temporarily stepped back from the Judiciary Committee. Plus, bad news if your phone is always on 1%: The FBI is warning consumers to avoid using public charging stations.
---
🔬 In science…
The rich and famous may be in deep water, after a new study indicated that their lavish pools and gardens may contribute to urban water shortages. Weather apps continue to leave us high and (not so) dry. Fingers crossed that NOAA's El Niño watch is a bit more reliable. And the Webb telescope captured yet another out-of-this-world image, while astronomers used AI to improve the first-ever image of a black hole. Speaking of space, NASA also unveiled its 3D-printed Mars habitat, which will test what it could be like for humans sent to the Red Planet. And in animal news: As hippos and meerkats soak up the sun, a new study found that freshwater turtles prefer dancin' in the moonlight. Plus, an elephant at the Berlin Zoo taught herself how to peel bananas — and it didn't take long for her to get it ripe.
---
🏀 In sports…
The 2023 NBA playoffs tipped off yesterday with wins by the Philadelphia 76ers, Boston Celtics, New York Knicks, and Sacramento Kings. While the NHL Stanley Cup playoffs will kick off tomorrow with the Boston Bruins and the Florida Panthers hitting the ice. Also, happening tomorrow: An estimated 30,000 athletes will run the Boston Marathon. Meanwhile, Dan Snyder has reportedly agreed to sell the Washington Commanders for a record $6 billion (no, not to Jeff Bezos). In other football news, the NFL and NFL Players Association approved a helmet for QBs that's specifically designed to reduce concussions. And the Women's Tennis Association will serve up more tournaments in China — ending a years-long, Peng Shuai-inspired boycott.
Skimm Picks

Here are today's recs to help you live a smarter life…
1. How to create boundaries as a member of the sandwich generation.
Aka, anyone taking care of kids and aging parents at the same time. We caught up with NewYork-Presbyterian psychologist, Dr. Shira Ritholtz, to learn how to balance it all. Peep the vid.*
---
2. Multipurpose beauty products that actually work.
Wear-everywhere blushes, multipurpose mists, and more.
---
3. Our favorite jewelry pieces made with lab-grown diamonds.
If you're looking for a new treat-yourself addition that keeps sustainability in mind, here are some great options.
---
4. Our review of the Shark FlexStyle blow-dryer.
Spoiler alert: It dries your hair in half the usual time, and its price tag is way more affordable than the cult-fave Dyson Supersonic.
Psst...looking for more discounts on brands Skimm'rs love? Check out all of our exclusive promo codes here.
Sunday Scaries, Who?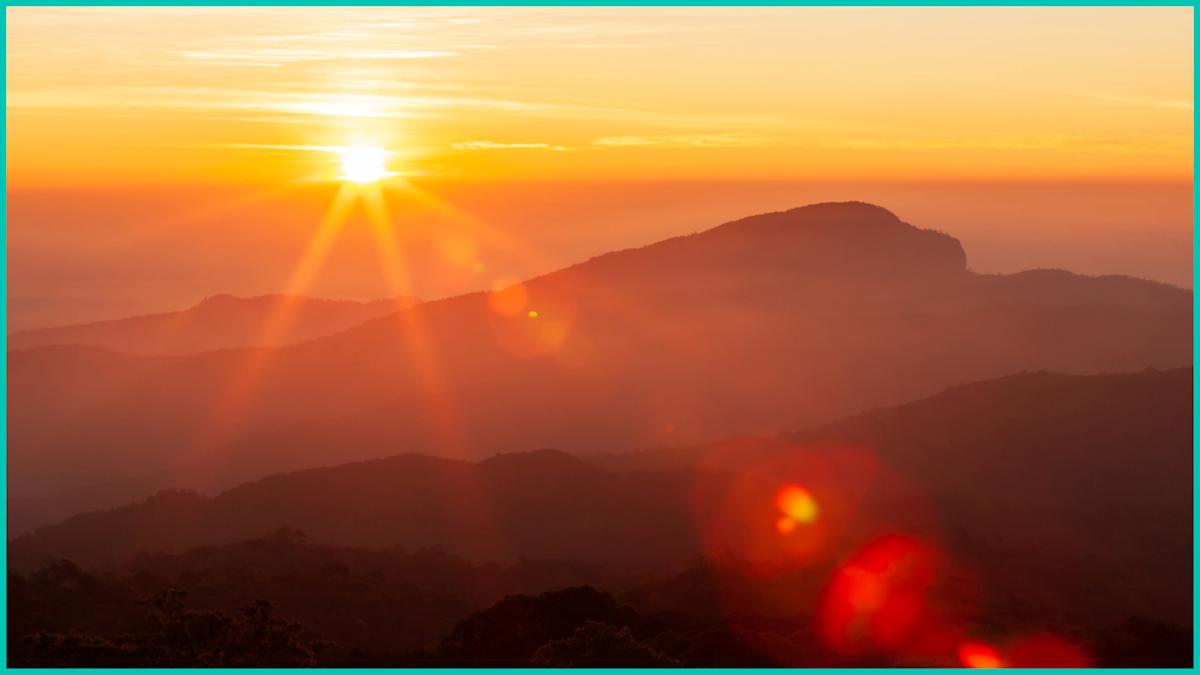 Here's one tip for a better start to your week.
Sure, watching the sun rise or set is beautiful — and it may also boost your wellbeing, according to recent research. That might be because it produces a sense of awe, which can improve mood and emotional health. Not to mention that just spending time outside has been shown to support a variety of health benefits. Now that the days are longer and warmer, here are a few tips to help you catch some stunning sights.
Don't fear clouds. Turns out, clouds can sometimes enhance sunrises and sunsets by reflecting sunlight to the ground, which can result in even more striking shades of red, orange, and violet.

Stay after the sun goes down. If the sunset was great, wait until you see its afterglow — which usually occurs during the 15 to 20 minutes after the sun disappears over the horizon — and can be even more mesmerizing than the actual sunset.

Get creative. Turns out, the benefits of gazing at sunrises and sunsets may extend beyond IRL. According to one study, even looking at an image could help create a feeling of awe. So consider buying a painting of sunrise or sunset for your home or making a picture of golden hour the background on your phone.
Save the Date
Like ours, your work and personal calendars are probably hectic. So here are some events you should know about...
| | |
| --- | --- |
| | Earth Day. More in your inbox next Saturday. |
PS: Want more events like this on your cal? theSkimm App gives you a heads-up on when everything from holidays to sports games to awards shows are going down. Download it here.
News Quiz
Stumped by our news quiz yesterday? Here's the answer.
C. Kim
Skimm'd by: Rasheeda Campbell, Xian Chiang-Waren, Melissa Goldberg, and Clem Robineau
---
Photos by via NurPhoto / Contributor via Getty Images, Tanes Ngamsom via iStock
Design by theSkimm
---
*PS: This is a sponsored post.
Want to wake up with us every morning?
---
---

Skimm'd something we missed? skimmthis@theSkimm.com
Issues? help@theSkimm.com
See our full sponsor agreement | Update Your Preferences or Unsubscribe
---
Copyright (c) 2023 theSkimm, All rights reserved.
TheSkimm, Daily Skimm, and all Skimm-based marks are trademarks or registered trademarks of TheSkimm, Inc.
50 West 23rd Street, Suite 5B, New York, NY 10010
Key phrases
Older messages
Daily Skimm: The ground is the original chair
Wednesday, April 19, 2023
Skimm'd with eco-friendly kitchen products — Check out what we Skimm'd for you today April 17, 2023 Subscribe Read in browser Daily Skimm Header Image Skimm'd with eco-friendly kitchen
Wednesday, April 19, 2023
Like your best mom friend, we've got answers to your most pressing parenting-product questions. We're here to solve problems, help you treat yourself, and generally make every day just a
Daily Skimm: It's not a comeback since we never left
Wednesday, April 19, 2023
Skimm'd while doing your hair — Check out what we Skimm'd for you today April 18, 2023 Subscribe Read in browser Daily Skimm Header Image Skimm'd while doing your hair "$117000" — How much
Ready, set, clean: organizers, vacuums, and more
Wednesday, April 12, 2023
Sometimes all you need for a new lease on life is to make your place sparkle. We've got recs for everything from home organizers to stellar shower scrubbers to kick-start your spring-cleaning
Daily Skimm: Stay with me a little while
Tuesday, April 11, 2023
Skimm'd while helping brands reach the right customers — Check out what we Skimm'd for you today April 11, 2023 Subscribe Read in browser Daily Skimm Header Image Together with SurveyMonkey