Foundr - [video] It's not that hard (proof)
Hi ,
To prove that just one new idea can change your life in 2023 faster than you ever thought possible, I want to introduce you to some special entrepreneurs…
Meet the inspiring six-figure stay at home Moms who I've been fortunate enough to help!
Jacqueline's a young Mom who wanted to help prevent mental health issues for future generations. Using my 4-step idea innovation framework…

She came up with an idea around mindfulness products for children, generated half a million in under 2 years, was featured in Bloomingdales, and even endorsed by Oprah!
Alicia, another young Mom who wanted to spend more time with her son, had an idea for a sustainable nut milk machine…
Using Gretta's process she hit $10k in her first week, six-figures in 3 months, and was featured by CBS and ABC!
From young moms, to 71-year-old dentists, a former Project Runway star, and more than 20,000 students who've now put this system to the test…
We have more screenshots, "wins", and case studies than we could share in a single email.
And then there's Maura, who may not be a mom, but had two failed businesses before she had the opportunity to enroll in my Start & Scale program. And using the step-by-step framework she made $2,000 in less than a week, and went on to start more online stores.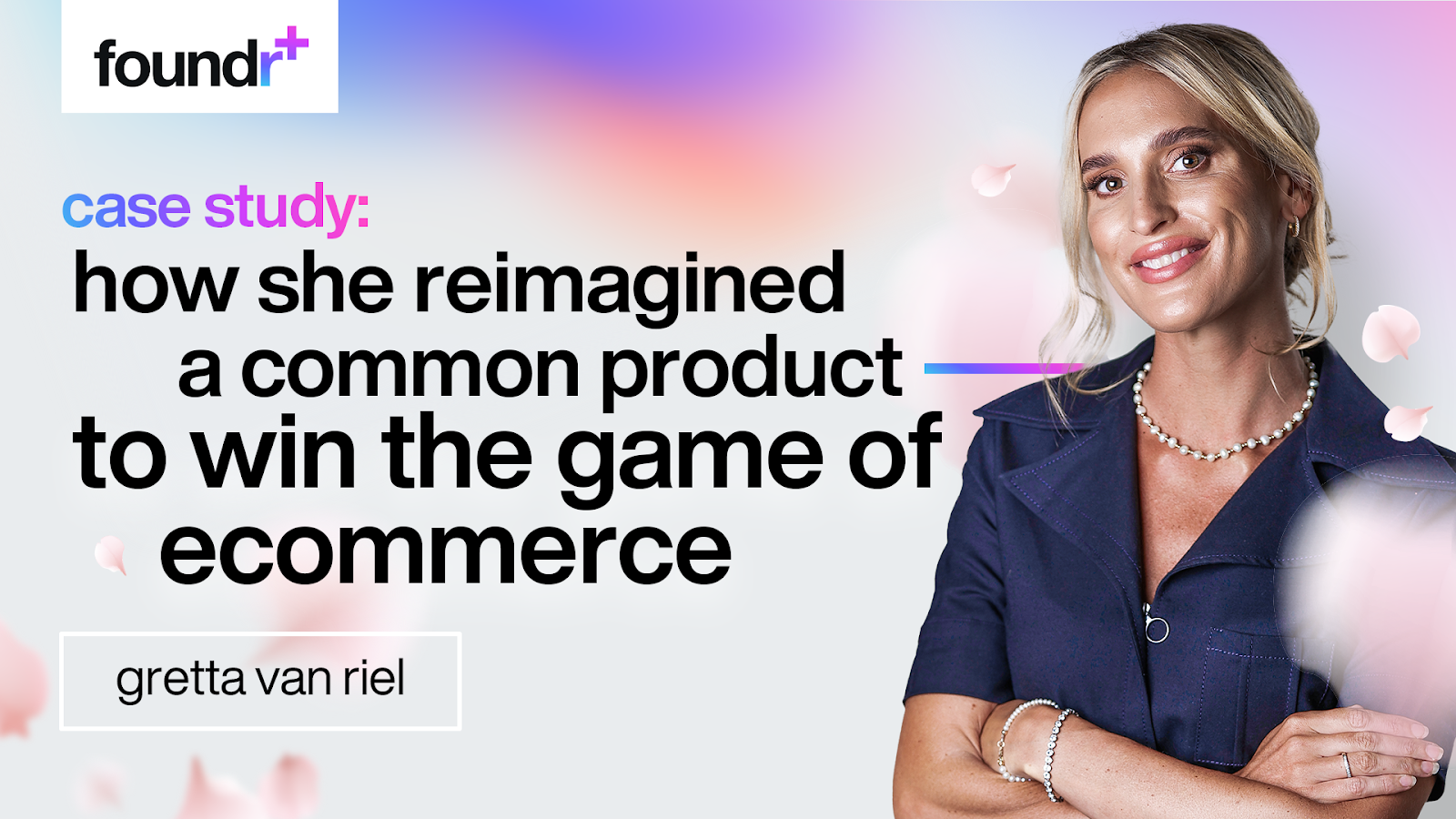 This video is proof that anyone can build a successful brand if they have a passion for the product. It can be any product, in any niche, however competitive. 
If Maurah, who had no related background (she's a model), had turned herself into a serial entrepreneur using Start & Scale, think of what you can do. 🤔
Just one successful brand can completely change your life!
>>> Watch this and see what you could do on your own
Keep learning and building,
Gretta van Riel

P.S. Want foundr to help you finally build your dream business in 2023? This is the best deal we've ever made. It includes LIVE q&a workshops so you'll never get stuck again. 
P.P.S. If you're not interested to hear about our Foundr+ Membership, click here and we will only send you relevant entrepreneurial content.
Key phrases
Older messages
🔮 My Biggest Ecommerce Secret!
Thursday, April 20, 2023
recipe of my 4 multi-million dollar brands Hi , You may have wondered… How can I be creating 4 multi-million dollar brands from scratch in some of the most competitive markets like teas, watches, drink
Wednesday, April 19, 2023
My BIGGEST ecom mistake ever Hi , I remember the day I lost $1.3 million and it was the biggest mistake I've made in business so far. I was devastated! Go see what happened And while it's a bit
AVOID These Manufacturing Mistakes
Wednesday, April 19, 2023
The man behind 2500+ ecom products Hi , Countless entrepreneurs waste money sourcing a product overseas the wrong way. They get hustled by a supplier, are sent bad samples, deal with all kinds of
Wednesday, April 19, 2023
This week only… Hi , Just because someone's used Alibaba to source one product, from one factory, in one niche, sometimes even just one or two times, doesn't mean their advice is safe to follow
[Login Details] Ecommerce Course
Wednesday, April 19, 2023
's free program… Hi , Imagine having someone who's developed and sourced more than 2500 different products help YOU create the perfect product to start selling online? That's what this free