Foundr - 🚨Foundr+ CAN'T help you if…
Hi ,
Tough times are ahead. Everywhere you turn that's all you hear, right? 
Well since there's just 48 hours left for this special foundr+ sale, I wanted to be straight up with you and tell you how this program can and can't help you in this uncertain economy.
Foundr+ cannot make you happy…
Foundr+ cannot make you healthy…
In fact, Foundr+ cannot even make you rich…
But its world-renowned instructors can instantly improve your chances of building your own profitable online business faster than you'd ever do all alone without it…
It can help you quickly shortcut your way to having an audience of loyal followers, fans, and customers who stick by your side and support you no matter the economy…
And it can give you a valuable network of more than 30k like-minded entrepreneurs who you can potentially connect with, partner with, and build with.
With foundr+, you're never alone!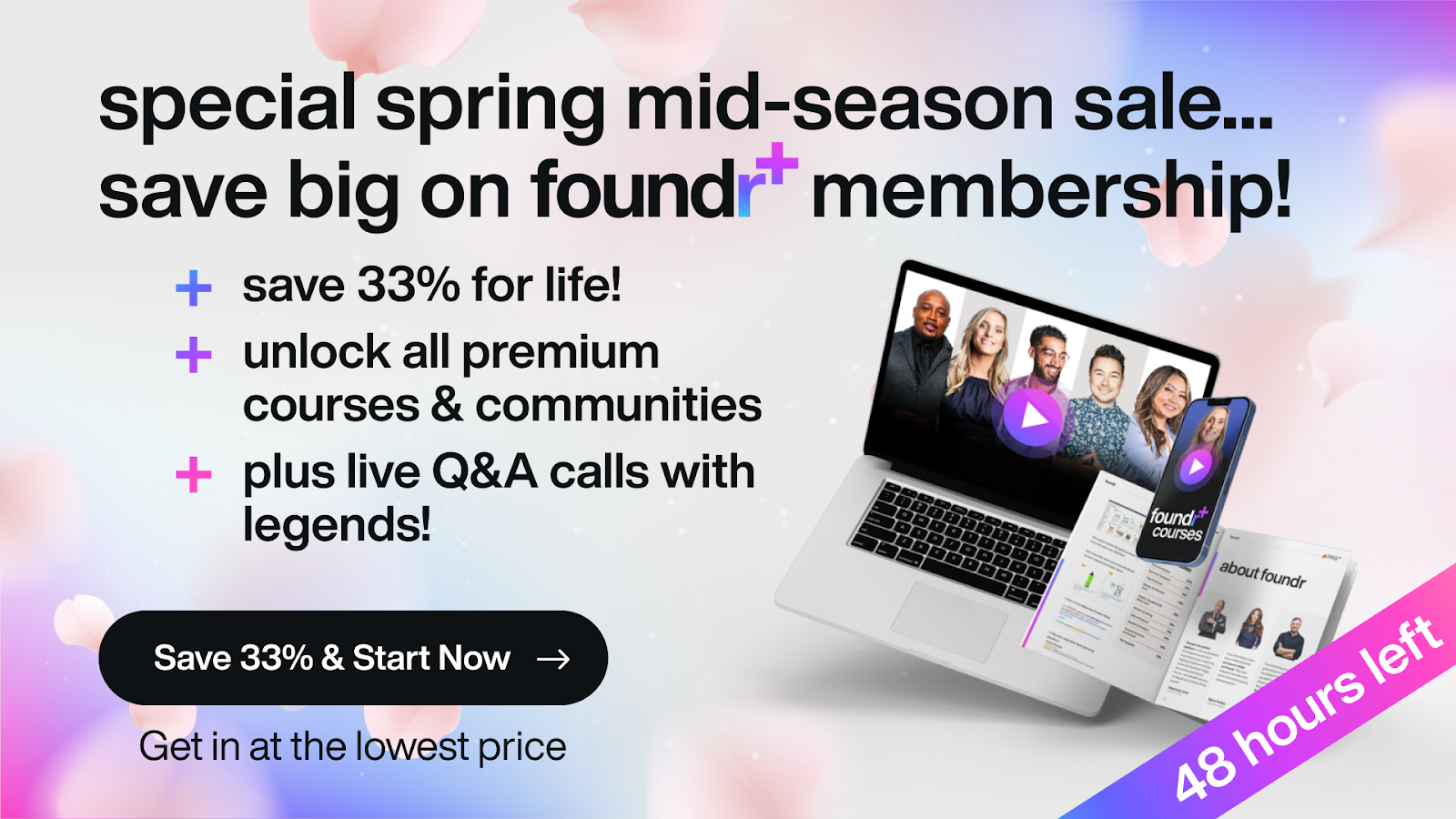 Not only will you have word-class mentors and proven-frameworks that our team has painstakingly vetted, tested, and outlined step-by-step…
But you'll receive live q&a calls each month so your questions are always answered…
…and you're never stuck!
All for just $2.73 a day. The lowest it will ever be.
This big Spring foundr+ deal is the best one we've ever made.

Becaused focused and in-depth skill learning…
Combined with focused accountability and action…
Is the unforgiving difference between an "average" or an extraordinary 2023.
While others yet again write goals they'll forget just weeks later, with the content, community, and coaching you receive inside foundr+...you'll be crossing goals off weekly!
And it starts today with one focused action... 

By taking advantage of the best deal you'll ever see for our all-access foundr+ membership, you'll have the help you need to build any business faster, with more confidence, and the support and encouragement of a 30k+ private entrepreneur community. 
Don't wait till you really "need" it, then it's too late.
Invest in your future today at the biggest discount we've ever offered.
It's Your Turn,
Nathan Chan
CEO
P.S. This Spring mid-season deal really does end in just 48 hours. Then the price returns to normal and the discount disappears.
Here's just a sample of what others have achieved with foundr courses:
Renee made $12,800 in a single day with her new sea cucumber collagen skincare brand…

Tyler increased his weighted blanket brand's Facebook ads ROAS by 15x…

Eavanna grew her Instagram from 300 to 10,000 followers within 8 months…

Josh made $3,000 in his first week in the middle of lockdowns selling balcony bar tables…

Nadine took her business from $5,000 a month to $50,000 a month…


And Adam launched a new business and did $1M in just 6 months!
If you want to enjoy the freedom and life-changing financial benefits which come from being your own boss and running your own online business…
This is the best deal you'll ever see for a foundr+ membership.
P.P.S. If you're not interested to hear about our Foundr+ Membership, click here and we will only send you relevant entrepreneurial content.
Key phrases
Older messages
RE: ⚠️ Our #1 best deal ends soon
Friday, April 28, 2023
Don't miss this Hi , Just bringing this to your attention as we noticed you didn't see yesterday's email regarding our big Spring sale for Foundr+. This is really the best deal we've
Friday, April 28, 2023
Build faster and smarter Hi , If you want to navigate the uncertain economy and potential coming recession with unmatched confidence… I can confidently say that foundr+ forever enhances you as an
RE: 🧑‍🏫 $2 a day for world-class ecom mentors
Thursday, April 27, 2023
Don't miss this Hi , Just bringing this to your attention as we noticed you didn't see yesterday's email regarding our big Spring sale for Foundr+. This is really the best deal we've
🧑‍🏫 $2 a day for world-class ecom mentors
Thursday, April 27, 2023
all you need to build Hi , Check this out: Right now you can use our entire course library to: Start an online business from scratch Grow an audience of loyal fans or followers Acquire new "recession-
RE: 👁️ The Secret Society of Dream Livers
Wednesday, April 26, 2023
Don't miss this Hi , Just bringing this to your attention as we noticed you didn't see yesterday's email regarding our big Spring sale for Foundr+. This is really the best deal we've