theSkimm - On a Monday, I am waiting
Skimm'd with problem-solving beauty products — Check out what we Skimm'd for you today

"Chonkosaurus"
— The nickname of a giant snapping turtle found in the Chicago River. He's a shell-ebrity now.
Top Story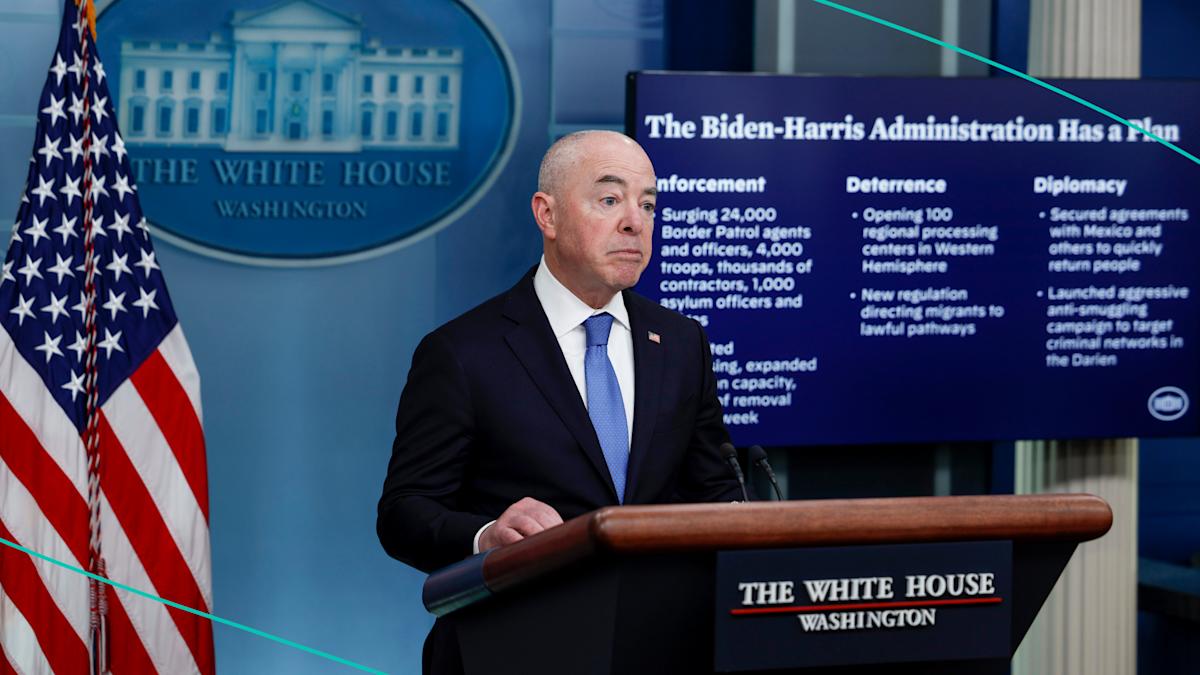 Aftermath
The Story
Many expected an influx of migrants after Title 42 ended, but that doesn't seem to be the case.
What's the latest?
Since the pandemic-era policy that's allowed Border Patrol to expel migrants and asylum seekers officially expired on Friday— experts were worried that would mean a large rush of migrants. The federal government sent thousands of workers to the border to prepare for the increase. About 60,000 migrants were waiting near the border leading up to the expiration. Yesterday, Homeland Security Secretary Alejandro Mayorkas said the border saw a 50% drop in migrant encounters compared to what they were experiencing earlier but said "it is still early" to tell. Border Patrol said they had more than 10,000 border encounters this weekend alone — not including the more than 23,000 migrants who were under custody by Friday. Now, many are worried about overcrowding at detention centers.
What's next?
Border Patrol said it could have more than 45,000 migrants in custody by the end of the month. That's not all. The expiration of Title 42 has made the Biden admin pivot to use the decades-old law Title 8. It allows for the deportation of anyone entering the US without a legal basis. The Dept of Homeland Security warned that migrants can face "expedited removal" and be banned from re-entering the country for five years under the policy. Anyone who tries to reenter could face prosecution. Mayorkas said the admin's plans have been working and that there's a "consequence if one does not use those lawful pathways." Republicans say the focus should be on security and ensuring an "orderly process at our Southern border."
theSkimm
Now that Title 42 has expired, immigration in the United States is preparing for a major overhaul. Many migrants leave their homes in search of opportunities and to flee violence and poverty, but now it's up to the Biden admin to shape the policy to handle this generation's migrant crisis and the US waits to see how it all plays out.
And Also...This
Where people are still waiting on election results…
Turkey. Yesterday, Turkish President Recep Tayyip Erdoğan failed to secure a majority of votes to keep his seat. Erdoğan — who's served as Turkey's president for two decades — is facing a fierce re-election battle against the center-left Republican People's Party's Kemal Kılıçdaroğlu. Erdoğan campaigned on his long-ruling and bulking of the country's defense industry, and Kılıçdaroğlu on rolling back policies made by Erdoğan. The election comes as the country is grappling with an economic crisis and the aftermath of recent earthquakes that tore through the country and neighboring Syria, killing more than 50,000 people and displacing more than 5.9 million. Now, after millions of voters made their voices heard at the polls, both candidates fell short of the 50% vote they needed to secure the country's top spot. The race is headed toward a runoff, which could mean another election in about two weeks. Erdoğan seems confident all will go well, while his opponent is already eyeing the second election.
---
Where abortions could be restricted…
North Carolina. Over the weekend, Gov. Roy Cooper (D) vetoed a bill that would have banned most abortions after 12 weeks of pregnancy. The bill includes exceptions for rape and incest or if the mother's life is at risk. Since the Supreme Court overturned Roe v. Wade last year, North Carolina became a haven for women living in other Southern states where abortion is banned. Now, Republicans are expected to override the veto. Republicans hold a supermajority and only need three-fifths of the votes in both chambers to override the governor's veto. North Carolina's Senate Republican leader said they will continue to push for the bill and looks "forward to promptly overriding his veto." Meanwhile, the governor hopes to sway at least one Republican to oppose an override.
---
Whose case has updates…
Pop Smoke's. Over the weekend, an 18-year-old man confessed to fatally shooting the Brooklyn rapper in 2020 during a home-invasion robbery. The shooter was 15 at the time. Now, he's expected to be released from a state juvenile facility when he turns 25.
---
Who said 'wanna see me do it again?'...
This year's Eurovision winner.
---
What was a total superstar…
Forward this to a friend. Click here.

Here are today's recs to help you live a smarter life…
1. A doctor-recommended, FDA-registered vibrator.
Six motors + 16 power settings + a super bendy body = this vibrator that's clinically proven to improve arousal and alleviate dryness. Prepare to discover erogenous zones you never knew existed (really). PS: Skimm'rs get 20% off.*
---
2. Baked goods that are almost too delicious to share.
Nothing Bundt Cakes® rich, decadent Bundts are what (sweet) dreams are made of. They come in 11 flavors, like Confetti, Red Velvet, and Lemon. Plus, each one's topped with their signature cream cheese frosting.*
---
3. How to never run out of printer ink ever again.
This service connects directly to your printer and ships new ink to your door right when you need it. The best part? Skimm'rs get two months free when they sign up.*
---
4. Hair accessories that look more expensive than they are.
They're one of the easiest ways to upgrade a look, so it might be time to swap out that same old black hair tie for something a little flashier.
Psst...looking for more discounts on brands Skimm'rs love? Check out all of our exclusive promo codes here.
Skimm'rs
We like to celebrate the wins, big and small. Let us know how your friends, neighbors, coworkers (and yes, even you) are making career moves, checking off goals, or making an impact in the community.
Turning up the heat…Alyzeh R (GA). She's a new mom who recently left her job to pursue her pandemic project turned start-up: fermented hot sauces rooted in Pakistani flavors.
(Some) Birthdays…Teddy Wasserstrum (NY), Noah Schneider (NY), David Schneider (NY), Alison Berry (VA), Marianne Offenbecher (TX), Hayley Tafuro (CT), Kelly Jo Morrison (AZ), Sara Buster (OK), Kristynn Bolding (TX), Kate Williams (AL), Athena Garnto (NC), Stacey Rex (NC), Meghan Munroe (FL), Susan Mattingly (MD), Monica Cashatt (AZ), Connie Morejon (MN), Nicolle Kuhn (OR), Leslie Holthoff Martin (VA)
PS: Paging all members of theSkimm. Reach out here for a chance to be featured.
Skimm'd by: Melanie De Lima, Anacaona Rodriguez Martinez, Chantal Vaca, and Mariza Smajlaj
---
Photos by Anna Moneymaker via Getty Images, Brand Partners
Design by theSkimm
---
*PS: This is a sponsored post.
Want to wake up with us every morning?
---
---

Skimm'd something we missed? skimmthis@theSkimm.com
Issues? help@theSkimm.com
See our full sponsor agreement | Update Your Preferences or Unsubscribe
---
Copyright (c) 2023 theSkimm, All rights reserved.
TheSkimm, Daily Skimm, and all Skimm-based marks are trademarks or registered trademarks of TheSkimm, Inc.
50 West 23rd Street, Suite 5B, New York, NY 10010
Key phrases
Older messages
Weekend: Write it, cut it, paste it, save it
Sunday, May 14, 2023
Skimm'd while doing good and wearing good — Check out what we Skimm'd for you today May 14, 2023 Subscribe Read in browser Daily Skimm WEEKEND Header Image Together with Toms Skimm'd while
Saturday, May 13, 2023
Skimm'd while getting away, our way — Check out what we Skimm'd for you today May 13, 2023 Subscribe Read in browser Daily Skimm WEEKEND Header Image Together with the Ford Escape ford Skimm
Friday, May 12, 2023
Skimm'd while giving mom the gift of ME Time — Check out what we Skimm'd for you today May 12, 2023 Subscribe Read in browser Daily Skimm Together with Massage Envy Skimm'd while giving mom
The galaxy still needs its Guardians
Friday, May 12, 2023
Skimm'd with a boosted metabolism and more energy — Check out what we Skimm'd for you today May 10, 2023 Subscribe Read in browser Daily Skimm Together with Pendulum Skimm'd with a boosted
Friday, May 12, 2023
Skimm'd in shoes that spring us forward — Check out what we Skimm'd for you today May 11, 2023 Subscribe Read in browser Daily Skimm Header Image Together with Nike Pegasus 40 the world runs on