Foundr - 🚀 Last 12 hours for
Hi ,
Just 12 hours left to take advantage of our Big Spring Sale and get Start & Scale for the lowest price it will ever be, plus receive Ecommerce Masters completely FREE.
That means you're getting two full, life-changing proven programs and private communities…
For just $1.36 a day. 
It's by far the best ecommerce deal we've ever put out.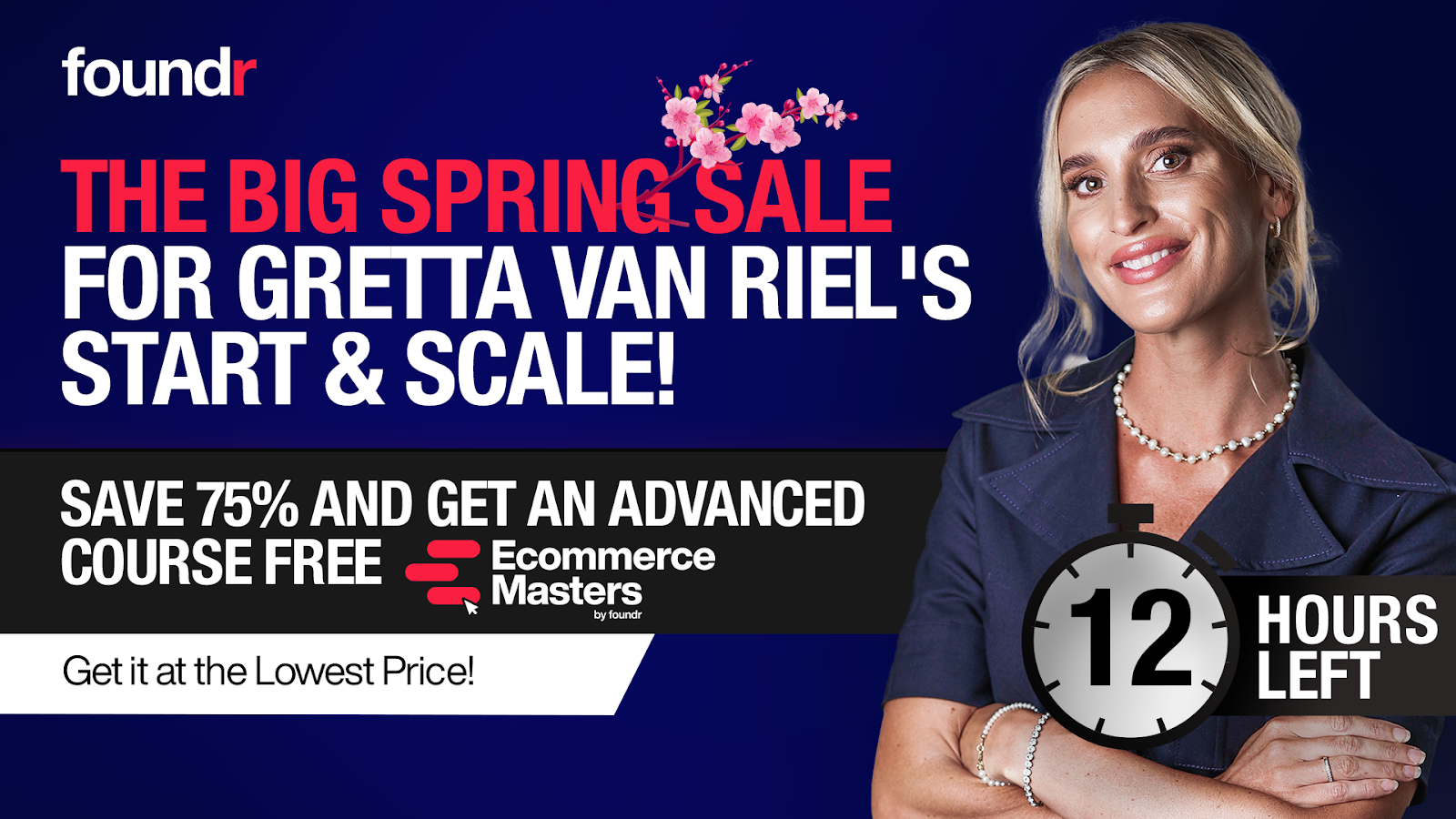 For just $1.36 a day it's a total no brainer…
Because not only are you getting 75% OFF Start & Scale…
Which contains my proven step-by-step framework for building profitable online ecommerce brands in 2023 from scratch, so you don't have to guess on what step to take next or waste time and money going in the wrong direction…
But you're also getting Foundr's entire 9+ hour Ecommerce Masters course for free, the same one that's helped stores scale to 7-figures and beyond!
So while I'm giving you all the "insider insights," shortcuts, and mistakes to avoid that I've learned while building 5 multi-million dollar brands from scratch…
All from selling different products in totally unrelated industries from tea and watches, to facemasks and drinking bottles…
You're also getting 5 world-class ecommerce entrepreneurs showing you everything from email and influencer marketing, to Facebook ads, supply chain, and more! 
It's a priceless blueprint that will save you serious time and money…
Because together we've already made all the mistakes so you don't have to!
If you're ready for this year to FINALLY be the year…
The year that you build your own profitable online store in 12 weeks or less…
This is your last chance to get our help at the lowest price it will ever be.
Note: It closes for good in just 12 hours from now.
Do something different today,
Gretta van Riel
P.S. If you're just doing what everyone else is doing, you're never going to stand out in your life. You have to be willing to take risks and try new things. That's how you create something truly epic in your life.
For example, have you ever tried Influencer Marketing?


It's something new that I tried in my early days and ended up completely changing my life. Still works for all of my brands to this day!

No wonder, module 6 is one of the most popular modules inside Start & Scale. It reveals my entire "Million-Dollar Influencer Marketing Blueprint" step-by-step.
From finding influencers, to working with the right ones and knowing how much you should be paying them, it's all there. Just one "right" influencer can transform your entire business overnight. Especially if you're just starting out.

For the next 12 hours, you can get it all for 75% less. Click here.
P.P.S. If you're not interested to hear about our Spring Promo, click here and we will only send you relevant entrepreneurial content.
Key phrases
Older messages
[24 hours] This Spring Sale ends today
Sunday, May 28, 2023
Get in at the lowest price Hi , Less than 24 hours remain of our Big Spring Sale. If you want me to personally help you start your own online business this year… Make sure to take advantage of this
⏰ 48 hours left to save big on Start & Scale
Saturday, May 27, 2023
Get mentored by me for 75% less Hi , In 48 hours, our Big Spring Ecommerce Sale is over for good. This is your chance to get 75% off + get Foundr's $2997 full 9+ hour Ecommerce Masters program
💰Get my 7-figure ecom scaling blueprint
Friday, May 26, 2023
free for the next 72 hours Hi , There's just 72 hours left for you to get Foundr's entire $2997 Ecommerce Masters 9+ hour program completely free. It's part of our special Spring Week 75%
🤯 Proof that e-Commerce is magic!
Thursday, May 25, 2023
See it to believe it Hi , Ecommerce is magic. When I first started and launched SkinnyMe Tea, I was ecstatic to see, on the very FIRST day, sales from a bunch of people that I didn't know anything
RE: 🚨 Please confirm you've seen this
Wednesday, May 24, 2023
Don't miss this Hi , Just bringing this to your attention as we noticed you didn't see yesterday's email regarding our "Big Spring Sale" for Start & Scale. This really is the lowest