Foundr - 🇺🇲 big foundr+ sale for 48 hours only
Hi ,
48 hours left.
We can only keep this special Memorial Day deal for our new foundr+ membership till 11:59 pm this Thursday.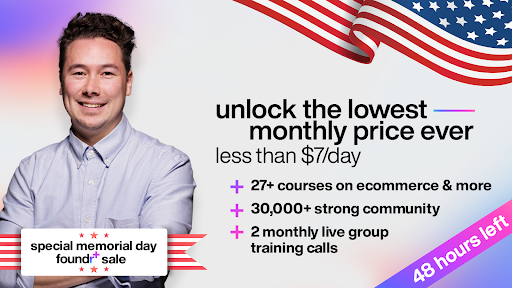 Costs less than $7 a day…
And will make it easy for you to get started in business (or grow your existing one.)
You see, inside the foundr+ membership, there are 27 courses (and growing) where you'll find entrepreneurs who're at the very top of their games, sharing revolutionary ideas and frameworks that you can model. Find one that you really like and you're off to the races!
And then there's the 30,000-strong student community.
It's hard not to get motivated when you're hanging out with a group of entrepreneurs who're starting things left and right. 
This is one of those rare cases where a monthly payment can actually help you make more money than you're putting in. Almost like you're getting paid from using foundr+.
For example…
Say you pay a low monthly fee for mentorship and advice from someone like Nick Shakelford who's spent $100M+ on Facebook ads or Gretta van Riel who's launched 5 multi-million dollar brands from scratch…
Then that advice makes you an extra $1,000 that same month, helps you move way faster, and saves you from all kinds of mistakes you would've made without them. 
Who doesn't want that kinda results?
Caveat: You have to take action, do the work, and follow the steps. It's not like investing $100 in a stock, watching it rise while you "do nothing", and then pulling out $200 in profit. 
It's not "set it and forget it", but instead "build it and systematize it."
Oh, and one more thing.
Foundr live group coaching calls - every month you get live group coaching calls with at least two leading business practitioners that we ourselves would be paying top dollars to learn from…you get it free as a foundr+ member!
These calls alone are worth more than the price of the membership!
So if you're ready to build, taking advantage of these low monthly payment options are an incredible opportunity to produce results faster than going at it alone.
Don't just go faster, go faster and cheaper!
Nathan Chan
CEO
P.S. This special monthly payment option is only available until Thursday, June 01st at 11:59pm EST. Then it'll go back to normal and they'll be removed from the page.
P.P.S. If you're not interested to hear about our Foundr+ Monthly Promo, click here and we will only send you relevant entrepreneurial content.

Key phrases
Older messages
Your challenges are 100% real. Let's talk!
Tuesday, May 30, 2023
Stay open and win Hey , want our help in knowing the best products to sell and businesses to start in 2023? YES NO, I'M NOT To your success, Team Foundr This email was sent to newsletterest1@gmail.
💗 [72-hours left] Memorial Day sale
Tuesday, May 30, 2023
some think I've gone insane Hi , We've spent hundreds of thousands of dollars creating our courses… Our students have earned millions of dollars after studying them… Yet today, I'm inviting
🇺🇸 the lowest monthly price ever
Monday, May 29, 2023
Memorial Day special Hi , For this Memorial Day, you can join foundr+ and get instant access to… All the proven frameworks on ecommerce & more! All the communities (hang out with other
Monday, May 29, 2023
------------------------------- Hey , are you still interested in getting our $2997 Ecommerce Masters program for free? YES NO, I'M NOT To your success, Team Foundr PS We're leaving the door
Sunday, May 28, 2023
Final email. Hi , This is it, the final email… If you're reading this, this is your LAST CHANCE to get 75% off plus a FREE $2997 program, before we officially close our Big Spring Sale! We can'