Foundr - Enrollments END in 12 hours!
Hi ,
Starting a business from scratch is harder alone. Now it's absolutely still worth the struggle, it's simply just harder without a mentor or proven blueprint to follow.

That's why this free ecommerce coaching and risk-free Start & Scale discounted deal can be so life changing for you. Because you'll move faster and avoid all the normal mistakes!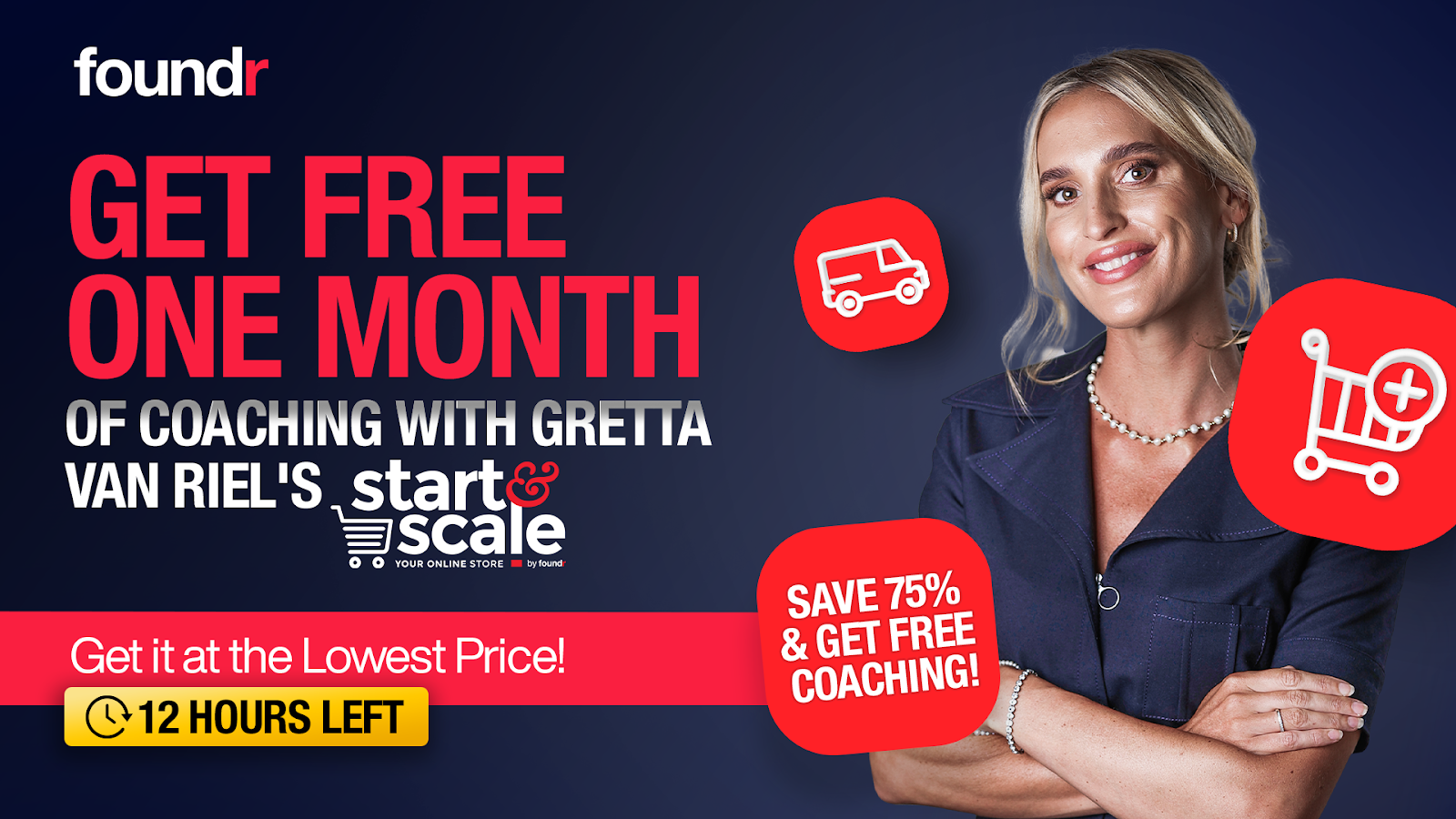 But since there's just 12 hours left until enrollments close…
If you want me to show you how to find a product idea and turn it into a profitable online business in just 12 weeks or less using a proven, step-by-step system…
And you want live coaching from our Start & Scale certified ecommerce coach Natasha Giannetti who's started and sold her own 7-figure store plus helped another one exit for $28M…
Now is the time to invest in your present to change your future!
With all of these never-before-offered exclusive bonuses…
You'll have the coaching, content, and community you need to quickly replace your full-time income with your own online store and forever become your own boss.

At just $1.36 a day, it's by far the best ecommerce deal we've ever put out.
Note: It really does end in just 12 hours from now.
Don't build alone.
Gretta van Riel
P.S. As part of this special offer we're giving you our entire Ecommerce Masters program for free! Normally $2,997 this beast of a program contains 9+ hours of advanced ecommerce content from 5 different world-class entrepreneurs.

To see everything you're getting for just $1.36 a day, click here within 12 hours.
P.P.S. Opt out text and link here.
Key phrases
Older messages
Tuesday, June 20, 2023
Free coaching offer is closing! Hi , Friendly reminder that this is the final email for our first-ever free ecommerce coaching deal. Enrollment officially ends in just 6 hours. Try Start & Scale
Tuesday, June 20, 2023
Things have changed… Hi , We've had a number of you reach out and let us know you were traveling over the weekend and you missed the final emails for our Free Coaching Start & Scale Sale. So we
24 Hours Until Your Coaching Call
Tuesday, June 20, 2023
First free ecommerce call starts tomorrow… Hi , The first free live ecommerce coaching call starts tomorrow June 21st! So there's just 24 hours left to get our help so you don't waste any time
🚀 [48 hours only] New Offer For Foundr+
Tuesday, June 13, 2023
We've never done this before! Hi , You're receiving this because you had expressed interest in our foundr+ subscription program. For the first-time ever… We've created a new, affordable
Monday, June 12, 2023
This is how you change that Hi , Living paycheck to paycheck is cool… If you love what you do and the pay is amazing. But the reality is that most people are vastly underpaid. What about you? I'm