Demand Curve - The Growth Newsletter #139
The Growth Newsletter #139
TikTok Ads best practices, guide to buyer's guides, and "Good Strategy."
Welcome all you growth-loving founders and marketers!
Last week, I had the chance to see Jason Fried (37signals, Basecamp, HEY) in Vancouver. They have a lot of great resources on building profitable, remote businesses.
My favorite term they coined is Stayups—"companies who've proven their worth, figured out their businesses, and strive to stick around for the long term."
We need more stayups in the world, not just startups.
Anyway, onto the real topics of this week: TikTok Ads best practices, guide to buyer's guides, and "Good Strategy."

Let's dive in 🥨

– Neal
Thanks to our sponsors for keeping this newsletter free for all of you! Check them out :)
Brought to you by Wistia, in their new "Fix my Setup" video series, they'll help you transform your webcam setup for video calls, webinars, and video podcasts.
Without needing to spend a ton of money on fancy cameras or lights.
And by Delighted Surveys—an easy-to-use survey creator that lets you ask your audience anything:
Customer feedback

Market research

Product research

Pricing research

And so much more.
You can also collaborate, report, and share feedback, all within a single platform.
Want to be featured in front of 83,030 founders and marketers? Learn more here–booking into November.
We'll find you a great agency/contractor—for free
Working with the wrong agency or freelancer can be a mistake that costs thousands and thousands of dollars and months of your time.
That is why we created our new free matching service.
Here's how it works:
Complete a short form (it take 2 minutes)

 

If you'd like, jump on a call with a growth strategist (not a recruiter). They can help you strategize on exactly who you need to hire.

 

You get email introduction within 3 days to the partner we think will serve you best.
Yep, it costs you nothing. There is no obligation, no catch, and no stress.
How do we have the best talent?
Our community of 82,000 growth pros gives us unparalleled access to the best talent.


Only the top 3% of our community gets accepted. We interview and assess everyone.



This is not a directory. We hand-select each partner to ensure A+ work and communication.
1. 4 TikTok Ads creative best practices
Insight from our TikTok Ads playbook.
TikTok has quickly become one of the first ad channels to contend with Google and Meta.
How is it different? Well, the ad management is relatively simple, and broad targeting often does best.
But it all comes down to amazing ad creative.
Here are 4 best practices:
1. Lead with a hook
Even the first frame counts. 25% of users watch beyond the first 5 seconds.
Open your video with action and exciting audio to maximize engagement

Display an enticing headline (e.g., "This app will change your life! 🤯" )

Show an unusual or provocative visual to create intrigue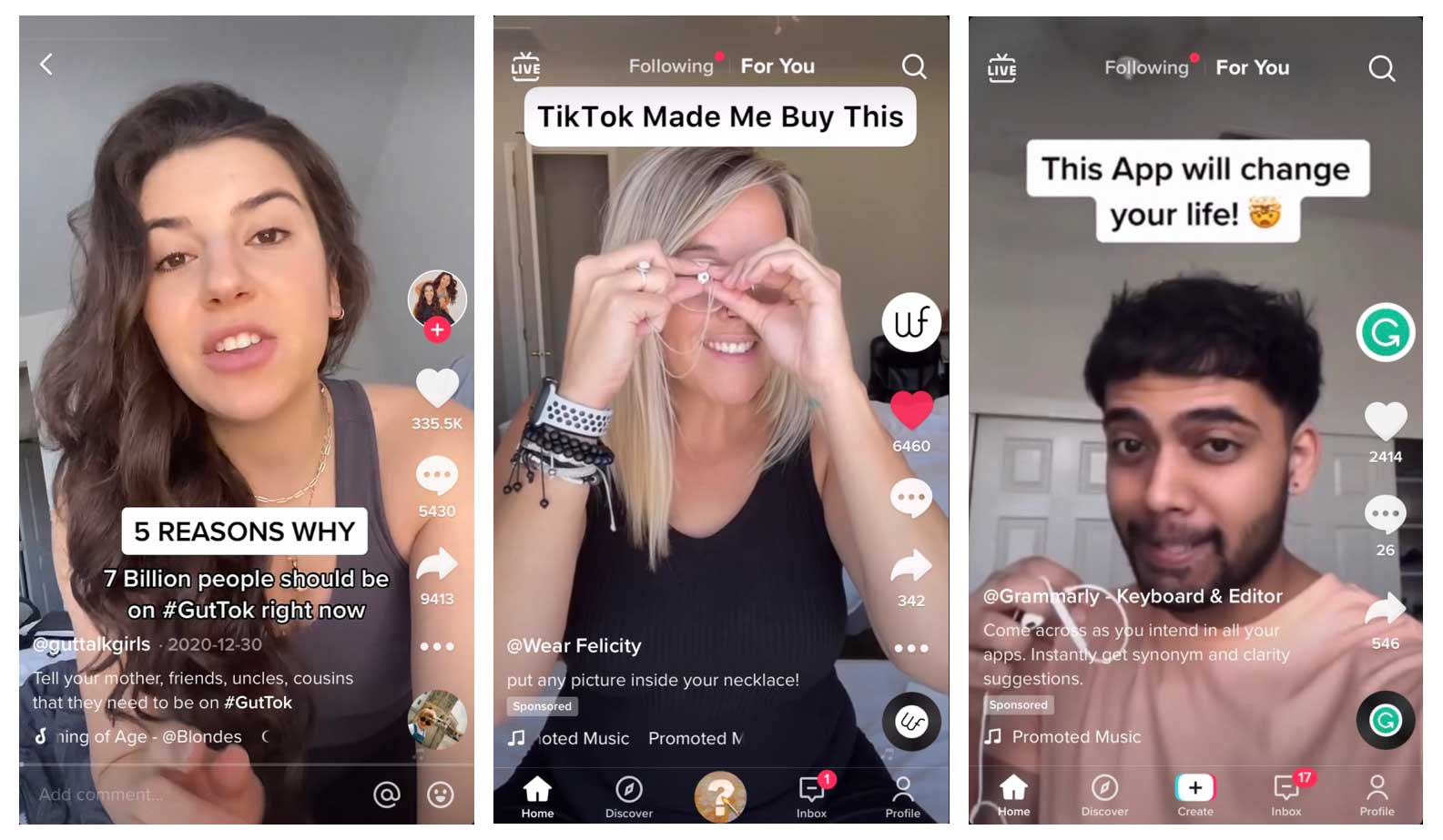 2. Sell with stories
Authenticity is what resonates. It cannot feel like an ad.
People buy on TikTok when you tell them a believable story that sells the lifestyle benefits your product provides in a relatable context. 
3. Keep your ads short, fast, and lean
~60% of videos with the highest clickthrough rates get their message across in the first three seconds and keep their ad length within a 30-second sweet spot.
Stitch together 1-2 second quick cuts with different camera angles and speeds. Cut out pauses and lulls as much as possible.
4. Take big swings, then iterate on what works
You won't learn much by running 10 ads that are all roughly the same.
Test a high volume of wildly different "big swing" ad creatives to find what resonates with your audience.
Scrap the losers. Focus on the winners. Throw in big swings every few weeks.
---
For 4 more best practices, and 8 ad examples/formulas, and a lot more, check out the rest of our TikTok Ads guide.
2. How to write a Buyer's Guide
Insight from Tim Hanson.
Landing page copy has to be punchy and interesting so it doesn't bore people.
But that also means it might not tell people everything they need to know to make their buying decision. (Here are examples from REI and HubSpot.)
Which is why SEO expert, Tim, recommends creating a buyer's guide. As he says:
"A detailed buying guide holds the hand of whoever is in charge of solving that problem and putting forward a case for product/service purchase."
Here's the overarching template he suggests:
Intro to the core issues
Questions to help the user self funnel (beginner, intermediate, advanced)
Diagnose the position they're in (if X and Y, do Z)
Introduce the features/benefits the different buckets need
The prices associated with the different buckets
Where your solution sits in comparison to the buckets
Best use cases for your solution
Wrap things up
A buyer's guide walks people through all the things a sales person might. It just does it at a larger scale, and helps people hesitant to hop on a call.
Here's Tim's full template.
3. The 3 key elements of a good strategy
Insight from Good Strategy, Bad Strategy by Richard Rumelt.
A lot of "strategies" are filled with fluff and buzzwords. Or they focus purely on the goals (like 20% more revenue) without focusing on the how or the why.
Richard Rumelt outlines 3 key elements to a good strategy:
Diagnosis:

This isn't merely identifying a problem; it's understanding the nuances and underlying structures that are causing it. It's also identifying what the competitors are doing, and not doing.


Guiding policy: The unique approach you'll take to solve that problem. This isn't just a set of goals, but a framework that informs your decisions on the actions you'll take to achieve them.


Coherent actions: The specific steps to implement your guiding policy. Random tactics won't cut it. They have to fit together to support your strategy.
Let's use an example from the world's largest company, Apple, when Steve Jobs became CEO again in 1997 when it was on the brink of bankruptcy:
Diagnosis: In 1997, Apple had dozens of products. Nearly none of them were profitable or clear what problem they solved. The core issue was that their product line was way too complicated, confusing, and expensive to service.


Guiding policy: Jobs decided Apple would focus on a small number of products and make them exceptional. The goal was to reestablish Apple as a brand that stood for quality, innovation, and a superior user experience. And to be patient and wait for the next big technological opportunity before adding more products.


Coherent actions: Jobs famously cut down Apple's product line from dozens of items to just four. He then waited years before capitalizing on the next big opportunity: the iPod (and iTunes). Then the iPhone. Then the iPad. Then the Watch.

Their strategy was not "get profitable through customer-centric excellence." Instead, it was specific. And it continues to guide their decisions today, over 25 years later.
Although Apple no longer has just 4 products, Apple is still slow to release new products. VR headsets have existed for years. But they didn't want to act on it until they felt they could deliver an exceptional product experience. 
This is why at our agency, Bell Curve, we focus so much on strategy. A well thought out strategy, can make all the difference. Tactics are what you layer on top.
News you can use:
Report we recommend: 2023 Benchmark Report*
Looking to grow your agency or freelance business?
Mailchimp & Co interviewed 1,500 marketers to find out how the top agencies and freelancers win new business.
You can use the insights to dial in your pricing, community strategy, and future expansion plans.
Scale faster with the free report now
*Sponsored by Mailchimp
Want to be featured in front of 83,030 founders and marketers? Learn more here–booking into November.
What did you think of this week's newsletter?
😍 Loved it | 😄 Great | 🙂 Good | 🤷‍♀️ Meh | 🤬 Bad
If you enjoyed this, please consider sharing it with a friend. These newsletters take hours to make each week, so it really helps when you share us with fellow founders and marketers.

And if you have any comments/question, I'd love to hear them. Just hit reply!
In case you're new: Who's Demand Curve?
We're on a mission to help make it easier to start, build, and grow companies.
We share high-quality, vetted, and actionable growth content as we learn it from the top 1% of founders and marketers.
How we can help you grow:
See you next week.
— Neal and Justin
© 2023 Demand Curve, Inc. All rights reserved.
4460 Redwood Hwy, Suite 16-535, San Rafael, California, United States
Unsubscribe from all emails, including the newsletter, or manage subscription preferences.

Older messages
Tuesday, September 19, 2023
Intention > attention, freebie strategies, and more memorable ads. ‌ ‌ ‌ Demand Curve Read on demandcurve.com The Growth Newsletter #138 Intention > attention, freebie strategies, and more
Tuesday, September 12, 2023
Keyword monitoring, 5-minute favors, and proven newsletter tactics. ‌ ‌ ‌ Demand Curve Read on demandcurve.com The Growth Newsletter #137 Keyword monitoring, 5-minute favors, and proven newsletter
Wednesday, September 6, 2023
Warren Buffet letters, market gaps, and rituals. ‌ ‌ ‌ Demand Curve The Growth Newsletter #136 Read on demandcurve.com Thanks to our sponsors for keeping this newsletter free for all of you! Check them
How not to make a 😴 newsletter
Thursday, August 31, 2023
Join us on Sep 7th to create a newsletter people love. ‌ ‌ ‌ Hey Un-Ignorable folks! Most company newsletters are 😴😴😴 They simply share overly-technical blog posts and updates about the company (
Tuesday, August 29, 2023
The ultimate "growth hack," social listening, and juicy internal linking. ‌ ‌ ‌ Demand Curve The Growth Newsletter #135 Read on demandcurve.com Thanks to our sponsors for keeping this