Foundr - How I turned $24 to $600K per month
Hi ,
I was 22 years old, working at a full-time corporate job and pretty much living paycheck-to-paycheck.
I've never started a business before and I just had $24 left in my bank account.
I was working 40+ hours a week and not saving any money at all.
It was soooooo stressful. 
How did I go from that to making $600k per month within just 6 months?
That's what I'm showing you here in today's video.
It feels like only yesterday that armed with an Instagram account and a Shopify store I started my first company, SkinnyMe Tea, from my mum's kitchen table. 
Blending the tea by hand, packaging it into zip lock bags from the supermarket with stickers from our local newsagent and then lugging hundreds of envelopes down to our local post office…
I made our first logo on Microsoft Word '98.
We were scrappy (and I'd love to say "but we were happy" but to be honest we were pretty far from most of the time). 
Again, it was a stressful time—more lows than highs and exhausted from learning after learning. 
I didn't study business, I didn't come from a home that discussed business (thank god haha, that would be a bit much in hindsight really). 
I graduated uni late 2011, went straight into my first full time job and started SMT a couple of months into that. 
As I said, when I started, I was 22 and had only $24 in the bank. 
I didn't even know what the word ecommerce was. 
I was still working full time so I'd take the orders during the week and then pack and send them on weekends (which meant we were in a constant 'pre-sale', not that I knew that term, as I didn't buy the ingredients or packaging until we'd made a sale). 
After our first $1000 day I quit my job (that was almost my weekly wage anyway) without telling anyone because they'd all told me not to. 
I remember thinking, I hope I have enough to do in a whole day…(I did). 
We grew quickly from there, to be doing $600k / month, within 6 months. 
I had never, ever seen money like that in my life.
I WANT YOU TO EXPERIENCE THE SAME NEXT YEAR!
Honestly I'm really excited for you…you don't have to make my mistakes. You don't have to be afraid anymore.
Today…we're bringing back the BIGGEST SALE ever for Start & Scale.
You'll be able to get the entire Start & Scale program worth $1,997…
More than 50 in-depth training videos containing my step-by-step advice for quickly building your own profitable online store…
Plus all of the exclusive ecommerce extra bonuses, the private community with 20k+ members…
That's helped people escape soul-sucking 9-5 jobs and predictably create multi-million dollar ecommerce businesses from anywhere in the world…
For 75% less than what you'd otherwise pay!
On top of that…Foundr has decided to give you their full 9+ hour Ecommerce Masters program (normally $2,997)…FOR FREE!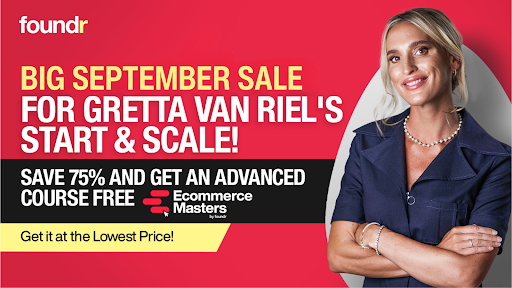 Older messages
Wednesday, September 27, 2023
We challenged Gretta to build this in 10 minutes… , this is going to blow your mind… In this exclusive video, we give Gretta a random product idea and challenge her to turn it into a business in just
Tuesday, September 26, 2023
My BIGGEST ecom mistake ever Hi , I lost $1.3 million and it was the biggest mistake I've made in business so far. I wanted to share this during our "Dream It & Sell It" content week, to show
My first million-dollar business!
Tuesday, September 26, 2023
I had no idea this was gonna work… Hi , You have no idea what's in store for you in 2024, which is just a couple months away. In fact, I'm living proof that just one new idea could forever
Sunday, September 24, 2023
Last chance for this free course… Hi , Just a quick note letting you know this is the final email about Infinite Income on Amazon. The price triples in just 6 hours. So this is your last chance to: Get
Sunday, September 24, 2023
24 hrs left Hi , Have you heard the story about the moaning dog? It goes like this… A man sees a dog laying in the middle of the street, moaning. "Why is this dog moaning?" he asks. Another man replies