How to learn directly from Neil Patel (free)
,
Did you know that only 10% of ecomm founders in the world right now are scaling their business with AI?
For something that's so groundbreaking, it sure is being adopted pretty slowly by the market.
I've been thinking about why this is the case. Clearly, AI is powerful. Clearly, AI is here to stay.
But from what I've seen, so many founders are missing out just because they don't know how powerful, how relevant it can be.
That's why we decided to do something about it. 
Introducing the first-ever Foundr Ecomm-AI Summit 🥳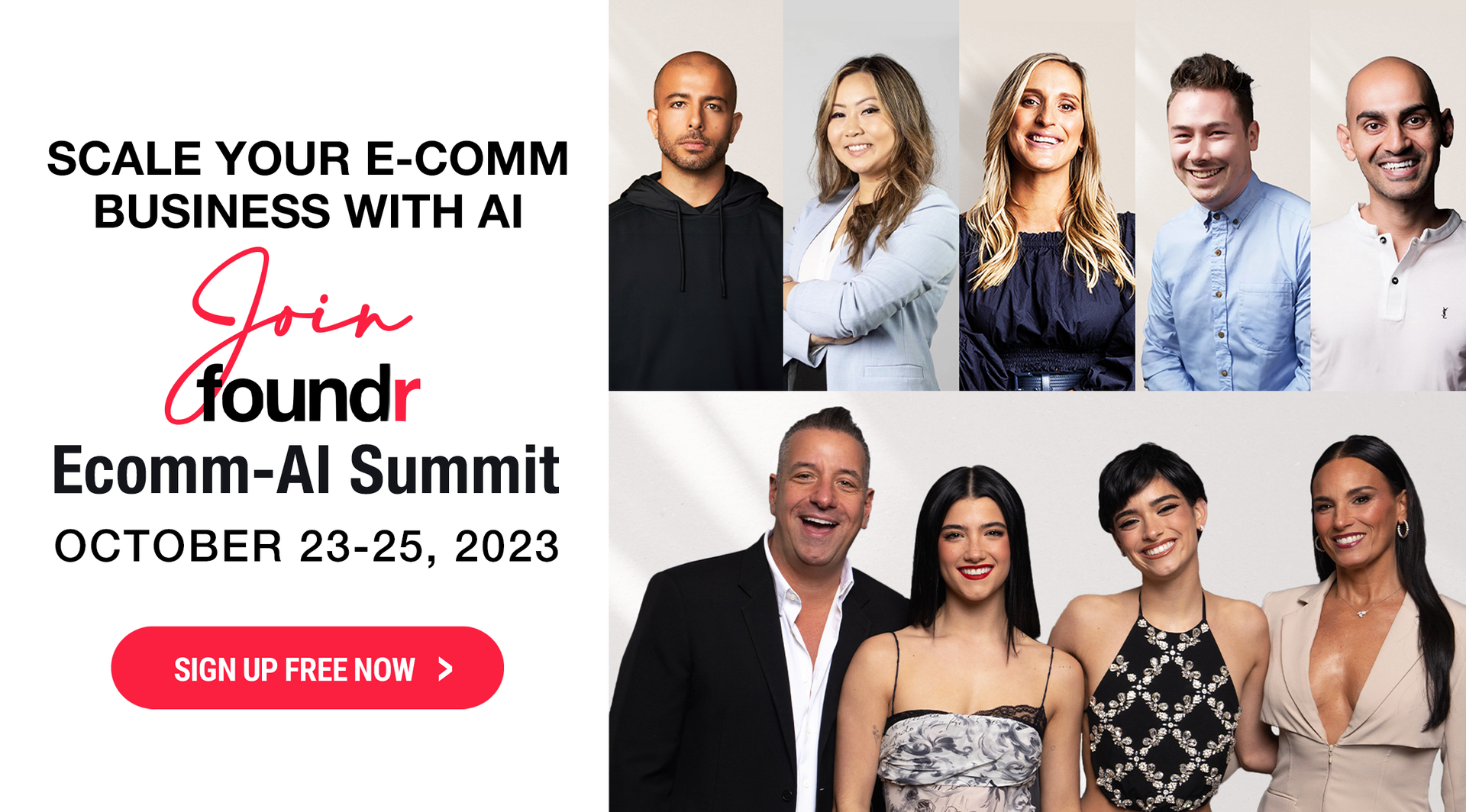 In 3 days, we'll be going LIVE with some of the biggest founders and experts in the space who are changing the game completely—for themselves and their businesses—through the power of AI.
There won't be fluffy theory here—only battle-tested innovations that the biggest players are using right now, step-by-step, in their own empires.
Innovations that you yourself can apply the minute you learn them.
Whether you're in health and beauty like Melisa Vong—who's a serial entrepreneur, co-founder, and director in multiple E-Commerce brands in the space…
Or you want to learn from Chase Dimond, who is a partner at Structured and Boundless Labs and an advisor for Triple Whale…
Or even downloading the latest and greatest innovations from the one and only Neil Patel – who is the co-founder of Crazy Egg and Hello Bar…
There's so much for you to learn that I know will change the game for your business.
But you don't have to take my word for it. 
You can join the summit now and see yourself.
Registration's free too. So you have nothing to lose—and a world of possibility to gain.
I look forward to seeing you inside.
Let's Build.
Nathan Chan
CEO
Older messages
The only way to predict the future is to create it
Thursday, October 19, 2023
Do you agree, ? , Remember the dot.com boom in the early 2000s? Can you believe there were people back then who thought it was just a passing trend? It seems crazy when we think about the world, and
[IMP] Your call is not confirmed
Tuesday, October 10, 2023
Hey , Let's talk. How much is it worth for you to be able to scale your store to 7 or 8 figures? Are you willing to share? YES NO I'M NOT Nathan Chan CEO This email was sent to newsletterest1@
Monday, October 9, 2023
Hey , You know you can scale your store to 7 or 8 figures? Do you need a mentor to help you get there? YES NO I'M NOT Nathan Chan CEO This email was sent to newsletterest1@gmail.com by support@
Sunday, October 8, 2023
Applications closing NOW Hey , This is it. The final call. In just 6 hours, the chance to join the Foundr Mastermind will close, and potentially along with it, the chance to get unparalleled mentorship