The story behind Halloween's creepiest song 👻
| | | |
| --- | --- | --- |
| US Edition - Today's top story: How Bach's Toccata and Fugue in D minor became Halloween's theme song View in browser | | US Edition | 31 October 2023 |
Top headlines
Lead story
Most everyone who celebrates Halloween will recognize the ominous opening chords. But far fewer probably know that the spooky organ piece is called Toccata and Fugue in D minor – and that heavyweight composer Johann Sebastian Bach penned the tune.
Megan Sarno, a music professor at the University of Texas at Arlington, explains how Bach's Toccata and Fugue is an example of what scholars call "sticky music" – songs not written with a specific meaning or use in mind, but which, over time, come to represent a specific holiday, ceremony or tradition.
"Bach," she writes, "could not have thought that his nearly 9-minute organ piece would become so strongly associated with haunted houses and sinister machinations."
Of course, the sound of an organ – always a bit creepy to today's ears – certainly doesn't hurt the cause.
[ Sign up for our weekly Global Economy & Business newsletter, with interesting perspectives from experts around the world. ]
Nick Lehr

Arts + Culture Editor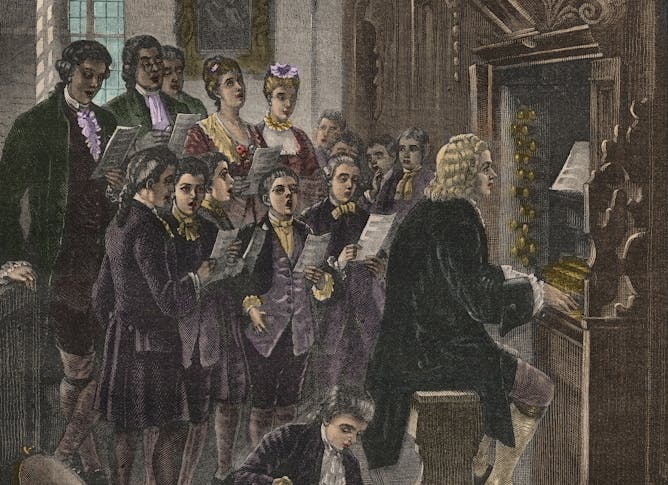 The famous composer certainly didn't have haunted houses in mind when he wrote the piece.
Politics + Society
In the wake of the three-week internal GOP battle to choose a speaker, a scholar of Congress says that what looks like dysfunction is actually something else.

Trump's call for violence is only part of a larger push for social disruption and destruction. For only in the wake of such events can a new, white, Christian, illiberal world arise.

With the balance of political power at stake in the Virginia legislature, voters in this key swing state may reveal clues for the 2024 presidential election.
International
The autocratic Law and Justice Party looks set to be turfed out by a center-left coalition, which gained more than half of all votes.
Arts + Culture
Young Latinos in the US often navigate a contradictory landscape: Their parents see them as not Latino enough, while teachers and peers view them as not American enough.

The death of Matthew Perry has seen old and new fans reflect on the legacy of a television classic.
Economy + Business
Having a biased manager lowers productivity across the board – even for workers who aren't targeted.

Rank-and-file union members employed by the automakers have to ratify the new contracts before they become official.
Ethics + Religion
Across cultures, death rituals give mourners a chance to grieve. But they also offer one last opportunity to help the deceased as they transition to the next stage of existence.
Older messages
Water as a source of hope in the Middle East
Monday, October 30, 2023
+ UAW's tentative deal with Ford and Stellantis ‌ ‌ ‌ ‌ ‌ ‌ ‌ ‌ ‌ ‌ ‌ ‌ ‌ ‌ ‌ ‌ ‌ ‌ ‌ ‌ ‌ ‌ ‌ ‌ ‌ ‌ ‌ ‌ ‌ ‌ ‌ ‌ ‌ ‌ ‌ ‌ ‌ ‌ ‌ ‌ ‌ ‌ ‌ ‌ ‌ ‌ ‌ ‌ ‌ ‌ ‌ ‌ ‌ ‌ ‌ ‌ ‌ ‌ ‌ ‌ ‌ ‌ ‌ ‌ ‌ ‌ ‌ ‌ ‌ ‌ ‌ ‌ ‌ ‌ ‌
The ethics of viewing images of war
Friday, October 27, 2023
+ teaching AI to obey the law ‌ ‌ ‌ ‌ ‌ ‌ ‌ ‌ ‌ ‌ ‌ ‌ ‌ ‌ ‌ ‌ ‌ ‌ ‌ ‌ ‌ ‌ ‌ ‌ ‌ ‌ ‌ ‌ ‌ ‌ ‌ ‌ ‌ ‌ ‌ ‌ ‌ ‌ ‌ ‌ ‌ ‌ ‌ ‌ ‌ ‌ ‌ ‌ ‌ ‌ ‌ ‌ ‌ ‌ ‌ ‌ ‌ ‌ ‌ ‌ ‌ ‌ ‌ ‌ ‌ ‌ ‌ ‌ ‌ ‌ ‌ ‌ ‌ ‌ ‌ ‌ ‌ ‌ ‌ ‌ ‌ ‌ ‌ ‌ ‌ ‌
'Buy to rent' affects Black homebuyers more
Thursday, October 26, 2023
+ how often do you lie? ‌ ‌ ‌ ‌ ‌ ‌ ‌ ‌ ‌ ‌ ‌ ‌ ‌ ‌ ‌ ‌ ‌ ‌ ‌ ‌ ‌ ‌ ‌ ‌ ‌ ‌ ‌ ‌ ‌ ‌ ‌ ‌ ‌ ‌ ‌ ‌ ‌ ‌ ‌ ‌ ‌ ‌ ‌ ‌ ‌ ‌ ‌ ‌ ‌ ‌ ‌ ‌ ‌ ‌ ‌ ‌ ‌ ‌ ‌ ‌ ‌ ‌ ‌ ‌ ‌ ‌ ‌ ‌ ‌ ‌ ‌ ‌ ‌ ‌ ‌ ‌ ‌ ‌ ‌ ‌ ‌ ‌ ‌ ‌ ‌ ‌ ‌ ‌ ‌
Invasion of Gaza would likely be bloody and prolonged
Wednesday, October 25, 2023
+ how safe are roundabouts? ‌ ‌ ‌ ‌ ‌ ‌ ‌ ‌ ‌ ‌ ‌ ‌ ‌ ‌ ‌ ‌ ‌ ‌ ‌ ‌ ‌ ‌ ‌ ‌ ‌ ‌ ‌ ‌ ‌ ‌ ‌ ‌ ‌ ‌ ‌ ‌ ‌ ‌ ‌ ‌ ‌ ‌ ‌ ‌ ‌ ‌ ‌ ‌ ‌ ‌ ‌ ‌ ‌ ‌ ‌ ‌ ‌ ‌ ‌ ‌ ‌ ‌ ‌ ‌ ‌ ‌ ‌ ‌ ‌ ‌ ‌ ‌ ‌ ‌ ‌ ‌ ‌ ‌ ‌ ‌ ‌ ‌ ‌ ‌ ‌ ‌ ‌