😱 The countdown for massive savings has begun
Hey ,
The countdown has begun! 
Black Friday and Cyber Monday are just a heartbeat away, and we can barely contain our excitement. Can you?
At Foundr, we believe in rewarding our community. And this year, we've curated a collection of deals and offers that will leave you spellbound. Imagine getting your hands on our bestsellers at prices you've never seen before.
But there's a catch. 
These exclusive deals? They're reserved for our VIP waitlist. Want in on the action? It's simple. All you have to do is stay subscribed and keep an eagle eye on your inbox.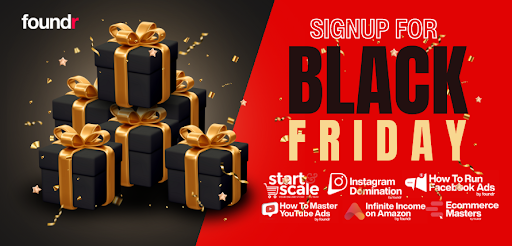 Why register to be a part of our VIP waitlist, ?
🖤 Early Bird Access: Get to the deals before the crowd does.
🖤 Exclusive Discounts: Massive offers that you won't see otherwise.
🖤 Special Bonus: Unlock a mystery bonus when you stay subscribed to the special VIP list.
If that doesn't sound tempting enough, remember: the best is yet to come.

We have something really really really special for those who're interested in starting an ecommerce store!
Click here to join the VIP Waitlist.
Catch you on the flip side,
Nathan,
CEO, Foundr
Older messages
🔥 Black Friday's Coming... And We've Got a Secret!
Wednesday, November 1, 2023
Ultimate deals are coming your way... sign up to the VIP waitlist , Can you feel the excitement in the air? The biggest shopping event of the year is just around the corner, and we've got some
🤔 Is the AI-Ecomm Accelerator *actually* for me?
Tuesday, October 31, 2023
Your BIGGEST questions, answered , It's been incredible having so many of you joining us in our first-ever AI Accelerator. I'm so excited to get this thing going! (If you haven't been able
Want to master AI for ecommerce, ?
Monday, October 30, 2023
Doors to our AI Accelerator for ecomm founders are now open 👉 Hey , Guess what? After hosting some of the biggest AI experts in the world in our Ecomm-AI Summit… And after witnessing firsthand how they
[Replay] The Foundr Ecomm-AI Summit: Day 3
Sunday, October 29, 2023
Catch DAY 3 of our Ecomm-AI Summit>> , Day 3 of the Foundr Ecomm-AI summit replay weekend is finally up! It starts at 9 am EST, so catch the replay here before it's gone for good. Here's
[Replay] The Foundr Ecomm-AI Summit: Day 2
Saturday, October 28, 2023
Catch DAY 2 of our Ecomm-AI Summit>> , Day 2 of the Foundr Ecomm-AI summit replay weekend is here! It starts at 9 am EST, so make sure to catch it here while you can and make it count. Here's