Foundr - No FOMO. Just BOGO.
Hey ,
The Foundr Early Black Friday Sale ends today.
Tonight at 11:59pm EST, it's all over.
If you want the best deal on our life changing programs…
Now is the time to take advantage.
So you have just a few more hours to get two courses for 75% the normal cost of just one!
Here's a quick recap of everything being offered:
Shopify Build-A-Business winner and 4x multi-million dollar founder Gretta van Riel gives you her exact step-by-step formula for launching million-dollar ecommerce brands from scratch
Using what we call the "Instagram Domination Method" helped take us from zero to more than 3.5M followers while adding 500 to 1,000 new followers every single day. It will quickly help you grow to 10k followers and beyond.
$100M spend on Facebook ads, 150+ different businesses, 1 proven formula. That's the insane resume of one of the world's most renown Facebook advertisers, Nick Shackelford. His unique system will help you consistently create high-converting Facebook ads.
Tommie Powers is referred to as the "OG" of YouTube advertising. He helped take Organifi from $0 to $30M in 3 years and his ads have generated well over $500M in revenue for his clients and partners. If you're ready to finally crack YouTube ads, this is for you.
Melisa Vong has started, scaled, and sold 2x multi-million dollar brands on Amazon while generating more than $20,000,000 in sales. In this course you'll get her step-by-step framework for helping beginners "replace their 9-5 income" with Amazon FBA.
This course contains the exact roadmap our team has used to create 100 different online courses and build a multi-million dollar company from scratch! Turn your unique knowledge into a 2nd income stream or add even more value to your community with your own course.
Reach the fastest-growing new audience online to quickly grow your business by leveraging the decade's newest marketing trend: short-form videos. This course reveals a step-by-step proven framework to creating TikTok ads that sell while emulating the look and feel of organic posts.
Learn how to meet 10-20 highly qualified leads every week almost free with AJ Cassata's smart outreach system.Costs next to nothing to use and works without you needing ads, marketing experience, a social media presence, or even an email list.
Learn how to go from a "one person shop" to starting your own highly profitable digital agency. Award winning agency owner Dee Deng will show you how to create a sustainable business on your terms with just one funnel and 2-3 lighthouse clients.
Go from unknown and underpaid to an unstoppable force of income and impact in your field. Let NYT Bestselling Author Rory Vaden show you the latest, step-by-step strategies for building and monetizing your personal brand and thereby dominating your industry.
Go from "overwhelmed with ideas" to finally having your own unique product manufactured, shipped, and sold. Here's the exact blueprint behind the success of 2500+ products that will help you scale profitably, fast in today's highly competitive market.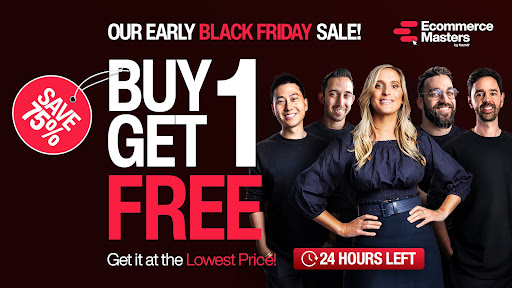 Leverage advanced scaling techniques with the updated 5 Core-Driver Method. Drive your Ecommerce store's revenue beyond seven figures with insights from top industry experts like Gretta van Riel, Nick Shackelford, Chase Dimond, and more.
Remember, during this special "BUY 1 GET 1 FREE" Black Friday deal…
For just $1.36 a day (less than a cup of coffee)...
You can get the proven blueprints, mentorship, and support you need to more quickly and confidently build the business of your dreams.
This is how you'll not just survive in an uncertain economy, but thrive.
One good idea can change everything.
Nathan Chan
CEO
P.S. This Black Friday deal closes tonight at 11:59PM EST…for good. Click on any of the links above and start saving today.
P.P.S. If you're not interested in our exclusive access into Black Friday B1G1, no worries at all. Click here to only receive relevant content from us.
Older messages
[48-hr reminder] Free Courses Inside 👀
Saturday, November 11, 2023
Choose Yours ASAP Hi , There are only 48 hrs left to get 75% off our premium programs — and get one FREE as a Black Friday gift on us! Let's face it… 2023 has been a crazy year and if you watch the
Saturday, November 11, 2023
Don't miss out Hi , Just bringing this to your attention as we noticed you haven't claimed your early Black Friday Buy 1 Get 1 Free Deal yet. This is the lowest price you'll ever see for
Friday, November 10, 2023
PLUS a free course Hi , In case you missed it, we just launched Foundr's Early Black Friday Sale. And that means the best deal we've ever made: 75% off our premium programs + a free course,
Thursday, November 9, 2023
Free Course + 75% off! , Have you ever felt the rush of a breakthrough? That moment when the fog of uncertainty clears, and you see the path ahead with absolute clarity? Clara just did. As the nights
Wednesday, November 8, 2023
here's how Hi , It's officially Day 3 of the best Black Friday sale we've ever offered! In case you missed it: Foundr is offering 12 of our flagship programs at 75% off retail price + your