An Interview with Jaime Novoa of Dealflow
Hello! What's your background, and what are you working on?
Hi! My name is Jaime Novoa and I work full time at K Fund, a venture capital firm in Spain. I ended up in the venture capital industry by accident, after spending four years working as a tech journalist covering the Spanish startup ecosystem for various local and European publications.
In 2014 I launched a publication called Novobrief to write in English about the Spanish startup scene, so that people beyond Spain could find out what was going in the country. I was never able to properly monetize the publication and when I joined the VC firm I basically stopped updating it. A few months later, I sold the blog for $15k but I got to keep the newsletter that I had built since the buyer didn't show interest in it.
Once the deal was completed, I changed the branding around the newsletter to Dealflow.es. Dealflow is a weekly newsletter that helps folks stay up to date on the ins and outs of the Spanish startup scene, mostly aimed at startup people, founders and investors. I curate news articles, blog posts, and tweets published by others and structure them around a simple and easy-to-read email.
The newsletter currently has more than 6,800 subscribers and I monetise it via advertising. It's a side project that only takes me between two to three hours per week, and it's currently generating around $1,900 per month in revenue.
What motivated you to get started with Dealflow?
I used to write original pieces myself about the Spanish startup scene and I took it very seriously. I really wanted to be the best Spanish tech journalist out there. However, I soon realised that as a one-man-operation, I couldn't get to all the news on time.
That's why I decided to launch a newsletter as a feature of the blog. The newsletter included not only the articles that I was publishing, but also those published by other journalists and Spanish startups themselves.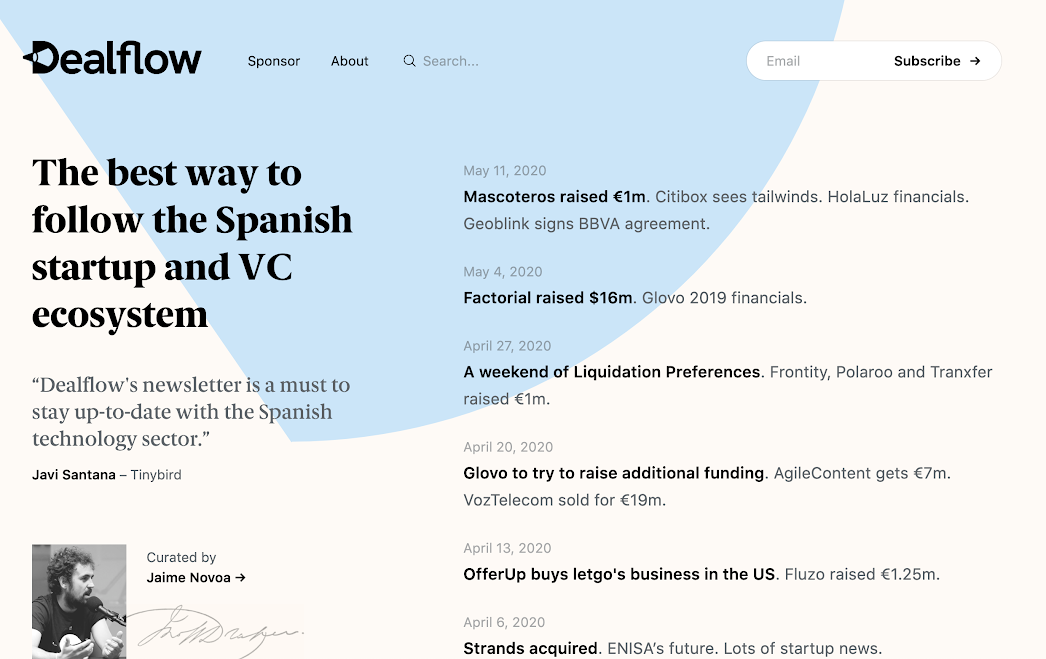 At the time, and this is still true today, Spain lacked a go-to publication to find out what was going on with our startups, so I thought that offering a weekly summary (which is the right cadence since the local industry is not that big) could be a good fit. People started liking it, subscribing to it and sharing it with their colleagues and friends, and the snowball kept growing.
Once I had built an audience of around 1,000 to 2,000 subscribers, I started thinking about offering weekly sponsorships. I thought that brands would be interested in promoting their products and services to a small but highly engaged audience. Turns out I was right! I first started offering the sponsorships for free to startups I knew, and that grabbed the attention of other companies and the business grew from there.
I've published the newsletter continuously for four years (now under the name of Dealflow.es) and I continue to enjoy it very much.
What went into building the initial product?
Since I was simply trying to validate the idea of offering weekly summaries of startup related news, I didn't want to complicate things too much in the beginning.
The good thing about starting a newsletter is that there's a lot of free software out there for it, and most email marketing services offer freemium plans to writers and companies. The first version of the newsletter was built using Revue. My first approach was to try to find the common themes of the articles I was curating to avoid sending an unstructured email and to make reading through the new issues as easy as possible.
I ended up grouping the articles around different news topics such as funding, marketing and advertising, startup, corporate, interesting reads, and so on. I've pretty much maintained that structure for more than four years.
The thing that I like the most is that it doesn't take me much effort to build each newsletter. As a habit, I've always read the news while having breakfast on a daily basis, so what I do is bookmark the articles that I think could fit into that week's newsletter. I don't end up including everything that I bookmark, but then that's the point of curation! On Sundays I sit down for a couple of hours and put together the final product.
"Enjoy what you do: I wouldn't get up early every Sunday morning to do what I do if I didn't really enjoy it."
There are not that many costs associated with Dealflow.es. Just paying for the email subscription service and an accountant, which means that the whole business is quite profitable considering that it only takes me two to three hours per week.
What's your tech stack?
I guess that one of the good things about having no coding skills is that I can't build complex things. The current version of Dealflow is made of two software components: Mailchimp and a website built on top of October, a free open source CMS.
When I changed the branding of the newsletter to Dealflow I decided that I also wanted to build a website around the project, so I hired a design and development agency in Spain, called Sensa, to help me build the design and the connectors between Mailchimp and October, so that each time a newsletter is published it gets automatically cross-posted on the website. The latter helps build a small database in the backend of all the news being curated, and we've built a search engine so that anyone can find out what X, Y, Z startup or investor has been up to in the past four years.
To keep track of sponsorships, finances, and other matters, I've also tried to keep things as simple as possible. I currently use a variety of Google Sheets to manage invoicing, my publishing calendar, and other tasks. For a while I tried moving all the data to more complex CRMs and similar tools, but I quickly realised that I didn't need any special features and that I could do most of the back office work with Sheets.
How have you attracted users and grown Dealflow?
The newsletter has grown to almost 7,000 subscribers organically. I've never done any paid marketing.
The fact that I had already built an audience with the blog and on Twitter definitely helped me attract subscribers. Once I had a small number of highly engaged people reading it every week, word of mouth kicked in and that's the way it's grown since then.
Something else that has also helped me increase the audience was to kindly ask subscribers to share the newsletter with their colleagues and friends if the find what I do useful and informative for their jobs. It's actually quite cool when I see that five to ten people from the same company have signed up in about an hour on Monday morning, because that means that someone in that office likes the newsletter and has recommended it to their colleagues.
Other tactical advice that has really helped me improve the newsletter is to ask for a lot of feedback. At the beginning, I would write back to each and every person that decided to cancel their subscription, in order to get first-hand feedback and continue to iterate and improve. I've taken that feedback to heart and there are several things I've modified over the years that stem from those interactions with unsubscribes.
One more thing that has helped increase the number of readers are my personal recommendations to people I think might be interested. As I said before, I've heard people complain many times about the fact that news about Spanish startups are dispersed amongst a wide variety of newspapers, Twitter accounts, etc. Once I hear or find any of those conversations, I politely recommend checking out Dealflow, since I believe it can fill the need that those people have.
What's your business model, and how have you grown your revenue?
I monetize via ads. I offer companies the opportunity to sponsor each newsletter in order to promote their products and services to a tech-oriented audience.
I think I started playing around with the idea of monetizing the newsletter when I had between 1,000 and 2,000 subscribers. I had this hypothesis that I wanted to validate, so what I did was to first reach out to a bunch of startups I knew and offer them the possibility of sponsoring the newsletter for free. I was offering them free publicity, so they all said yes.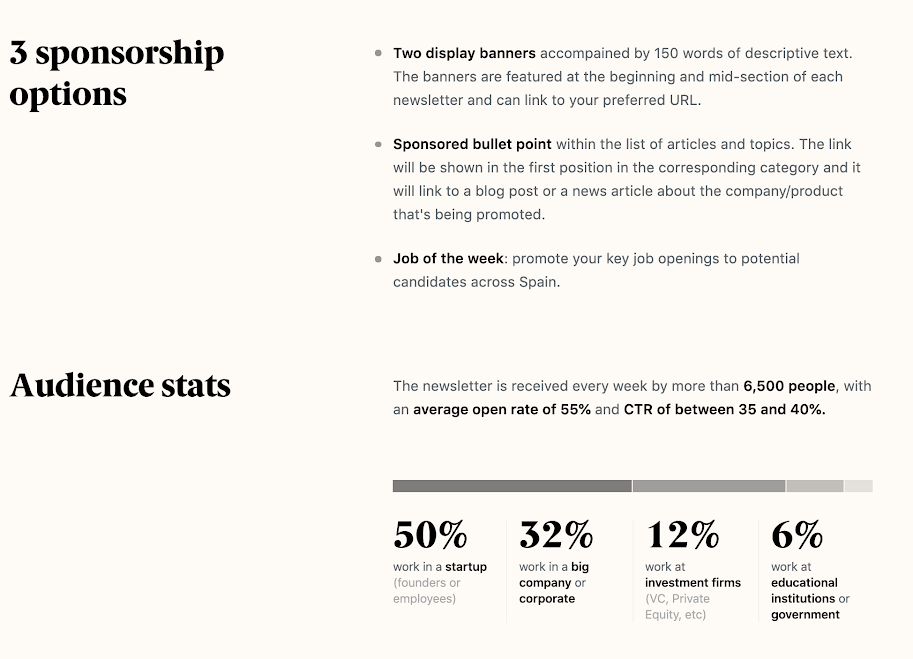 Once I did that for a few weeks, I started getting inbound emails from companies that wanted to also have the possibility of promoting their products. And it hasn't stopped since. I've never reached out to companies myself in order to offer sponsorship opportunities, and all of the revenue I've generated to date has been inbound.
In 2018 I had about $6,000 in revenue, which increased to $12,000 in 2019. This year I think I can reach the $20,000 mark, but I don't have any specific goals or targets. I really enjoy what I do and it's a bonus that I get paid to do it, so I don't obsess with growth or hitting specific revenue milestones.
There are two more things that have helped me get to this point, revenue-wise.
The first one was to create a sense of scarcity. What I mean by that is that, for four years, I've never published a newsletter that's not "sponsored". If for some reason a company cancelled their sponsorship at the last minute, I'd offer the space to companies I know with a big discount and, sometimes, even for free. I feel like that creates a sense of scarcity and that, if you as a company want to also promote your products and services on the newsletter, you must commit to it quickly.
The other aspect is related to pricing. Most people know this by now, but I think that pricing a new product or a service is one of the hardest things to do, because you basically have no idea what cheap or expensive means.
I started asking for €50 per newsletter and I currently charge €450, and I'm happy with that. One of the key things I did to get to €450 is to test pricing all the time. If ten companies per month were reaching out asking about sponsorship opportunities, I'd offer a different price to two of the ten, sometimes two or three times the original price, just to understand that the pricing ceiling was. This exercise was key to get to the current price.
What are your goals for the future?
I don't want to push things too hard. I don't want to set revenue or subscriber goals and perhaps feel saddened if I don't hit them. I feel quite privileged to be able to do something that I actually enjoy doing, getting paid for it and, on top of things, creating something that's actually useful in my day-to-day job as an early stage investor to find new startups.
I get up every Sunday looking forward to putting together the newsletter and that's something I've been doing non-stop for more than four years, and I want that to continue.
If you had to start over, what would you do differently?
Going back to the blog that the newsletter stemmed from, I would've tried to monetize it from the start. My thinking at the time was that I'd give myself a couple of years to first build an audience and then monetize it. I was wrong and I should have focused on generating revenue from the get go.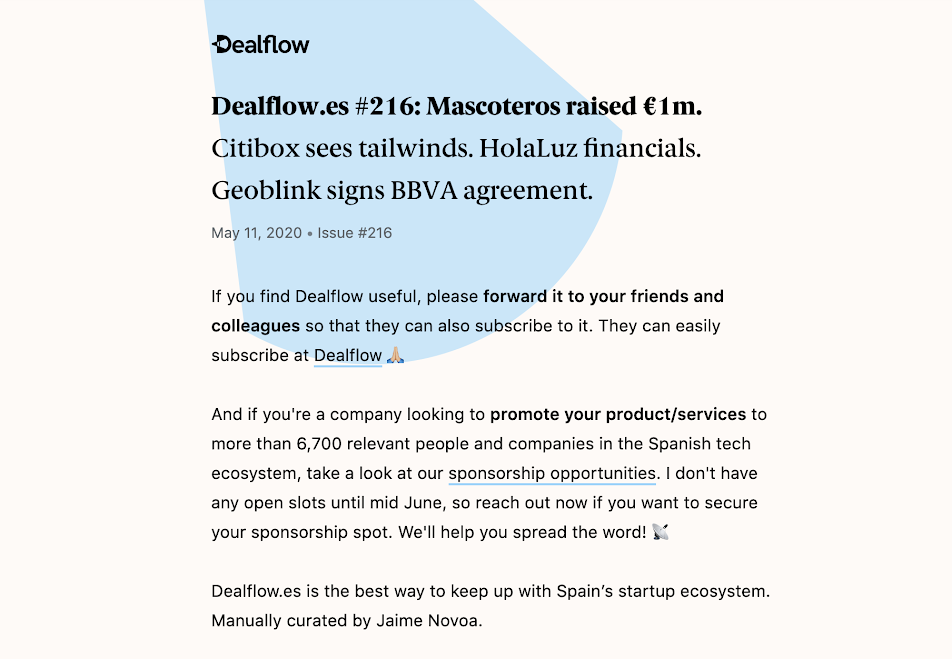 I was terrible at it but I got a second chance with the newsletter, and I feel grateful for that.
What are the biggest challenges you've faced and obstacles you've overcome?
I guess that the main challenge I face at times is thinking that this could become a bigger business. It probably could, but I actually enjoy it being a small but quite profitable project.
Sometimes stopping your own ambition to go harder isn't easy.
Have you found anything particularly helpful or advantageous?
I don't read that many books, so I'd be lying if I said that was a significant source of inspiration.
"Sometimes stopping your own ambition to go harder isn't easy."
I started listening to podcasts back in the mid 2000s and I've learned a ton from the format. I've also listened to probably hundreds of tech-related interviews and talks (YouTube is the best) over the years. Paying attention to the way hosts ask questions, how people reply, and understanding how to provide valuable insights in a short period of time, has definitely helped me.
What's your advice for indie hackers who are just starting out?
I'd say two things, which have most likely been repeated a thousand times:
Enjoy what you do: I wouldn't get up early every Sunday morning to do what I do if I didn't really enjoy it.

Manage your expectations: If I had the goal of, for example, doubling revenues every year or something like that, I'd probably feel constantly frustrated or anxious. I'm happy that I've managed to increase revenues substantially since I started writing the newsletter, but that has come as a consequence of the job that I do, not as a result of a goal that I've set for myself.
Where can we go to learn more?
You can find out more about the newsletter on Dealflow.es and follow me on Twitter at @jaimenovoa.
Discuss this interview with other indie hackers on the site.