Why Hurricane Laura could be a COVID-19 disaster
| | | |
| --- | --- | --- |
| US Edition - Today's top story: Hurricanes and wildfires are colliding with the COVID-19 pandemic – and compounding the risks View in browser | | US Edition | 27 August 2020 |
Academic rigor, journalistic flair
Where do you go when a dangerous hurricane is coming, yet the safest-looking cities are struggling with outbreaks of COVID-19? Over half a million people faced that question before Hurricane Laura began pounding the Louisiana and Texas coasts.
Texas A&M professor Ali Mostafavi and his UrbanResilience.AI lab mapped the disaster and pandemic vulnerabilities of counties all along the East Coast. He explains the compounding risks people face as they prepare for a hurricane in the midst of a pandemic.
Also today:
Stacy Morford

General Assignments Editor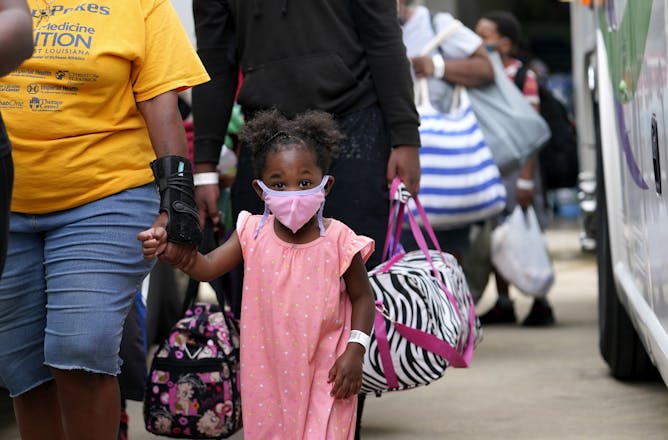 Disaster preparation and evacuation procedures weren't made for social distancing. The pandemic means response decisions are now fraught with contradictions.
Health + Medicine
The rushed emergency approval for a treatment that might help COVID-19 patients has raised questions: Is the FDA abandoning its own guidelines?
Ethics + Religion
The appeal of Jerry Falwell Jr., who resigned as president of Liberty University following a sex scandal, came from his family legacy. His late father, Jerry Falwell Sr., wielded enormous influence.

As religious sites put pilgrimages on hold, a whole industry in travel, transport and accommodation takes a hit.
Politics/Election '20
In 2016 Trump promised to 'shake the rust off America's foreign policy.' Four years later, it's clearer what that looks like: a US that sits on the sidelines of world crises and collaborations alike.

To carry out an election by mail, hundreds of thousands of state and local offices and employees across the US must make sure that ballots are processed in a fair, consistent and timely manner.

In February, the US signed an historic accord with the Taliban to end the Afghanistan War. Now violence in the country is up and peace talks with the government are delayed yet again.
Arts + Culture
Concerned about the state of marriage – and thus the ability of whites to procreate – eugenicists were behind some of the earliest modern marriage manuals.
Education
More than a fifth of US children were working in 1900, and many Americans saw nothing wrong with that. It took decades of activism and court battles plus economic upheaval to change course.
Most read on site
In places where everyone wears a mask, cases of COVID-19 seem to be less severe. Evidence from labs and outbreaks suggests that masks protect not only others, but the person wearing the mask, too.

Can you find a FedEx store that mimics the design creativity and quality of early US post offices? What are we left with when the best parts of public life are treated like for-profit entities?

Good ventilation can reduce the risk of catching coronavirus. An environmental engineer explains how to know if enough outside air is getting into a room and what to do if ventilation is bad.
You're receiving this newsletter from The Conversation.
Not interested anymore? Unsubscribe.

89 South Street - Suite 202
Boston, MA 02111
Older messages
Police unions stand aside from the labor movement
Wednesday, August 26, 2020
+ why Trump is hero of the Christian Right‌ ‌ ‌ ‌ ‌ ‌ ‌ ‌ ‌ ‌ ‌ ‌ ‌ ‌ ‌ ‌ ‌ ‌ ‌ ‌ ‌ ‌ ‌ ‌ ‌ ‌ ‌ ‌ ‌ ‌ ‌ ‌ ‌ ‌ ‌ ‌ ‌ ‌ ‌ ‌ ‌ ‌ ‌ ‌ ‌ ‌ ‌ ‌ ‌ ‌ ‌ ‌ ‌ ‌ ‌ ‌ ‌ ‌ ‌ ‌ ‌ ‌ ‌ ‌ ‌ ‌ ‌ ‌ ‌ ‌ ‌ ‌ ‌ ‌ ‌ ‌ ‌ ‌ ‌ ‌
Masks reduce coronavirus exposure + Oleandrin is deadly
Sunday, August 23, 2020
+ Byzantine Orthodoxy‌ ‌ ‌ ‌ ‌ ‌ ‌ ‌ ‌ ‌ ‌ ‌ ‌ ‌ ‌ ‌ ‌ ‌ ‌ ‌ ‌ ‌ ‌ ‌ ‌ ‌ ‌ ‌ ‌ ‌ ‌ ‌ ‌ ‌ ‌ ‌ ‌ ‌ ‌ ‌ ‌ ‌ ‌ ‌ ‌ ‌ ‌ ‌ ‌ ‌ ‌ ‌ ‌ ‌ ‌ ‌ ‌ ‌ ‌ ‌ ‌ ‌ ‌ ‌ ‌ ‌ ‌ ‌ ‌ ‌ ‌ ‌ ‌ ‌ ‌ ‌ ‌ ‌ ‌ ‌ ‌ ‌ ‌ ‌ ‌ ‌ ‌ ‌ ‌ ‌