360Learning - learning is not your job
Well, not just your job. It's everybody's.

Now more than ever, learning is a team sport. Every team has their own learning needs, and their own expertise to share. For L&D leaders, putting this expertise to work should be a partnership between teams. You need to build a real learning organization.
One of the best ways to learn what makes these learning partnerships work? Listen to the stories of those who have gone before. That's why we're so thrilled to be launching L&D Plus: The Collaborative Learning Podcast!

In L&D Plus, you'll hear real stories about collaboration in learning, from the highlights to the low points and everything in between. To kick things off, we've got three episodes hot off the presses:
L&D Plus Operations–Zapier: What do all top-performing teams have in common?

L&D Plus People–Spendesk: How can you turn subject-matter experts into content creators?

L&D Plus Marketing–Drift: Is L&D gradually turning into marketing?
And if you'd like to feature a learning partnership on L&D Plus, reply to this email to let me know!

🤓🤓🤓🤓🤓🤓



Zapier. Spendesk. Drift. L&D professionals from these leading companies have spilled the beans about what it's like to define high-performance, transform employees into expert course creators, and find the fine line between marketing and L&D.
Get the highlights here, and learn where to listen to upcoming episodes of L&D Plus.
-------------------------------------
Snap's 3 Techniques for Making New Sales Reps Feel Connected to Their Teams From Day One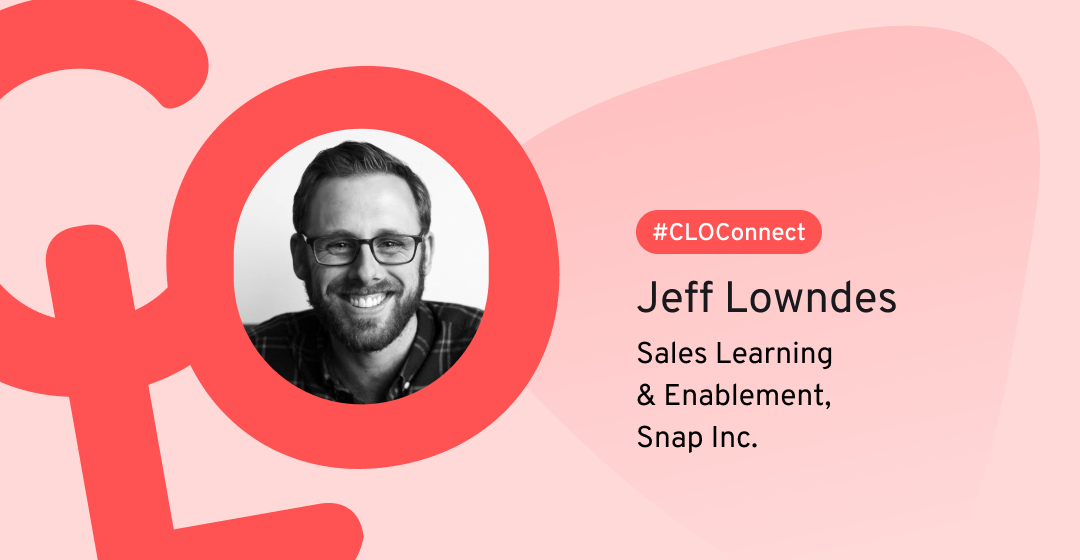 Relationship building is important for almost any job—and especially for sales reps.

Sure, they need to click with prospects, but forging strong internal relationships with colleagues is also essential to feeling good at work and achieving high performance. Jeff Lowndes of the Sales Learning and Enablement team at Snap Inc. shares his go-to three steps for helping new hires feel at home and connected with their teams from day one.
Make onboarding a Snap!

------------------------------------
Your Ultimate Guide to Building a Learning Organization


You're convinced that spreading a culture of learning at your company will do a world of good, from keeping employees engaged and motivated to enabling company-wide adaptation and agility. Now, you need to make your case. Our ultimate guide will recap all the many (many!) reasons Learning Organizations are leading the way, and offer some first steps for putting your place of work on that path.
Get on the road to building a Learning Organization
------------------------------------
[Webinar] Sourcing, Hiring, and Onboarding Employees Remotely


By September 2021, we'll be well over a year into the COVID-19 pandemic. It's abundantly clear that most employees prefer some degree of remote work (when possible). So, how can HR, L&D, and recruitment professionals help build this new, hybrid, flexible work-world employees expect?
Join Livestorm and 360Learning for a webinar on September 21, 10 am ET for brand new strategies HR teams can rely on for sourcing, hiring, and onboarding new hires remotely, and in a hybrid environment.
Sign up for the webinar

And that's it from me this week!

Take care and you'll hear from me soon 💛,
Joei from 360Learning
P.S. If you have any questions or feedback, hit reply – I read every email and will get back to you personally.

What does 360Learning do? | Have a real person show you live
If you no longer wish to receive these emails, click on the following link: Unsubscribe

Older messages
you deserve a break now and zen
Thursday, June 24, 2021
I love my job. I love my job. I love my job. You love your job, right? Right? Even if you really, truly feel connected with what you're doing from day to day, sometimes it can feel like a lot. Take
[Reminder] Drive Better Learning Outcomes Through Interactive Learning
Thursday, June 24, 2021
Hi there, Zoom fatigue, remote-work burnout, pent-up frustration… It's always a challenge to get learners excited about your courses, but the current context makes it doubly tricky for L&D
[Last Chance] - How to Scale L&D with AI
Monday, June 21, 2021
Hi there, ️ Quickly scaling up your global learning & development programs on a budget is no small feat - especially if you're only a team of one. What tools can you rely on without sacrificing
"Do more with less" OK, but how?!
Thursday, June 17, 2021
Jonas Brothers. Harry, Ron, and Hermione, Matrix movies... These days, we're all being asked to do more with less. As an L&D leader, you might be expected to deliver a more ambitious set of
[Last chance to register] - Mitsubishi x 360Learning live webinar
Wednesday, June 16, 2021
Hello , Don't miss the chance to hear how Mitsubishi achieved a 99% customer training satisfaction rate while reducing course costs by 65%. Register to see Lance Hitchins, Head of Training at