Why Atlanta shouldn't be the home of the Braves
| | | |
| --- | --- | --- |
| US Edition - Today's top story: The Cleveland Indians changed their team name – what's holding back the Atlanta Braves? View in browser | | US Edition | 30 April 2022 |
This season, the baseball team formerly known as the Cleveland Indians started using a new name – the Guardians – adding to the list of high school, college and professional sports teams that have shed a Native American moniker.
But one Major League Baseball team has refused to rebrand: the Atlanta Braves. Political scientist Peter Dreier tells the story of a team that arrived in Atlanta in the 1960s determined to bind itself to the city's rich legacy of civil rights – and yet simultaneously spent years perpetuating stereotypes against Native Americans.
Will the growing chorus of opposition – which includes players, journalists, Native American leaders and fans – eventually drown out the team's infamous 'tomahawk chop' chant?
This week we also liked articles about LDS temples, the favorable treatment given to refugees who are white and Christian and the history of tunnels in warfare.
Nick Lehr

Arts + Culture Editor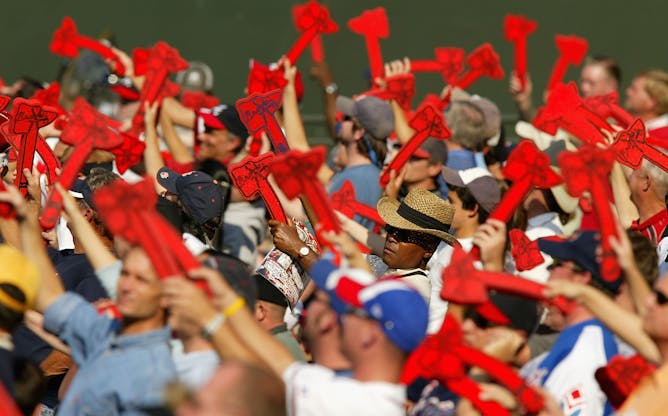 The insistence on preserving the team name – along with fan traditions like the 'tomahawk chop' – is even more glaring given the city's links to the civil rights movement.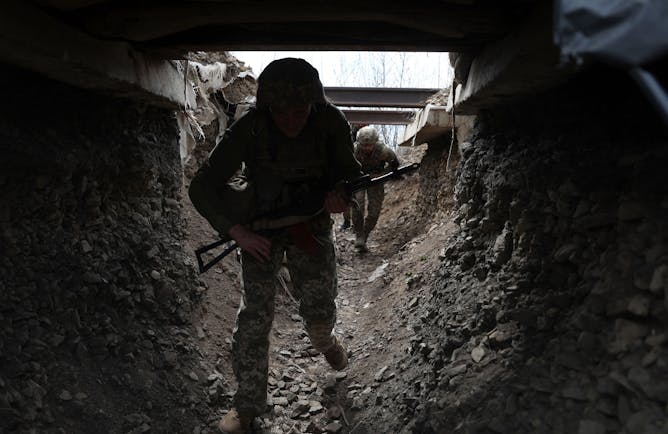 Ukrainian fighters are utilizing a maze of tunnels in Mariupol and other key cities. The use of the underground in conflict has a rich history.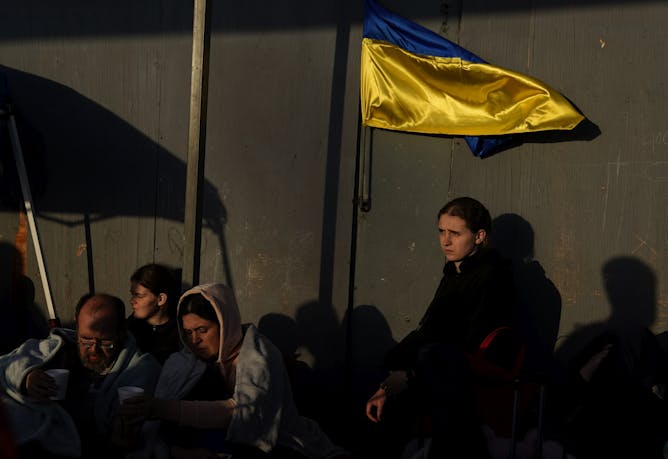 Four scholars of race, religion and immigration explain how US refugee and asylum policy has long been racially and religiously discriminatory in practice.
Temples are often open to the public for a period after construction or renovation, but only church members may enter once religious ceremonies begin.

Parks and refuges are important for conservation, but without connections, they're like islands. Linking them by protecting land in between makes it possible for wildlife to move over bigger areas.

School districts throughout the nation are beginning to heed calls to give students and teachers a day off in observance of the Eid al Fitr, a major Islamic holiday held at the end of Ramadan.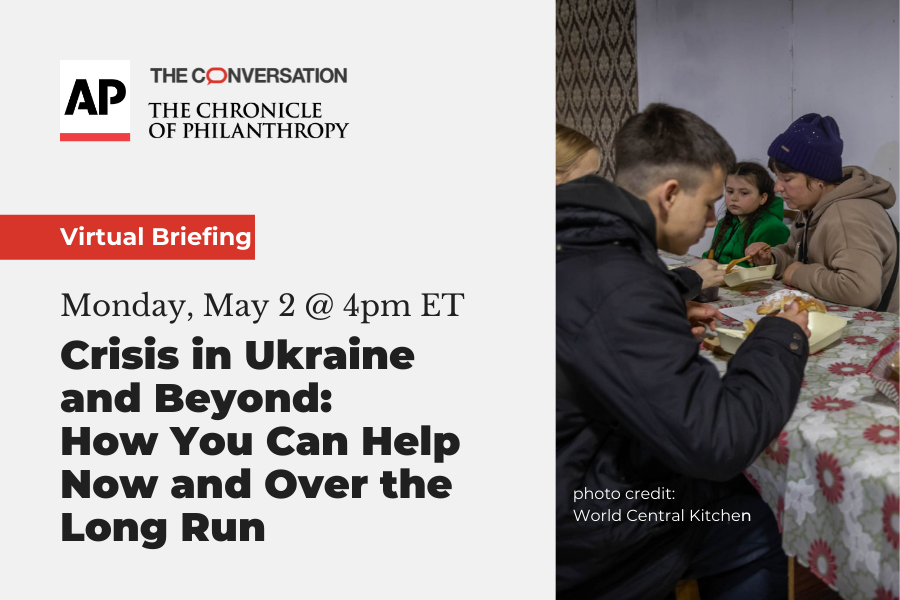 Key phrases
Older messages
Should we really tell aliens there is life on Earth?
Friday, April 29, 2022
+ a return for the former tweeter-in-chief? ‌ ‌ ‌ ‌ ‌ ‌ ‌ ‌ ‌ ‌ ‌ ‌ ‌ ‌ ‌ ‌ ‌ ‌ ‌ ‌ ‌ ‌ ‌ ‌ ‌ ‌ ‌ ‌ ‌ ‌ ‌ ‌ ‌ ‌ ‌ ‌ ‌ ‌ ‌ ‌ ‌ ‌ ‌ ‌ ‌ ‌ ‌ ‌ ‌ ‌ ‌ ‌ ‌ ‌ ‌ ‌ ‌ ‌ ‌ ‌ ‌ ‌ ‌ ‌ ‌ ‌ ‌ ‌ ‌ ‌ ‌ ‌ ‌ ‌ ‌ ‌ ‌ ‌ ‌
Ukrainians just want to go home
Thursday, April 28, 2022
+ Harriet Tubman, super spy of the Civil War ‌ ‌ ‌ ‌ ‌ ‌ ‌ ‌ ‌ ‌ ‌ ‌ ‌ ‌ ‌ ‌ ‌ ‌ ‌ ‌ ‌ ‌ ‌ ‌ ‌ ‌ ‌ ‌ ‌ ‌ ‌ ‌ ‌ ‌ ‌ ‌ ‌ ‌ ‌ ‌ ‌ ‌ ‌ ‌ ‌ ‌ ‌ ‌ ‌ ‌ ‌ ‌ ‌ ‌ ‌ ‌ ‌ ‌ ‌ ‌ ‌ ‌ ‌ ‌ ‌ ‌ ‌ ‌ ‌ ‌ ‌ ‌ ‌ ‌ ‌ ‌ ‌ ‌
The hunger crises you're not hearing about
Wednesday, April 27, 2022
+ revisiting Will Smith's slap ‌ ‌ ‌ ‌ ‌ ‌ ‌ ‌ ‌ ‌ ‌ ‌ ‌ ‌ ‌ ‌ ‌ ‌ ‌ ‌ ‌ ‌ ‌ ‌ ‌ ‌ ‌ ‌ ‌ ‌ ‌ ‌ ‌ ‌ ‌ ‌ ‌ ‌ ‌ ‌ ‌ ‌ ‌ ‌ ‌ ‌ ‌ ‌ ‌ ‌ ‌ ‌ ‌ ‌ ‌ ‌ ‌ ‌ ‌ ‌ ‌ ‌ ‌ ‌ ‌ ‌ ‌ ‌ ‌ ‌ ‌ ‌ ‌ ‌ ‌ ‌ ‌ ‌ ‌ ‌ ‌ ‌ ‌
How will Musk change Twitter?
Tuesday, April 26, 2022
+ the interesting history of tunnels in warfare ‌ ‌ ‌ ‌ ‌ ‌ ‌ ‌ ‌ ‌ ‌ ‌ ‌ ‌ ‌ ‌ ‌ ‌ ‌ ‌ ‌ ‌ ‌ ‌ ‌ ‌ ‌ ‌ ‌ ‌ ‌ ‌ ‌ ‌ ‌ ‌ ‌ ‌ ‌ ‌ ‌ ‌ ‌ ‌ ‌ ‌ ‌ ‌ ‌ ‌ ‌ ‌ ‌ ‌ ‌ ‌ ‌ ‌ ‌ ‌ ‌ ‌ ‌ ‌ ‌ ‌ ‌ ‌ ‌ ‌ ‌ ‌ ‌ ‌ ‌ ‌ ‌
How solar + batteries will electrify the future
Monday, April 25, 2022
+ what Macron's victory means ‌ ‌ ‌ ‌ ‌ ‌ ‌ ‌ ‌ ‌ ‌ ‌ ‌ ‌ ‌ ‌ ‌ ‌ ‌ ‌ ‌ ‌ ‌ ‌ ‌ ‌ ‌ ‌ ‌ ‌ ‌ ‌ ‌ ‌ ‌ ‌ ‌ ‌ ‌ ‌ ‌ ‌ ‌ ‌ ‌ ‌ ‌ ‌ ‌ ‌ ‌ ‌ ‌ ‌ ‌ ‌ ‌ ‌ ‌ ‌ ‌ ‌ ‌ ‌ ‌ ‌ ‌ ‌ ‌ ‌ ‌ ‌ ‌ ‌ ‌ ‌ ‌ ‌ ‌ ‌ ‌ ‌ ‌ ‌