, introducing our NEW and improved newsletter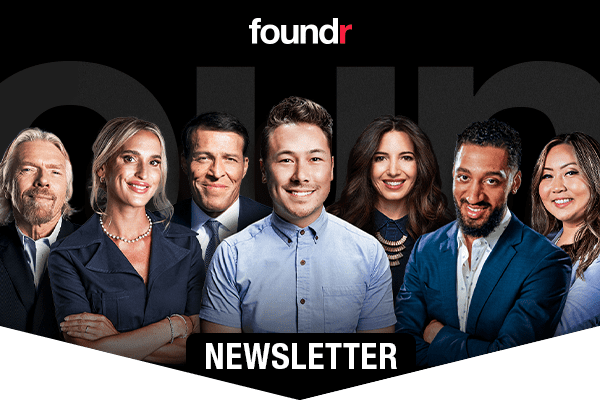 Hi , we know your inbox is stuffed with package delivery alerts and recipes that you never have time to make. That's why we've refreshed our newsletter to share what you need when you need it. 
A Newsletter for Founders by Foundr
Way back in December, we asked what YOU wanted in a weekly newsletter from us. Here are the top 3 things you requested:
Advice and information on newsworthy topics

Inspirational stories of other founders

Links to business resources and templates
We're committed to delivering these 3 and more. Give us a shout and let us know your thoughts so we can grow this newsletter based on your needs as a founder. 
And while you're here, check out the latest resources from our community: 
Read excerpts from our exclusive interview with Scooter Braun, the music-business mind behind Justin Bieber, Ariana Grande, and Demi Lovato.
Meet our latest instructor to join the foundr fam–Dee Deng. He built his digital agency, Right Hook, from $0 to $250K a month in one year. 

Listen to our latest podcast episode with Daniel Flynn, the cofounder of Thankyou. He's got an incredible story about being interviewed by President Obama while jet lagged.

Love entrepreneurship as much as we do? Join our community:
This email was sent to you by support@foundr.com. You opted in by signing up or receiving an epic gift from us.
Level 1, 60 Wilson Street, South Yarra 3141 VIC AU
Unsubscribe from All Emails | Edit Profile | Report Spam
Key phrases
Older messages
, don't blow your budget on marketing
Friday, May 6, 2022
Hi , marketing budgets can quickly get out of hand, especially after seeing success in paid ads. But what happens when your marketing spend doesn't produce results? It's time to get
Monday, May 2, 2022
Read on for the scoop on a true rags to riches story. "You're never gonna make it in business." With tears running down her face Melisa Vong walked out of her college guidance counselors office
, own your mistakes & move forward.
Friday, April 29, 2022
Hi , mistakes are a part of running a business. Whether it's an error by a manufacturer or a typo in a Facebook ad, how you deal with mistakes will define your long-term success. Here are ways to
, find your purpose in 9 minutes.
Monday, April 25, 2022
Hi , a new week is here. Now's the time to tackle that product launch, schedule a meeting with a new client, or carve out time to finish your to-do list. But before you start grinding, make sure to