What a (likely) Ukraine Eurovision victory means
| | | |
| --- | --- | --- |
| US Edition - Today's top story: 'Walking through Europe's door, singing' – How Eurovision helps define Europe's boundaries (and why Ukraine will likely win) View in browser | | US Edition | 14 May 2022 |
Soon after being posted to New York in 2009, I found myself in a packed gay bar cheering on one-half of Norwegian pop duo Bobbysocks while she danced on the table singing her 1985 Eurovision-winning hit in celebration of that year's winner – a fellow Norwegian.
Back then the only way to see the annual event – a song contest that's been a mainstay on European TV since the 1950s – was via a dodgy stream that went down far too often. Not anymore. The much more legit U.S. streaming service Peacock will ensure that Americans are among the global audience of around 200 million people tonight.
What they are likely to see is a rousing Ukrainian victory. But it won't be just a sympathy vote. For starters, the Ukrainian entry is actually pretty good. And, as Clark University's resident Eurovision know-it-all Robert Deam Tobin explains, the competition has long struck a political note. "Despite the popular and ephemeral nature of its songs, the event has, since its inception, reflected the political culture and geopolitical realities of Europe," he writes.
This week we also liked articles about Ukraine's savvy public relations, why the personhood debate is fraught and evidence that Twitter isn't biased against conservatives.
Matt Williams

Breaking News Editor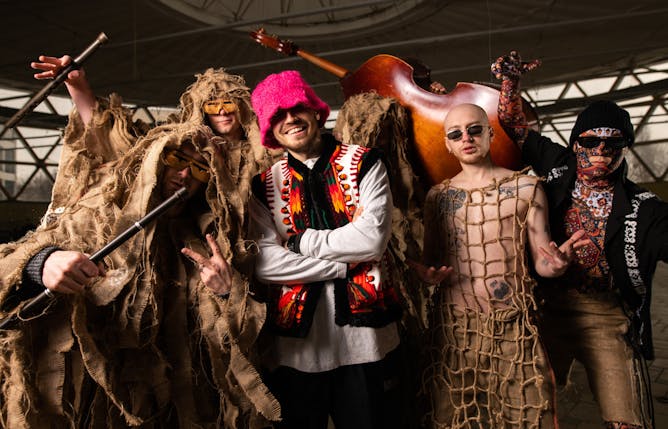 Politics have never been that far away from the Eurovision Song Contest. Since its inception, the annual event has reflected the political culture and geopolitical realities of Europe.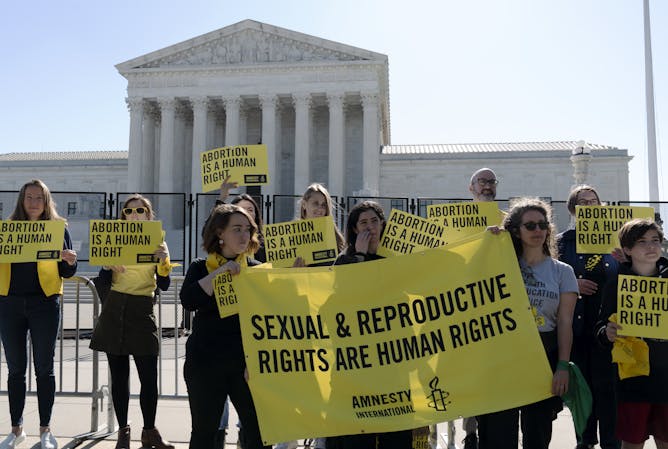 The definition of personhood is a key and contested philosophical issue that has made legalized abortion such a longstanding controversy.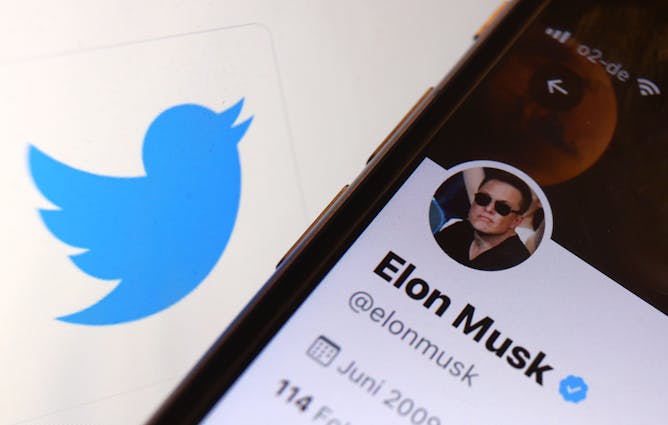 Elon Musk said he wants to make Twitter a platform for free speech. Here is what research shows about claims of political bias and excessive moderation.
For a while it was all the rage to adopt Wonder Woman's famous stance and other body positions that allegedly pumped up your confidence – until more studies of the phenomenon failed to find the connection.

Two political scientists in their study in South Dakota found people trusted medical professionals the least when it came to public health messages.

Florida Republicans' war on Disney is only the latest example of the GOP's being at odds with a company that has historically backed the party.
Older messages
Why segregation still persists in US schools
Friday, May 13, 2022
+ screening kids for anxiety ‌ ‌ ‌ ‌ ‌ ‌ ‌ ‌ ‌ ‌ ‌ ‌ ‌ ‌ ‌ ‌ ‌ ‌ ‌ ‌ ‌ ‌ ‌ ‌ ‌ ‌ ‌ ‌ ‌ ‌ ‌ ‌ ‌ ‌ ‌ ‌ ‌ ‌ ‌ ‌ ‌ ‌ ‌ ‌ ‌ ‌ ‌ ‌ ‌ ‌ ‌ ‌ ‌ ‌ ‌ ‌ ‌ ‌ ‌ ‌ ‌ ‌ ‌ ‌ ‌ ‌ ‌ ‌ ‌ ‌ ‌ ‌ ‌ ‌ ‌ ‌ ‌ ‌ ‌ ‌ ‌ ‌ ‌ ‌ ‌ ‌
Will rich nations control wealth in space too?
Thursday, May 12, 2022
+ how to talk about 'white privilege' ‌ ‌ ‌ ‌ ‌ ‌ ‌ ‌ ‌ ‌ ‌ ‌ ‌ ‌ ‌ ‌ ‌ ‌ ‌ ‌ ‌ ‌ ‌ ‌ ‌ ‌ ‌ ‌ ‌ ‌ ‌ ‌ ‌ ‌ ‌ ‌ ‌ ‌ ‌ ‌ ‌ ‌ ‌ ‌ ‌ ‌ ‌ ‌ ‌ ‌ ‌ ‌ ‌ ‌ ‌ ‌ ‌ ‌ ‌ ‌ ‌ ‌ ‌ ‌ ‌ ‌ ‌ ‌ ‌ ‌ ‌ ‌ ‌ ‌ ‌ ‌ ‌ ‌
Proven strategies for managing ADHD
Thursday, May 12, 2022
+ science and pleasure don't always mix ‌ ‌ ‌ ‌ ‌ ‌ ‌ ‌ ‌ ‌ ‌ ‌ ‌ ‌ ‌ ‌ ‌ ‌ ‌ ‌ ‌ ‌ ‌ ‌ ‌ ‌ ‌ ‌ ‌ ‌ ‌ ‌ ‌ ‌ ‌ ‌ ‌ ‌ ‌ ‌ ‌ ‌ ‌ ‌ ‌ ‌ ‌ ‌ ‌ ‌ ‌ ‌ ‌ ‌ ‌ ‌ ‌ ‌ ‌ ‌ ‌ ‌ ‌ ‌ ‌ ‌ ‌ ‌ ‌ ‌ ‌ ‌ ‌ ‌ ‌ ‌ ‌ ‌ ‌
Fentanyl-laced drugs are everywhere – and driving overdose deaths
Tuesday, May 10, 2022
+ climate change progress might happen in these 3 areas ‌ ‌ ‌ ‌ ‌ ‌ ‌ ‌ ‌ ‌ ‌ ‌ ‌ ‌ ‌ ‌ ‌ ‌ ‌ ‌ ‌ ‌ ‌ ‌ ‌ ‌ ‌ ‌ ‌ ‌ ‌ ‌ ‌ ‌ ‌ ‌ ‌ ‌ ‌ ‌ ‌ ‌ ‌ ‌ ‌ ‌ ‌ ‌ ‌ ‌ ‌ ‌ ‌ ‌ ‌ ‌ ‌ ‌ ‌ ‌ ‌ ‌ ‌ ‌ ‌ ‌ ‌ ‌ ‌ ‌ ‌ ‌ ‌
Slashing the sky-high insulin prices that Americans pay
Monday, May 9, 2022
+ when Disney gets political ‌ ‌ ‌ ‌ ‌ ‌ ‌ ‌ ‌ ‌ ‌ ‌ ‌ ‌ ‌ ‌ ‌ ‌ ‌ ‌ ‌ ‌ ‌ ‌ ‌ ‌ ‌ ‌ ‌ ‌ ‌ ‌ ‌ ‌ ‌ ‌ ‌ ‌ ‌ ‌ ‌ ‌ ‌ ‌ ‌ ‌ ‌ ‌ ‌ ‌ ‌ ‌ ‌ ‌ ‌ ‌ ‌ ‌ ‌ ‌ ‌ ‌ ‌ ‌ ‌ ‌ ‌ ‌ ‌ ‌ ‌ ‌ ‌ ‌ ‌ ‌ ‌ ‌ ‌ ‌ ‌ ‌ ‌ ‌ ‌ ‌