The Conversation - Proven strategies for managing ADHD
| | | |
| --- | --- | --- |
| US Edition - Today's top story: These strategies and life hacks can help anyone with ADHD, as well as those who struggle with attention problems but don't have a diagnosis View in browser | | US Edition | 12 May 2022 |
A few weeks ago, a friend of mine in her 40s shared with me that she had recently been diagnosed with ADHD. She said that receiving the diagnosis had "transformed" her life – in a good way – because it had allowed her to get the support that she needs to manage it.
This was heartwarming to hear, as I was in the middle of working on a series of stories related to ADHD, two of which are specifically focused on the condition in adults. These stories were inspired in part by a reader comment, urging us to publish some pieces focused on the treatments available for adults who are grappling with ADHD. Since that time, we've received numerous other notes from readers lamenting how disruptive the condition can be to daily life and asking for help in the form of evidence-based information.
In the second of our pieces on adult ADHD, Rob Rosenthal, a psychologist at the University of Colorado Anschutz Medical Campus, writes about the practical strategies that adults can use to manage ADHD. These tools are also useful for people who may struggle with organization and attention – even if they don't have a diagnosis, notes Rosenthal, who leads a therapy group aimed at helping adults acquire ADHD management skills.
Also today:
Amanda Mascarelli

Senior Health and Medicine Editor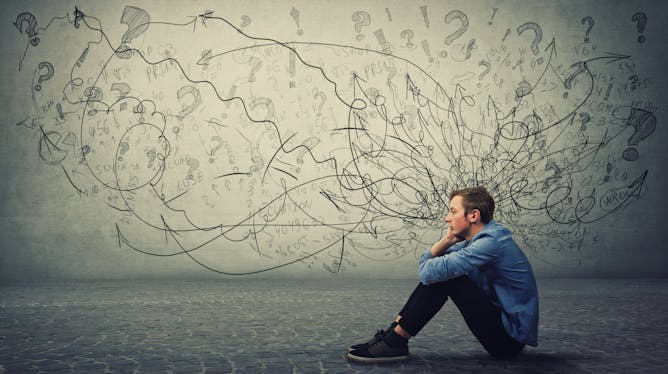 Althought medication and therapy can be effective treatments for ADHD, they're not the only way to manage the disorder or its symptoms. Creating a daily routine is critical too.
Politics + Society
Bongbong Marcos is the projected winner of the Philippines election. That the son of a brutal dictator has won shows how wedded the country is to dynastic politics – and image manipulation.

The reasons for the prominence of the Ukraine war in the West are many – and include the Ukrainian government's strategic efforts to tailor presentations of the conflict for Western sensibilities.
Arts + Culture
The Fox News host's forthcoming documentary 'The End of Men' is part of a rich heritage of hustlers and politicians claiming that American men are becoming devitalized, lazy and effeminate.
Health
An infant nutrition expert explains what is behind the current formula shortage and what can be done to support hard-pressed parents.
Environment + Energy
The Colorado River provides water and electricity to 40 million people in the western US, but falling water levels threaten both of those resources.
Ethics + Religion
Two political scientists in their study in South Dakota found people trusted medical professionals the least when it came to public health messages.

Traditional ecological knowledge, or TEK, can encompass science, medicine, ecology, religion and culture – and help protect the environment.
Economy + Business
New research found that consumers were less likely to buy a product associated with pleasure if marketers emphasized it was developed with science.

Financial regulators are increasingly concerned about stablecoins, a type of cryptocurrency tied to an asset like the US dollar.
Older messages
Fentanyl-laced drugs are everywhere – and driving overdose deaths
Tuesday, May 10, 2022
+ climate change progress might happen in these 3 areas ‌ ‌ ‌ ‌ ‌ ‌ ‌ ‌ ‌ ‌ ‌ ‌ ‌ ‌ ‌ ‌ ‌ ‌ ‌ ‌ ‌ ‌ ‌ ‌ ‌ ‌ ‌ ‌ ‌ ‌ ‌ ‌ ‌ ‌ ‌ ‌ ‌ ‌ ‌ ‌ ‌ ‌ ‌ ‌ ‌ ‌ ‌ ‌ ‌ ‌ ‌ ‌ ‌ ‌ ‌ ‌ ‌ ‌ ‌ ‌ ‌ ‌ ‌ ‌ ‌ ‌ ‌ ‌ ‌ ‌ ‌ ‌ ‌
Slashing the sky-high insulin prices that Americans pay
Monday, May 9, 2022
+ when Disney gets political ‌ ‌ ‌ ‌ ‌ ‌ ‌ ‌ ‌ ‌ ‌ ‌ ‌ ‌ ‌ ‌ ‌ ‌ ‌ ‌ ‌ ‌ ‌ ‌ ‌ ‌ ‌ ‌ ‌ ‌ ‌ ‌ ‌ ‌ ‌ ‌ ‌ ‌ ‌ ‌ ‌ ‌ ‌ ‌ ‌ ‌ ‌ ‌ ‌ ‌ ‌ ‌ ‌ ‌ ‌ ‌ ‌ ‌ ‌ ‌ ‌ ‌ ‌ ‌ ‌ ‌ ‌ ‌ ‌ ‌ ‌ ‌ ‌ ‌ ‌ ‌ ‌ ‌ ‌ ‌ ‌ ‌ ‌ ‌ ‌ ‌
May 9 could be when Russia makes this war official
Saturday, May 7, 2022
+ Ukraine's suppliers of guns, ammo, missiles and military drones ‌ ‌ ‌ ‌ ‌ ‌ ‌ ‌ ‌ ‌ ‌ ‌ ‌ ‌ ‌ ‌ ‌ ‌ ‌ ‌ ‌ ‌ ‌ ‌ ‌ ‌ ‌ ‌ ‌ ‌ ‌ ‌ ‌ ‌ ‌ ‌ ‌ ‌ ‌ ‌ ‌ ‌ ‌ ‌ ‌ ‌ ‌ ‌ ‌ ‌ ‌ ‌ ‌ ‌ ‌ ‌ ‌ ‌ ‌ ‌ ‌ ‌ ‌ ‌ ‌ ‌
Corals turn sunscreen into toxins
Friday, May 6, 2022
+ inside the Ark Encounter ‌ ‌ ‌ ‌ ‌ ‌ ‌ ‌ ‌ ‌ ‌ ‌ ‌ ‌ ‌ ‌ ‌ ‌ ‌ ‌ ‌ ‌ ‌ ‌ ‌ ‌ ‌ ‌ ‌ ‌ ‌ ‌ ‌ ‌ ‌ ‌ ‌ ‌ ‌ ‌ ‌ ‌ ‌ ‌ ‌ ‌ ‌ ‌ ‌ ‌ ‌ ‌ ‌ ‌ ‌ ‌ ‌ ‌ ‌ ‌ ‌ ‌ ‌ ‌ ‌ ‌ ‌ ‌ ‌ ‌ ‌ ‌ ‌ ‌ ‌ ‌ ‌ ‌ ‌ ‌ ‌ ‌ ‌ ‌ ‌ ‌ ‌
Will you be one of our 100?
Thursday, May 5, 2022
Help us meet our goal, and support fact-based journalism ‌ ‌ ‌ ‌ ‌ ‌ ‌ ‌ ‌ ‌ ‌ ‌ ‌ ‌ ‌ ‌ ‌ ‌ ‌ ‌ ‌ ‌ ‌ ‌ ‌ ‌ ‌ ‌ ‌ ‌ ‌ ‌ ‌ ‌ ‌ ‌ ‌ ‌ ‌ ‌ ‌ ‌ ‌ ‌ ‌ ‌ ‌ ‌ ‌ ‌ ‌ ‌ ‌ ‌ ‌ ‌ ‌ ‌ ‌ ‌ ‌ ‌ ‌ ‌ ‌ ‌ ‌ ‌ ‌ ‌ ‌ ‌