Do you know when the best time to invest is?

Hi there,
As if there wasn't already enough to doom scroll about, the investing markets have been alternating between roller coaster days and Tower of Terror days.
Believe me, I know how stressful it can be — I've worked in finance for more than 30 years. But I'm here to remind you that, most of the time, the best time to invest was…. yesterday.
The next best time?
Today.
That's because historically, time in the market has beaten timing the market: Investing is a long game, one that gives your money the time to work for you. For example, if you'd invested in the S&P 500 25 years ago and simply left it there — over a period that included recessions, wars, market crashes, a pandemic — you would have earned a nearly 400% return.
Also, in the past, the stock market's best days have tended to happen after stomach-lurching periods like this, when "stocks are on sale." So if you stop investing or wait until things look "better," you're more likely to miss out on potential returns.
Here at Ellevest, we manage diversified investment portfolios, built specifically for you — based on data-driven forecasts that take market volatility just like this into account and avoid market fads. (I'm looking at you, meme stocks and Matt Damon commercial.)
It can be a bit nerve wracking, but these are the types of markets that have historically built the base for the silver-haired-hottie-on-a-Vespa-with-the-much-younger-partner-in-Italy type of retirement.
Ciao.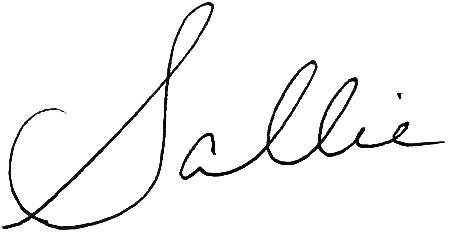 CO-FOUNDER & CEO
Diversification does not ensure a profit or protect against a loss in a declining market. There is no guarantee that any particular asset allocation or mix of funds will meet your investment objectives or provide you with a given level of income.

The practice of investing a fixed dollar amount on a regular basis does not ensure a profit and does not protect against loss in declining markets. It involves continuous investing regardless of fluctuating price levels. Investors should consider their ability to continue investing through periods of fluctuating market conditions.

The information provided should not be relied upon as investment advice or recommendations, does not constitute a solicitation to buy or sell securities and should not be considered specific legal, investment or tax advice.

Investing entails risk including the possible loss of principal and there is no assurance that the investment will provide positive performance over any period of time.

The information provided does not take into account the specific objectives, financial situation, or particular needs of any specific person.
Older messages
Ready to see what your future holds?
Thursday, May 12, 2022
Tackle any money or career challenge with an Ellevest coach. ‌ ‌ ‌ ‌ ‌ ‌ ‌ ‌ ‌ ‌ ‌ ‌ ‌ ‌ ‌ ‌ ‌ ‌ ‌ ‌ ‌ ‌ ‌ ‌ ‌ ‌ ‌ ‌ ‌ ‌ ‌ ‌ ‌ ‌ ‌ ‌ ‌ ‌ ‌ ‌ ‌ ‌ ‌ ‌ ‌ ‌ ‌ ‌ ‌ ‌ ‌ ‌ ‌ ‌ ‌ ‌ ‌ ‌ ‌ ‌ ‌ ‌ ‌ ‌ ‌ ‌ ‌ ‌ ‌ ‌
👋 Meet your new coach
Tuesday, May 10, 2022
"I'm committed to helping women realize their potential." ‌ ‌ ‌ ‌ ‌ ‌ ‌ ‌ ‌ ‌ ‌ ‌ ‌ ‌ ‌ ‌ ‌ ‌ ‌ ‌ ‌ ‌ ‌ ‌ ‌ ‌ ‌ ‌ ‌ ‌ ‌ ‌ ‌ ‌ ‌ ‌ ‌ ‌ ‌ ‌ ‌ ‌ ‌ ‌ ‌ ‌ ‌ ‌ ‌ ‌ ‌ ‌ ‌ ‌ ‌ ‌ ‌ ‌ ‌ ‌ ‌ ‌ ‌ ‌ ‌ ‌ ‌ ‌ ‌ ‌
"13/10, would do it all over again!"
Monday, May 2, 2022
Hear what other women are saying about Ellevest. ‌ ‌ ‌ ‌ ‌ ‌ ‌ ‌ ‌ ‌ ‌ ‌ ‌ ‌ ‌ ‌ ‌ ‌ ‌ ‌ ‌ ‌ ‌ ‌ ‌ ‌ ‌ ‌ ‌ ‌ ‌ ‌ ‌ ‌ ‌ ‌ ‌ ‌ ‌ ‌ ‌ ‌ ‌ ‌ ‌ ‌ ‌ ‌ ‌ ‌ ‌ ‌ ‌ ‌ ‌ ‌ ‌ ‌ ‌ ‌ ‌ ‌ ‌ ‌ ‌ ‌ ‌ ‌ ‌ ‌ ‌ ‌ ‌ ‌ ‌ ‌
Opt out of Mother's Day
Thursday, April 28, 2022
A quick check-in about emails in early May. ‌ ‌ ‌ ‌ ‌ ‌ ‌ ‌ ‌ ‌ ‌ ‌ ‌ ‌ ‌ ‌ ‌ ‌ ‌ ‌ ‌ ‌ ‌ ‌ ‌ ‌ ‌ ‌ ‌ ‌ ‌ ‌ ‌ ‌ ‌ ‌ ‌ ‌ ‌ ‌ ‌ ‌ ‌ ‌ ‌ ‌ ‌ ‌ ‌ ‌ ‌ ‌ ‌ ‌ ‌ ‌ ‌ ‌ ‌ ‌ ‌ ‌ ‌ ‌ ‌ ‌ ‌ ‌ ‌ ‌ ‌ ‌ ‌ ‌ ‌ ‌ ‌ ‌ ‌
Need a serious break from your career?
Wednesday, April 27, 2022
We talk career breaks and early retirement in our next Ellevest Explains. ‌ ‌ ‌ ‌ ‌ ‌ ‌ ‌ ‌ ‌ ‌ ‌ ‌ ‌ ‌ ‌ ‌ ‌ ‌ ‌ ‌ ‌ ‌ ‌ ‌ ‌ ‌ ‌ ‌ ‌ ‌ ‌ ‌ ‌ ‌ ‌ ‌ ‌ ‌ ‌ ‌ ‌ ‌ ‌ ‌ ‌ ‌ ‌ ‌ ‌ ‌ ‌ ‌ ‌ ‌ ‌ ‌ ‌ ‌ ‌ ‌ ‌ ‌ ‌