The Conversation - How the NRA has changed
| | | |
| --- | --- | --- |
| US Edition - Today's top story: How the NRA evolved from backing a 1934 ban on machine guns to blocking nearly all firearm restrictions today View in browser | | US Edition | 26 May 2022 |
Mass shootings, like the two that occurred just 10 days apart in Buffalo, New York, and Uvalde, Texas, are becoming more frequent – and traumatic. And yet efforts to restrict access to guns and control gun violence somehow seem to go nowhere.
The National Rifle Association can take much of the credit for this political paralysis, political scientist Robert Spitzer explains while tracing the NRA's long history. The group formed shortly after the Civil War, with an emphasis on marksmanship. For much of its existence, the group was more open to basic limits on gun ownership than it is today.
In the 1930s, for example, the NRA supported a waiting period for gun purchases. It was only in the 1970s that the NRA became "ever more political and strident in its defense of so-called 'gun rights,' which it increasingly defined as nearly absolute under the Second Amendment," Spitzer writes.
Also today:
Emily Schwartz Greco

Philanthropy + Nonprofits Editor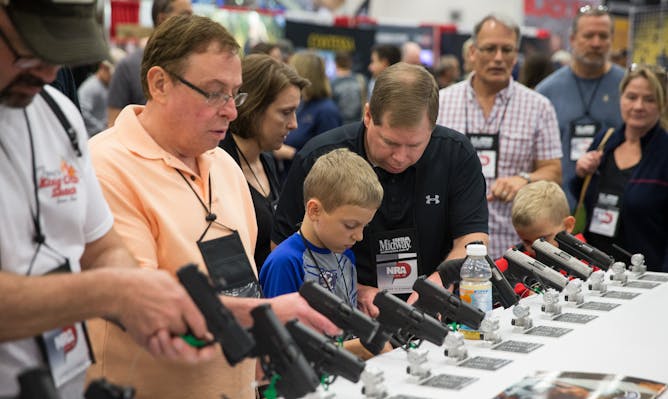 The group, founded in 1871, didn't try to smother virtually all gun control efforts until the mid-1970s.
Health + Medicine
The COVID-19 vaccines continue to be effective against severe illness leading to hospitalization and death in all age groups, including children ages 5 to 11.
Politics + Society
After mass shootings, politicians in Washington have failed to pass new gun control legislation, despite public pressure. But laws are being passed at the state level, largely to loosen restrictions.

Partnerships between universities and local media outlets are key ways to sustain local news where coverage is diminishing.

There is a mental and psychological dimension to what leads people to commit mass killings. But it is not mental illness or pathology.
Arts + Culture
Many of the coinages fail to differentiate the mundane from the momentous. Has the suffix's overuse rendered it essentially meaningless?
Science + Technology
Tumors contain thousands of genetic changes, but only a few are actually cancer-causing. A quicker way to identify these driver mutations could lead to more targeted cancer treatments.
Education
Without university-level programs to provide teacher training for advanced computer science, states will not be able to offer high-quality computer science education to all students.
Economy + Business
After studying this #MeToo problem for years, two researchers have drafted a toolkit to help nonprofits address it.
Environment + Energy
Would you trust a weather forecast made by a machine that had learned how weather systems behaved by reviewing thousands of past weather maps?
Key phrases
Older messages
Mass shooters at schools – what the data shows
Wednesday, May 25, 2022
+ how to make sustainable investing better reflect investor expectations ‌ ‌ ‌ ‌ ‌ ‌ ‌ ‌ ‌ ‌ ‌ ‌ ‌ ‌ ‌ ‌ ‌ ‌ ‌ ‌ ‌ ‌ ‌ ‌ ‌ ‌ ‌ ‌ ‌ ‌ ‌ ‌ ‌ ‌ ‌ ‌ ‌ ‌ ‌ ‌ ‌ ‌ ‌ ‌ ‌ ‌ ‌ ‌ ‌ ‌ ‌ ‌ ‌ ‌ ‌ ‌ ‌ ‌ ‌ ‌ ‌ ‌ ‌ ‌
Repowering Europe without Russian oil
Monday, May 23, 2022
+ a conviction in war crimes trial; the world's first zoo ‌ ‌ ‌ ‌ ‌ ‌ ‌ ‌ ‌ ‌ ‌ ‌ ‌ ‌ ‌ ‌ ‌ ‌ ‌ ‌ ‌ ‌ ‌ ‌ ‌ ‌ ‌ ‌ ‌ ‌ ‌ ‌ ‌ ‌ ‌ ‌ ‌ ‌ ‌ ‌ ‌ ‌ ‌ ‌ ‌ ‌ ‌ ‌ ‌ ‌ ‌ ‌ ‌ ‌ ‌ ‌ ‌ ‌ ‌ ‌ ‌ ‌ ‌ ‌ ‌ ‌ ‌ ‌ ‌ ‌
War through the eyes of Ukrainian kids
Saturday, May 21, 2022
+ online readers are devouring 'Dracula' ‌ ‌ ‌ ‌ ‌ ‌ ‌ ‌ ‌ ‌ ‌ ‌ ‌ ‌ ‌ ‌ ‌ ‌ ‌ ‌ ‌ ‌ ‌ ‌ ‌ ‌ ‌ ‌ ‌ ‌ ‌ ‌ ‌ ‌ ‌ ‌ ‌ ‌ ‌ ‌ ‌ ‌ ‌ ‌ ‌ ‌ ‌ ‌ ‌ ‌ ‌ ‌ ‌ ‌ ‌ ‌ ‌ ‌ ‌ ‌ ‌ ‌ ‌ ‌ ‌ ‌ ‌ ‌ ‌ ‌ ‌ ‌ ‌ ‌ ‌ ‌
Brittney Griner's 'wrongful' detention in Russia
Friday, May 20, 2022
+ growing plants in Antarctica ‌ ‌ ‌ ‌ ‌ ‌ ‌ ‌ ‌ ‌ ‌ ‌ ‌ ‌ ‌ ‌ ‌ ‌ ‌ ‌ ‌ ‌ ‌ ‌ ‌ ‌ ‌ ‌ ‌ ‌ ‌ ‌ ‌ ‌ ‌ ‌ ‌ ‌ ‌ ‌ ‌ ‌ ‌ ‌ ‌ ‌ ‌ ‌ ‌ ‌ ‌ ‌ ‌ ‌ ‌ ‌ ‌ ‌ ‌ ‌ ‌ ‌ ‌ ‌ ‌ ‌ ‌ ‌ ‌ ‌ ‌ ‌ ‌ ‌ ‌ ‌ ‌ ‌ ‌ ‌ ‌ ‌ ‌ ‌ ‌