IndieHackers - 🗞 What's New: Is retirement a mistake?
Many people look forward to retirement their whole working lives:
But is retirement, early or not, a big mistake? From research to sharing personal experiences, founders weigh in below.
Mailchimp has used various marketing tactics, including a relatable tone and experimentation with various marketing mediums, to become wildly successful. Check out some of its methods to inspire your own content marketing strategy!
Founder Lucas launched Scenario, his interview platform for software engineers, after working on it for 8 months. Here's how he got 3,600 page views on launch day, and why it sucked.
Want to share something with over 95,000 indie hackers? Submit a section for us to include in a future newsletter. —Channing
🏝 Is Retirement a Mistake?
by Darko
I came across this tweet, and it made me wonder...is the whole concept of retiring early, or at all, a mistake? Should retirement be a goal?
Let's discuss!
The research
Silvio Albertelli draws upon research:
In a ten year study on more than 5K people, researchers found that those who had retired were 40% more likely to have a heart attack or stroke than those who were still working. The person's gender or socioeconomic status didn't make any difference. One of the conclusions was that taking early retirement was detrimental to health, and led to earlier death. So, at least health-wise, early retirement is a no-go.
Carl Fullerton weighs in as well:
Don't retire early, or you'll lose your fire. I don't think it has to be a job necessarily, but don't stop just to play golf or drink.
Continue learning. Stay curious. Keep hungry. There is so much on earth to learn and experience.
There are studies of how older people, after they retire, tend to decline cognitively and physically. Something as simple as caring for pets, a garden, or another regular responsibility is enough to keep people's minds engaged.
My grandmother has been retired for a long time, and just enrolled in a Mandarin course. I asked her why, and she said: "I'm not dead yet!"
The privilege of retiring early
Sebastian Fuque believes that retiring early is a privilege:
I met a guy at my pottery class the other night who worked as a surgeon until he was 54, then retired and started two new professions part-time just for fun: Pottery and acupuncture. He's 72 now, quite healthy and fit for his age, and still filled with enthusiasm for what he does every day. He's a world famous potter by now, too!
My grad school advisor is approaching retirement. He's won many accolades, and ends his career as an academic on a privileged (and well-deserved!) perch. He's excited to retire, and feels that there are many interesting paths to go down post-retirement. He's genuinely looking forward to taking off his academia hat and putting on a different one.
Retiring early is a privilege. The mistake that Paul's friends made wasn't retiring early; it was failing to have a plan for making life meaningful after retirement.
Is work your purpose?
Douglas Johnson asks whether work is your sole purpose, or do you have others?
I heard about this opinion from some doctors who are engaged in rehabilitation therapy after a stroke in old age: If work is not seen as a person's meaning for life at a younger age, then it isn't a goal after 60. I have seen this in real life examples from people in different social strata. But there is another way we can continue be active, whether we're working or not: Relationships.
Whether chatting in person, on social networks, or over the phone, honing in on relationships helps people live every day in anticipation of something new.
Pat McManus agrees:
Having a purpose and holding a job (or building a company) isn't mutually exclusive. I agree that a human needs a purpose or mission to have fulfillment, but retirement doesn't have to affect that.
When my father retired after 25 years in manufacturing, I was worried that he'd waste away. Little did I know, he'd been eager to start a new purpose: Writing fiction books. He traveled the world and wrote three books before he died, and he was the happiest he'd ever been. Now, I'm so glad he retired when he did, even though he was considered young at the time.
Have a plan
Trey Chong believes that retirement can be great if you have a plan:
I guess that's one of the risks when you retire without a plan. Resting and relaxing is all good, but at the end of the day, something must replace the daily activities that you used to do. It doesn't have to be anything hard, just something that sparks interest.
Learn a new hobby, find new sports, hang out with a new group of people, do pretty much anything that will keep you physically, emotionally, and mentally healthy.
Do you plan to retire (early or otherwise)? Let's chat in the comments!
Discuss this story.
📰 In the News
📝 Twitter is working on a built-in Notes feature.
🚽 High costs are contributing to the end of public restrooms.
💼 Amazon's unique hiring problem, explained.
👀 eBay now has an established NFT marketplace at its bidding.
👕 What happens to swag from failed companies?
🐵 Lessons From Mailchimp's Content Marketing Strategy
from the Media First Brand newsletter by Harshala Chavan
Launched in 2001, Mailchimp is an email marketing and automation SaaS that boasts over 140M customers. While investors and naysayers were busy predicting the demise of email, Mailchimp was steadily growing its bootstrapped business. Later, the company was acquired by Intuit for $12B!
There's a lot to learn from Mailchimp's content marketing efforts. In this case study, we will explore Mailchimp's various tactics across publishing, branding, and content marketing that you could use to inspire your content marketing strategy!
The brand
Mailchimp found success by targeting three primary audiences:
Small business owners.
Early-stage founders.
Marketers.
One remarkable aspect about Mailchimp is the way that the company has been laser-focused on its target audience from the start, while remaining firmly in the lane of email marketing.
Post-2018, Mailchimp did away with its colorful logo to adopt its present monotone one. It also changed its typeface from cursive to the current, more formal font. These moves garnered mixed reactions, but Mailchimp has worked hard to create a consistent brand experience that stands out, and complements its core values:
Freddie the Chimp has been part of the company's brand identity for the past 20 years. He's iconic!
Using content to build trust
Mailchimp has skillfully used content to build trust in several ways:
1. Tone: As you can see, most of Mailchimp's writing principles revolve around educating users:
This is done using a humble, relatable tone, with no expectations of keyword stuffing for SEO gains:
Our tone changes depending on the situation, but it's generally informal. We have a sense of humor, but we value clarity over entertainment.
2. Consistent "why" across content: Mailchimp is very clear on its goal to help small businesses grow, and expresses this across all of its platforms. Consistency in the messaging is a great way to win trust. This also establishes credibility and reliability.
3. Relatable branding: Most B2B SaaS companies deliberately adopt enterprise, modern, or futuristic brand styles. But Mailchimp's audience involves individual creators or small businesses whose owners might not find that relatable. So, Mailchimp set out to humanize its branding via relatable, fun content, engaging various forms of media (films, podcasts, animations, etc.) to spread its messaging.
4. Active social media: Mailchimp is very active on Facebook, LinkedIn, Twitter, and Instagram. Here's a screenshot of my interaction with Mailchimp's team when I mentioned this upcoming article! Notice the playful, fun tone:
5. Bold marketing hacks: From sponsoring crime podcasts, to the viral "Do you mean Mailchimp?" ads, this brand doesn't shy away from trying something new in its marketing.
6. Storytelling for founders: Mailchimp has produced several free documentaries, short films, and animations that showcase the emotions, realities, and journeys of small business owners and founders. It aims to celebrate the entrepreneurial spirit. For example, 73 Cows, a vegan cattle rancher's story whose conscience prevents him from continuing the business, was a BAFTA winning film. Have you seen any other SaaS companies creating films for their target customers?
Mailchimp's content funnel
Mailchimp's media publishing takes place via four primary categories:
Courier media: An acquired business magazine for founders.
Mailchimp Presents: Original content across podcasts, films, series, etc.
Marketing library: How-to articles on starting, running, and marketing your business.
Success stories: Case studies, testimonials, and social proof from existing customers to learn from their experiences.
That's quite a lot of content created across various categories, but the primary theme lies in educating the audience about the industry and product.
Key takeaways
Mailchimp is a good case study to visualize what a focused, consistent content marketing strategy looks like. Here are some other major elements to keep in mind:
Have a clear purpose of what your content marketing is trying to achieve, and for whom. Mailchimp doesn't use every trick in the book, or target everyone. It only uses those that are relevant to its target audience.

Focus on storytelling and creating content that makes your users visualize how your product changes their lives.

Facebook for B2B isn't dead! Mailchimp executes retargeting through Facebook and YouTube ads, which could be a good strategy for many indie hackers.

Use bloopers for media attention. Mailchimp's most successful, award-winning ad campaign came from the mispronunciation of its product name in a podcast!

Podcasts are good for B2B audiences. It's a good investment to host your branded shows, and sponsor the ones in your niche.

Explore merchandising! It's not necessary to have a mascot, but having one could propel a love of your product.

Mailchimp explored mediums like films, documentaries, and animation because its target audience lay in that segment as well (founders and creators). Spend on this side of content if it makes sense for your target audience.
More resources
Will you employ any of Mailchimp's tactics in your strategy? Share below!
Discuss this story, or subscribe to the Media First Brand newsletter for more.
🧠 Harry's Growth Tip
from the Marketing Examples newsletter by Harry Dry
Reframe until it's a no-brainer. "4.5K+ books...three lattes a month."
Go here for more short, sweet, practical marketing tips.
Subscribe to Marketing Examples for more.
💻 Lucas Hit 3.6K Page Views on Launch Day
by Lucas
Hi all! I'm Lucas, and yesterday, I launched the product that I've been working on for eight months. Scenario is an interview platform for software engineers.
Since launching, I have recorded 3.6K+ page views on my site, but I ended up feeling worse than ever about my startup. Here's why.
What I did
I worked super hard to create a compelling landing page, including a live demo, then created a clickbaity (but authentic) first post that could generate some discussion.
I posted both an article and my landing page at different times during the day on Indie Hackers, Hacker News, TeamBlind, and /r/programming, then followed up on any resulting discussions.
The good
I got way more page views than I expected!
I sustained at least 12 active viewers on my site throughout most of the day.
I got a decent number of upvotes on Reddit, which drove most of my traffic.
The bad
I got banned from TeamBlind.
My bounce rate and visit duration were both absolutely abysmal.
My posts did not generate any discussion at all on any platform besides Reddit.
The ugly
I got only ~20 signups, although signing up is free, no credit card required. The ones that I got are likely not long-term customers.
I didn't get any serious inquiries from anyone about trying my product.
This level of traffic is unsustainable. You can't launch every day.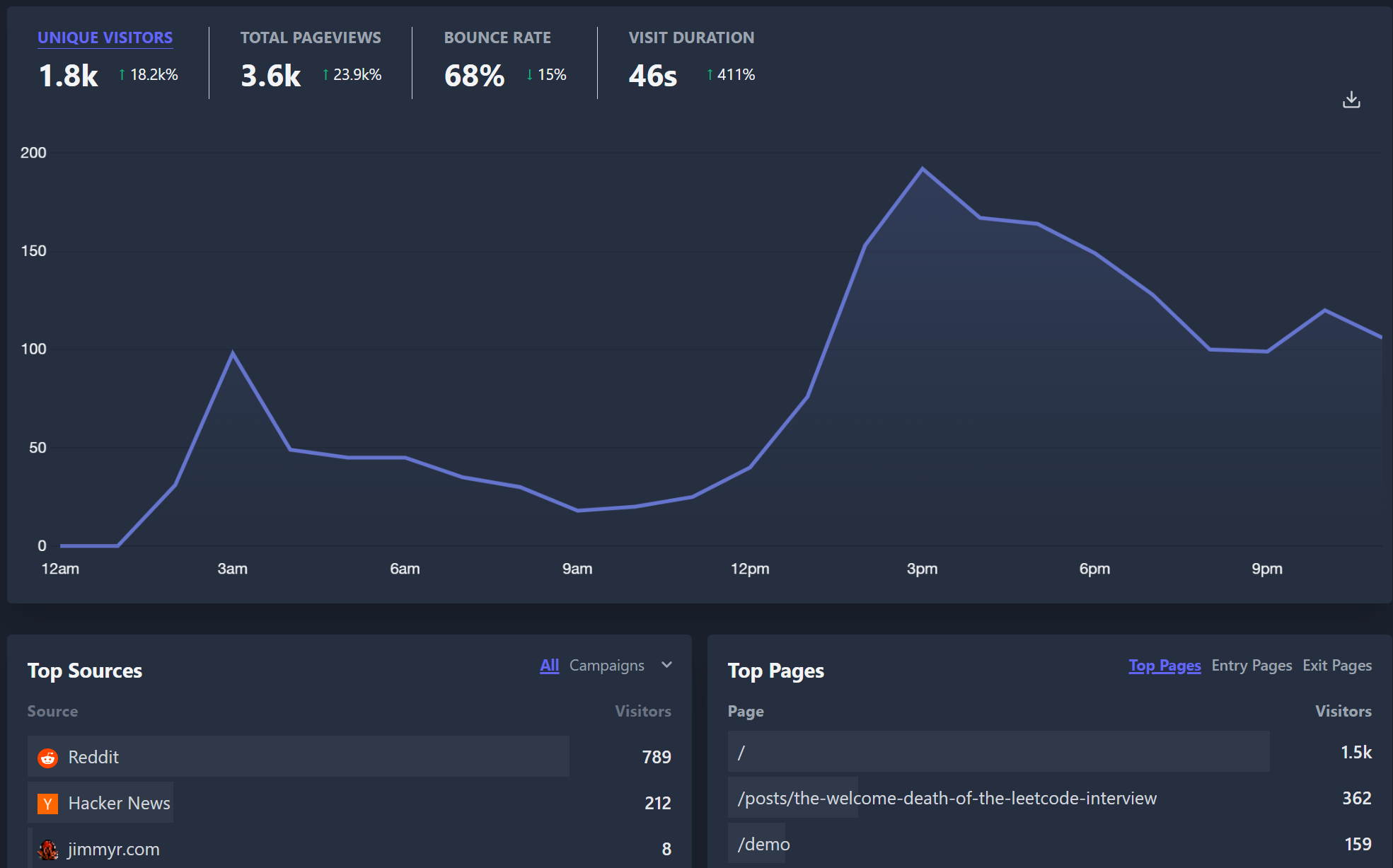 Takeaways
Marketing does not equal sales! I got tons of clicks, but not from people who would become customers. I'm going to refocus on direct messages to actual potential customers. I got way closer to closing deals by DMing people on Reddit than by having random programmers see my site, or find my article.
Writing posts may be good for SEO, but it may not serve any purpose in terms of actually finding customers if you don't have a perfectly curated audience.
I think there are a few reasons conversions are low. Generally, interviewers don't really care what tools they're using. It's the candidates who are passionate about how they're being assessed. Finding passionate interviewers is possible, but hard. Also, a lot of individual interviewers don't have much control over their interview process. They can't necessarily pick and choose tools as they like, though I have found out from DMs that most people just use whatever's most convenient. That's why I've been pushing the convenience aspect of the pitch.
Validate your idea before you launch! I assumed that, because I observed a common problem, and everyone I talked to about my solution liked it, it would be easy to sell. I've still been getting tons of positive feedback from prospects, but finding people willing to use it for real is hard!
Overall, this experience sucked, but it has helped me refocus my next steps. Stay tuned!
Discuss this story.
🐦 The Tweetmaster's Pick
I post the tweets indie hackers share the most. Here's today's pick:
🏁 Enjoy This Newsletter?
Forward it to a friend, and let them know they can subscribe here.
Also, you can submit a section for us to include in a future newsletter.
Special thanks to Jay Avery for editing this issue, to Gabriella Federico for the illustrations, and to Darko, Harshala Chavan, Harry Dry, and Lucas for contributing posts. —Channing
Indie Hackers | Stripe | 510 Townsend St, San Francisco, California 94103
You're subscribed to the Indie Hackers Newsletter. Click here to

unsubscribe

.

Key phrases
Older messages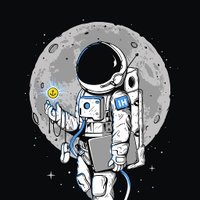 Today's Digest: Most B2B marketing is horrific. Here's why
Wednesday, June 22, 2022
Your Indie Hackers community digest for June 22nd ‌ ‌ ‌ ‌ ‌ ‌ ‌ ‌ ‌ ‌ ‌ ‌ ‌ ‌ ‌ ‌ ‌ ‌ ‌ ‌ ‌ ‌ ‌ ‌ ‌ ‌ ‌ ‌ ‌ ‌ ‌ ‌ ‌ ‌ ‌ ‌ ‌ ‌ ‌ ‌ ‌ ‌ ‌ ‌ ‌ ‌ ‌ ‌ ‌ ‌ ‌ ‌ ‌ ‌ ‌ ‌ ‌ ‌ ‌ ‌ ‌ ‌ ‌ ‌ ‌ ‌ ‌ ‌ ‌ ‌ ‌ ‌ ‌ ‌ ‌ ‌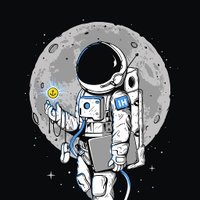 Today's Digest: 43 visits but no sales: How can I improve my landing page?
Tuesday, June 21, 2022
Your Indie Hackers community digest for June 21st ‌ ‌ ‌ ‌ ‌ ‌ ‌ ‌ ‌ ‌ ‌ ‌ ‌ ‌ ‌ ‌ ‌ ‌ ‌ ‌ ‌ ‌ ‌ ‌ ‌ ‌ ‌ ‌ ‌ ‌ ‌ ‌ ‌ ‌ ‌ ‌ ‌ ‌ ‌ ‌ ‌ ‌ ‌ ‌ ‌ ‌ ‌ ‌ ‌ ‌ ‌ ‌ ‌ ‌ ‌ ‌ ‌ ‌ ‌ ‌ ‌ ‌ ‌ ‌ ‌ ‌ ‌ ‌ ‌ ‌ ‌ ‌ ‌ ‌ ‌ ‌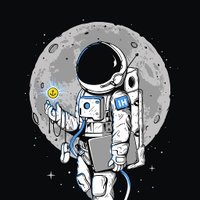 🗞 What's New: What's your plan for when you succeed?
Tuesday, June 21, 2022
Also: Travel is back, and these new opportunities may be your ticket! ‌ ‌ ‌ ‌ ‌ ‌ ‌ ‌ ‌ ‌ ‌ ‌ ‌ ‌ ‌ ‌ ‌ ‌ ‌ ‌ ‌ ‌ ‌ ‌ ‌ ‌ ‌ ‌ ‌ ‌ ‌ ‌ ‌ ‌ ‌ ‌ ‌ ‌ ‌ ‌ ‌ ‌ ‌ ‌ ‌ ‌ ‌ ‌ ‌ ‌ ‌ ‌ ‌ ‌ ‌ ‌ ‌ ‌ ‌ ‌ ‌ ‌ ‌ ‌ ‌ ‌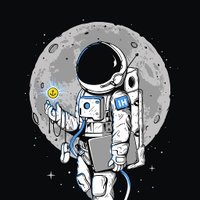 Today's Digest: Any good App Store marketing/growth courses?
Monday, June 20, 2022
Your Indie Hackers community digest for June 20th ‌ ‌ ‌ ‌ ‌ ‌ ‌ ‌ ‌ ‌ ‌ ‌ ‌ ‌ ‌ ‌ ‌ ‌ ‌ ‌ ‌ ‌ ‌ ‌ ‌ ‌ ‌ ‌ ‌ ‌ ‌ ‌ ‌ ‌ ‌ ‌ ‌ ‌ ‌ ‌ ‌ ‌ ‌ ‌ ‌ ‌ ‌ ‌ ‌ ‌ ‌ ‌ ‌ ‌ ‌ ‌ ‌ ‌ ‌ ‌ ‌ ‌ ‌ ‌ ‌ ‌ ‌ ‌ ‌ ‌ ‌ ‌ ‌ ‌ ‌ ‌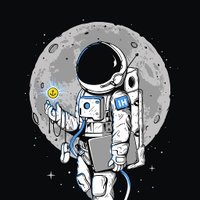 Top Milestones: 509 Users and $20k+ MRR
Sunday, June 19, 2022
Top milestones for the week from your fellow indie hackers. ‌ ‌ ‌ ‌ ‌ ‌ ‌ ‌ ‌ ‌ ‌ ‌ ‌ ‌ ‌ ‌ ‌ ‌ ‌ ‌ ‌ ‌ ‌ ‌ ‌ ‌ ‌ ‌ ‌ ‌ ‌ ‌ ‌ ‌ ‌ ‌ ‌ ‌ ‌ ‌ ‌ ‌ ‌ ‌ ‌ ‌ ‌ ‌ ‌ ‌ ‌ ‌ ‌ ‌ ‌ ‌ ‌ ‌ ‌ ‌ ‌ ‌ ‌ ‌ ‌ ‌ ‌ ‌ ‌ ‌ ‌