YouTube Live AmA starting soon & 50% off for all of Arvid's books & courses for 24h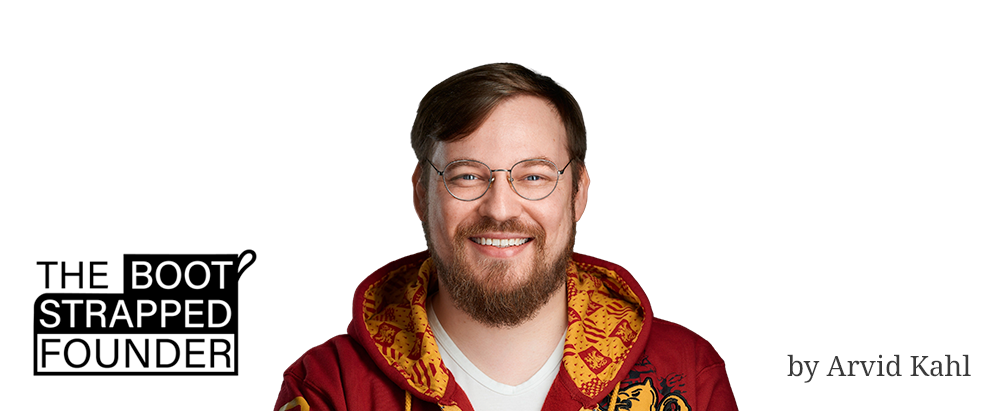 Hey there,
one of my favorite books is The Lord of the Rings, and it starts with Bilbo having a birthday party. Instead of getting gifts, Bilbo gives gifts to all his party guests.
Consider yourself to be a hobbit party guest at the 2-year anniversary of Zero to Sold today.
I'll be doing my first-ever YouTube live today, starting at 11am EST. If you want to ask me a question or just listen to me read my book, please tune in!
​
And here's my party gift to you: for the next 24 hours — until noon Eastern Time on the 30th of June, all my products —Zero to Sold, The Embedded Entrepreneur, and Find your Following— are 50% off on Gumroad. eBooks, videos, toolkits, audio books; everything is half price.
​
​
On top of that, you'll STILL benefit from Purchasing Power Parity Pricing if you go through the product's landing pages. If you're not sure what that is: it uses the Big Mac index (yes, that's a thing) to adjust product prices for price/value equality among countries. It's active for all my products. Check out the​ product pages to see it in action.
If you already have what I offer, please feel free to tell your friends (hobbits, elves, and dwarvish warriors alike) or even your sworn enemies about the celebratory sale (after all, the orcs did carry Peregrin and Meriadoc at least half-way to Isengard.)
So, here we have it:
​
Feel free to check them out, and please forward this email to your friends, colleagues, and sworn enemies of the realm.
Thank you for all your support. As a self-published creator, I am immensely grateful for every gesture of support and encouragement.
Warm regards — and let's celebrate!
​
​
​
Arvid 🥰
​
​
P.S.: I don't do these things often. In fact, this is likely the first "marketing" email you ever received from me.
​
I'll keep them to one every six months. This is a promise I intend to keep.
To make sure you keep getting these emails, please add arvid@thebootstrappedfounder.com to your address book or whitelist us.
Want to unsubscribe from all our emails for good? No worries, just click this link, and off ya go: Unsubscribe. (Reminder, clicking this link removes you from all our emails (including The Bootstrapped Founder newsletter) and you won't ever hear from us again!)
Our postal address: 113 Cherry St #92768, Seattle, WA 98104-2205
Older messages
Bootstrapped Founder #142: Consulting in Public
Friday, June 24, 2022
The Bootstrapped Founder Newsletter by Arvid Kahl Dear founder, ​ Things I Found Interesting This Week Another huge bootstrapping success was reported this week: ​Pierre de Wulf's ScrapingBee hit
Bootstrapped Founder #140: The Forever Transaction
Friday, June 10, 2022
The Bootstrapped Founder Newsletter by Arvid Kahl Dear founder, ​ Things I Found Interesting This Week I found this wonderfully snarky website called Web3 Is Going Just Great (subtitle: ...and is
Bootstrapped Founder #139: Building in Public and Legacy
Saturday, June 4, 2022
The Bootstrapped Founder Newsletter by Arvid Kahl Dear founder, ​ Things I Found Interesting This Week The fine folks over at TweetHunter have launched a $5000 Maker Grant, and I am overjoyed to see so