Finimize - 🇪🇺 Russia and the EU are at it again
Hi Reader, here's what you need to know for July 21st in 3:13 minutes.
🍹 Finimized over an iced tea at Cobb's Corner in London, UK (☀️ 27°C / 81°F)
Today's big stories
The EU proposed a cut in gas use on the back of more Russian brouhaha

Everyone's talking about rate hikes, but you might want to focus on central banks' other big play – Read Now

ASML notched record new orders for its chipmaking equipment
Will They, Won't They?
What's Going On Here?
The EU proposed that its member countries cut their gas use on Wednesday.
What Does This Mean?
Russia already cut capacity of the Nord Stream – one of the main gas pipelines between Russian and Europe – by around 60% last month, almost certainly in retaliation for Europe's support of Ukraine. So when the pipeline closed earlier this month for maintenance, economists weren't holding out much hope it would come back on at all. They weren't far wrong: the Russian government warned on Wednesday that it would restrict supplies to around 20% unless a spat over sanctioned pipeline parts gets resolved.

Not that there's any guarantee that'll do the trick either. So the EU is now scrambling to refill its stockpiles ahead of winter, recommending its member states reduce usage in public buildings and switch to alternatives like renewables or coal. It might just work: the plan could cut their gas consumption by as much as 15% over the next eight months – roughly equivalent to the amount France uses in a year.
Why Should I Care?
The bigger picture: Sharing is caring.
The drop in European gas consumption this year has already knocked 0.2 percentage points off the region's economic growth, according to the International Monetary Fund. So the IMF has raised a scenario where Russia's power play now leads to severe recessions, while forcing multiple member countries to shut down swathes of their industry. But it is only a worst case, and the IMF thinks it's avoidable if only countries share their gas supplies with one another.

Zooming out: When the sun shines, make energy.
Europe's renewable dreams are starting to take shape, with Germany – which boasts a third of Europe's solar capacity – now planning to double down on its use of solar in the next decade. And judging by the current heatwave in Europe, it'll do well out of it: the country produced a record amount of electricity from solar panels earlier this week.
Let's Talk About The Elephant In The Room, Shall We?
| | |
| --- | --- |
| | Reda Farran, Analyst |
Central banks' rate-hiking plans have been front and center lately.
But that's drawn everyone's eyes away from another major central bank move – one that could have global repercussions, even as it's going largely undiscussed.
For one thing, it'll reduce the amount of money sloshing about the financial system, making it harder for investors to buy and sell financial assets.
And for another, it could push investors to be more selective with their investments, which will have broader implications for the stock market.
So that's today's Insight: the elephant in the room, and why you need to keep an eye on ol' Nelly.

The benefits of commercial real estate aren't reserved for the ultra-wealthy
Commercial real estate investments were traditionally once the reserve of big funds with big cash reserves.
But not these days: eligible investors can access real-world investment opportunities – those exposed to commercial real estate and renewable energy infrastructure – from as little as $5,000 with Hedgehog.
For UK investors, gaining investment exposure to US real estate is a complicated process. But Hedgehog has already secured over $1.5 billion worth of high-quality assets – the likes of which are usually kept aside for major investment funds.
That means, as an eligible investor, you can diversify your portfolio and gain exposure to commercial real estate.
There's no need to worry about any transaction fees, either: Hedgehog's waiving all transaction fees for its next 1,000 investors.
Disclaimer:
Capital at risk. The value of your investments may go down as well as up, so you could get less than you originally invested. Investments are not protected by the UK Financial Services Compensation Scheme (FSCS)
This information is being distributed in the UK and US by Hedgehog Invest Limited, a limited company registered in England and Wales (company number 13336465) whose registered office is at 167-169 Great Portland Street, 5th Floor Great Portland Street, London W1W 5PF, United Kingdom ("Hedgehog UK"). Hedgehog UK is an appointed representative (firm reference number 961050) of MJ Hudson Advisers Limited, which is authorised and regulated in the UK by the Financial Conduct Authority (firm reference number 692447). In Switzerland, this information is being distributed by Hedgehog Manager LLC, a Delaware registered company.
Only qualified investors in the UK, US and Switzerland are eligible.
The Sweet ASML Of Success
What's Going On Here?
Chipmaking equipment maker ASML reported record new orders on Wednesday.
What Does This Mean?
Some of ASML's customers have been warning that demand for certain chips has slowed down, but it doesn't seem to have impacted their relationship with the equipment maker just yet. They put in their most new orders ever with ASML last quarter, pushing up its revenue by a better-than-expected 36% from the same time in 2021 (tweet this).

And yet: the company's now expecting that revenue to grow 10% this year, rather than the 20% it previously estimated. This, even though it thinks global trends in carmaking, high-performance computing, and the green energy transition will help prop up demand. It's all down to accounting intricacies, really: ASML's been skipping quality checks to get orders out to customers in good time, but it can't count them as complete until it finalizes them on site. That means around $2 billion worth of sales probably won't be signed off until 2023.
Why Should I Care?
The bigger picture: ASML needs time to think.
ASML's most advanced systems – which cost around $160 million each – take almost 18 months to build, and demand is still significantly higher than it can keep up with. That'll only get more severe as chipmakers follow through on their multibillion-dollar expansion plans, which might be why ASML is now thinking up ways to boost supply by 2025. Watch this space: the company said it'll update investors later in the year.

Zooming out: Don't forget the shortages.
Carmakers are more dependent than ever on chips and, by extension, chipmaking equipment. So the pandemic-driven disruptions of both are still taking their toll on Volvo, with the Swedish carmaker saying on Wednesday that it's being hobbled by production issues. That caused its retail vehicle sales to fall 27% last quarter from the same time the year before, and it's predicting that this year's will be the same as or even slightly lower than that of 2021.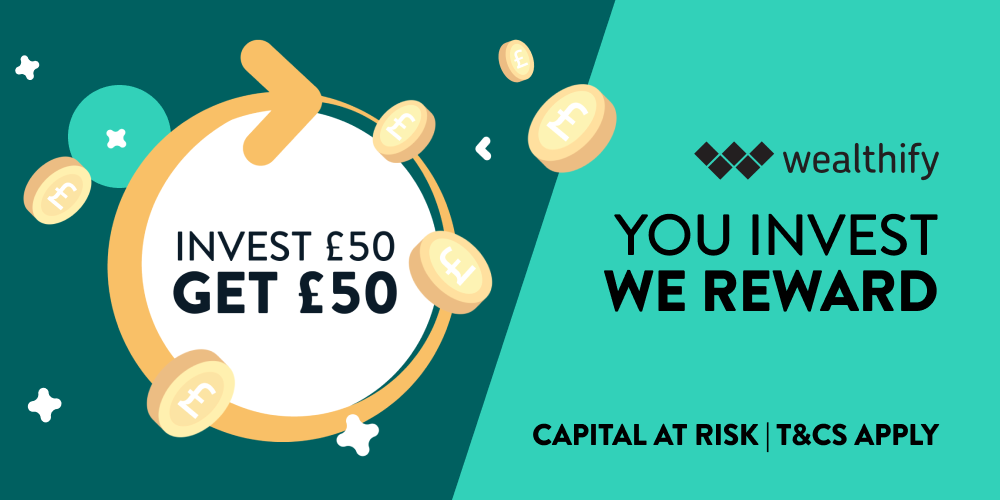 Want someone to give you £50 just for investing?
Plenty of platforms make investing seem like a complicated process, but not Wealthify.
In fact, Wealthify builds and manages your personal investment plan for you. Just choose how much you want to invest, your preferred risk level, and whether you want to invest ethically.
Wealthify will pick the investments that best suit you, and it'll manage your portfolio on your behalf. You're free to check in whenever you want using Wealthify's app or online dashboard.
Here's the real bonus: if you open a Wealthify account and invest at least £50, you'll get an extra £50 paid into your Wealthify Plan after just 12 months. Who'd turn that down in this economy?
Make investing simple with Wealthify, and get a free £50 while you're at it.
With investing, your capital is at risk.
Disclaimer: This offer is only open to new customers opening an ISA, General Investment Account, Personal Pension, or Junior ISA with us. You'll need to click the 'Create a Plan' button on this page to make sure this offer is applied.
Offer closes 23:59 on Sunday 31st July. Plans must be funded by 31st October 2022. Full terms and conditions here.
🎉 Coming Up This Week…
All events in UK time.
👀 Your Guide To Earnings Season: 3pm, July 20th
🎉 Navigating The World Of Stablecoins: 6pm, July 20th
🔥 How To Use Machine Learning For Trading: 12pm, July 21st
🥳 And After That…
🤺 How To React No Matter What The Fed Throws At You: 5pm, July 25th
🍷 Is Wine The Perfect Recession-Proof Investment?: 1pm, July 27th
🙌 The Power Of Investing In Web3 Communities: 1pm, July 28th
👉 The Three Most Important Trading Signals: 5pm, August 1st
♻️ Building A Crypto ESG Framework: 6pm, August 2nd
🧐 The Next Six Months For Stocks And Crypto: 5pm, August 3rd
🎉 What's Next For NFTs: Innovations, Utility, And Trends: 5pm, August 4th
📈 A Case For DAO Treasury Diversification: 6pm, August 9th
💻 How To Spot The Best Tech Stocks: 6pm, August 16th
Thanks for reading Reader. If you liked today's brief, we'd love for you to share it with a friend.
Older messages
🍿 Stranger Things saved Netflix
Tuesday, July 19, 2022
Netflix's results made for great viewing | Dweebs unite | TOGETHER WITH Hi Reader, here's what you need to know for July 20th in 3:13 minutes. 🧠 Imagine a trading process so smart that no mere
Monday, July 18, 2022
Big banks delivered a big bang | But Deliveroo didn't deliver much | TOGETHER WITH Hi Reader, here's what you need to know for July 19th in 3:11 minutes. ❄️ Iceland isn't actually that icy,
😮 You can do better than Wall Street
Sunday, July 17, 2022
China's at a standstill | Not all big banks are created equal | TOGETHER WITH Hi Reader, here's what you need to know for July 18th in 3:02 minutes. 🤓 Earnings season is upon us, which means
⏰ Banks go back to the start of the pandemic
Thursday, July 14, 2022
Hasn't JP been here before? | TSMC's feeling confident | TOGETHER WITH Hi Reader, here's what you need to know for July 15th in 3:14 minutes. 🤔 They say modern problems require modern
Thursday, July 14, 2022
A hoax report wasn't too far off | Russia isn't giving out oil | TOGETHER WITH Hi Reader, here's what you need to know for July 14th in 3:05 minutes. ☕️ Finimized over a lemon and lime