Hi Reader,


Are you a chronic under-celebrater? I sure am, but I try not to be.
Even big achievements can whoosh by if we don't take time to acknowledge them, like a shark constantly moving forward, and the small stuff deserves celebration, too.
In my work around compassionate productivity, I've been reframing limiting beliefs around productivity, and this is one of my favorites:


Anything I do to move forward toward my goals is important and worth celebrating.
Part of overwhelm is not knowing or acknowledging what you have accomplished, and being proud of yourself is a really important part of self-compassion - let's normalize that!
Effort > results!
Unpopular opinion: Let's not focus so much on results - we should celebrate effort just as much, if not more!
Sure, results are great - we're working towards something meaningful, right? Of course we want the finished product, but we can't ignore the journey along the way. (That's a cliché for a reason!)
Frustratingly, we're not always in control of the results.
Oftentimes with creative work, your "success" (we all define that differently, of course) in achieving something might partially depend on other people's approval - trying to get a book published, pitch a podcast, book a gig or gallery show.
But if you say, "I'm going to focus my attention on my effort, and I am going to pitch 10 people," then you know you completed that, and you've done something to move yourself forward, regardless of what the person on the other end thinks.
Even if it doesn't work out, we all know that rejections are part of the deal, and to some extent, it's a numbers game - the more you try, the more likely you are to reach what you're seeking.
When your effort and process doesn't lead you where you think it will, it's always valuable, because you get information from reflecting on those results, which determines what you do next.
Also, big wins like completing a major creative goal are naturally fewer and further between, because big projects take a while to complete.
Here are a few of my small wins:
• Completing something I'd been putting off because it felt too hard (like website copy revision)
• Having a positive discovery call with a potential client
• Feeling connected to my work while doing X
A lot of these small wins are things that, in the past, I would have brushed off as unimportant or attached negativity to (like "why didn't I do that sooner?") The fact that I am able to celebrate these small things is also worth celebrating!
For any of you who are susceptible to being crushed under the weight of all of your "shoulds", even the ones that are supposed to be fun, this invitation to celebrate is NOT intended to be one of those.
If the mere idea of deciding how to celebrate sounds overwhelming, your celebration could just be a smile and a mental acknowledgement that you are proud of yourself while lying on the couch and sipping a beverage - that totally counts, if that's what feels right.
We're always allowed to be proud of ourselves, even for what may seem like small stuff!
This is why I talk so much about celebration with my coaching clients and coworking club members, and why we always spend the last few minutes having a mini party to celebrate the growth - the effort, as well as the results.
You're allowed to celebrate each and every one of the baby steps that brings you toward your goals, because you're moving in the right direction! 🎉🎉🎉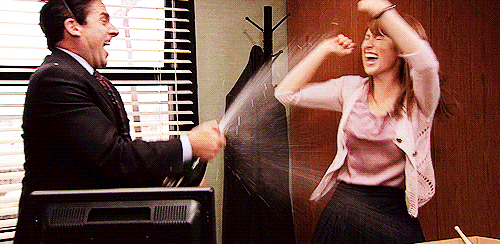 So, tell me, what are you working on right now that you're excited about? I'm excited to celebrate with you!
Stay well, my friends - I'm always rooting for you. My inbox is always open, so please feel free to reach out if I can help in any way.
I always love hearing from you!

Have a lovely week! ⁠
Rebecca
Staying on the good side of the internet
On Being A Whole Person lately
* You can always submit questions or topic ideas - I love hearing your feedback! *

Being A Whole Person is on summer vacation, and I'm featuring replays of favorite episodes:
I answer a listener's question about why panic, stress, and self-hatred can crop up just as you're right before the deadline trying to finish a creative project - a familiar scenario for many of us. I give my best tips for understanding why this happens (it's not because there's something wrong with you!) and how to work through it with self-compassion.
It can feel impossible to carve out time for creative rituals, gathering ideas, and big-picture thinking, when they're important, but not urgent, and you have a million other things to accomplish. Following your curiosity and sense of wonder is not a waste of time!
Listen in to hear about my most important habit that supports my creativity, how I fit it into my schedule without feeling unproductive, and how you can spark more creativity in your art and life.

Berkeley, CA 94710
United States
Copyright © 2022 Rebecca Hass
hello@rebeccahass.com

I occasionally use affiliate links in these emails (usually books) - if you make a purchase through an affiliated link, I make a small commission at no extra cost to you.
No longer want these emails? Unsubscribe here - no hard feelings!